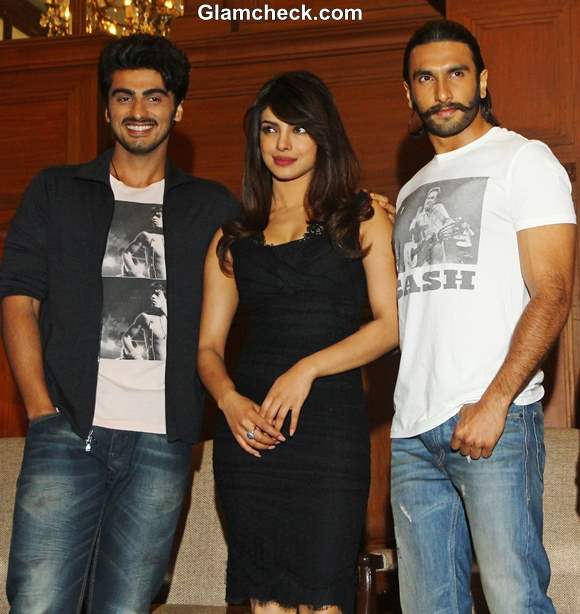 Bollywood actors Priyanka Chopra, Arjun Kapoor and Ranveer Singh have been having a great time shooting for their upcoming film "Gunday" in Kolkata. Priyanka posts pictures of the trio as they fool around on set, and the three have an amazing off-screen chemistry that is very apparent at the multiple promos they come together for. It was no different on March 3 as they met with the press.
Priyanka Chopra promotes 'Gunday' in Kolkatta
Priyanka looked glamorous as usual in a knee-length lace black dress. Curly locks and bold red lips completed her look. Both the boys were more casually attired and jeans and white tees.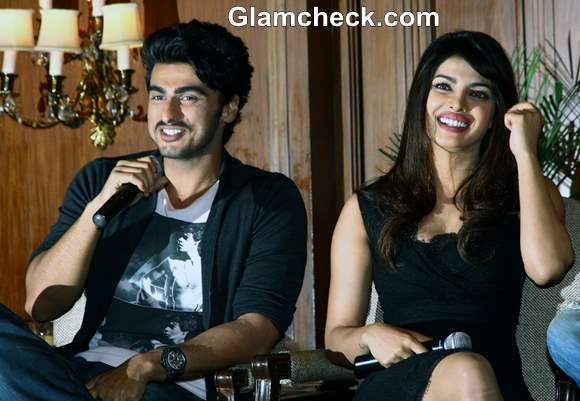 Cast of 'Gunday' Promote Film in Kolkatta
Gunday tells the story of two thieves in Kolkatta in the late 70s who eventually end up joining the mafia. Obviously, Priyanka plays the love interest, a sweet Bengali girl.
There are no more details out yet since the film is far from release and still in production. But Priyanka promised that a lot more would be revealed as the premiere nears.
Fans are curious to see how this romantic film turns out, especially since it clubs the former beauty queen with relative new-comers to the industry.
IANS