Designer Gaurav Gupta showcased his line "Lightfall" on the fifth day of the PCJ Delhi Couture Week 2013 in New Delhi.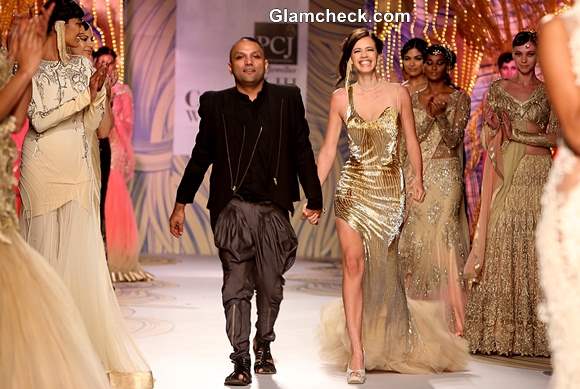 Delhi Couture Week 2013 Gaurav Gupta
The Showstopper: The show was stopped by Bollywood actress Kalki Koechlin. She looked gorgeous on the runway in a sequined gown which displayed various shades of gold. The body hugging outfit had a high slit, sheer neckline and a ruffled train. The attire had an element of fluidity to it.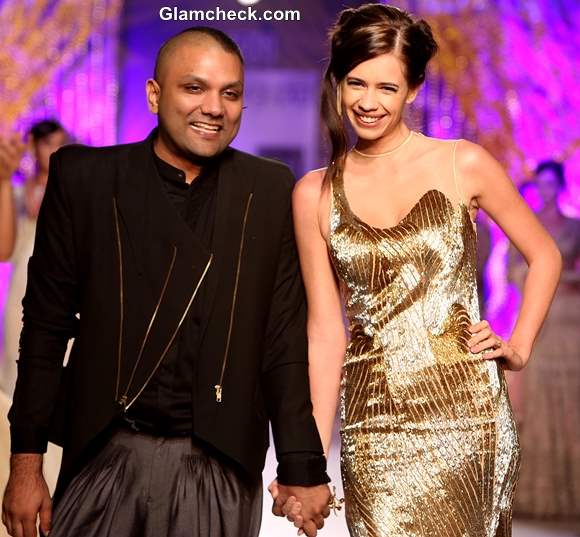 Kalki Koechlin walks the ramp for Gaurav Gupta at Delhi Couture Week 2013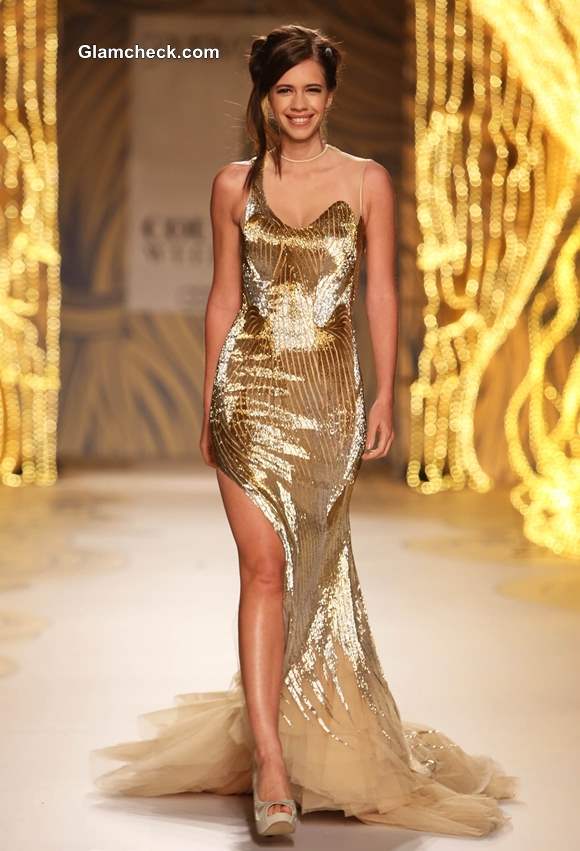 Kalki Koechlin for Gaurav Gupta at Delhi Couture Week 2013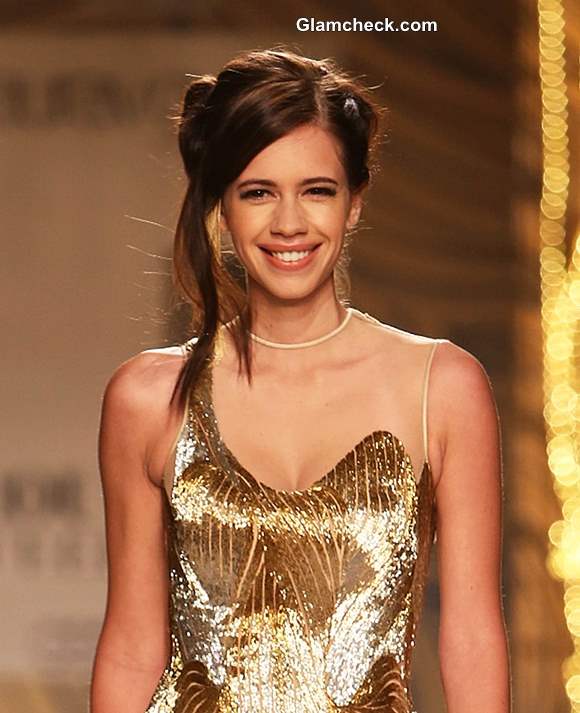 Kalki Koechlin Showstopper at Gaurav Gupta show Delhi Couture Week 2013
The Collection: Fusion of Indian and western wear.
Gender: Womenswear
Clothes: Gowns – a lot of which had the influence of the sari and the lehenga and could be mainly classified as the derivatives of these two outfits. The sari and lehenga, in their true sense, also made an appearance. The layering and pleating techniques used added to the charm of the garments on display.
Hues: The outfits showed colors like teal, ecru, gold, cream, grey, neon, black and white.
Fabrics:  One saw the use of fabrics like georgette, organza, lace, satin, soft mesh and georgette.
Embellishments:  Intricate embroidery and work like nakshee, zari, pitta, saadi were seen all over. Organza, cutwork and lace flowers added more dimension to the outfits.
The Feel: The collection stayed true to its name. It indeed felt like lightfall had descended on the ramp owing to the luminescence of the collection and the iridescent quality that it emanated. The outfits were also an elaborate blend of vintage and futuristic.
Highlights from the Show
Golden and Cream Extravaganza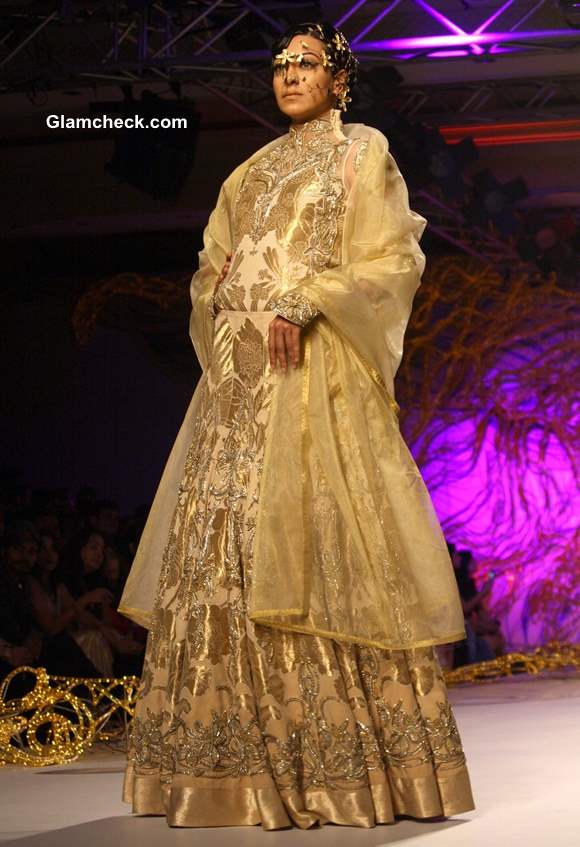 Gaurav Gupta Collection at Delhi Couture Week 2013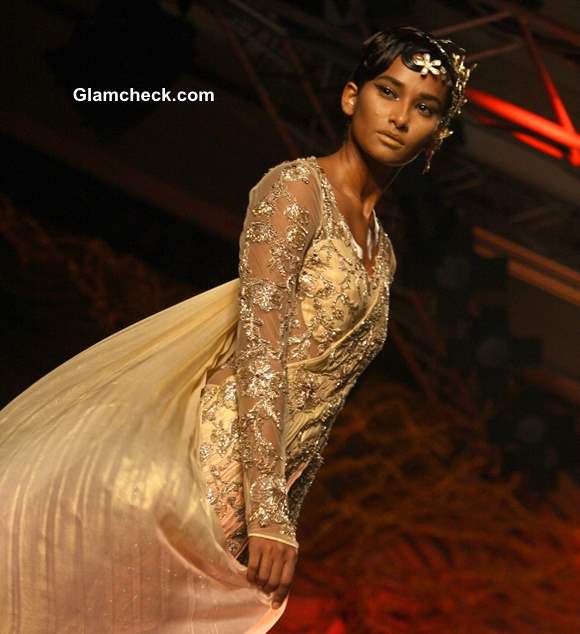 Gaurav Gupta Collection Delhi Couture Week 2013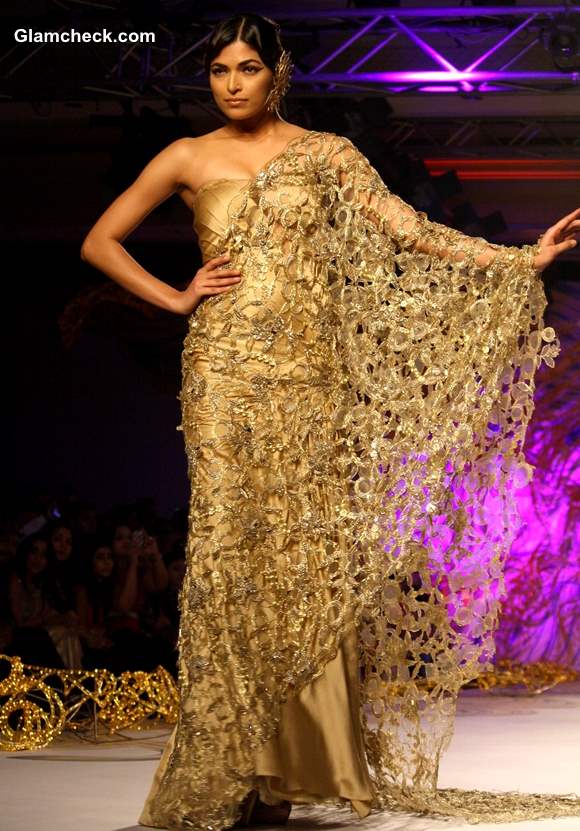 Delhi Couture Week 2013 Gaurav Gupta Collection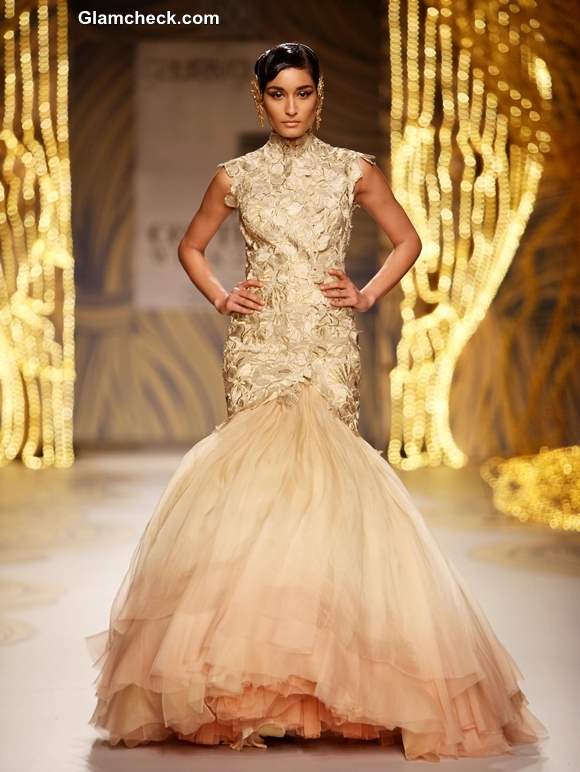 Delhi Couture Week 2013 Gaurav Gupta Show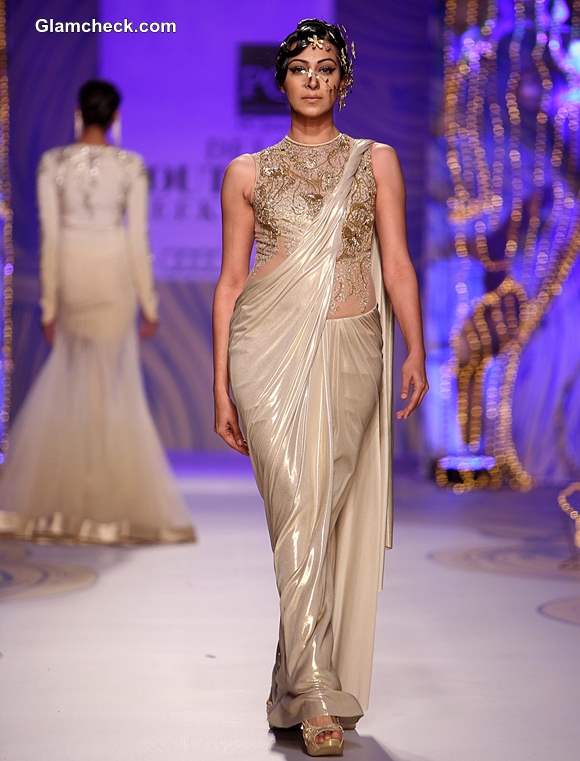 Delhi Couture Week 2013 designer Gaurav Gupta collection
The Use of Flounce
Delhi Couture Week Day 5 Gaurav Gupta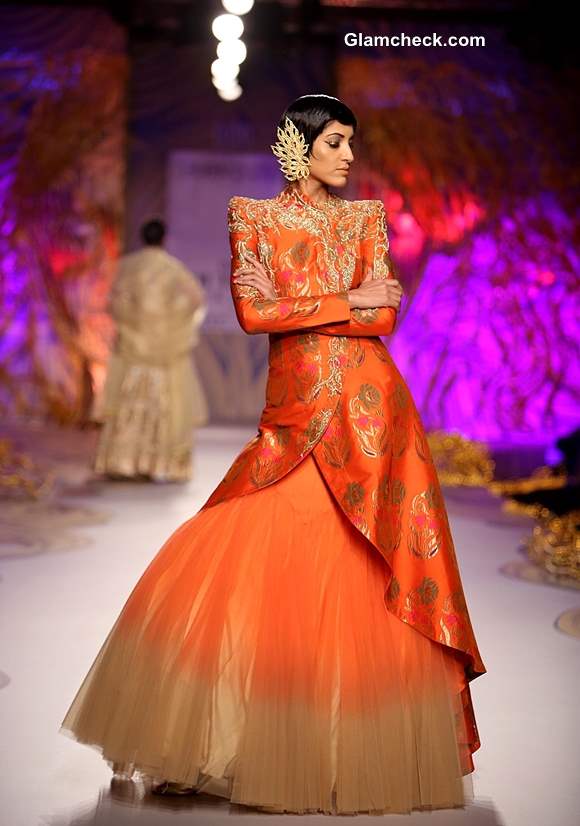 Delhi Couture Week 2013 Day 5 Gaurav Gupta
The Sari-Gown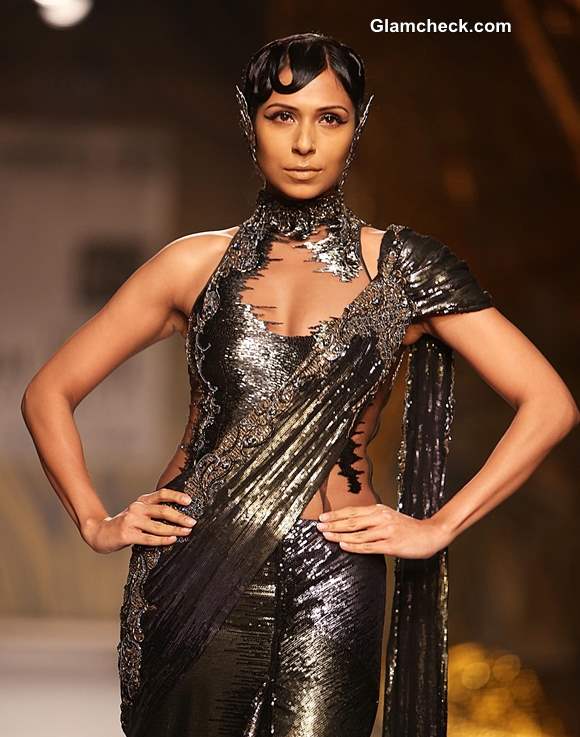 Delhi couture week 2013 Gaurav Gupta collection Sari-Gown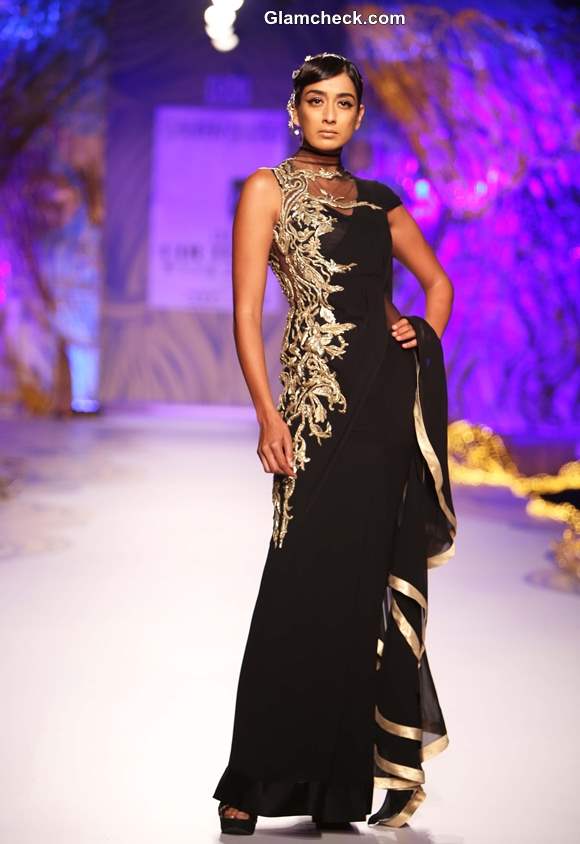 Delhi couture week 2013 Gaurav Gupta collection
Fluid Falls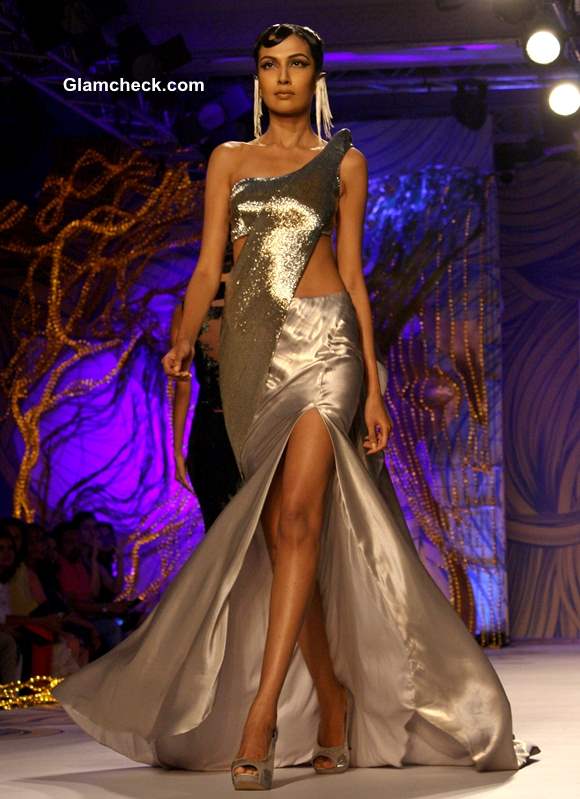 Designer Gaurav Gupta collection at Delhi Couture Week 2013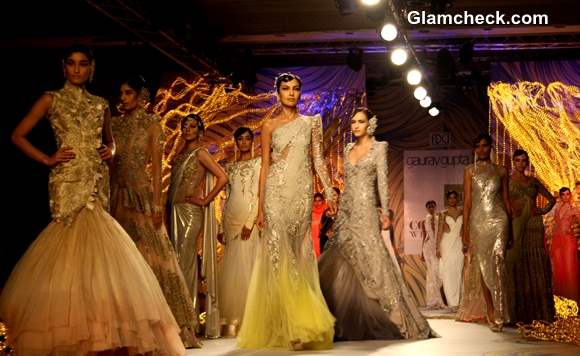 Designer Gaurav Gupta collection at Delhi Couture Week 2013
Delhi Couture Week 2013 – Gaurav Gupta Backstage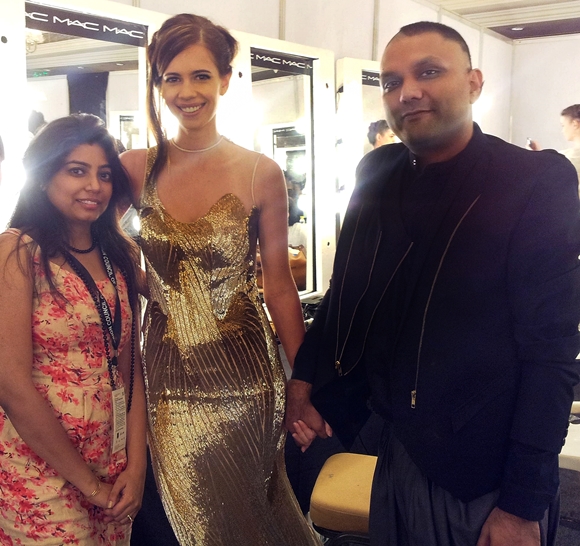 L-R – Designer Prerna Matta Chug , Actress Kalki Koechlin and Designer Gaurav Gupta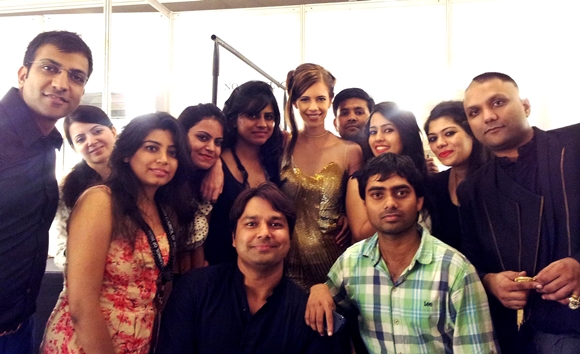 Designer Team Gaurav Gupta with the showstopper Kalki Koechlin at Delhi Couture Week 2013
 Image: Indian Photo Agency, IANS