When designer, Raghavendra Rathore presented his collection, actors, Dia Mirza, Evelyn Sharma and Dino Morea attended the show at the Aamby Valley India Bridal Fashion Week (IBFW) 2013, in Mumbai, India which was held on December 1st 2013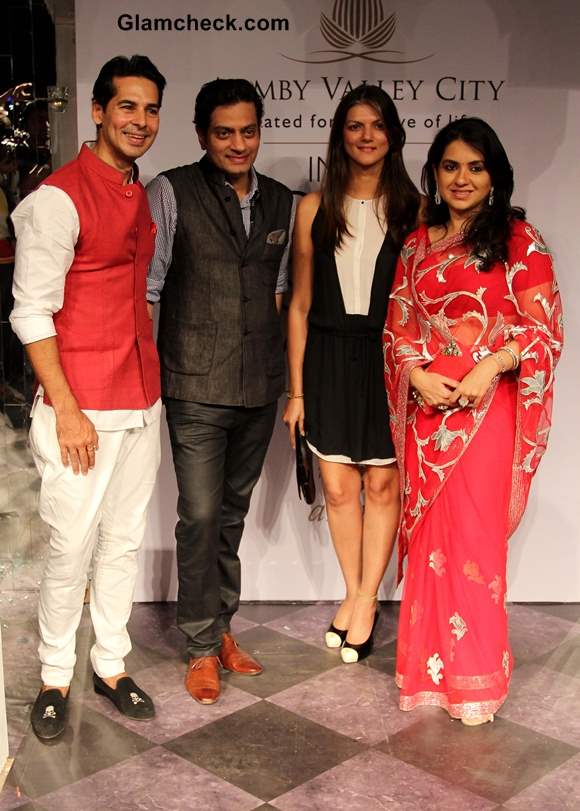 Raghavendra Rathore at IBFW 2013, Mumbai
Dia looked ravishing in her ensemble. Understated elegance is what we would like to call it. The diva walked the ramp for designer, Raghavendra Rathore in a black achakan which was full sleeved and had standing collar. It was adorned with intricate gold embroidery on the borders and going up all the way to the sleeves and the upper was worn over a gathered fuchsia skirt. The ensemble was a good combination of Indian and western and looked really nice on the former Miss Asia Pacific.
Dia Mirza in Black Achakan and Fuchsia Skirt for Raghavendra Rathore at IBFW 2013
Dia wore a pair of gold earring and huge pearl droplets to complete her look, a gold thick bangle and dull gold open toe heels. Her brunette hair with brown highlights looked nice in waves and left down naturally.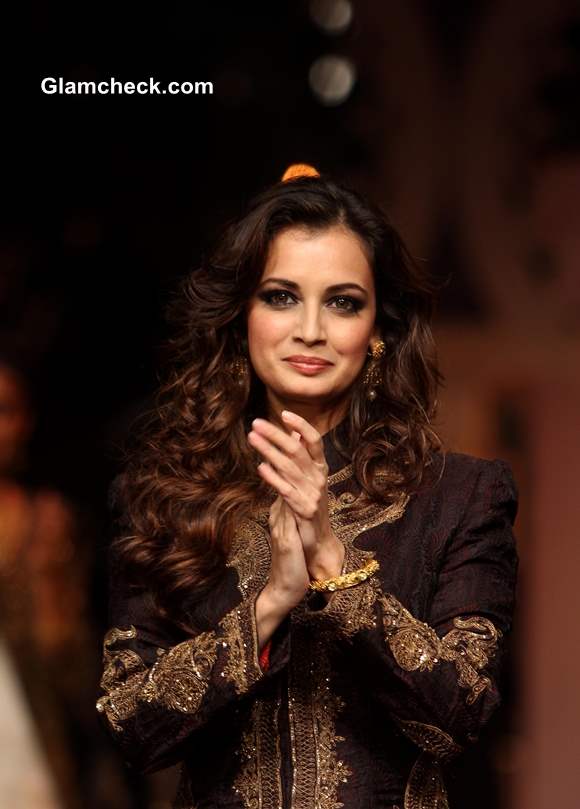 Dia Mirza at IBFW 2013 Mumbai
Her eye-make up was smoky to bring out her eyes more effectively, which are otherwise not very prominent on her face, cheeks were highlighted and lips were painted in light pink.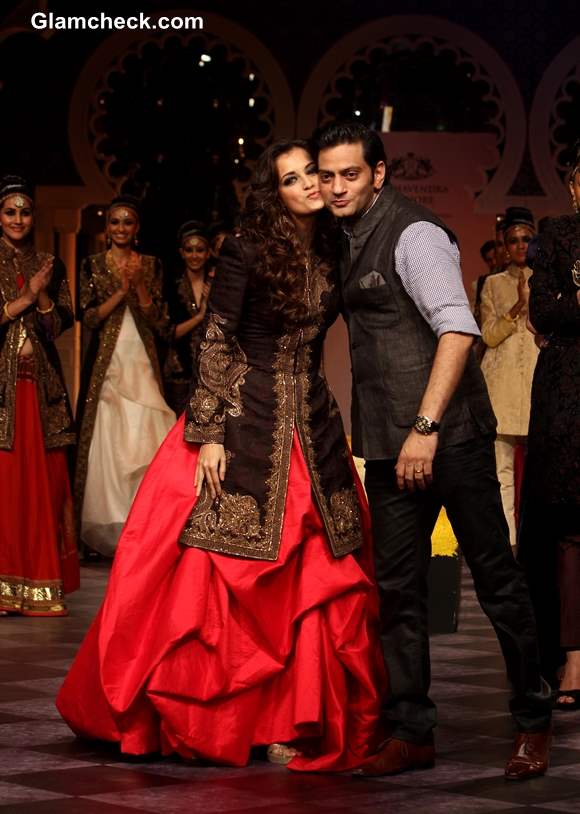 Dia Mirza for Raghavendra Rathore at IBFW 2013
We love how the creation was fitted with structured shoulders from the top and left liquid from the bottom, this juxtaposition looked exquisite. As far as the colour palette goes, it was traditional with a punch of fuchsia, which really brings her youthful personality out.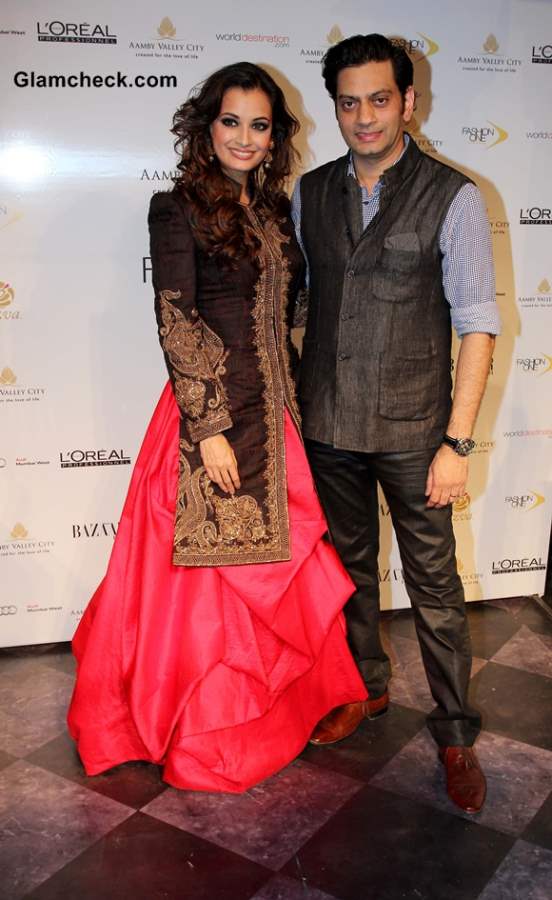 Dia Mirza for Raghavendra Rathore at IBFW 2013 Mumbai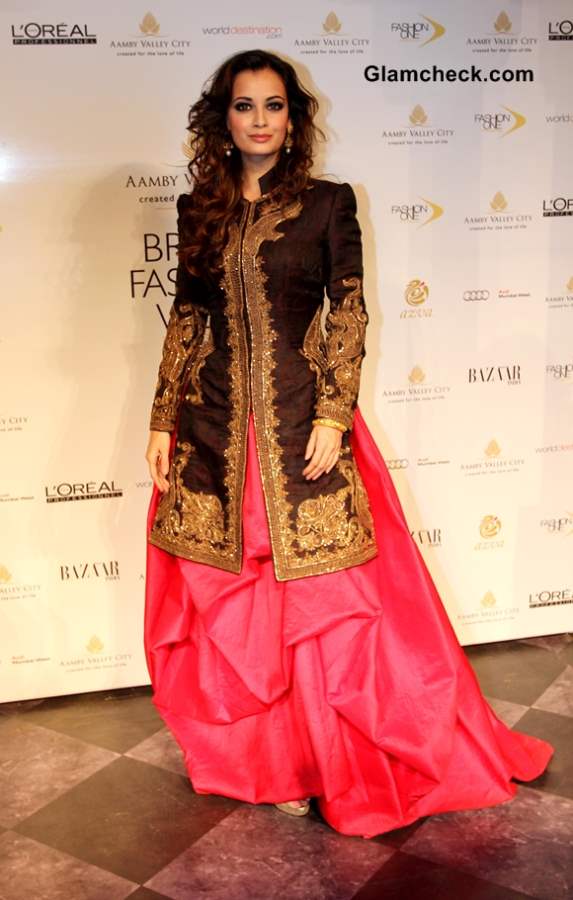 Dia Mirza Showstopper for Raghavendra Rathore at IBFW 2013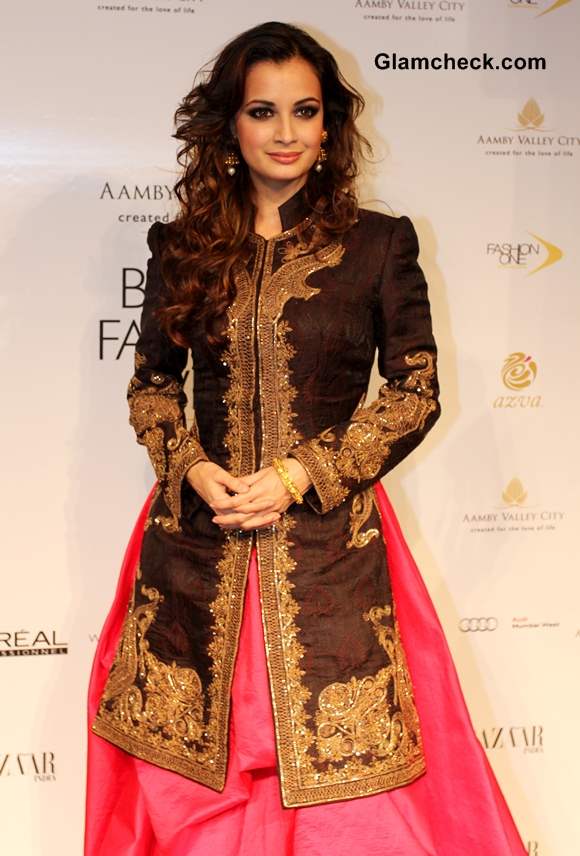 Dia Mirza India Bridal Fashion Week 2013 Mumbai
If it was us, we wouldn't change anything from what we saw on the ramp, the only thing we would replace is the earrings with a beautiful rust gold or colour pop maang tikka. This look can easily be translated into a western outfit by wearing them with a casual T-shirts or a winter coat on top, the trick is to pair the fitted with the loose and you're got the look bang on!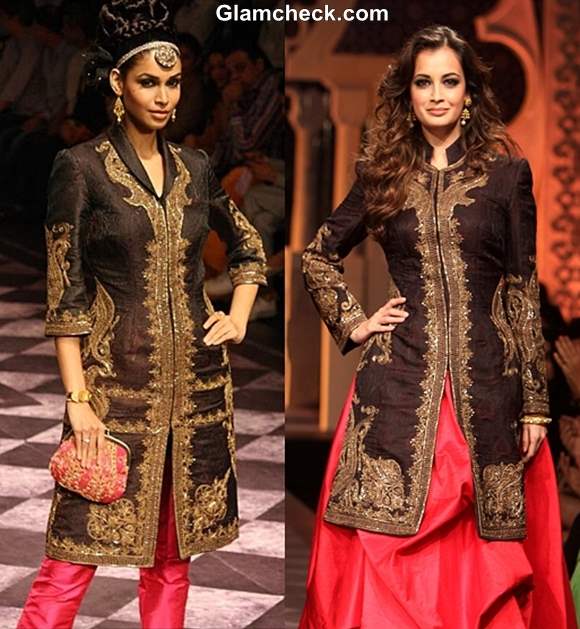 Raghavendra Rathore Black achakan IBFW 2013
The outfit on the left, on the model which was presented in Delhi is definitely more traditional since it is worn with fitted fuchsia chudidaar and accessorized with a small penny clutch. The achakan is also less structured as the collars are folded down. The jewellery differs as the model is wearing a head band attached to a round maang tikka with dangling earrings and her hair is tied up in a big bun which gives her accessories a chance to shine. Whereas, Dia's achakan, on the right, is paired with a relaxed skirt. If we had to choose from the two looks, we would go for Dia's ensemble as it is fusion and yet, very feminine in nature. But, we would choose the left look's hair and accessorizing as it is cleaner and more chic!
Solaris Images