The Gemological institute of America (GIA) presented the collection of five young designers on the third day of the India International Jewellery week 2013 in Mumbai.
It was but natural that the show saw a vast range of designs featuring different pieces of jewellery, owing to five different presentations.
Highlights from the Show
Ruby and Diamond Jewellery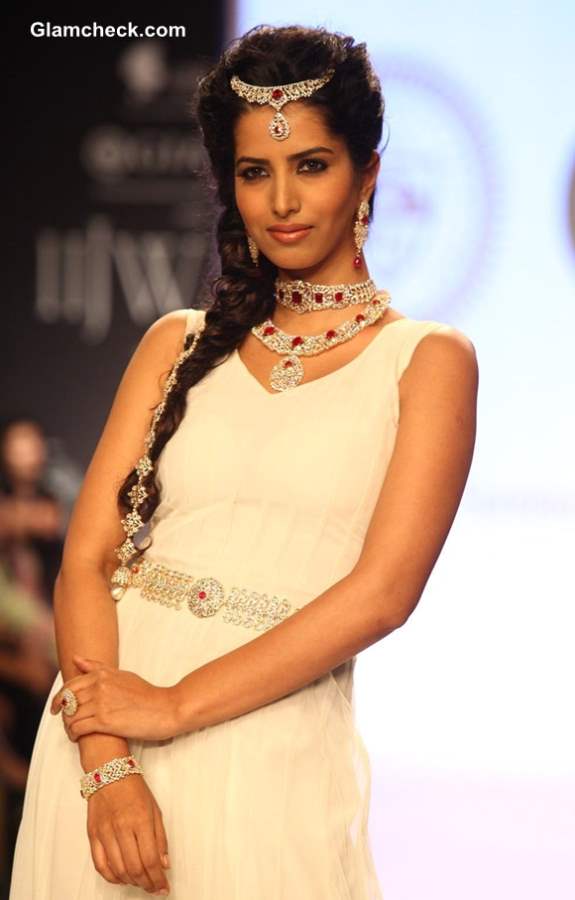 GIA show at IIJW 2013 – Day 3
On display were pretty sets of diamond jewellery with ruby setting. These included necklaces, chokers, earrings, bracelets, rings and cummerbunds. It was also interesting to note the hair jewellery that was presented.
Amethyst Encrusted Jewellery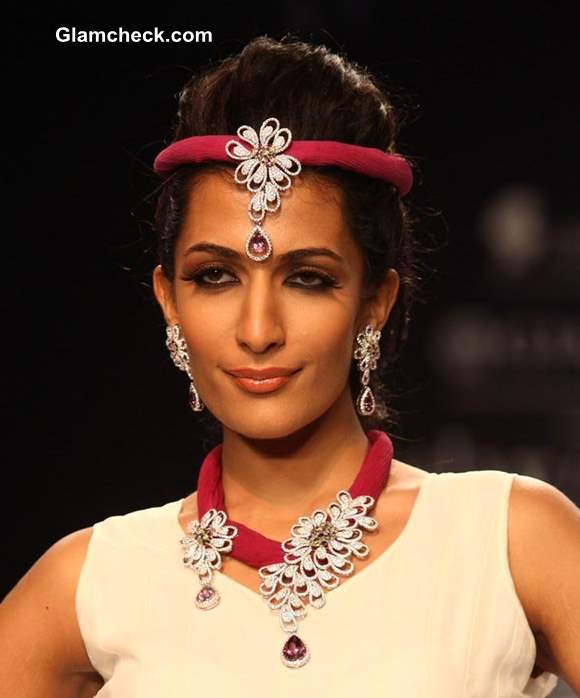 GIA Jewlery collection at IIJW 2013
The amethyst and diamond jewellery in the form of earrings, pendants and brooches were exquisite. The brooches and pendants were worn studded around collars.
Emerald and Ruby Polki Jewellery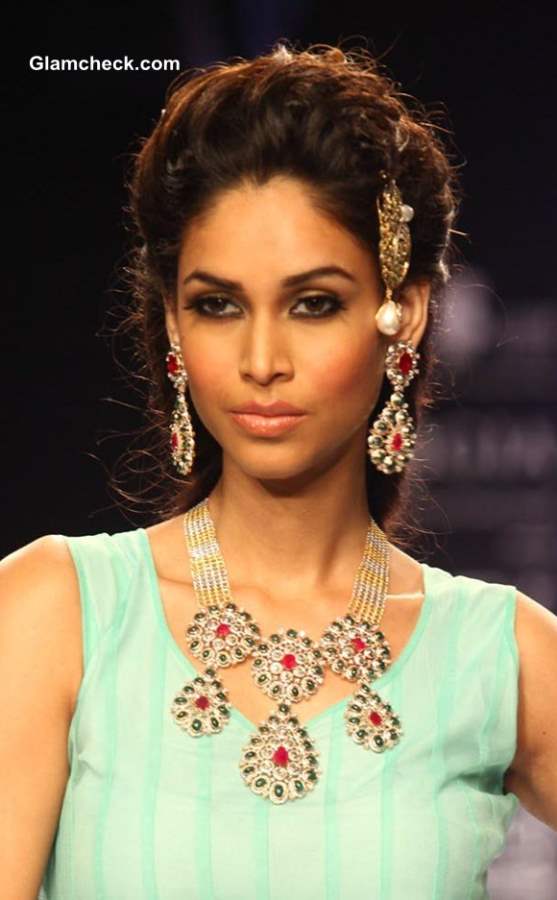 GIA Jewlery at IIJW 2013
Emerald and ruby poly jewellery including necklaces inspired from the raani haar and featuring elaborate centers consisting of six pieces of attached pendants were a treat to the eye. Matching earrings and pearl drop jhoomars added to the pizzazz.
Diamond and Ruby Jewellery Set In Yellow Gold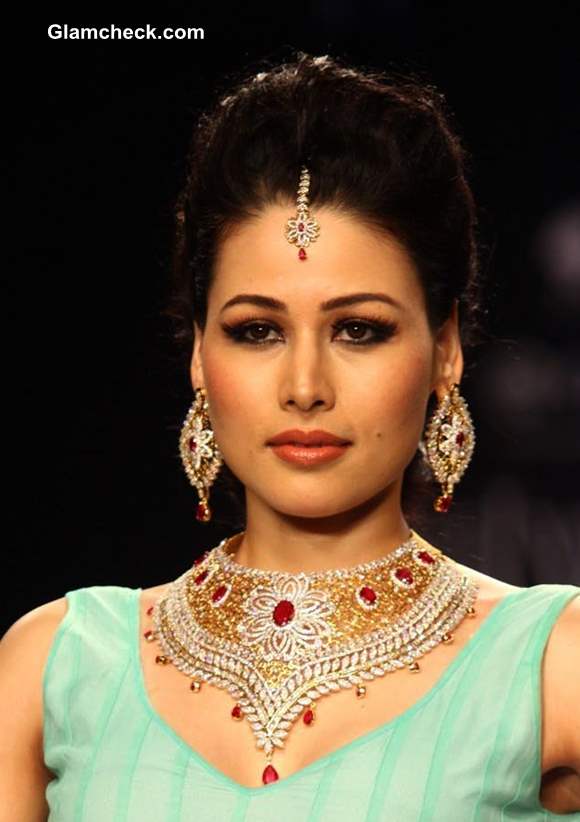 GIA Jewlery at IIJW 2013 diamond and ruby
Choker style necklaces which were set in sparkling yellow gold and featured a dazzling array of marquise diamonds and rubies in floral designs looked breathtaking. They had matching earrings and maang tikkas to go along with them.
Modern Designs Featuring Emeralds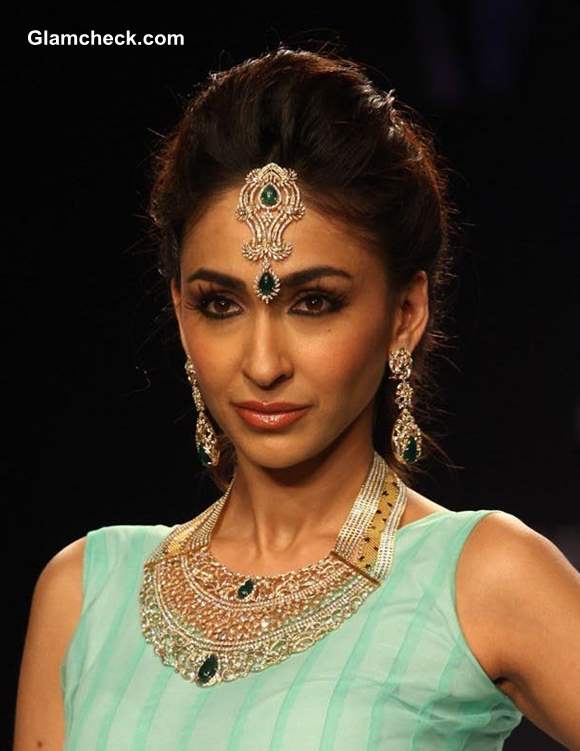 GIA Jewlery IIJW 2013
Jewellery sets that featured modern designs on bib like necklaces, earrings and pendants (worn as maang tikkas) were unique in their stylization.
Diamond Jewellery Encrusted With Multi-Colored Precious Stones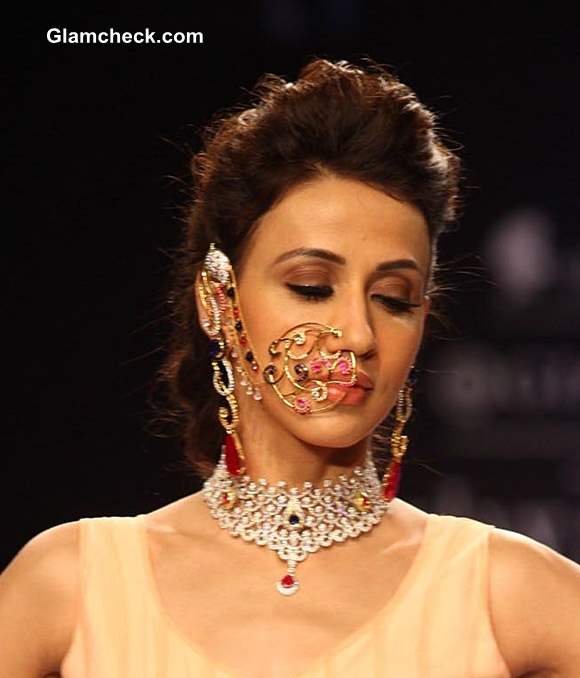 IIJW 2013 GIA Jewlery
Exquisite chokers featuring rubies and blue sapphires with even more elaborate earrings set in gold were extremely pretty. Nose rings that made good use of small stones set in gold were unique in their designs.
Kundan Jewellery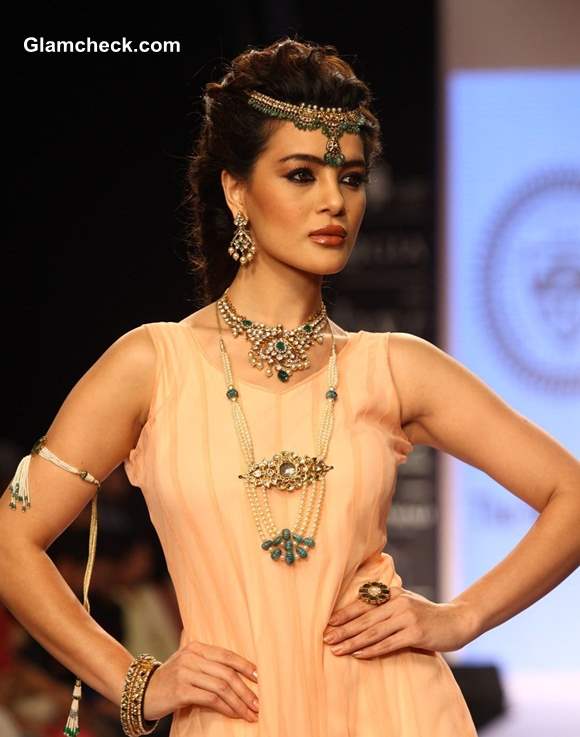 IIJW 2013 GIA Jewlery kundan
The kundan jewellery featuring emeralds and pearls were well crafted and featured an array of necklaces (some of which were worn as head pieces), long pearl necklaces, baaju bands, encrusted bangles, rings and earrings.
Hair Ornaments like the Jada and Armlets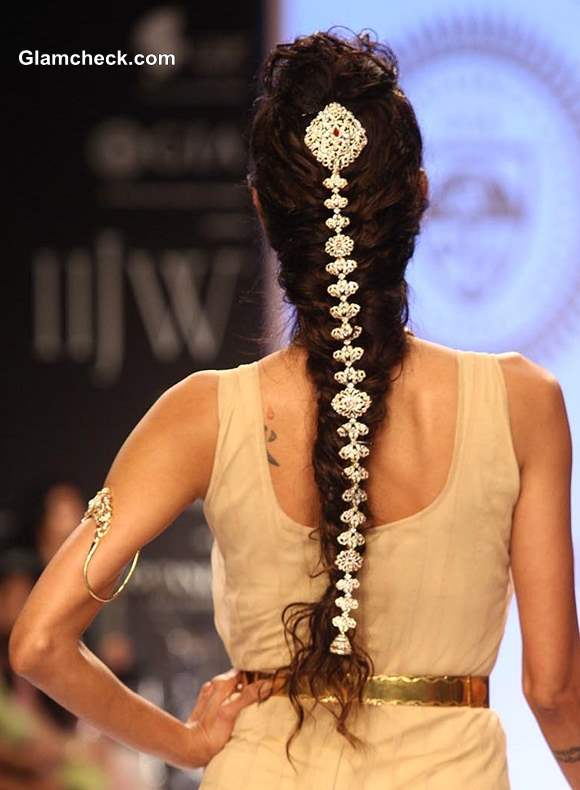 Hair Ornaments IIJW 2013 GIA Jewlery
Long hair ornaments, inspired by the South Indian Jada style, stood out in the collection on display. One also could help but notice the pretty armlets.
The show put up by GIA had the best of traditional Indian jewellery blended perfectly well with western as well as modern designs.
Image: Indian Photo Agency