The cast of the upcoming movie "Satyagraha" has been on its toes for weeks promoting the soon-to-be-released film. Exhausted they may be but they're keeping at it till the very last minute if they can.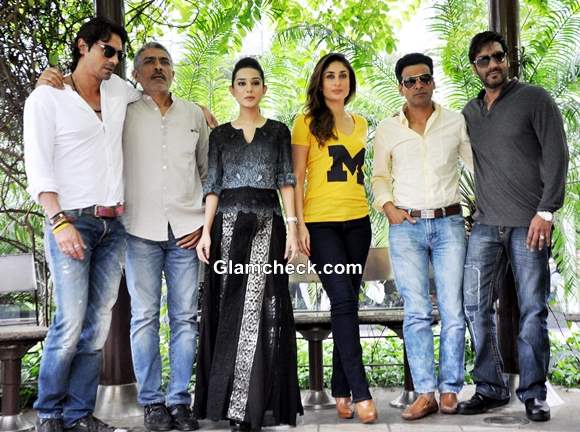 One Last Photo Shoot – Team of "Satyagraha" Gears up for Release
After launching a book about the making of the film entitled Satyagraha: The Story Behind Revolution, the cast along with director Prakash Jha made its way to a photoshoot in New Delhi, India on August 27.
Bollywood actors Arjun Rampal, Amrita Rao, Kareena Kapoor Khan, Manoj Bajpai and Ajay Devgn posed for the photoshoot, perhaps together for the last time ahead of the film's release on August 30.
The boys were all in their usual jeans and shirts. Amrita looked quite pretty in a monochrome lehenga with a long choli. But, as usual, it was fashionista Kareena who stole the limelight.
Her Outfit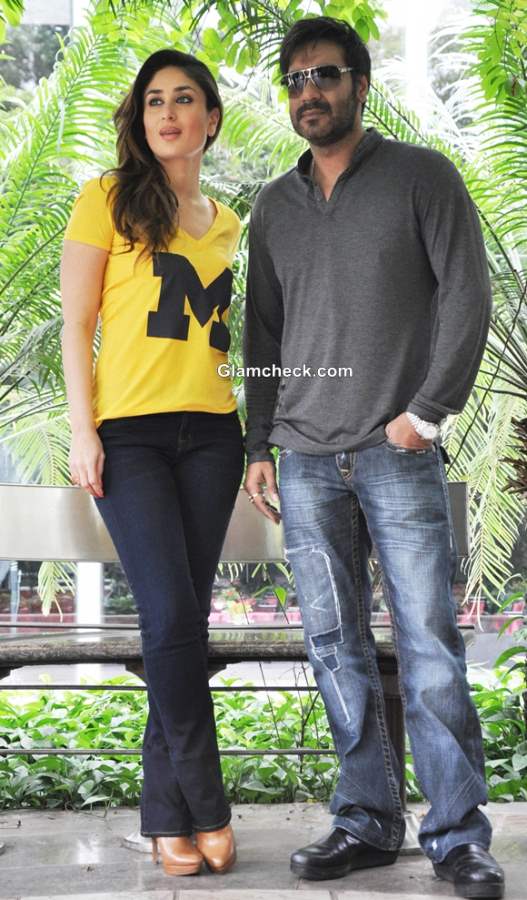 Kareena Kapoor Khan and Ajay Devgan  Satyagraha Movie 2013
The newly-wed chose a cheerful yellow tee with a large capital 'M' print on the front, pairing it with boot-cut dark blue jeans. Her outfit was casual but the vibe had an elegant, high-end vibe to it.
Accessories & Styling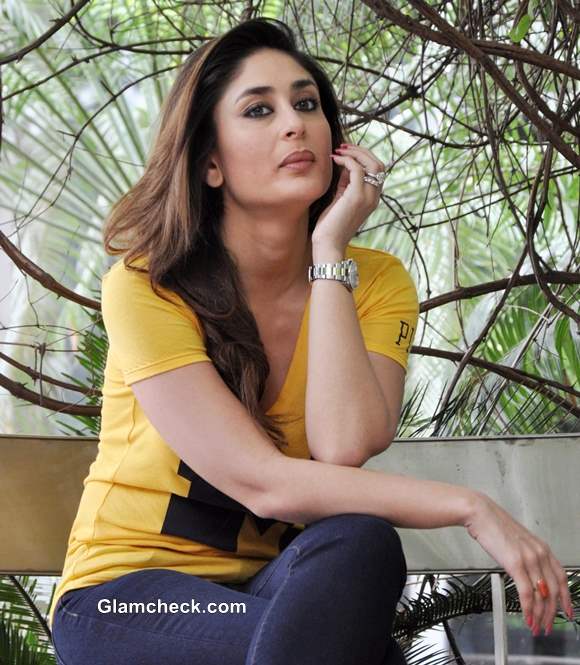 Kareena Kapoor 2013 movie "Satyagraha"
Her wedding ring and engagement ring were here only accessories apart from beige stacked pumps and a silver watch. Her locks were side-parted, curled, slightly mussed up and swept over one shoulder, forming a half frame for her kohl-lined peepers and subtly pink lips. A pink manicure rounded off her look.
We don't know how she manages to make simple jeans and a tee look so radiant. 
Image: IANS