The media threatened to leave when Bollywood actress Priyanka Chopra, South Indian actor Ram Charan Teja and director Apoorv Lakhia were almost two hours late for a press conference to promote their upcoming film "Zanjeer" in New Delhi, India on September 4. But all three apologised for the delay, blaming a mis-communication of the timing of the event and assuring the press that they did not intentionally mean to keep anyone waiting. All went smoothly after that as the conference commenced.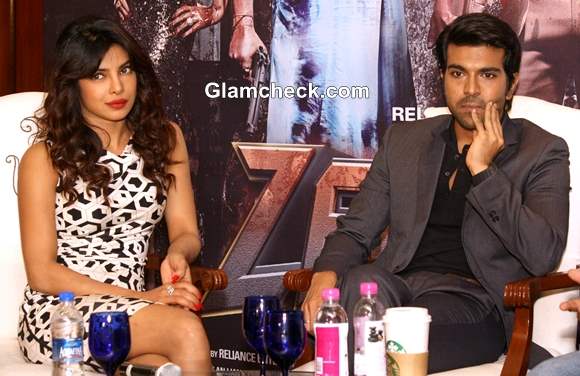 Priyanka Chopra and Ram Charan Delhi for Final Promo of 'Zanjeer'
Priyanka started out by discussing how she did not know till a trip to Hyderabad what a big deal Ram was to South Indian movie fans. She said that until then, she did know much about Ram so was unaware of his superstar status in the South. During shooting, she said, a large group of his fans totalling to at least 300 would follow them around wherever they went.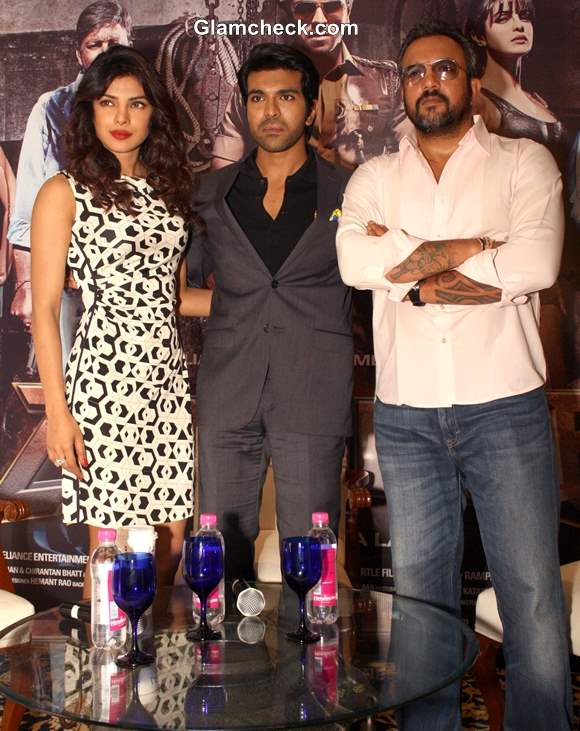 Priyanka Chopra and Ram Charan Zanjeer
That may be so, but it was definitely Priyanka who was oozing superstar status at this press meet.
Her Outfit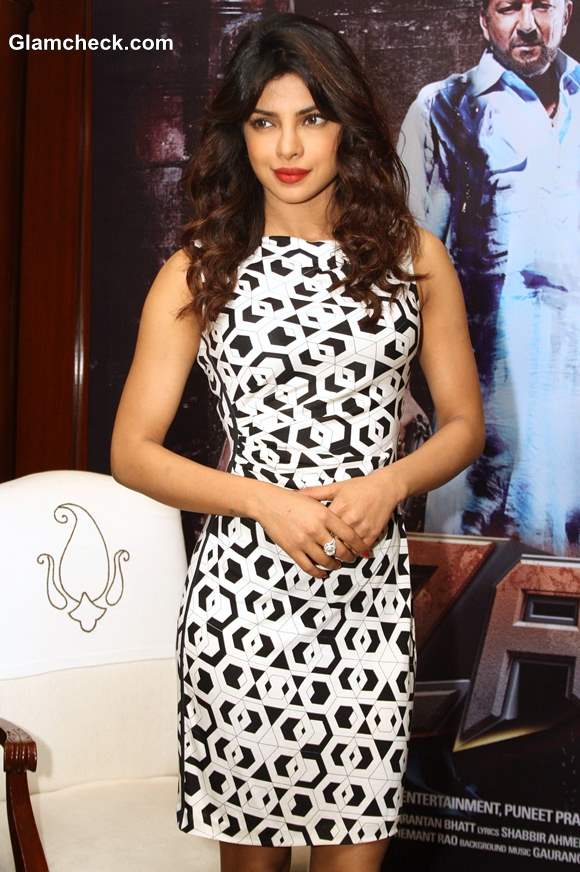 Priyanka Chopra in sheath dress
She was totally rocking a high-neck, knee-length monochrome sheath dress by Diane von Furstenberg. The geometric pattern of the outfit, the classy color combination of white and black and the sexy fit all made for a softly feminine and sophisticated ensemble for the former beauty queen.
Accessories & Styling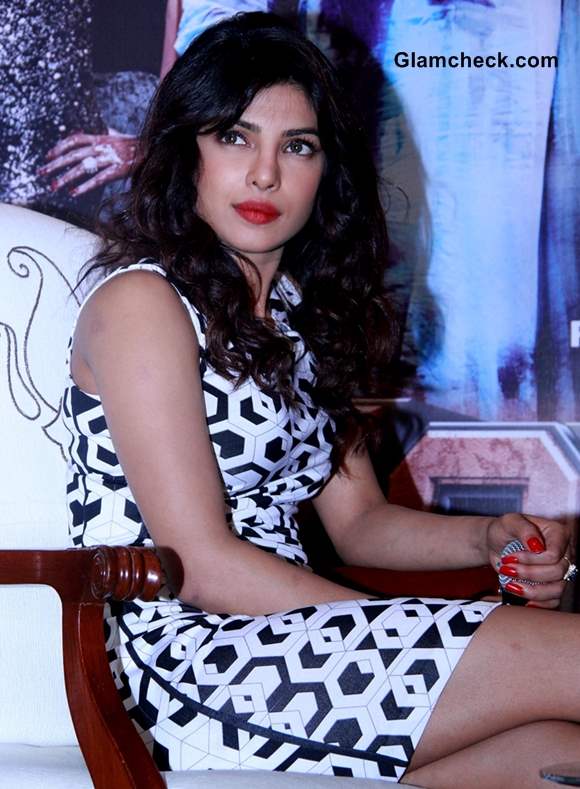 Priyanka Chopra 2013 Final Promo of 'Zanjeer'
There's nothing to hate about her look from her soft chocolate curls falling loose from a relaxed middle parting to her luscious red lips. Her diamond cocktail ring and black pumps make for perfect understated accessories to her low-key look.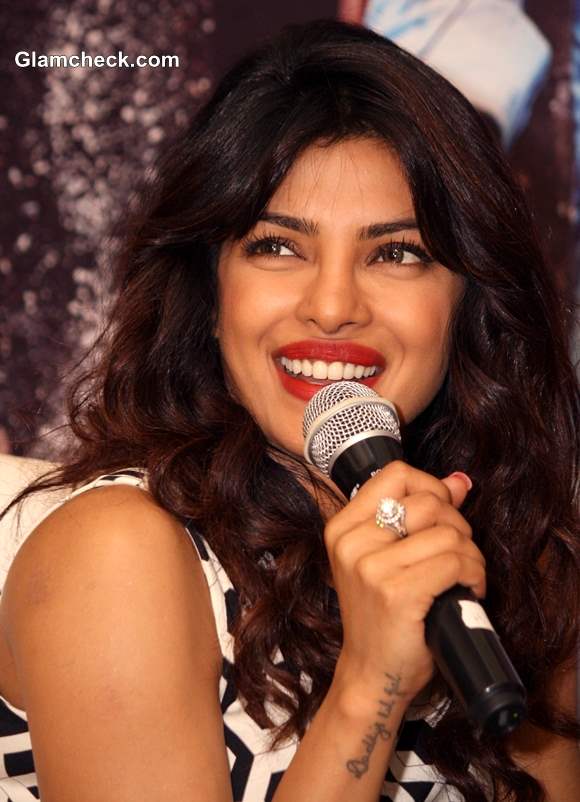 Priyanka Chopra 2013 'Zanjeer'
Priyanka went on to talk about Zanjeer, saying that she did not believe in remakes as you cannot really remake an original. Rather, she said, their version was simply inspired by the original and this was their take on the Amitabh Bachchan 1971 starrer.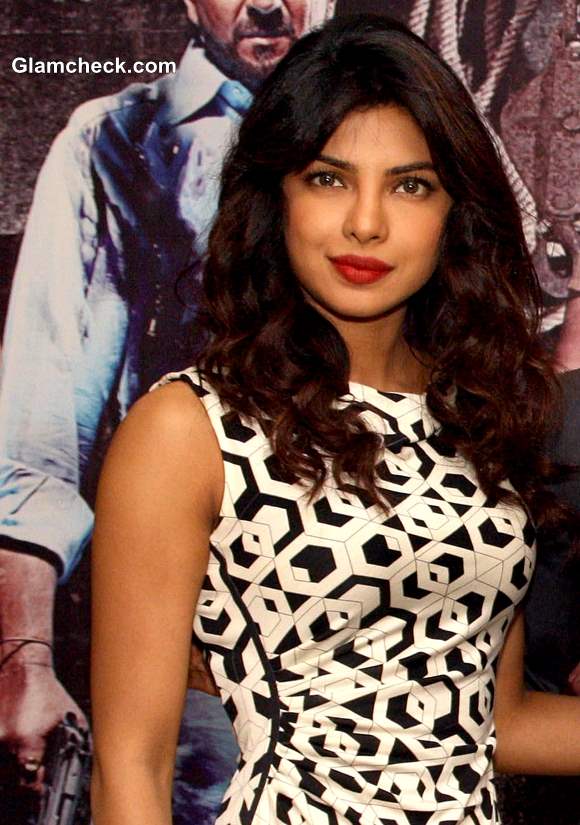 Priyanka Chopra 2013 pics
Zanjeer is out in theatres on September 6. 
Image: IANS