Bollywood actress Parineeti Chopra looked pretty chic as she spent the day with the winners of the Nivea Total Face Clean Up digital contest in Mumbai, India on September 7.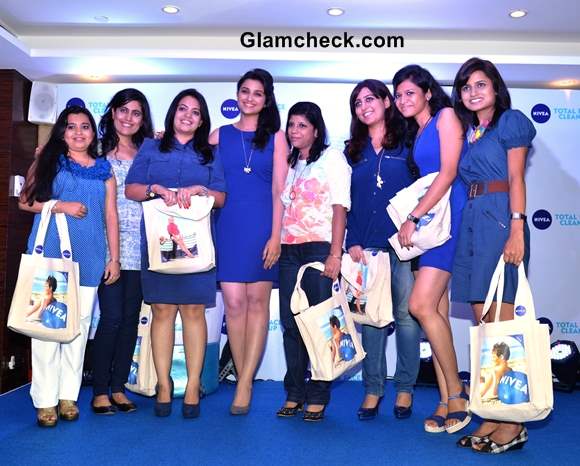 Parineeti Chopra in Blue Dress with Winners of Nivea Contest
Her Outfit
Parineeti wore a sleeveless dress, the same color as Nivea's iconic blue. It had a gentle fit on the torso and flared out a little bit from the hips to the knees.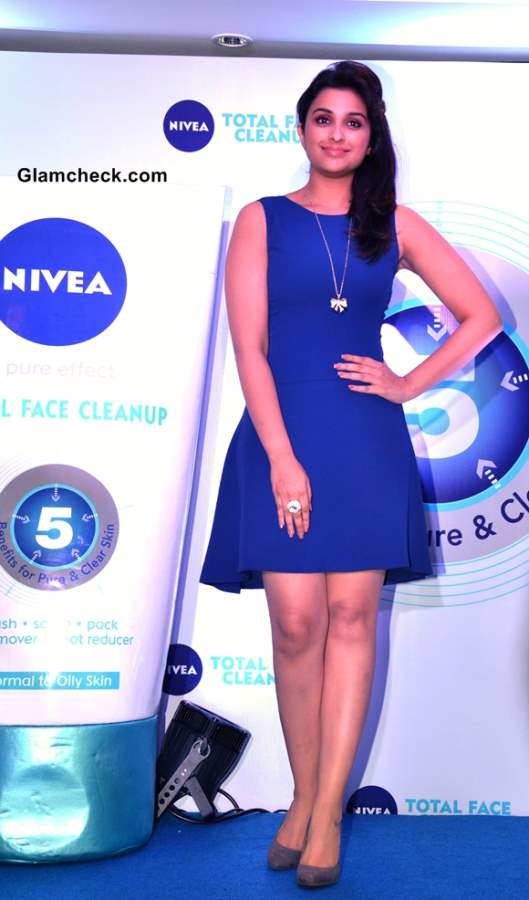 Parineeti Chopra in Blue Dress 2013
She's riding high on the success of her just-released movie Shuddh Desi Romance and that may be contributing to the radiance of this look, apart from the cool shade of the modern, clean-cut frock.
How she Accessorised it
We like that she added touches of sparkle with a diamond cocktail ring and a youthful bow pendant sitting on a long silver chain around her neck. Another rather charming addition which we loved on sight was her footwear – a pair of blue-grey pumps, the color uniquely suited to this up and comer's ensemble.
Hair and Makeup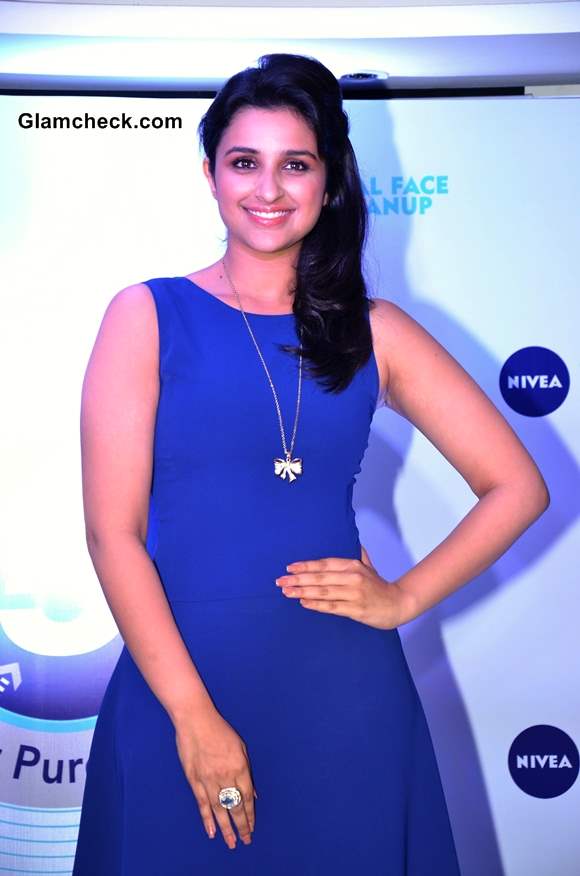 Parineeti Chopra 2013 Pictures
A soft, side-swept hairstyle and natural makeup completed her look. This is a simple, wholesome and subtly sexy ensemble which is full of the down-to-earth vibe that infuses all her looks.
The winners of the event were all dressed in blue too, each of the lovely ladies budding fashionista's in their own right.
The competition was a part of the promotional campaign for Nivea's new Total Face Effect product which is a cleanser, scrub, pack, spot-reducer and oil remover all in one. Users were asked to use the product and send in their experiences with it, and also to share their 5-minute beauty tips. The best entries would get to spend the evening with Parineeti, who is the brand ambassador for Nivea.
When asked at the event what she liked most about the brand, Parineeti said it was actually the smell which is light and fresh. She said she genuinely meant that and would have said so even if she was not the ambassador for Nivea. 
Image: IANS