There's a new online fashion store to shop from. The Koecsh fashion label and online store by Kresha Bajaj was launched at a star-studded event in Mumbai, India on September 28, 2013. The new online fashion outlet will stock the latest in clothes and all kinds of accessories from bags to scarves to footwear.
Several celebs made an appearance including Shamita Shetty, Sushma Reddy, Sridevi, Dia Mirza with Sahil Sangha, Manasi Scott, and models Aleshia Raut, Nina Manuel and Dipti Gujral among many, many others. Let's take a look at what some of these sexy ladies wore to the event.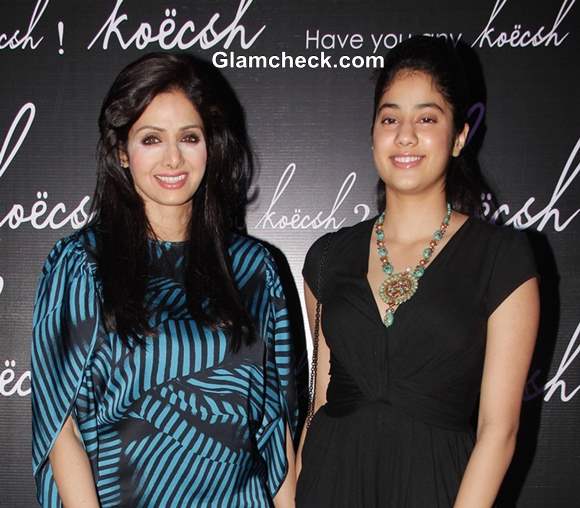 Sridevi Kapoor with daughter Janhavi 2013 Pictures
Sridevi was there with her daughter Jhanvi, both ladies looking lovely. Sri picked a fab outfit – a blue and black abstract print dress by Stella McCartney, featuring elbow-length tulip sleeves.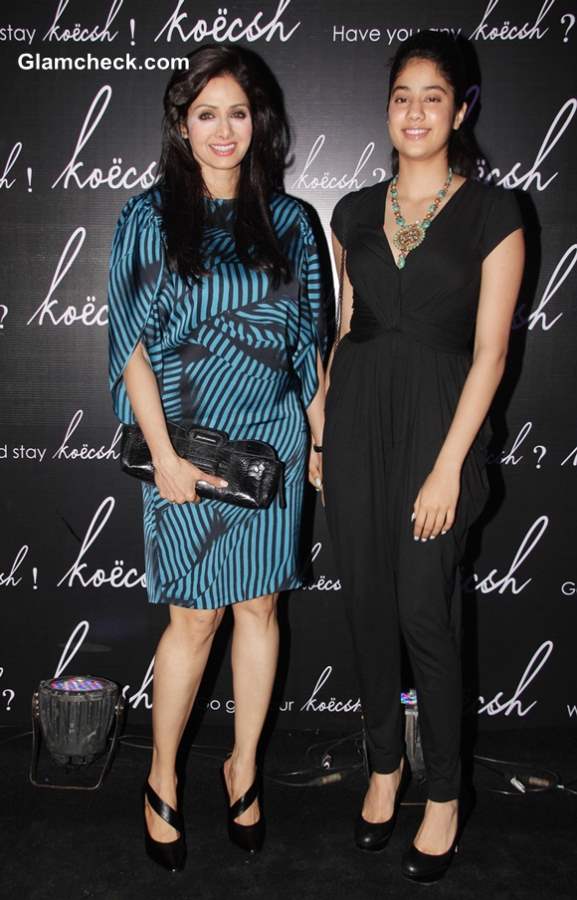 Sridevi with her daughter Janhavi at Koecsh Launch Party
Compared to the dress, the accessories were only so-so – a black clutch and black pumps with too-wide straps. Love her classic hairdo, but HUGE fashion faux pas on the makeup. She used a brand of HD powder that unfortunately shows up very strongly white when the cameras flash – as it did under her eyes, making her look ghostly. But otherwise, her look is top-notch.
Daughter Jhanvi played it safe in all-black, picking a jumpsuit with harem-pant-style bottoms and accessorizing with black pumps and a statement beaded necklace.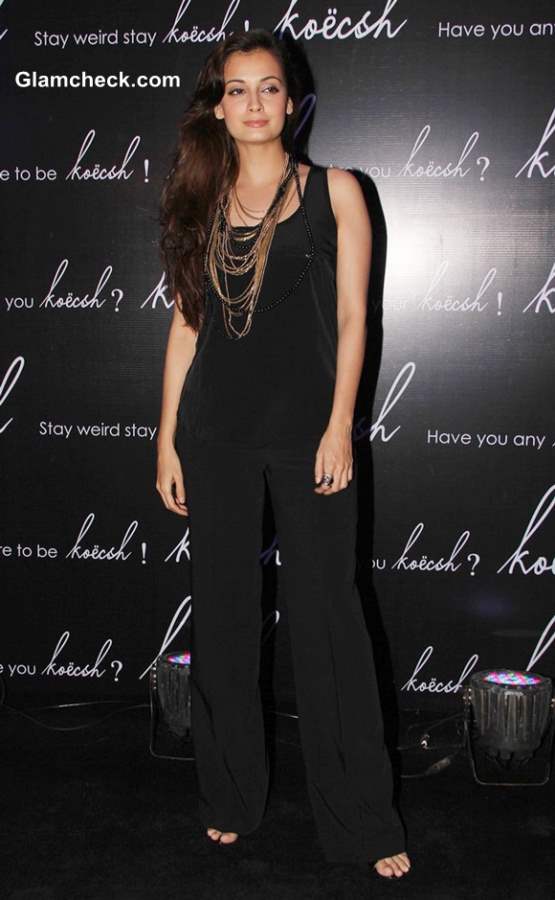 Dia Mirza 2013 at Koecsh Launch Party
Dia kept it classy and simple in a very plain sleeveless black jumpsuit, accessorizing with one beaded necklace, another multi-strand one and open-toed shoes. She rounded it all off with side-swept wavy hair and neutral makeup. Low-key it may have been, but her ensemble still boosted her to the best-dressed list of the evening.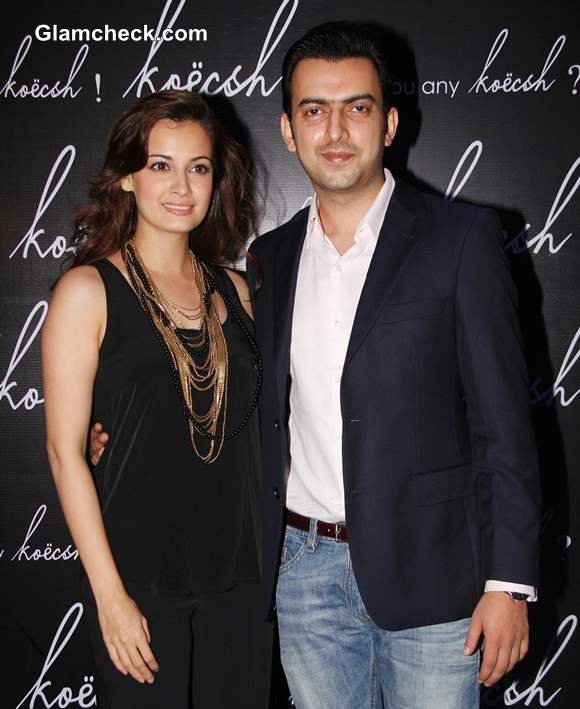 Dia Mirza with Sahil Sangha 2013 at Koecsh Launch Party
Manasi was all different kinds of wow in her outfit – a gorgeous blue dress with bands of white on the sides and a bold orange one on the asymmetrical hemline which was interestingly longer on the front than the back for a change.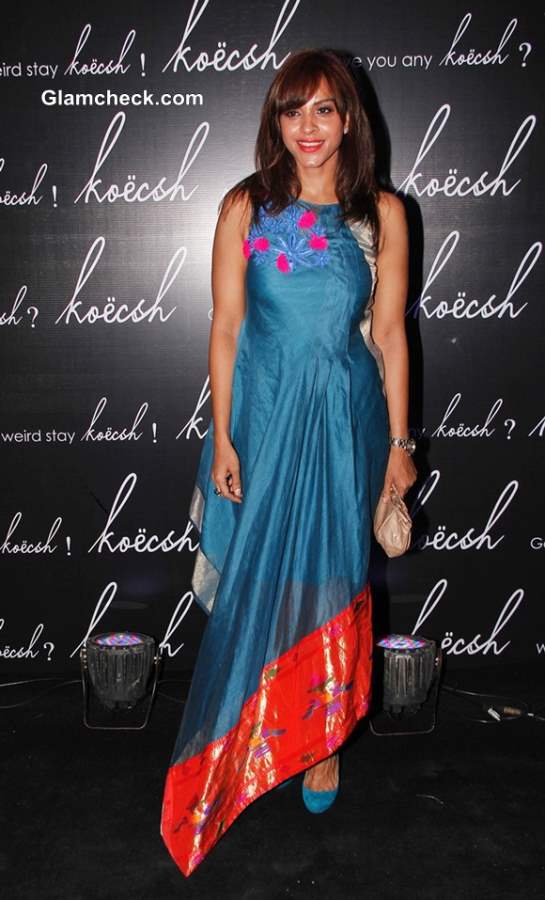 Manasi Scott 2013 at Koecsh Launch Party
The bust was embellished with bright pink floral patterns, or maybe it was embroidery. We couldn't really tell but the overall effect was spot on. Don't miss her gorgeous-as-heck blue pumps peeking out from underneath the floor-trailing skirt. We love, love, love!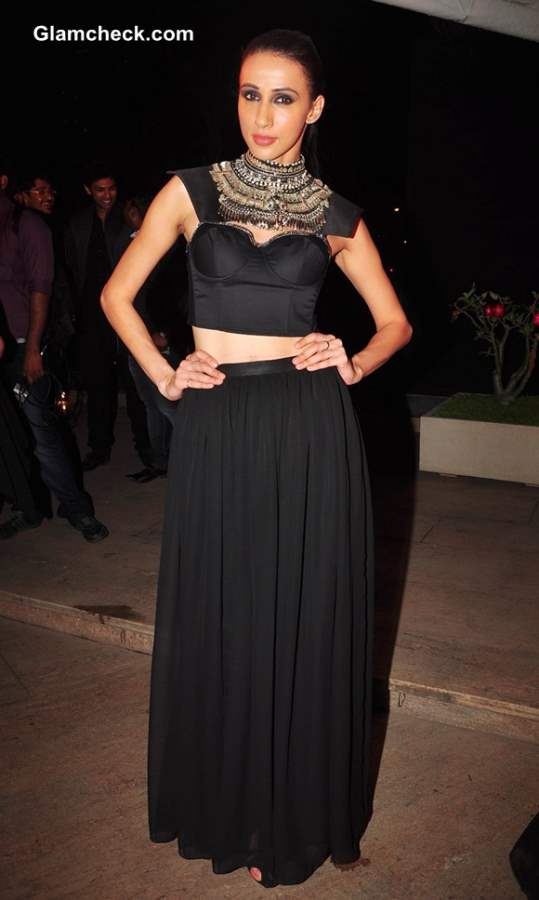 Model Aleshia Raut
As for the models, they seemed to have made a pact to wear black. Aleshia wore a very sexy black cropped top with a flowy black maxi skirt that was part feminine Goth, part Bohemian. She looked like a vampire with a sense of timeless style, especially with her slicked-back ponytail and flawless fair skin.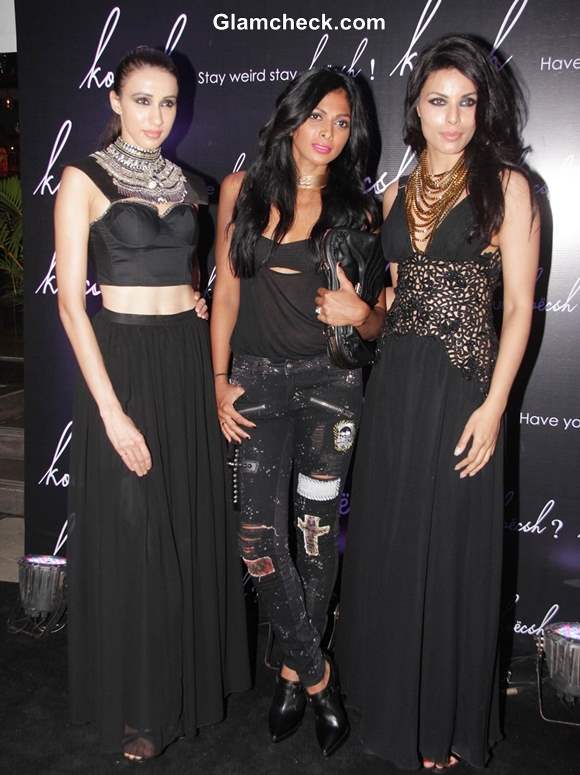 Model Aleshia Raut, Nina Manuel and Dipti Gujral 2013 at Koecsh Launch Party
Nina's look was more edgy rockstar chic. She wore black skinny pants featuring patches of crosses and other pictorial elements, teaming it a very low-cut sheer black top that showed off her black bra. Black booties, a gold choker necklace and a large black clutch completed her look. She looked hot!
Dipti, meanwhile, was elegant yet very sultry in a black maxi dress with titillating floral cutout detailing on the waist accentuating her toned figure. An elaborate multi-strand gold chain and deeply-kohled eyes added to her glamour quotient, as did her side-swept curly locks.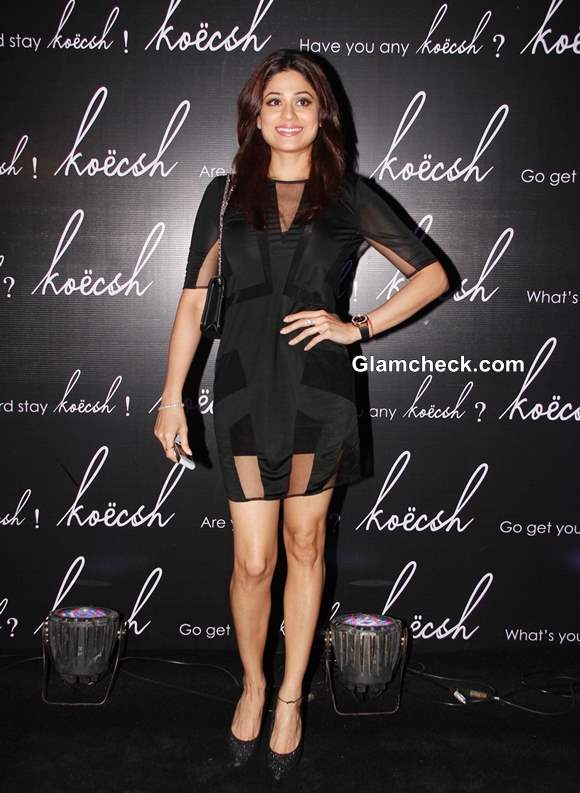 Shamita Shetty 2013 at Koecsh Launch Party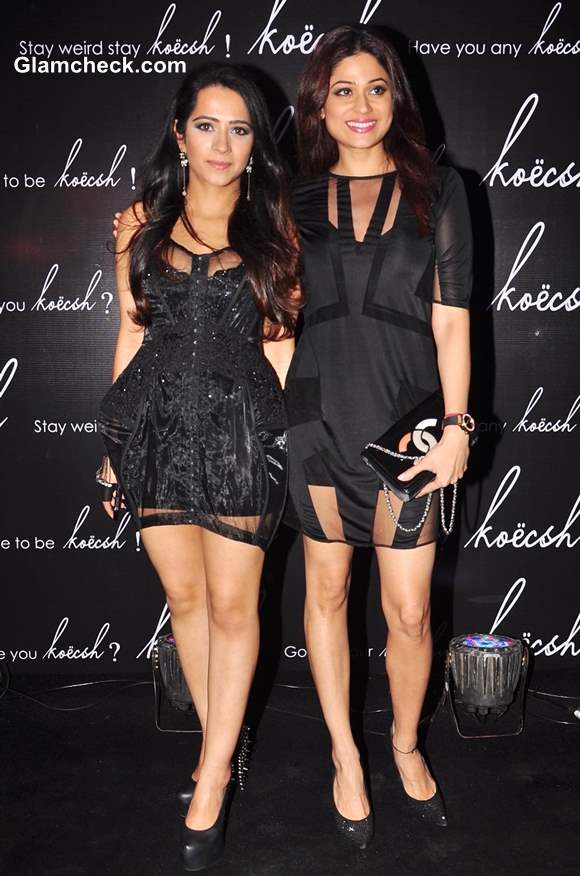 Shamita Shetty with Kresha Bajaj at Koecsh Launch Party
Solaris Images