Bollywood actress Sonam Kapoor showed off her fashion sense yet again as she attended the 40th India Gem and Jewellery Awards in Mumbai, India on October 5, 2013.
Outfit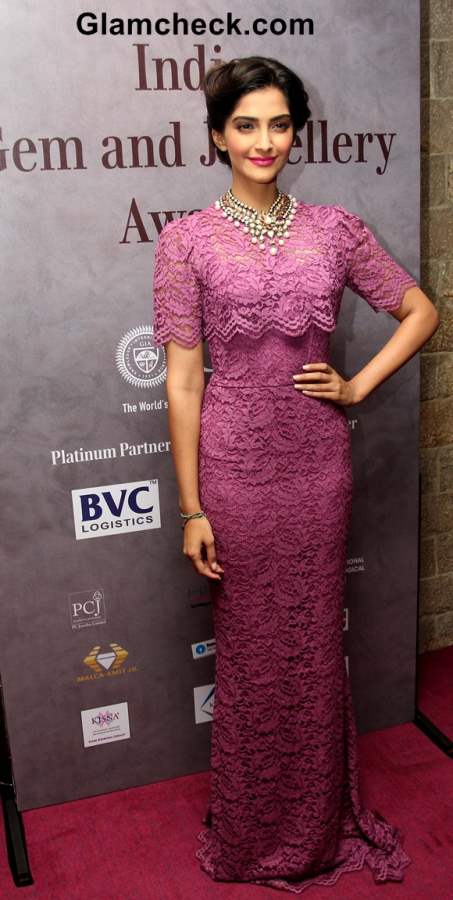 Sonam Kapoor in Dolce & Gabbana Lace Dress at 40th India Gem and Jewellery Awards
Timeless lace was this stylista's choice for the evening. She donned a lovely pink evening gown fashioned entirely out of lace by Dolce and Gabbana. It was a beautiful, figure hugging number with   short train and a waist-length overlay giving it a royal, elegant vibe. The neckline and elbow-length sleeves were sheer, as was the lace from the thigh down. So there was plenty of sex appeal infused into her ensemble right alongside the sophistication.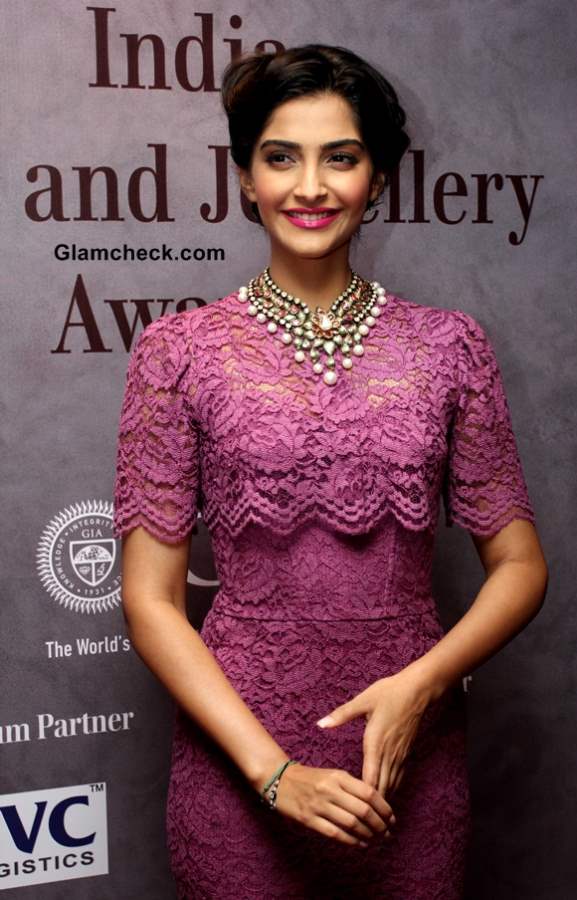 Sonam Kapoor in Dolce Gabbana Lace Dress 2013 pictures
Sonam looked lovely. The lace is, of course, quite stunning and when it's in such a unique color it couldn't help but inspire envy and admiration in all who gazed up on the Raanjhanaa star.
Accessories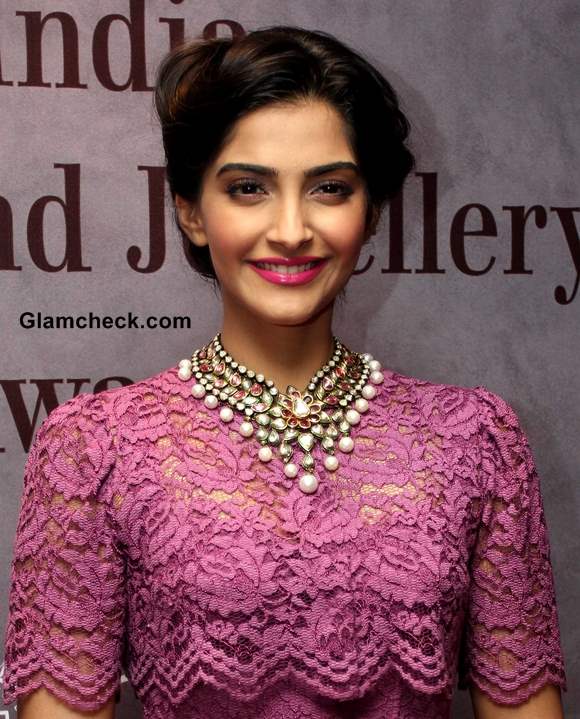 Sonam Kapoor 2013 pictures 
Her bling was like the dress – both subtle and statement, and undoubtedly international. A slim bracelet delicately drew attention to her long, graceful arms. The necklace was of pink and amber stones set in silver with pearl drops and diamonds highlighting the subtle hues of the precious stones even more.
Hair and Makeup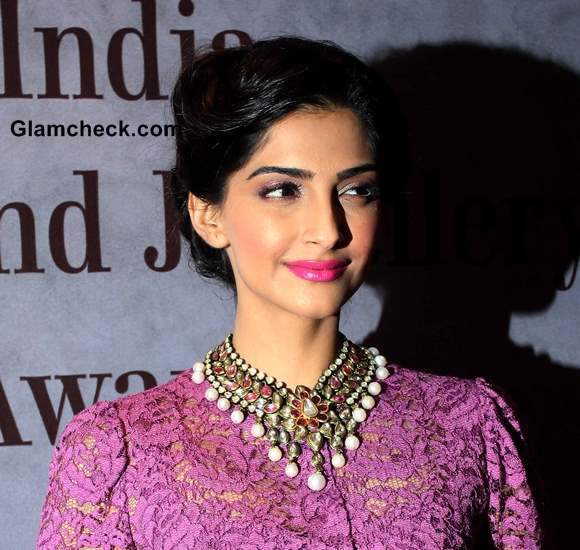 Sonam Kapoor 2013 Hairstyle Makeup
Her styling of this look was exemplary. Her long, dark locks were kept away from her face in a low key bun fashioned from a side parting. As for her makeup, she went matchy-matchy with the dress with a bright pink lippie and a soft pink eye shadow. The latter applied beneath her eyes gave her a dreamy vibe – quite appropriate since she looks quite the dream.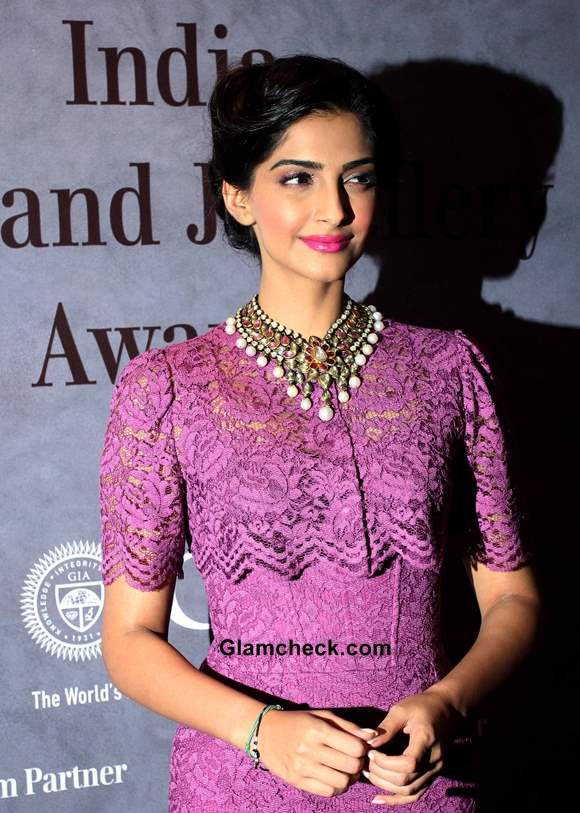 Sonam Kapoor at 40th India Gem and Jewellery Awards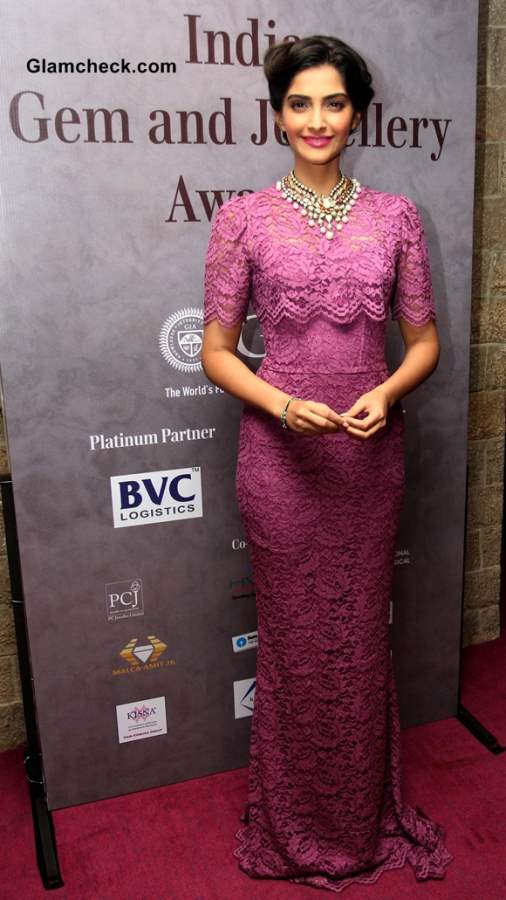 Sonam Kapoor in Lace Dress at 40th India Gem and Jewellery Awards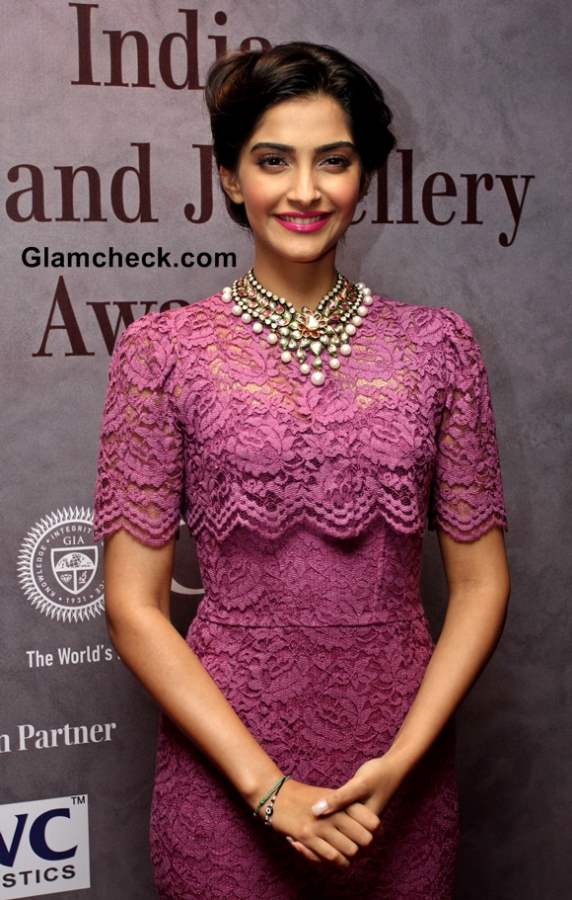 Sonam Kapoor in Dolce & Gabbana Lace Dress Pictures at 40th India Gem and Jewellery Awards
Solaris Images