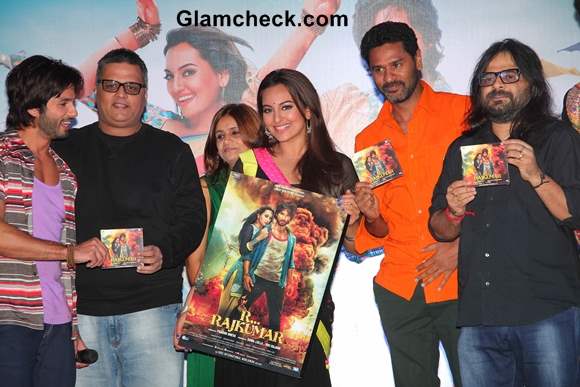 Bollywood actors Shahid Kapoor, Sonakshi Sinha and Sonu Sood along with filmmaker Prabhu Deva launched the music of their upcoming film "R. Rajkumar" in Mumbai, India on November 6, 2013.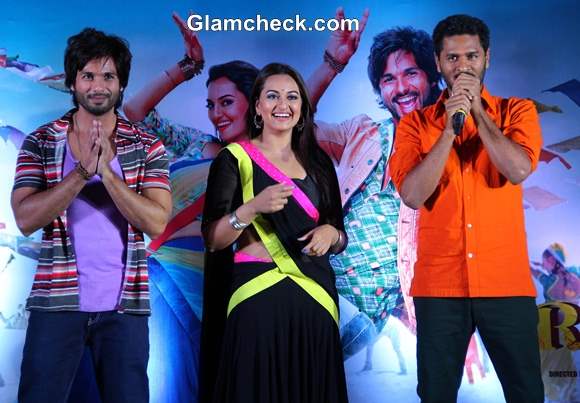 Music launch of R. Rajkumar
Sonakshi wore a black sari with strips of neon pink and neon yellow on the border. The outfit really slimmed down her silhouette. A bunch of bangles and ethnic dangle earrings accessorized the look while a small black bindi, kohled eyes and side-swept locks rounded it out. She looked very like her character in the movie – outfit, makeup and all.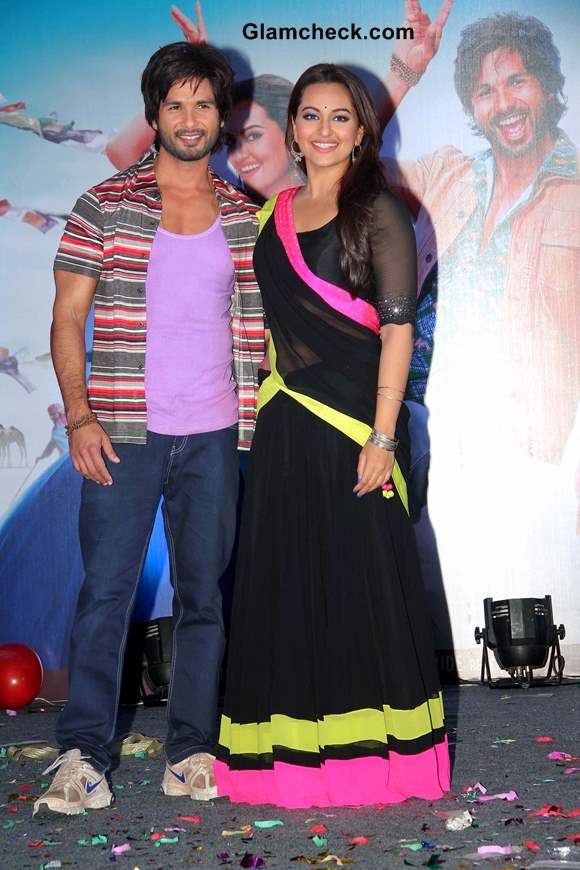 Sonakshi Sinha Shahid Kapoor at Music launch of R Rajkumar
As for Shahid, his attire too mimicked that of his role in the film. He looked rowdy and carefree in a lilac vest, colorful striped shirt, blue jeans and white trainers.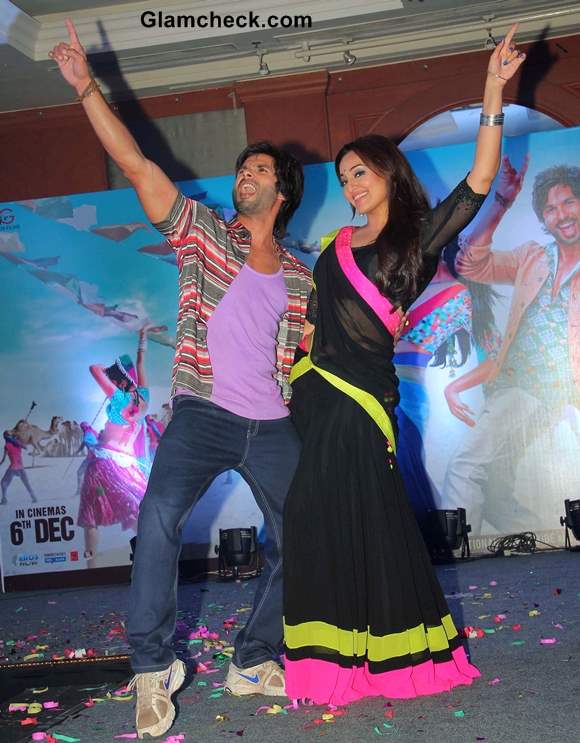 Sonakshi Sinha and Shahid Kapoor at Music launch of R Rajkumar
The first song off the album is the folk tune Mat Maari which has been a hit with the masses. And, of course, that's the song that Sonakshi and Shahid chose to dance to as they unveiled the soundtrack of the film.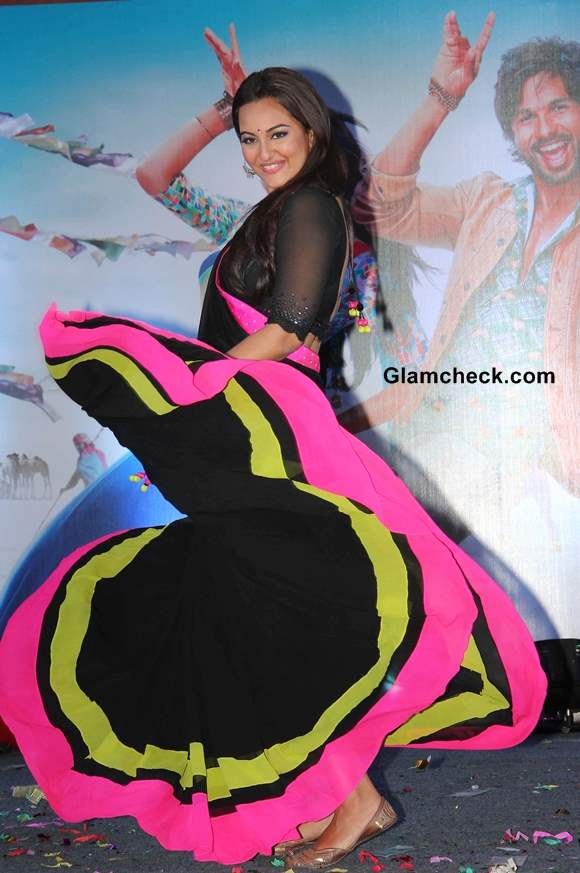 Sonakshi Sinha at Music launch of R Rajkumar
There's an anecdote around the shooting of this song. Sonakshi was supposed to hit Shahid with a slipper, apparently to bring him in line as he teases her. However, she somehow ended up hitting him much lower, getting him right in the family jewels! Word is that Shahid was so stunned for two minutes that he could not speak. And Sonakshi, just as clueless about how it happened, alternated between stifling her giggles and profusely apologizing.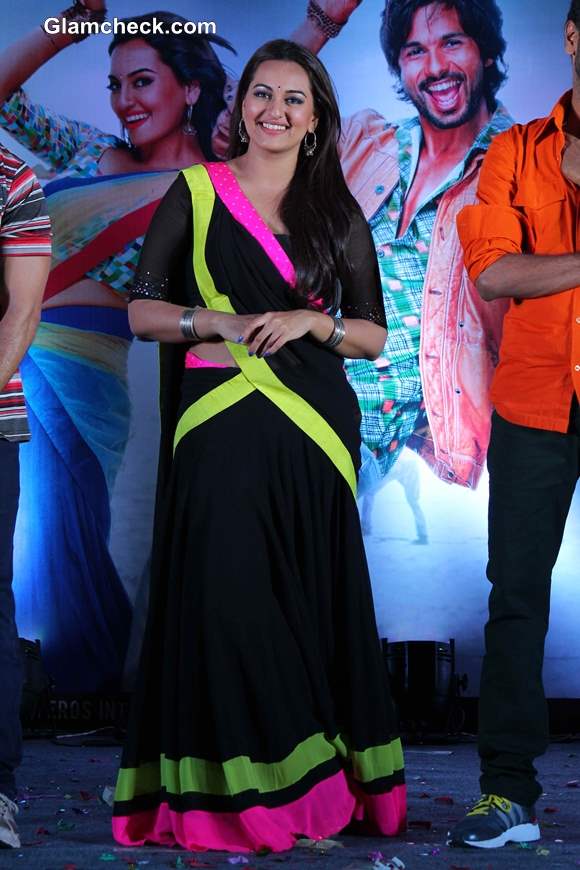 Sonakshi Sinha 2013 at  Music launch of R Rajkumar
R… Rajkumar is the first time that Shahid and Sonakshi have been paired together. The film releases on December 6, 2013. Sonakshi has said that she hopes the film will be successful so that it can be her gift to her father actor/politician Shatrugan Sinha for his birthday on December 9.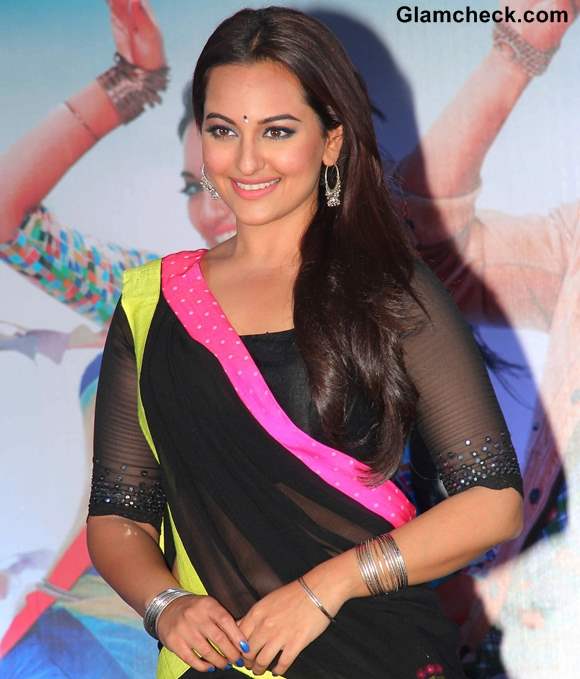 Sonakshi Sinha 2013 Pictures at  Music launch of R Rajkumar
Sonakshi Sinha in Black Lehenga at R Rajkumar Music launch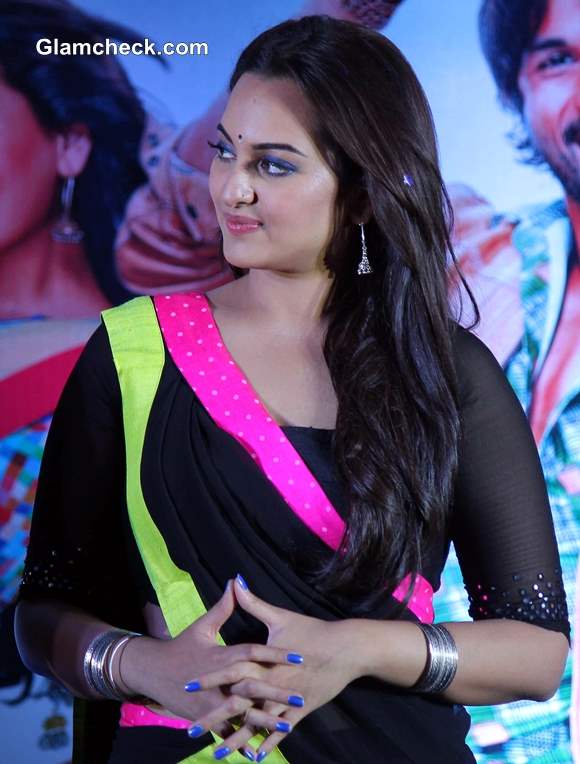 Sonakshi Sinha at R Rajkumar Music launch
Solaris Images