Celebrities showed up in different versions of Indian attire at the wedding reception of Bollywood filmmaker, Vishesh Bhatt with his wife Kanika Parab in Mumbai, India on November 28th 2013. The couple tied the knot in Udaipur on November 25th 2013. Best wishes from our side! Now let's take a look at who wore what..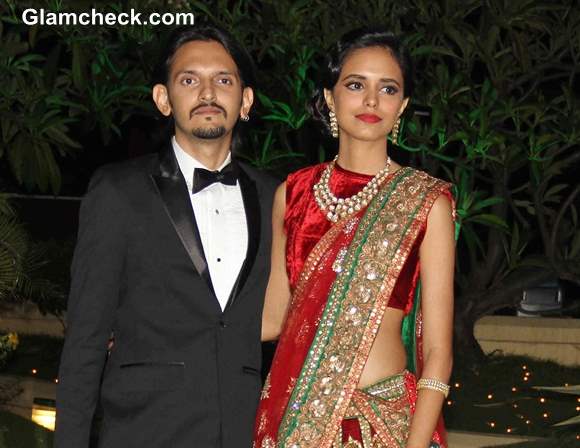 Wedding Reception of Vishesh Bhatt and Kanika Parab
The groom was dressed in a classic black suit with satin detailing and accessorized with a cute bow-tie. The bride looked so royal in her green and red velvet lehenga in elaborate all over work. She accessorized with a kundan neckpiece and earrings. Her was pulled back and styled to the side and lips were matched o her attire – hot red!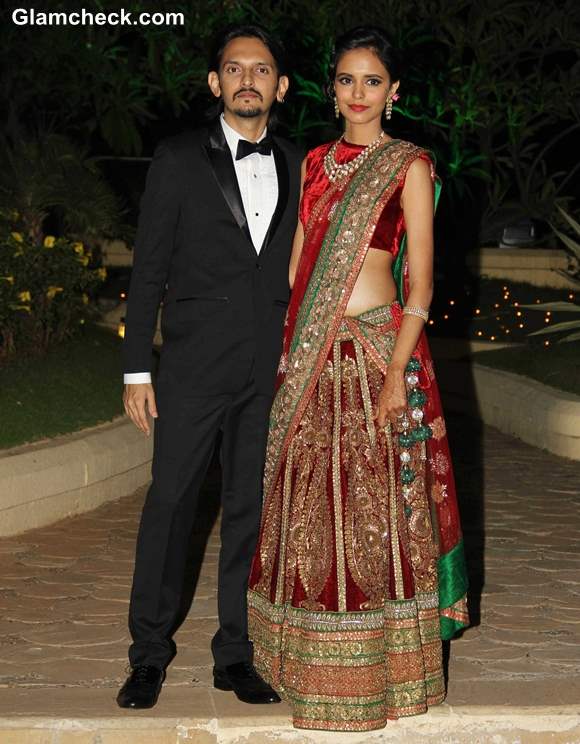 Vishesh Bhatt with his wife Kanika Parab
Akshay Kumar and Rani Mukherjee looked almost colour coordinated, in iris blue and grass green. Akshay looked radiant in a crisp blue shirt with black pants and Rani a blue short tunic with silver embroidery on the neck and border and teamed it up with a crushed crepe lehenga in green which would have looked better in a more flowy fabric.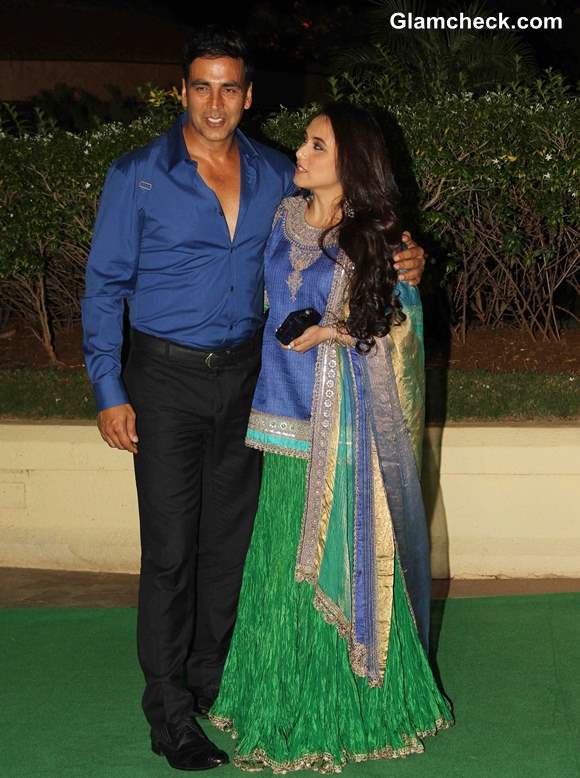 Akshay Kumar and Rani Mukherjee at Vishesh Bhatt wedding reception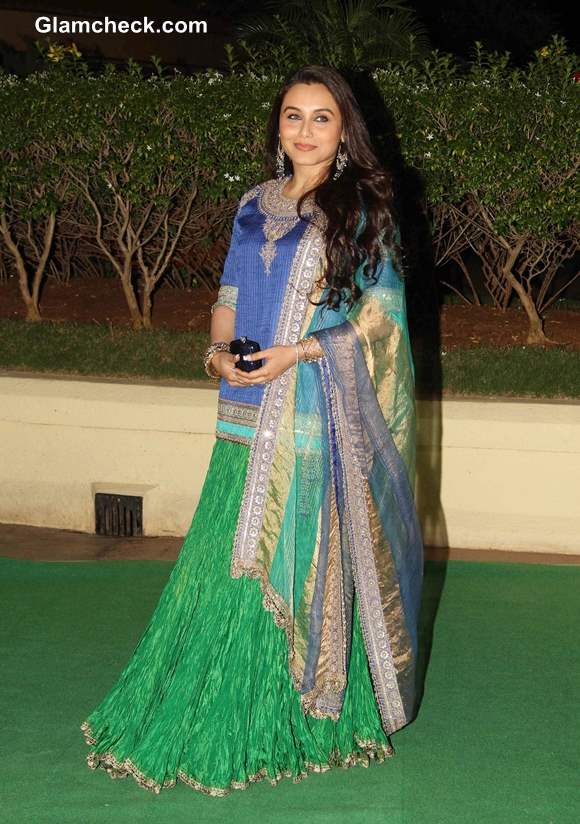 Rani Mukherjee 2013 at Vishesh Bhatt wedding reception
Her long wavy hair was worn to the side and she accessorized with big earrings.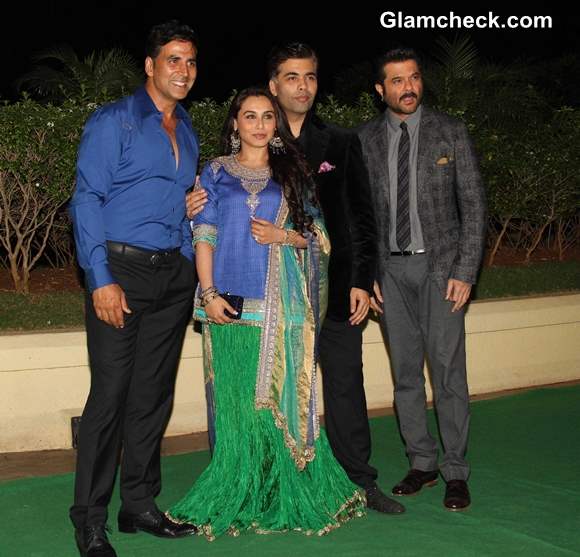 Celebs at Vishesh Bhatt wedding reception
Arbaaz Khan wore a white shirt, casually untucked and sleeves rolled up with matching white sneakers and faded blue jeans. Definitely not a wedding appropriate look, we though!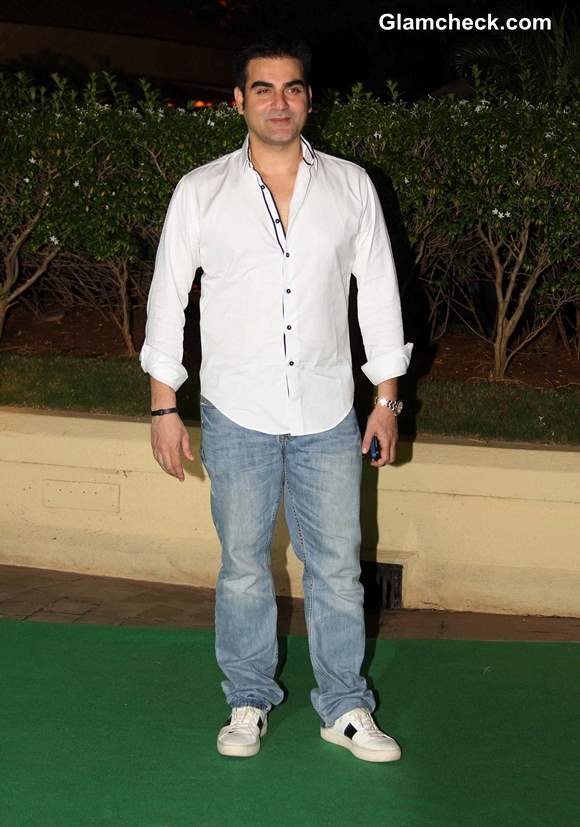 Arbaaz Khan at Vishesh Bhatt wedding reception
Ashutosh Rana and his wife and actor, Renuka Shahane looked very traditional in both their individual attires as Ashutoish wore a bandhgala waistcoat over his kurta and pants and Renuka showed up in a bottle green and maroon kanchivaram sari. Her only accessory bieng her gold mangalsutra!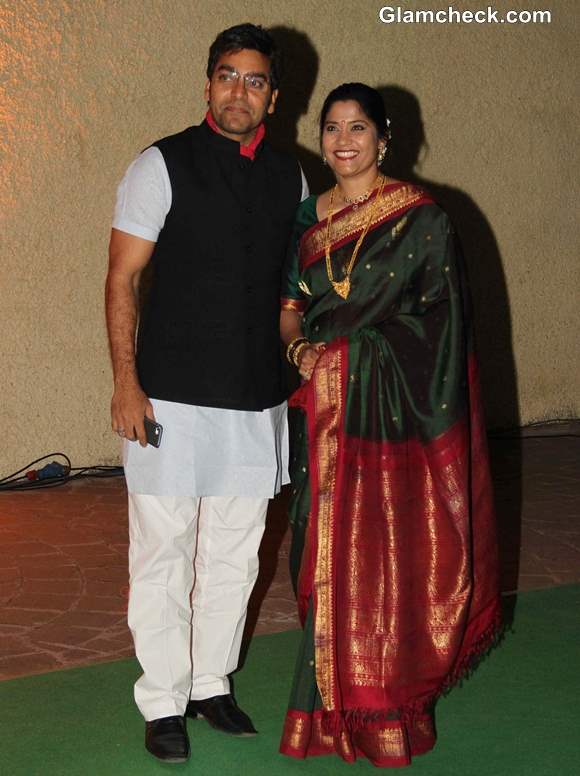 Ashutosh Rana with is wife and actor Renuka Shahane
Then we come to, Emraan Hashmi, who looked suave in a steel black suit with a navy blue tie. His wife wore a whitish beige anarkali suit with sequin work on the top and the border and floral embroidery here and there, she finished her look with big round earrings and a chic watch with red painted nails. Way to bring a little hue into her colourless look!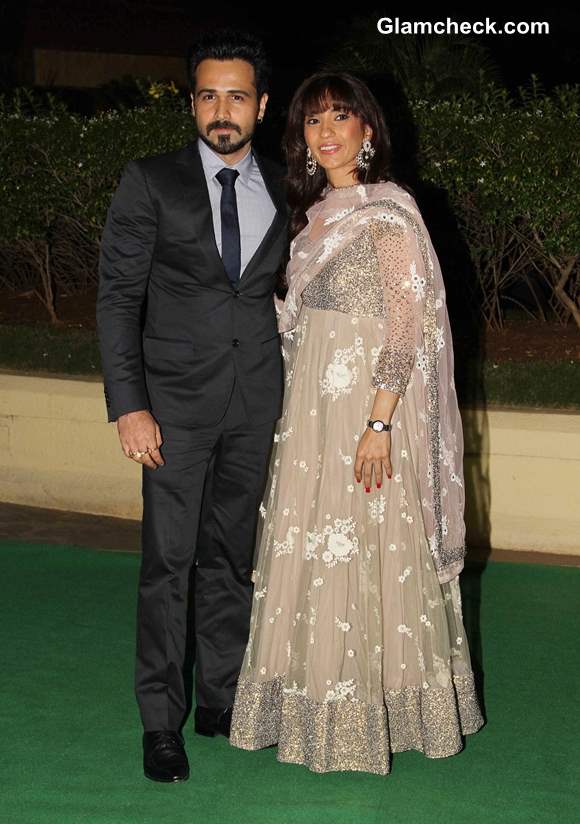 Emraan Hashmi with wife Parveen
Anil Kapoor was dressed in 50 shades of grey, guess Sonam's fashion sense has rubbed on to him heavy and we're glad it has. He mixed lighter shades with dark, like platinum and castelrock grey and incorporated in his patchy coat and striped tie.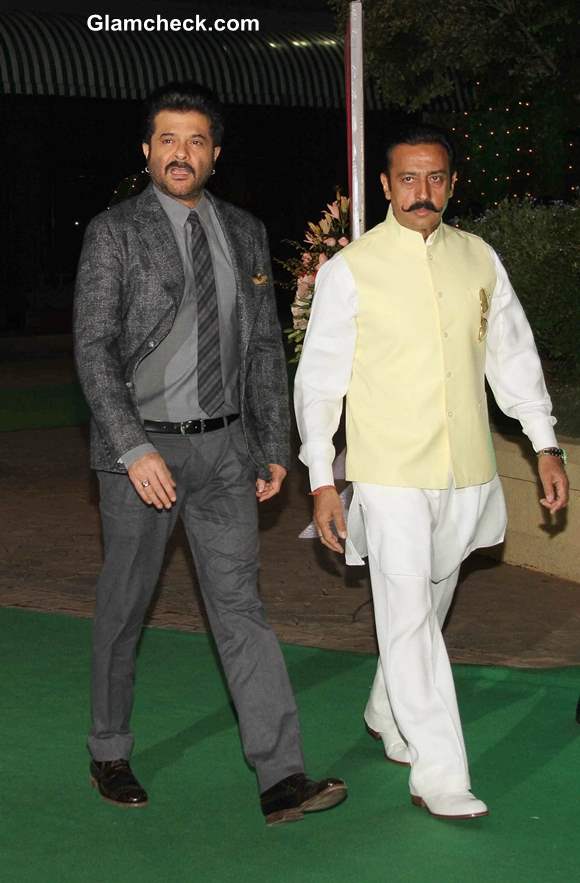 Gulshan Grover and Anil Kapoor
Whereas, Gulshan Grover's look was quite the opposite, he was dressed in an all white kurta pajama with a lime Nehru jacket and those typical round spectacles hanging from the pocket. Talk about styling! 
Imran Khan with his wife, Avantika Malik, looked cute with Imran dressed in a black classic suit and the lady was in a black, red and bright green sari and accessorized it with long earrings and a big red bindi.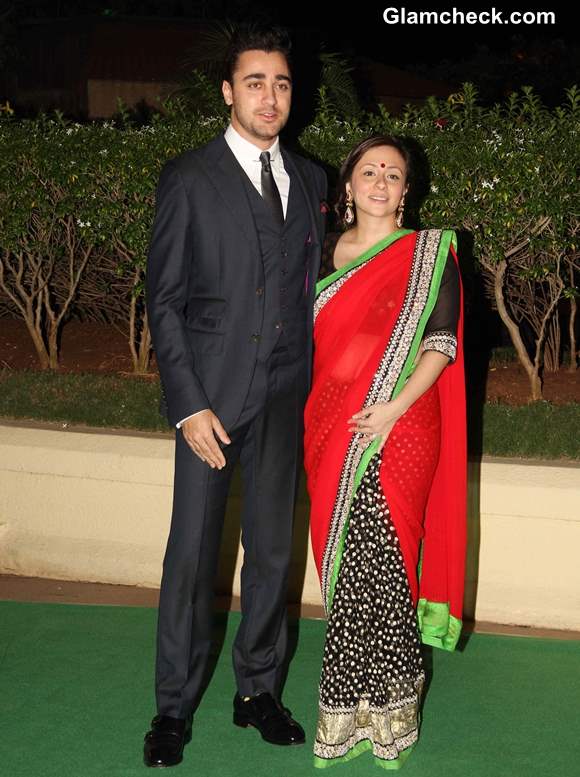 Imran Khan with his wife Avantika Malik
Manisha Koirala looked beautiful in a white sari that had dark green and red borders and paired it with a full-sleeve red choli. Gold jhumkas and a bindi completed her look and we can't deny it all merged so nicely on the occasion.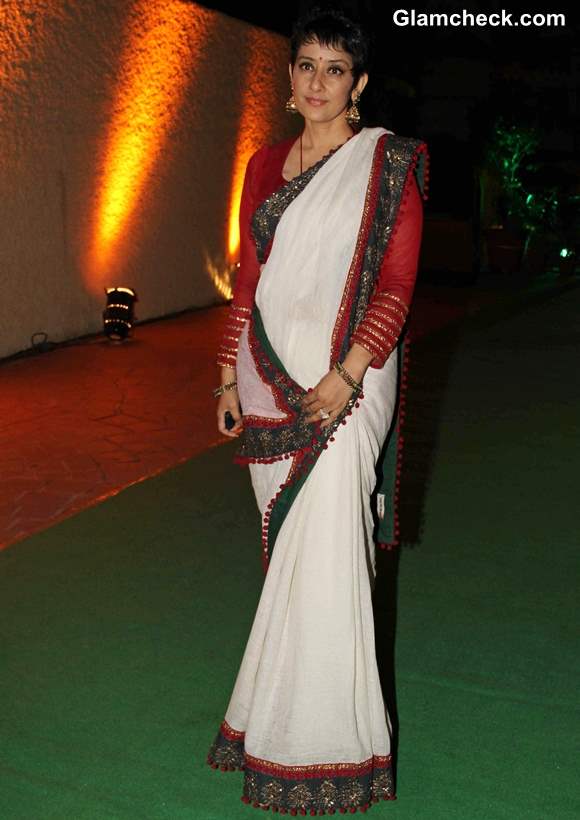 Manisha Koirala in white sari 2013 at Vishesh Bhatt wedding reception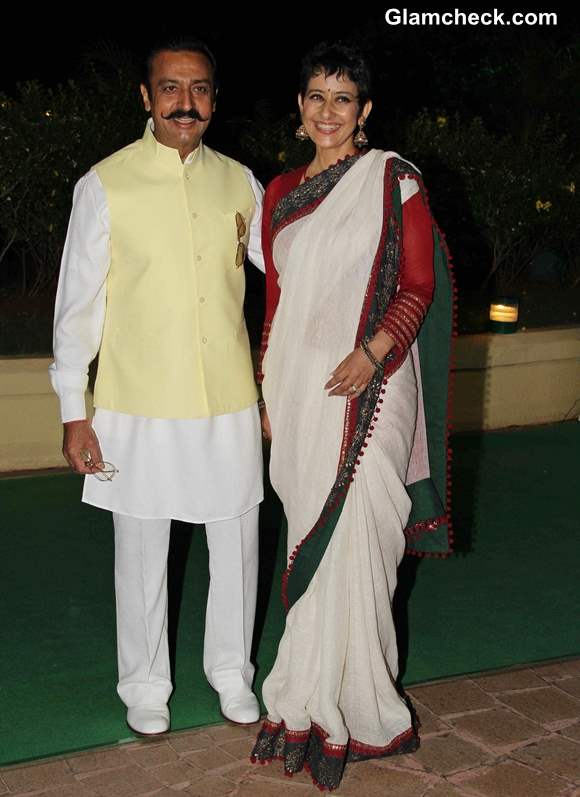 Manisha Koirala 2013 pics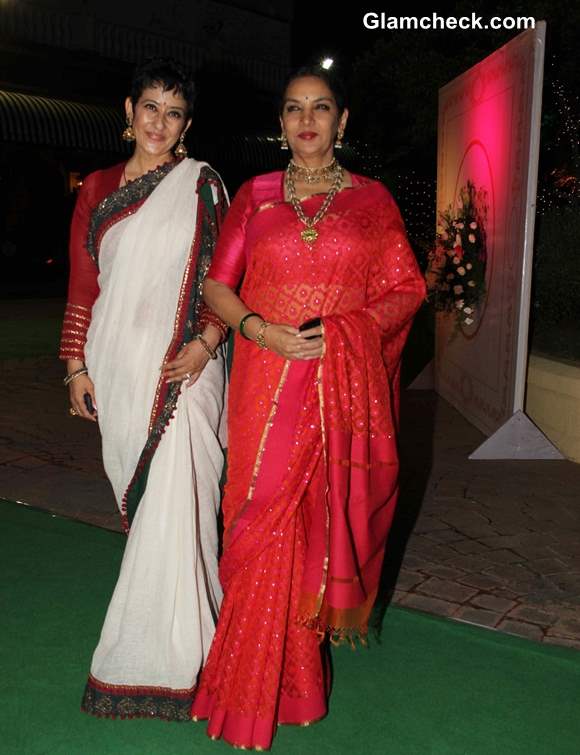 Shabana Azmi and Manisha Koirala
While Manisha chose white, Shabana Azmi went all in for a colour pop look, she adorned a fuchsia pink and reddish sari and accessorized with gold jhumka earrings and a choker necklace.
The Bhatt clan's color of the night was pitch black! Mukesh Bhatt wore a rugged denim shirt and jeans, Pooja Bhatt was seen in a black dress and shrug, carrying a cute silver trunk-like purse in silver. Mahesh Bhatt dressed more formal in a high collar black suit.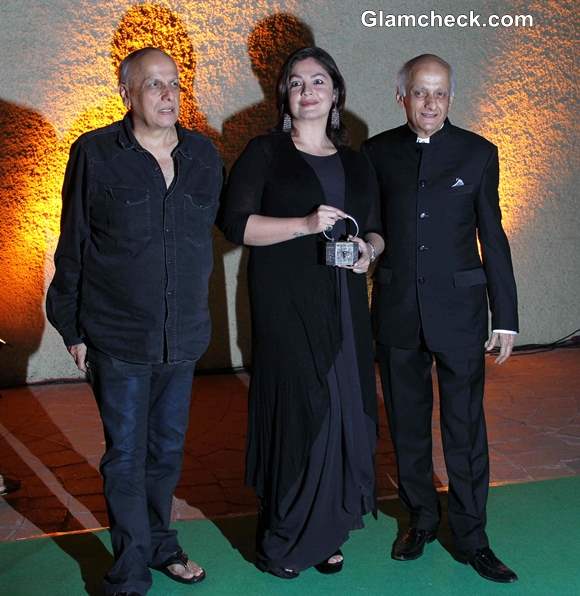 Mukesh Bhatt with Mahesh Bhatt and Pooja Bhatt
Rekha looked ever-so-gorgeous in a fusion sari, with gold being the dominant shade and carried a circular clutch. She always makes sure she accessories well for a any occasion and she did so, with a heavy neckpiece and earrings and bright red lips!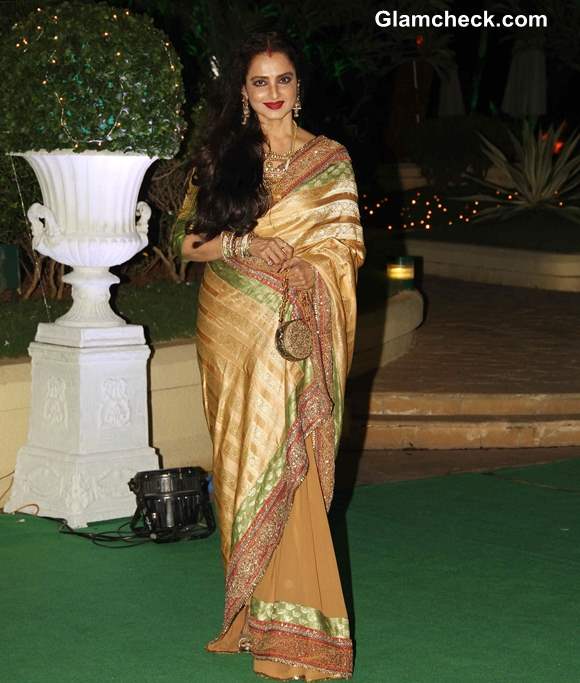 Rekha 2013 in sari pictures
Shahrukh Khan looked sharp in his shiny coal grey jacket with contrast black collars and black trousers and a moustache he was sporting, (if we let our imaginations run wild) maybe it was in the spirit of movember!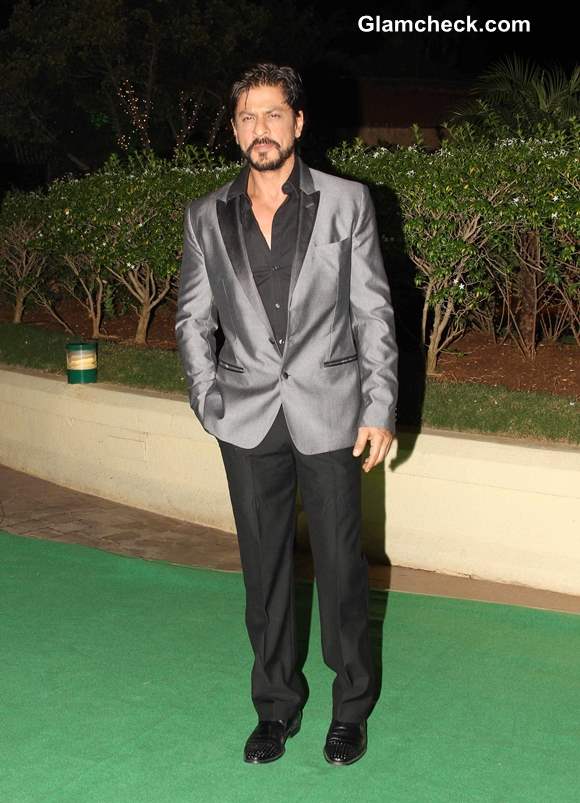 Shahrukh Khan at Vishesh Bhatt wedding reception
Vivek Oberoi adorned a black Nehru collared suit and brought a dash of color with his dull maroon shirt and handkerchief. His wife showed up in a gold and purple huge checkered sari, which we though looked a little drab.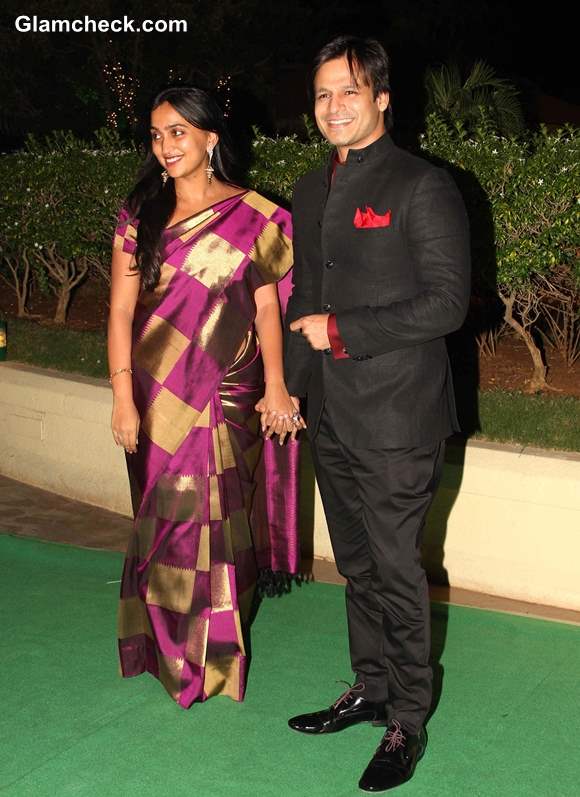 Vivek Oberoi with his wife Priyanka Alva
Last, but definitely not t he least, Shraddha Kapoor wore a baby pink anarkali which was otherwise plain and had dull metallic thick border.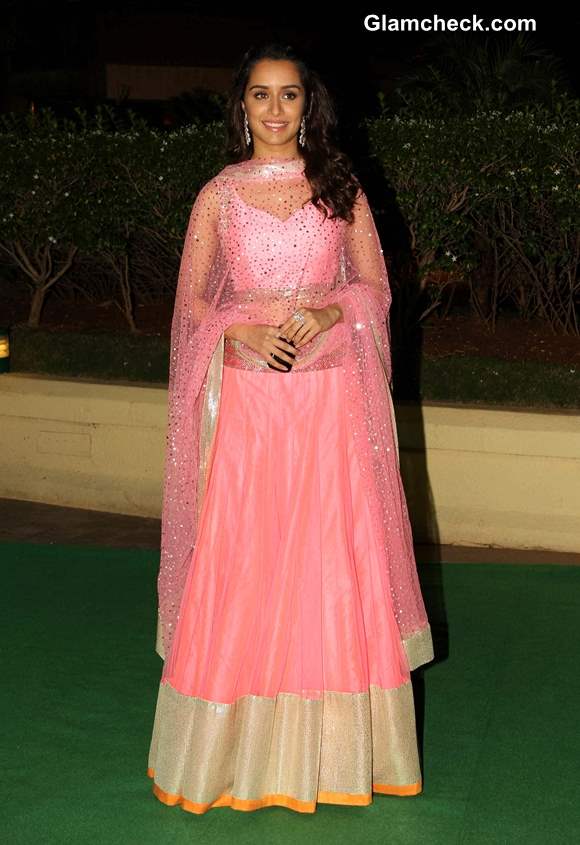 Shraddha Kapoor 2013 in Pink Anarkali
Her lips were glistening in pink gloss and long earrings, but what was eye-catching in her outfit was the way she draped her sequin filled dupatta on her, which made her minimal ensemble look dressy and fashionable.
Solaris Images