Fitness expert Deanne Panday launched her book "Shut Up and Train" at the Palladium in Mumbai, India on December 8, 2013. Don't you just love that title? So many of us need exactly that kind of tough love to get us off our couches and on the treadmill. And Deanne's proven tips, encouraging ideas and fitness boosters promise to do just that. Shut up and Train is available at all leading and online book stores for Rs. 199.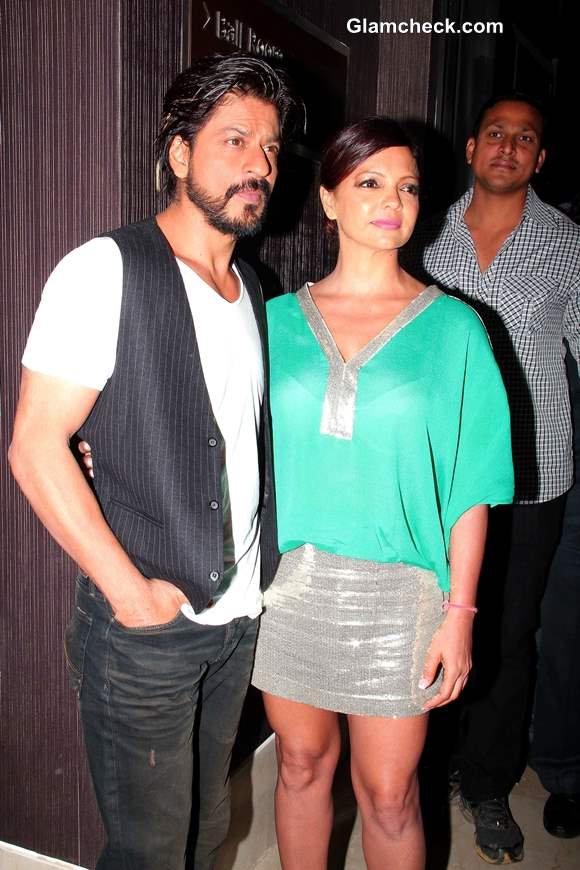 Sharukh Khan at Deanne Panday Shut Up and Train Book Launch
Deanne is a legend on the Indian fitness circuit. She was a stay-at-home mom just a decade ago and is today one of the foremost names when it comes to fitness, especially in Bollywood. She looked smashing in her avatar for the day.
She wore a shiny silver mini skirt, all the better to show off those well-toned muscular legs of hers. She topped it off with a loose-fitting mint green blouse that had the same silver detailing on the collar. Deanne completed her look with gold T-strap sandals, pink lips and a sleek updo.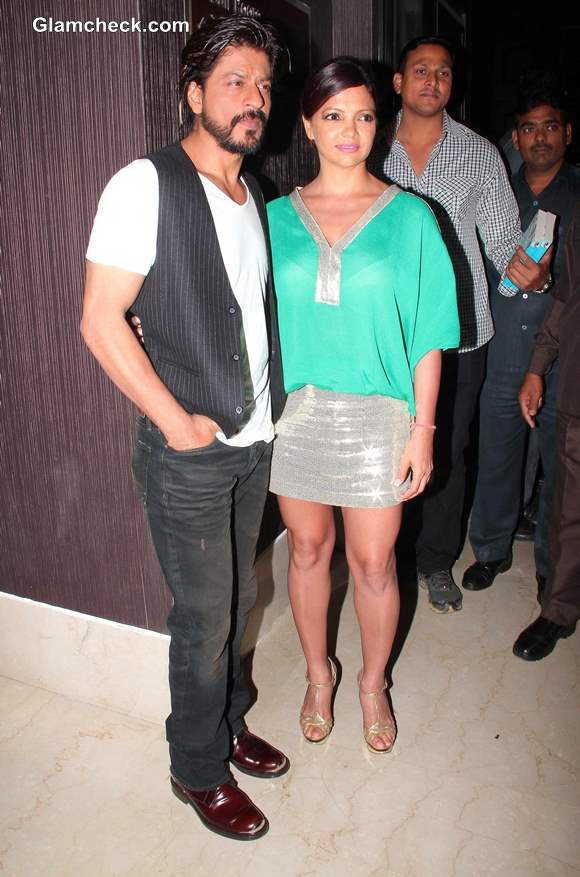 Sharukh Khan New Look at Deanne Panday Shut Up and Train Book Launch
A handful of celebs turned up at the book launch to show their support – and all super-fit themselves so you know that they're not just blindly endorsing something but doing so based on experience.
Among the big names at the event were Bollywood actors Shahrukh Khan, Lara Dutta, Sohail Khan and Shamita Shetty.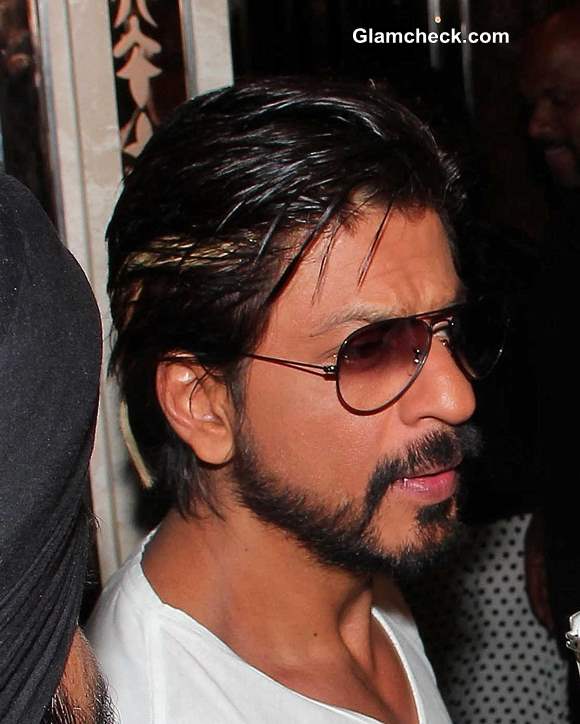 Sharukh Khan in Beard
Shahrukh was undoubtedly at the center of the media storm surrounding the book launch. The superstar has really upped his own fitness regime these last few years and has one of the most enviable bodies around today. When asked who he thought had hot bods in the industry, Shahrukh listed Hrithik Roshan (duh!), Ranbir Kapoor, Farhan Akhtar and John Abraham.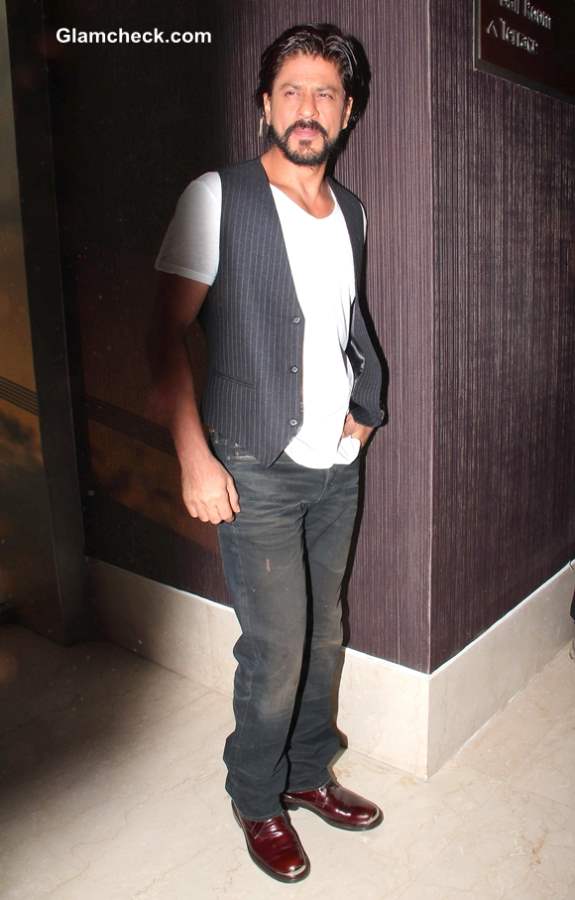 Sharukh Khan New Look
He continued to sport his new look at the do. But let's take a look at his outfit first. His toned body was very apparent in coal-grey jeans, a white tee and a pin-striped waistcoat. He looked lean and mean in the simple yet deadly ensemble.
That blond streak he has been sporting since he started shooting for Happy New Year was evident too. It was slicked down or braided or perhaps just gelled together and it stood out very starkly midst the rest of his messy locks. And in keeping with the bearded trend that's been so popular with the boys lately, he's been taking time off from his razor.
Although he's close to fifty, he can still break hearts like no other.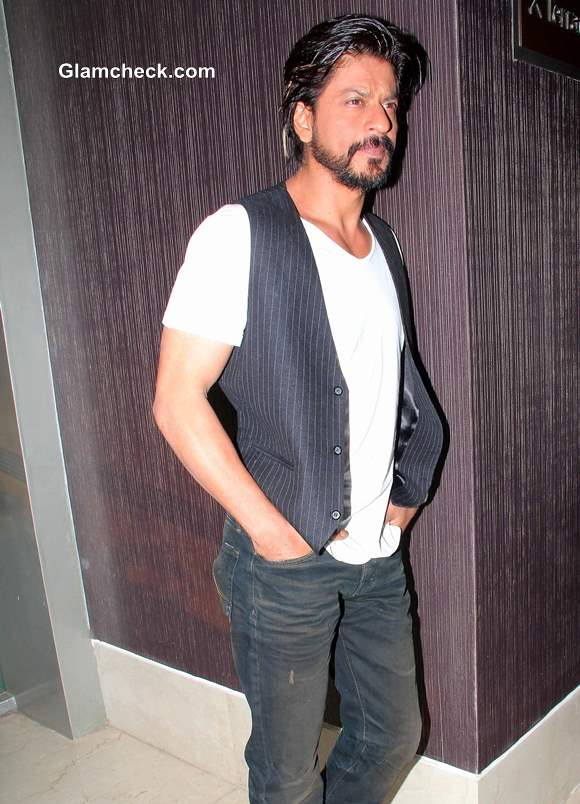 Sharukh Khan Latest Pictures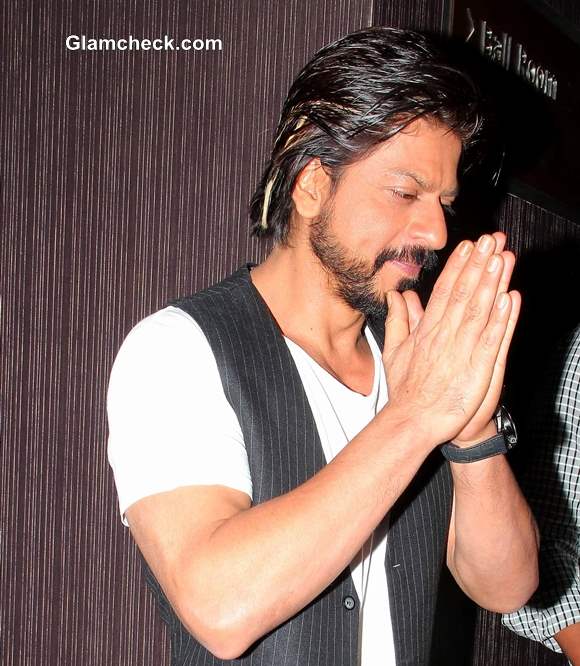 Sharukh Khan sports Beard
Solaris Images