On the tenth day of the Hindu month Ashwin and after the pious period of Navratras comes the grand day of Dussehra. The festival of Dussehra also known as VijayaDashmi is celebrated by Hindus all over the world and primarily in India, Nepal and Bangladesh.
2012 Dussehra date: Dussehra falls on the 24th October this year.
Legends surrounding Dussehra
Dussehra is a Sanskrit word and literally translated means " Dasha Hara" or remover of bad fate. It is a festival symbolic of victory of good over bad.
Perhaps the most popular legend is how lord Rama along with his younger brother Lakshmana, their follower Lord Hanuman and an army of gifted monkeys fought with the demon king Ravana to rescue Lord Rama's abducted wife Sita. On the tenth day of the fight, that is Dussehra, Ravana was killed and that is why the day is celebrated to be victory of good over evil.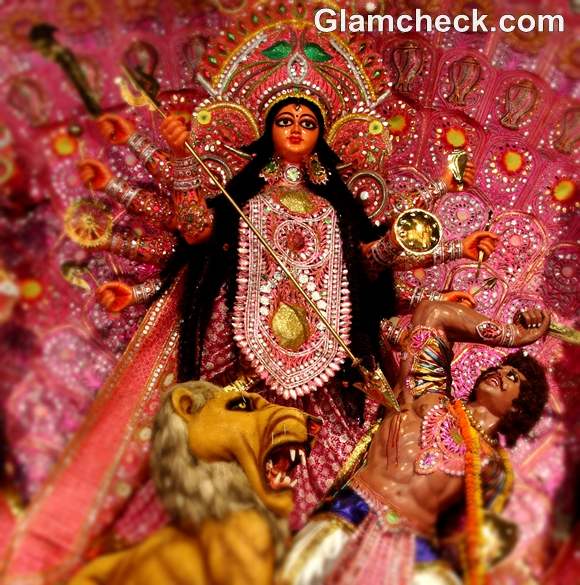 It is believed that on the final and ninth night of Navratras Ma Durga killed the all powerful demon king Mahisasur, making way for the celebrations on the tenth day – Dussehra.
Yet another common legend is how the disciple of the learned Rishi Varatantu, Kautsa wanted to pay his fees to his teacher (Guru). The Rishi asked the disciple for 140 million gold coins, a 100million each for the 14 sciences the Guru had taught him. Kautsa sought the help of a generous king, who requested his friend Lord Kuber( the God of wealth) to shower gold coins under a tree named Aapati. Kautsa took the required amount of coins and paid his fees, and distributed the rest amongst the needy. From this day onwards, on the day of Vijayadashmi, it is common to gift the leaves of Aapati tree which is symbolic of giving gold to ones friends and relatives.
There goes another legend of how on this day the five princes or Pandavas came back from their period of exile and leading unidentified lives to reclaim their hidden weapons from beneath the Shami tree and worked towards reclaiming their throne from the Kauravas. On this day therefore, certain sects worship the Shami tree and the weapons.
Celebrations and Rituals during Dussehra
India being a geographically vast country has many rituals that the people follow and celebrate in myriad ways during Dussehra.
The Northern states of India witness live plays 'Ramlila' depicting the various stages of Lord Ram's life. The play could be staged only on the day of Dussehra or during all the nine days of Navratri.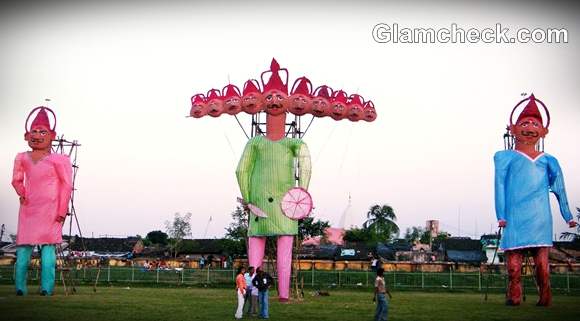 On the evening of Dusshera, huge effigies of Ravana and his aides Meghnaad and Kumbhakarna are built in common places and actors playing the part of Lord Rama and his aides light fire to the effigies.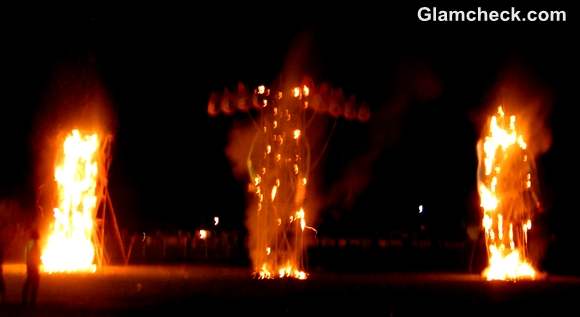 Dussehra festival 2012 : Effigies of Ravan and his brothers burnt
There are huge crowds to witness this event and there is a pompous show of fireworks as well. It is also common to hold sacred pujas and yagnas on this day. By performing these pujas and yagnas over the period of Navratras and Dussehra, it is said to remove ten bad qualities from within the man – jealousy, lust, greed, anger, delusion, pride, will, ill-mind, ego and poor intellect.
Southern states too celebrate the festival of Dussehra with gaiety and zeal. It is common to worship Goddess Durga and Gods and Goddesses in their miniature forms. Dussehra is also considered an extremely auspicious day to start a new venture or for starting school etc. A grand procession of bejewelled and decked elephants is taken out in the Southern city of Mysore every year on Dusshera, ferrying the Goddess from the Mysore palace to the holy Shami tree. Colorful tableaux, dances and fireworks all form a part of this colorful procession.
Eastern and Western states mark this day by immersing the idols of Goddess Durga, Lakshmi and Saraswati, amidst much fanfare and colorful processions shouting slogans of how the Goddess would come back again next year. Colors are thrown in the air; devotional songs are played to mark the end of the holy period of Navratri and Dussehra. Some states also hold Ramlila and effigies of the demon king and his aides are burnt.
Traditional attire on Dussehra
It is difficult to disassociate one's self from traditional dressing on any festival. Dussehra sees women donning colorful saris, rich lehenga cholis, stylish salwaar suits , flowers, jewellery while attending the cultural festivities or visiting relatives, families or friends. Vermillion is worn by married women, whereas the unmarried girls adorn themselves with light jewellery, bindis etc.
It is common to also gift traditional wear, sweetmeats and firecrackers amongst other things during such visits.
Dussehra reminds us of how one should take charge of one's life and keep the everyday evil temptations at bay.
Indian Photo Agency