The 20th Annual Life OK Screen Awards in Mumbai, India on January 14, 2014 were quite thrilling. Not only was it the exciting start of the awards season in Bollywood, it was also a giddy delight for all the fashionsitas who have been waiting to see what the red carpet holds. We noticed that a number of B-town's leading ladies decided to do away with traditional wear and slip into celebratory elegance in the form of the timeless evening gown. Let's take a quick dekko at their wardrobes for the night.
Aditi Rao Hydari looked superb in a midnight blue strapless evening gown by Harsh Harsh. Cinched in on the bodice and waist and extending into a column skirt, the color, fit and style of this outfit boded only good things for her body type.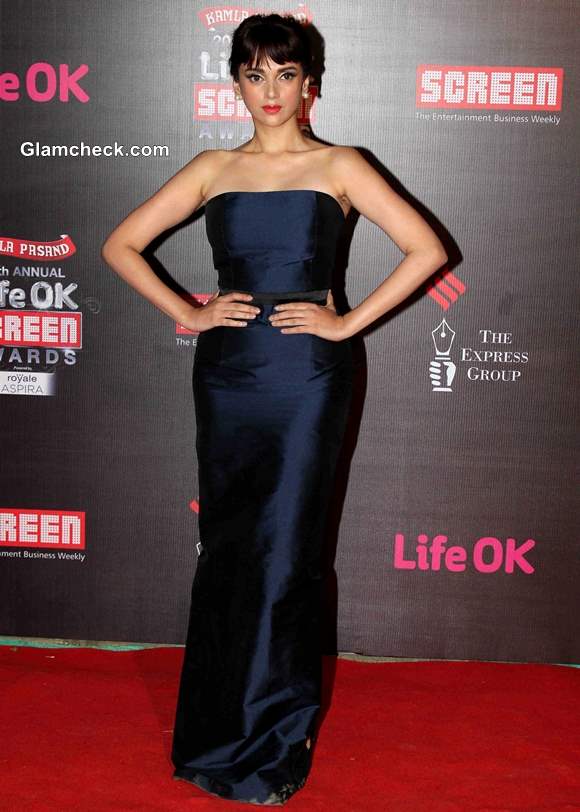 Aditi Rao Hydari 2014 Annual Life OK Screen Awards
We also love the pixie feel of her hair and makeup since it adds a mischievous touch to her glamorous avatar. The cat's eye makeup, pert little red pout and forward-fringed updo all gave the look little hints of youthfulness and spunk that are adorable on her.
Chitrangada Singh's white evening gown somehow managed to give off dashing and bold vibes in spite of being very simple in style.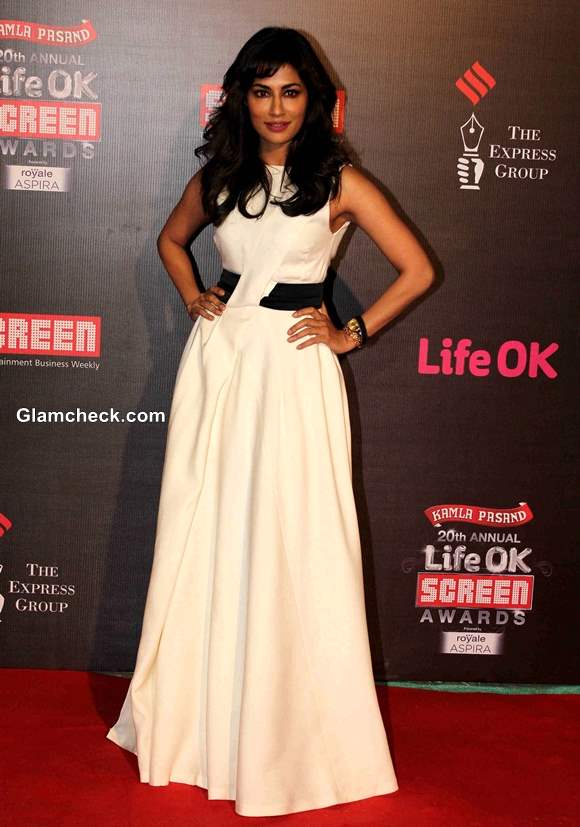 Chitrangada Singh 2014 Annual Life OK Screen Awards
The sleeveless Dior number flared out a little at the waist, giving way to a lovely flowy skirt. Meanwhile, the waist was accentuated with a black belt for a little break from the monotony. She didn't go for much in the way of bling or makeup, but her brooding eyes did do plenty to bring the sex appeal to this look.
Leave it to Deepika Padukone to look like she ruled the evening. She chose a full-sleeved black evening gown by Alexander McQueen that had incredible structure.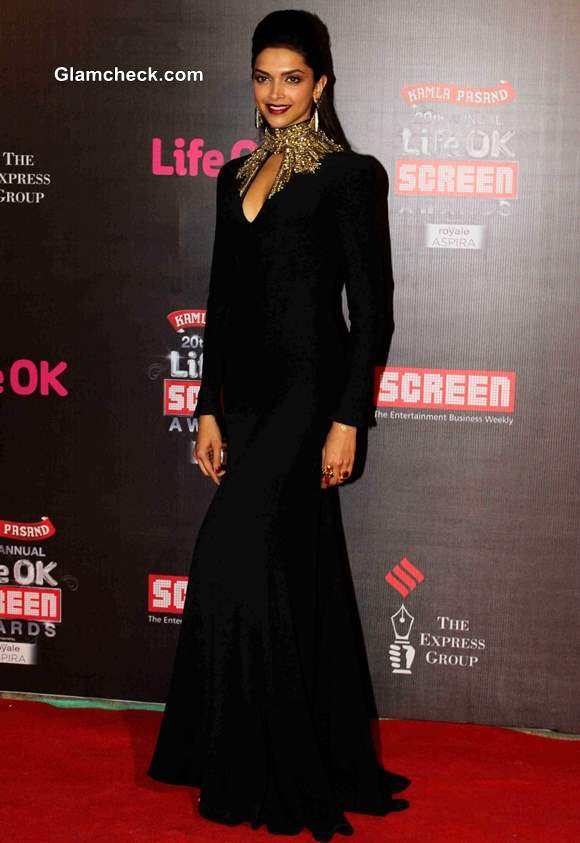 Deepika Padukone 2014 Annual Life OK Screen Awards
The fit was flawless, the skirt flared out to a tiny train from the thigh down, but the most striking feature of the dress was the keyhole detailing on the neckline and the very statement gold high collar. Her head looked like it was emerging from the sun.
Huma Qureshi looked pleasantly attractive in an off-shoulder coral number. Although she is steadily losing weight, she's not at her slimmest yet and we're glad that her gown worked to accentuate her curves.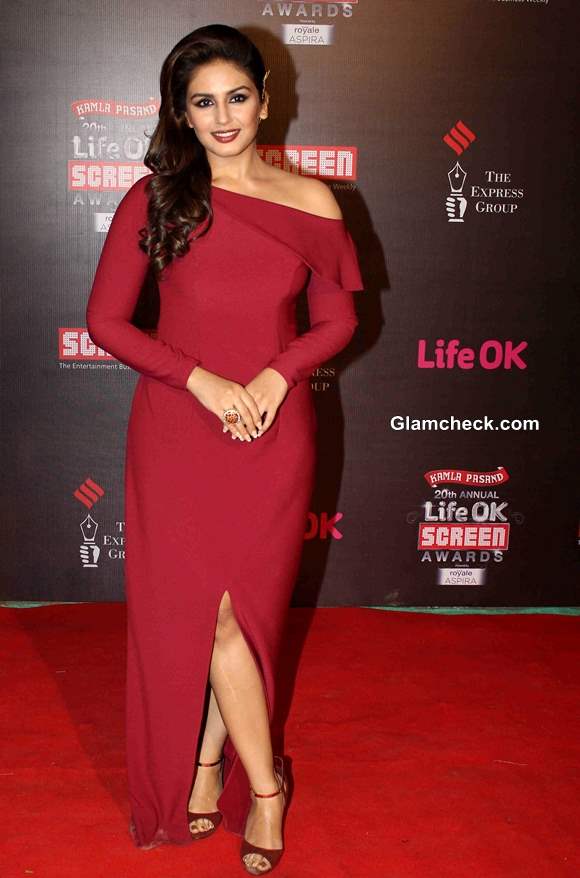 Huma Qureshi 2014 Annual Life OK Screen Awards
A knee-high slit on the skirt brought immense sex appeal as did the inclined feature of the off-shoulder detailing. Her hair was swept over to one side, all the more to expose the bared shoulder. This look is all about great tips to look sexy without getting too revealing.
Kajal Aggarwal chose a black evening gown with mesh detailing. An ornate halter neck doubled as a necklace, looking quite festive indeed.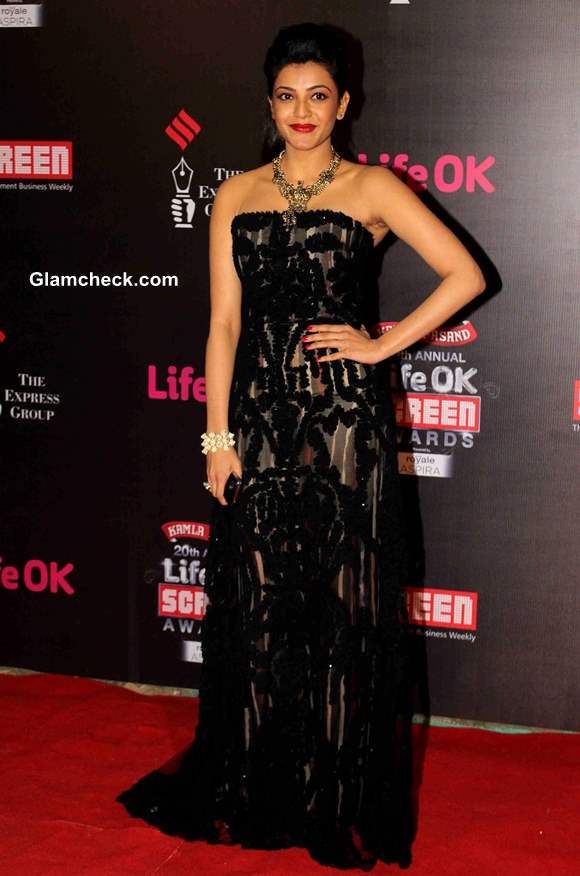 Kajal Aggarwal 2014 Annual Life OK Screen Awards
It was an interesting ensemble and a bit of a challenging one to pull off. Fortunately for her, she had the energy and attitude to make do just fine.
Kajol wore a peachy evening gown with draped and ruffle detailing down the front. It's not the best color on her but she gets points for sprucing up the look with an eye-catching clutch and earrings to match.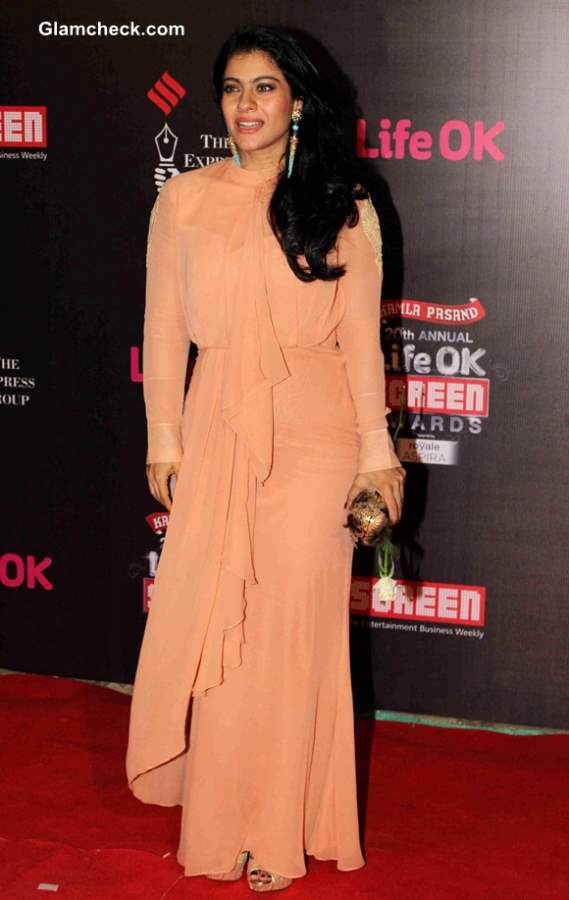 Kajol Devgan 2014 Annual Life OK Screen Awards
Next up was Neha Dhupia, striking an incredible balance of sexy and saintly in a lacy white evening gown with a little sheer panelling on the waist.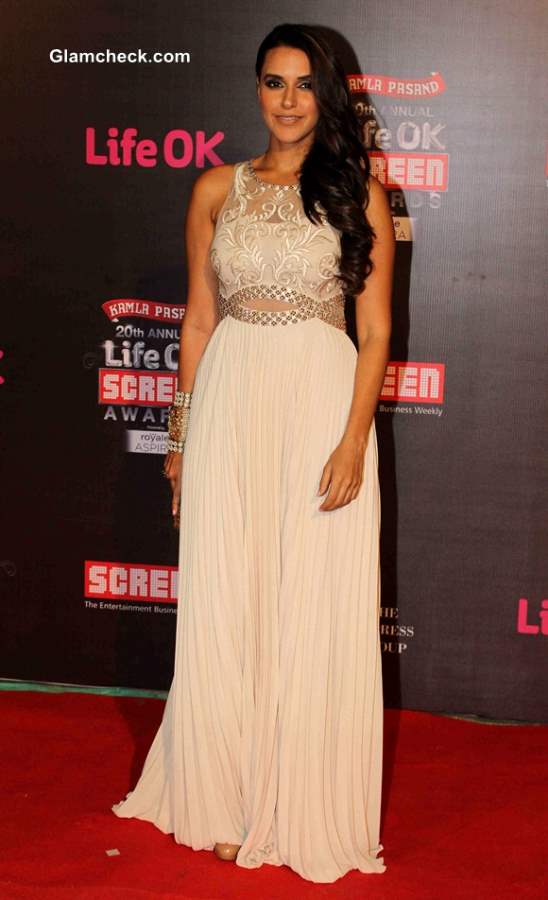 Neha Dhupia 2014 Annual Life OK Screen Awards
Accents of silver on the bodice added the celebratory touches to the look as did her rather dramatic statement cuff bracelet.
Preeti Desai went with a bold black number that was simply oozing oomph. It clung to her figure like a glove, the keyhole detailing and thigh high slit offering a visual respite from all that contained sexiness.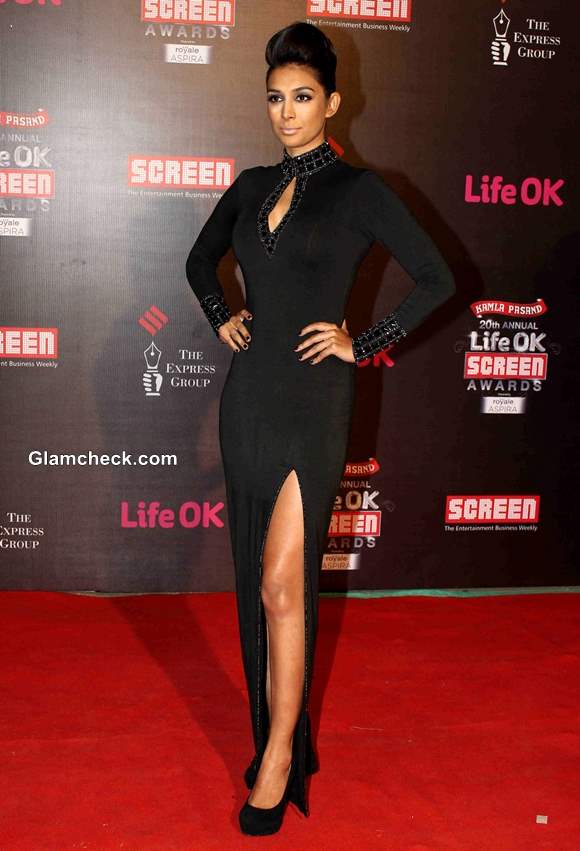 Preeti Desai 2014 Annual Life OK Screen Awards
Her runway-ready bouffant updo and stacked black pumps rounded off the look.
Another look we loved was Shruti Hassan's Gaurav Gupta Couture number. The primarily blue evening gown was overlaid with black lace, showing up accents of black floral lace and also shielding the steeper cuts of the blue fabric underneath.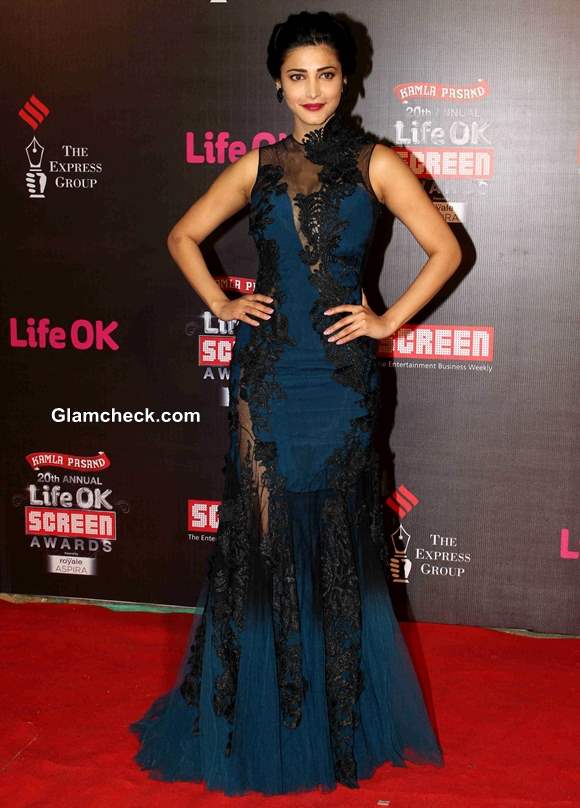 Shruti Haasan 2014 Annual Life OK Screen Awards
Sheer fabric, lace and flowers – all made for a very feminine gown for a very feminine young laldy.
Sonakshi Sinha was all radiance in a white and silver Amit GT evening gown. The dress had a sort of sheer feel to it so all that dazzling silver embroidery seemed almost titillating on top of it.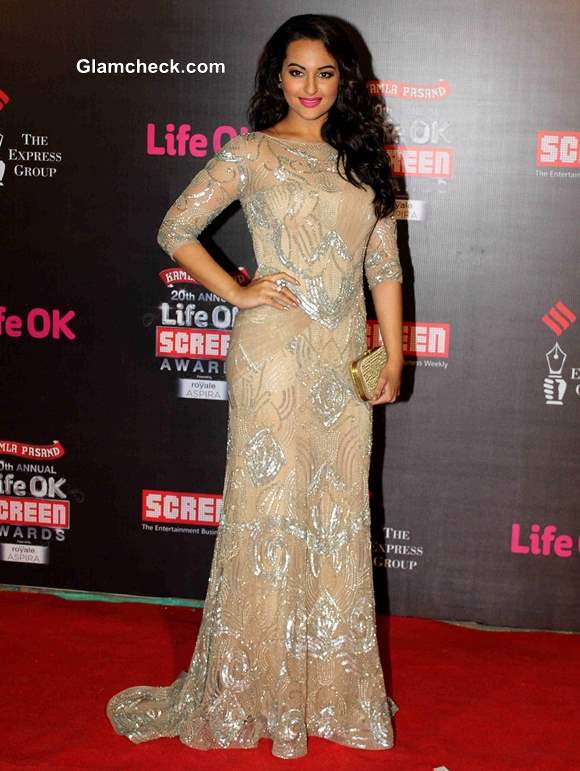 Sonakshi Sinha 2014 Annual Life OK Screen Awards
With the short train, dramatic hair, pink lips and gold clutch, she was definitely one of the lookers of the evening. 
Solaris Images