Bollywood wholeheartedly attended Ahana Deol's wedding to Vaibhav Vohra in Mumbai but gave a miss to the wedding reception which was held at Vaibhav's farmhouse on the outskirts of New Delhi, India on February 5, 2014.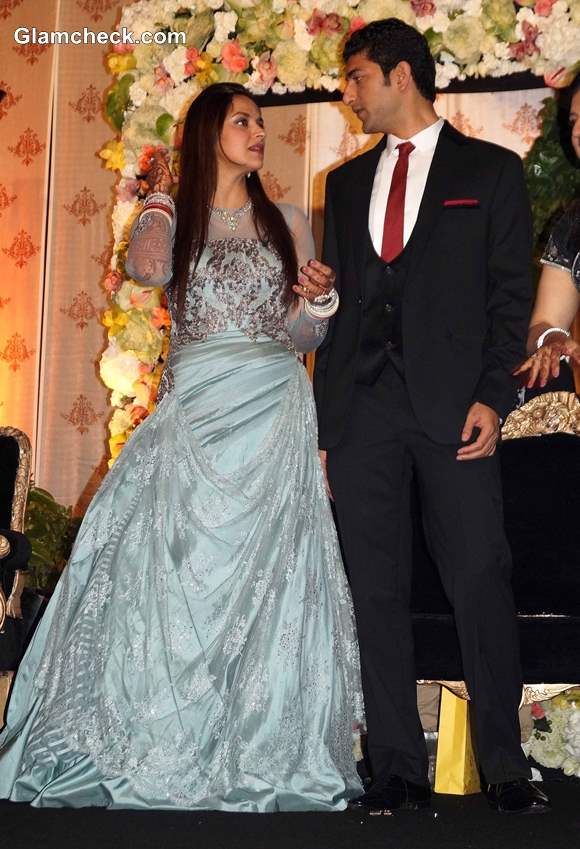 Ahana Deol-Vaibhav Arora Wedding Reception in Delhi
However as the daughter of veteran Bollywood actors Hema Malini and Dharmendra, Ahana did receive good wishes from several politicos who attended. Rajnath Singh, Suresh Kalmadi, Renuka Choudhary, Farooq Abdullah, L. K. Advani, Praful Patel, Sushma Swaraj, Rajiv Shukla and Arun Jaitley all made their way to the fairytale reception.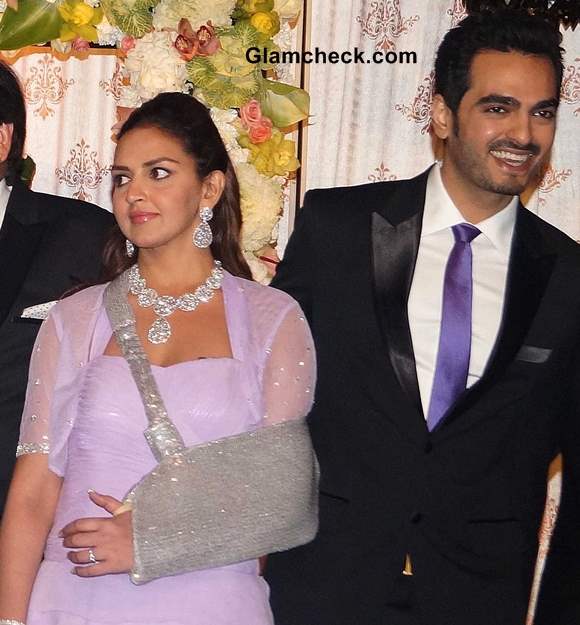 Esha Deol with Bharat at Wedding Reception of Ahana Deol-Vaibhav Arora
Also in attendance were actor Prateik Babbar and Ahana's sister Esha with her husband Bharat Takhtani.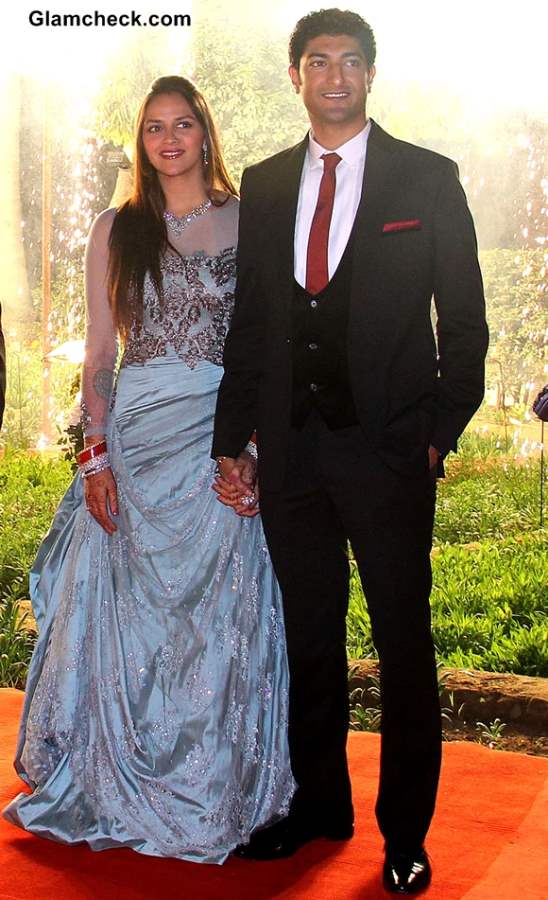 Ahana Deol-Vaibhav Arora Marriage pictures
After being clad in traditional wear through all the ceremonies for the wedding, both Ahana and Vaibhav chose Western avatars for the reception.
He wore a black tuxedo with a black satin waistcoat, white shirt and red tie. Ahana picked a baby blue ball gown by Shantanu and Nikhil which had bronze embroidery on the bodice and pearls embellishing the layered skirt. The high neckline, shoulders and full sleeves were sheer so the new bride managed to squeeze a hot trend into her ensemble.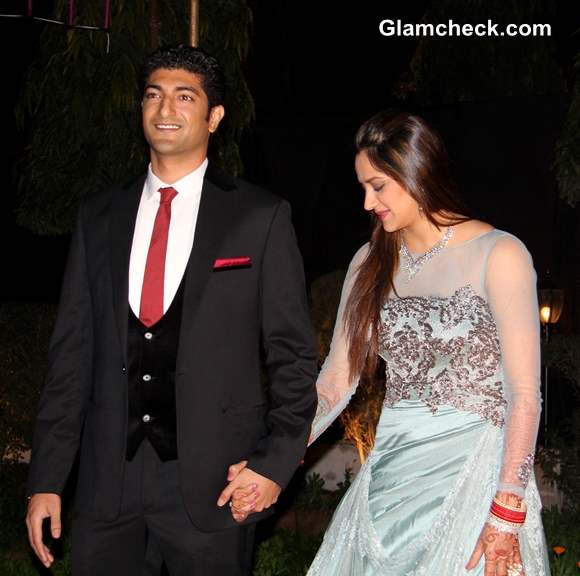 Ahana Deol-Vaibhav Arora
The look was styled in a Western way too with a deep plum lippie and a half-up, half-down hairstyle complemented by straightened ends nestling on one shoulder. A delicate but dazzling diamond jewellery set and traditional bridal bangles rounded out her look.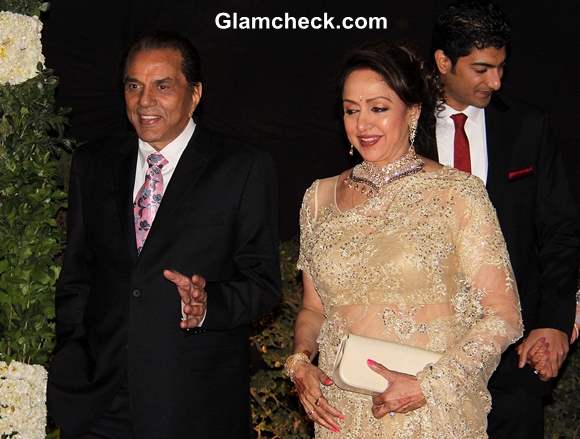 Dharmendra and Hema Malini at Ahana Deol-Vaibhav Arora Wedding Reception
Mother of the bride Hema was no less beautiful in a sheer cream sari with copious amounts of silver embroidery making her as much a part of the limelight as her daughter.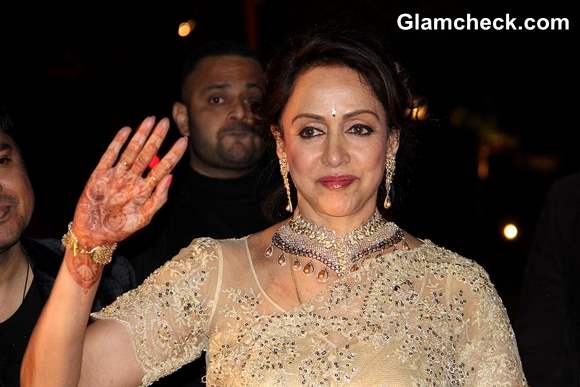 Hema Malini at Ahana Deol-Vaibhav Arora Wedding Reception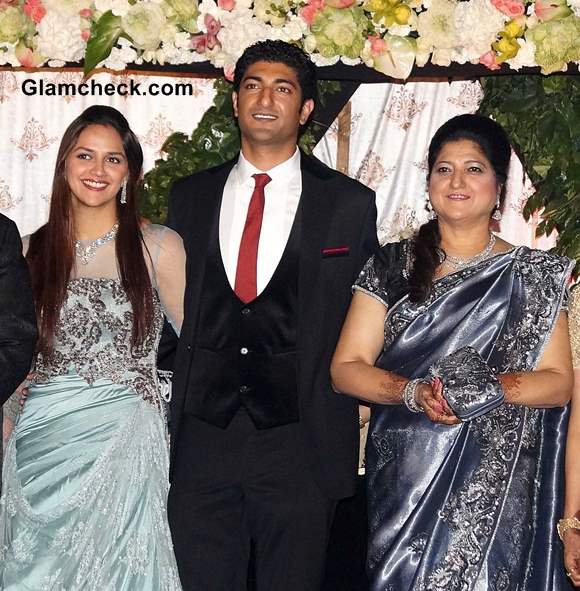 Wedding Reception Ahana Deol-Vaibhav Arora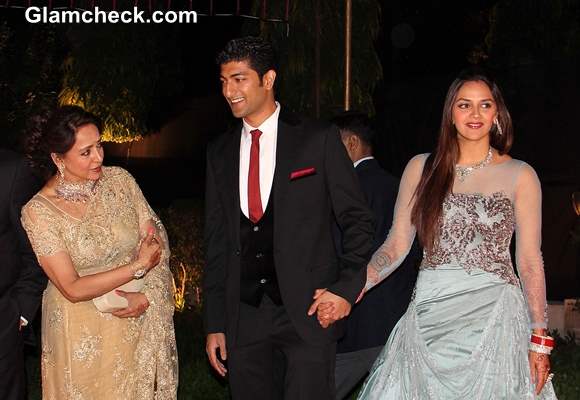 Ahana Deol-Vaibhav Arora Reception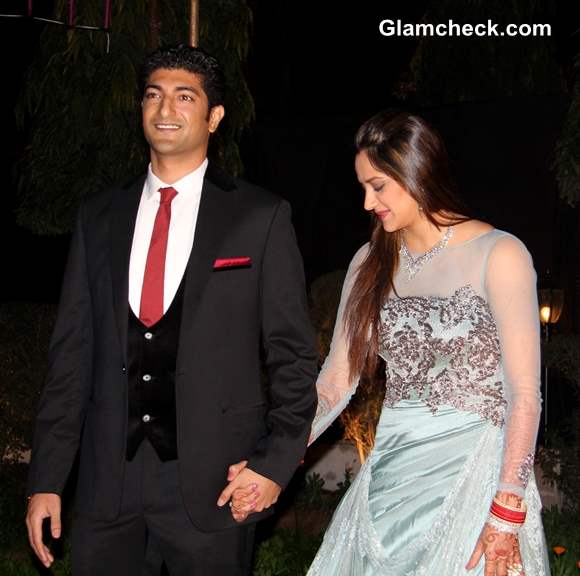 Ahana Deol-Vaibhav Arora
Ahana Deol-Vaibhav Arora Wedding Reception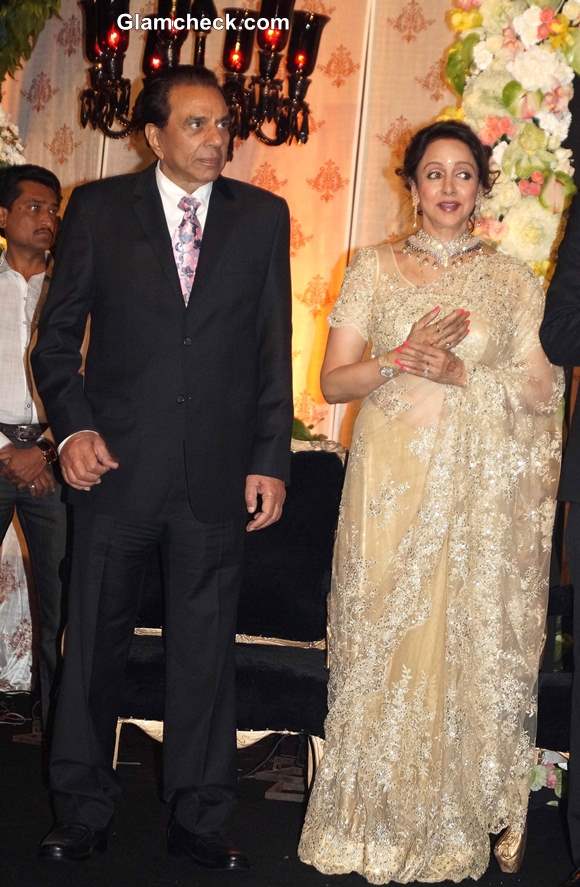 Hema Malini and Dharmendra at Ahana Deol-Vaibhav Arora Wedding Reception in Delhi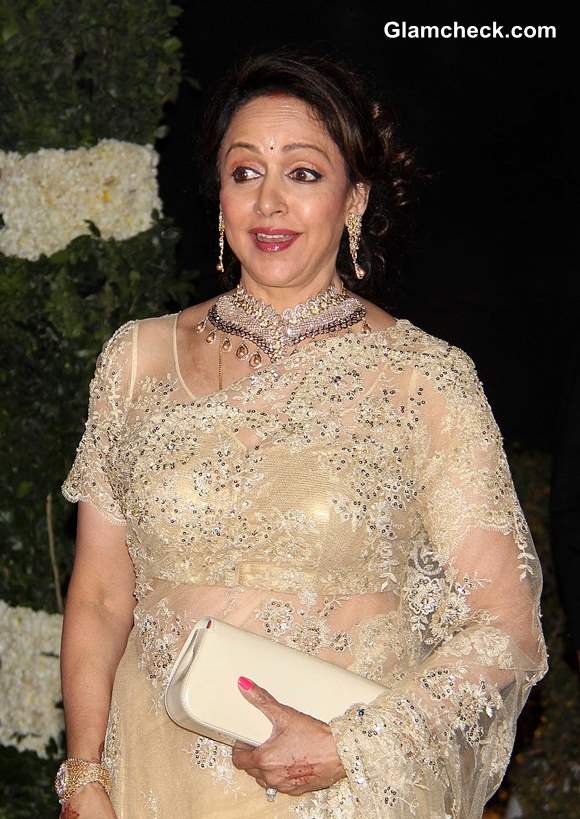 Hema Malini 2014
Solaris Images