Bollywood actress and international singer Priyanka Chopra launched India's first 2-in-1 channel, NDTV Profit and NDTV Prime, at the Trident Hotel in Mumbai, India on March 16, 2014. Also present at the event were Vikram Chandra and Dr. Prannoy Roy.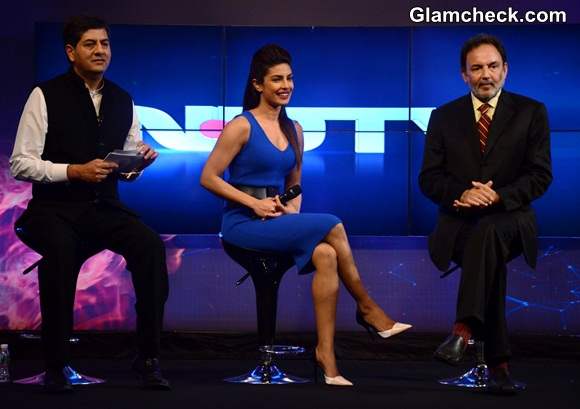 Priyanka Chopra Launches NDTV 2-in1 Channel in Blue Jersey Dress
The new channel will feature  market-related news live from 9 am to 5 pm Monday to Friday. From 5 pm to 9 am and all through the weekend, it will broadcast regular entertainment shows and infotainment slots.
Priyanka looked super-sexy in a sleeveless blue sheath dress with a thick black belt exuding a rock-star vibe encircling her trim waist. The knee-skimming number was complemented by a pair of chic monochrome pumps – white on the toes and black on the heels.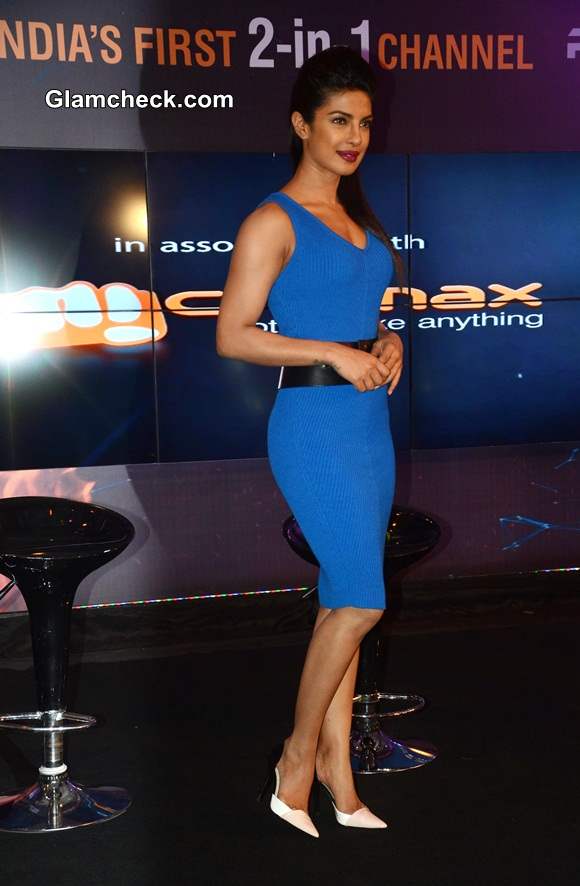 Priyanka Chopra in Blue Jersey Dress
The Exotic hitmaker gave the look a marvellous finish with nothing more than her trademark pink lippie, mascara that lit up her lashes and a half-up, half-down hairdo that we see a lot on Deepika Padukone.
Priyanka Chopra in Blue Jersey Dress 2014 
We love the minimalistic contemporary look. The lack of jewellery, the simple makeup, the elegant hairdo and limited colour of the ensemble speak volumes of her sense of style.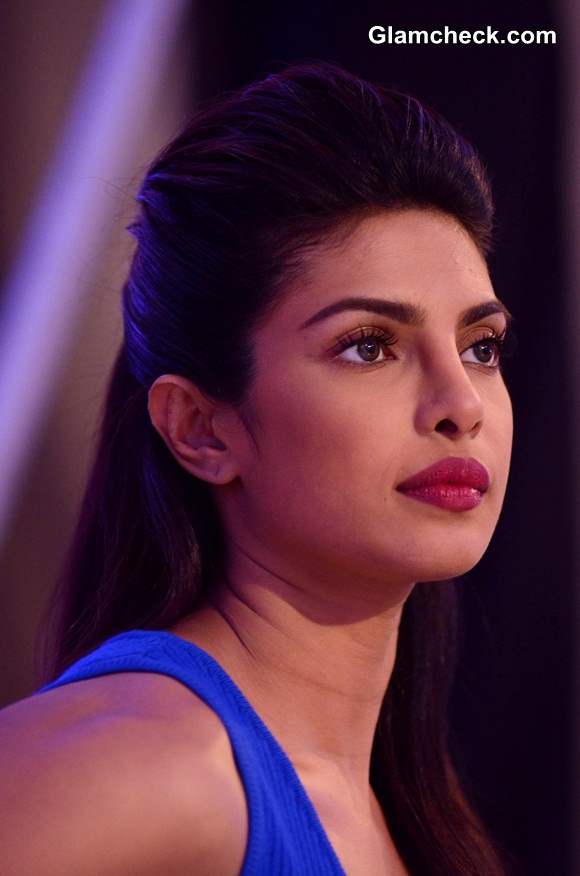 Priyanka Chopra 2014 pictures
Priyanka will next be seen in the film Mary Kom which releases later this year.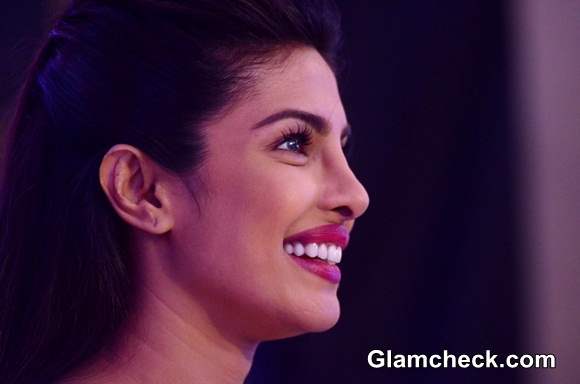 Priyanka Chopra 2014 pic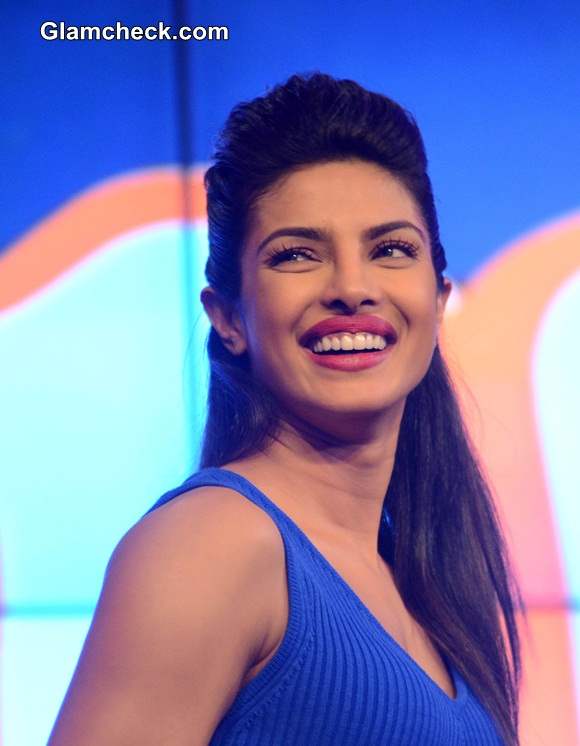 Priyanka Chopra 2014 pics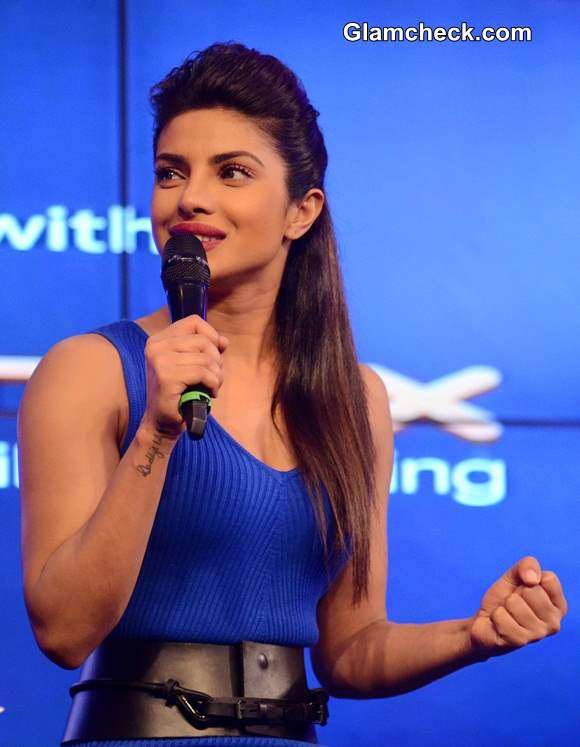 Priyanka Chopra Launches NDTV 2-in1 Channel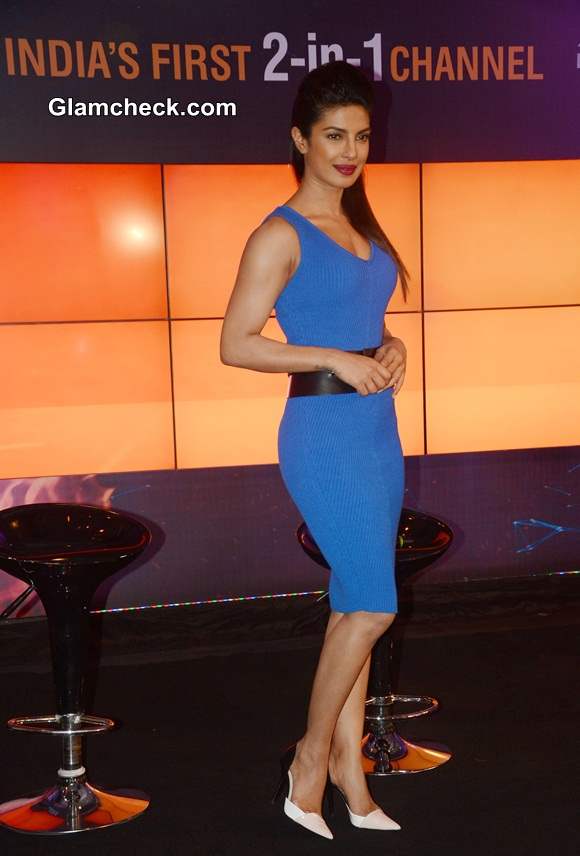 Priyanka Chopra Launches NDTV 2-in1 Channel in Blue Dress
Solaris Images