It rained celebrities at Bollywood biggie Karan Johar's 42 birthday party at his residence in Mumbai. There were many big names from the world of showbiz in attendance, and we have compiled a list of the people who presented a stylish lineup.
Sonam Kapoor
It is but natural that we are starting the list with Sonam Kapoor, after all she has become quite synonymous with the term fashion, in Bollywood.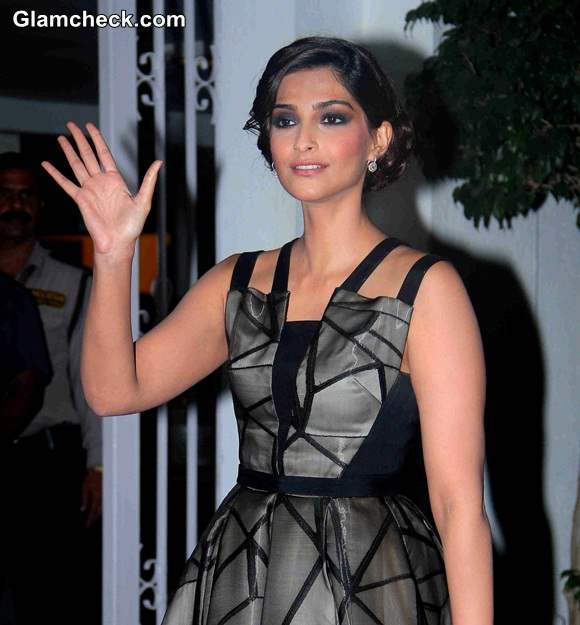 Sonam Kapoor at Karan Johars 42 Birthday Party
The actress chose a Bibhu Mohapatra gown for her appearance at Kjo's (as Karan Johar is popularly known as) party. The attire nicely channeled two shades of grey, which was highlighted by the black geometric patterned lines seen on the gown. She paired T‐strap Louboutin sandals and a clutch from Corto Moltedo. Solitaire drop earrings and a vintage style updo completed her look.
Sonam Kapoor 2014 at Karan Johars 42 Birthday Party
Sonam's makeup went hand in hand with the black and grey colours seen on her dress. Smokey eyes and nude lips was her mantra for the night. Though I (the writer's personal view and not Glamcheck's) thought the makeup was a bit patchy and Ms Kapoor could have done better, but perhaps it was the heat to blame. However, saying all that, at no point does Glamcheck like to judge any flaws in anyone! We are all human after all and it is natural to err. And all in all, Sonam Kapoor put together quite an interesting look.
Kangana Ranaut
The night seemed to be ruled by grey because Kangana Ranaut, actress par excellence and a fashion diva in her own right, also went with this color.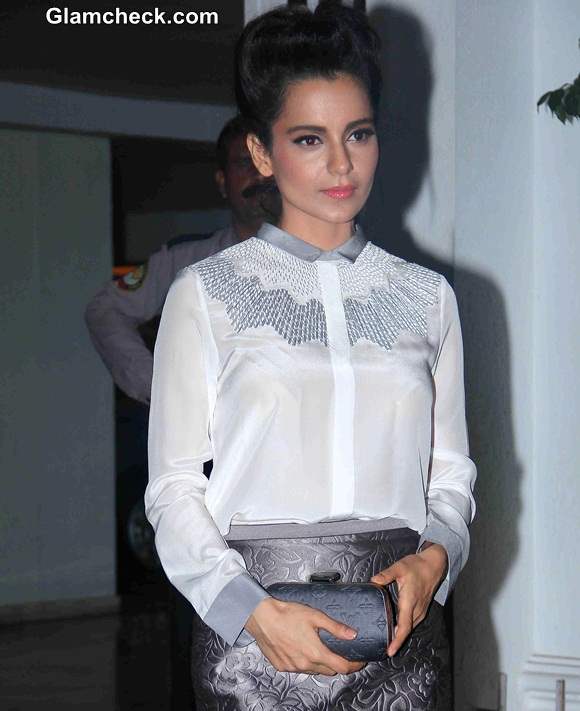 Kangana Ranaut 2014 at Karan Johars 42 Birthday Party
She paired a high necked, shirt like, top with a silver‐grey pencil skirt. The white top had a grey collar and cuffs, and a detailed pattern in silver‐grey around the entire neck area. But what was truly the piece de resistance was the floral embossed skirt that the pretty lady wore.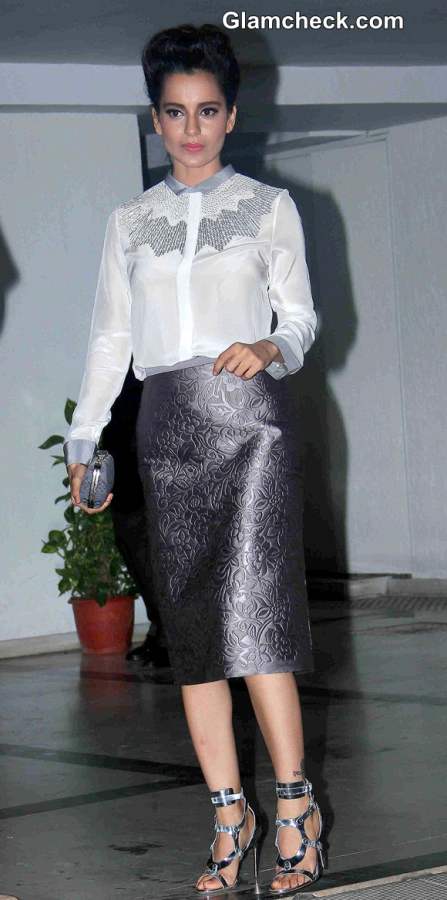 Kangana Ranaut 2014 Karan Johars 42 Birthday Party
Strappy metallic stilettos in grey and a clutch in the same color completed her style quotient for the night. Oh, and did I mention the hairstyle? That bouffant pompadour just nailed the look. Peach lips and bold eyeliner was the mainstay of the Queen's makeup. We love you girl and thanks for uplifting our day with your stylish presentation!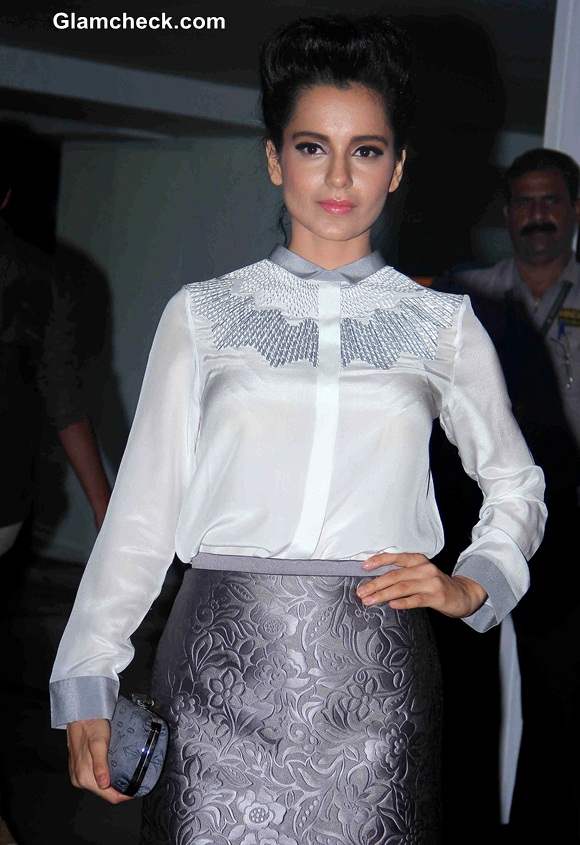 Kangana Ranaut 2014
Malaika Arora Khan
The Munni girl looked chic in her all white attire that consisted of a white cropped top and a pencil skirt set that featured a very interesting cutwork pattern.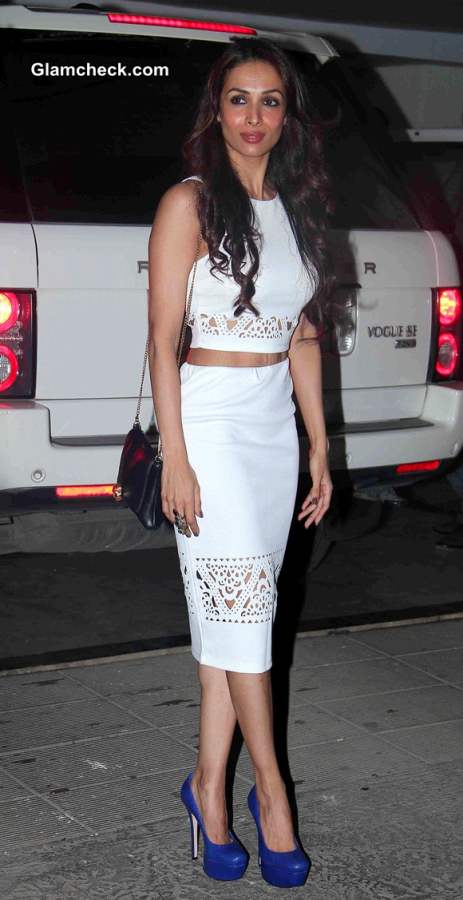 Malaika Arora Khan 2014
There was a touch of monochromatic in the ensemble on account of her black chain bag. We also liked how she infused color into the look with her choice of blue platform stilettos. Very nice we say!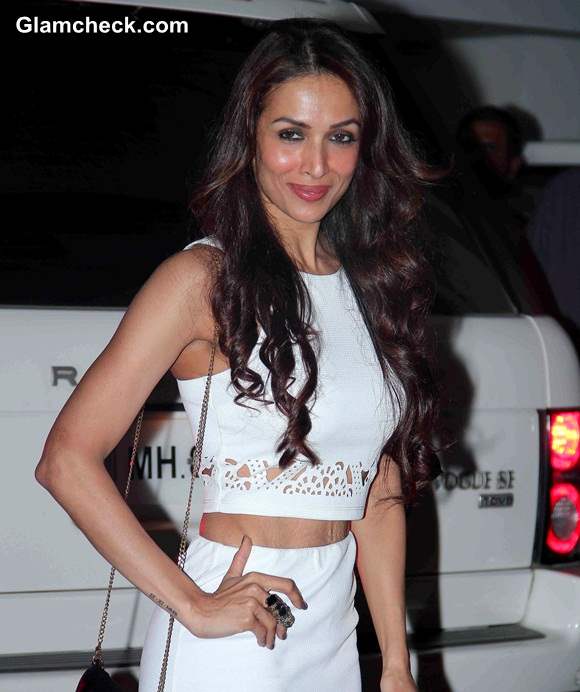 Malaika Arora Khan 2014 pics
Bipasha Basu
The Bengali bombshell also rocked the monochromatic quotient with her white top and black mini skirt routine.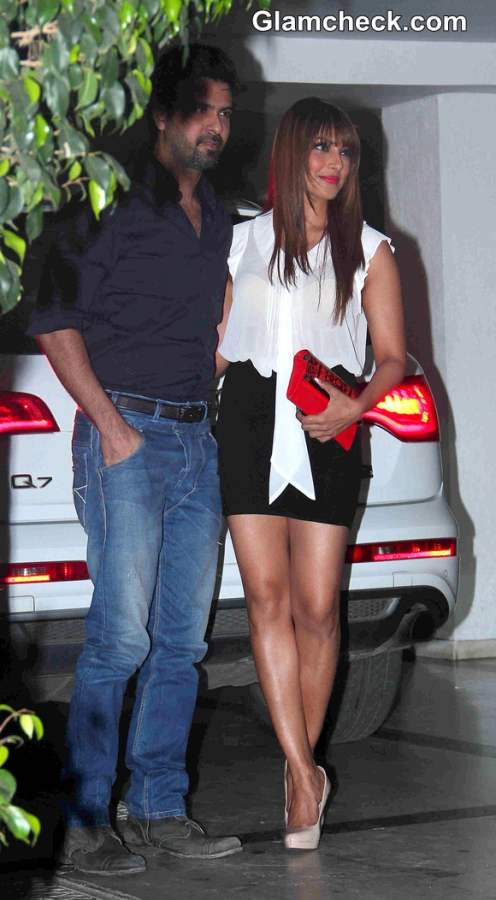 Harman Baweja and Bipasha Basu
The sheer top added "sexy" to her stylization", and like Ms Khan, she also introduced some color into the look by going for a red clutch. Neutral colored pumps completed her wardrobe for the night.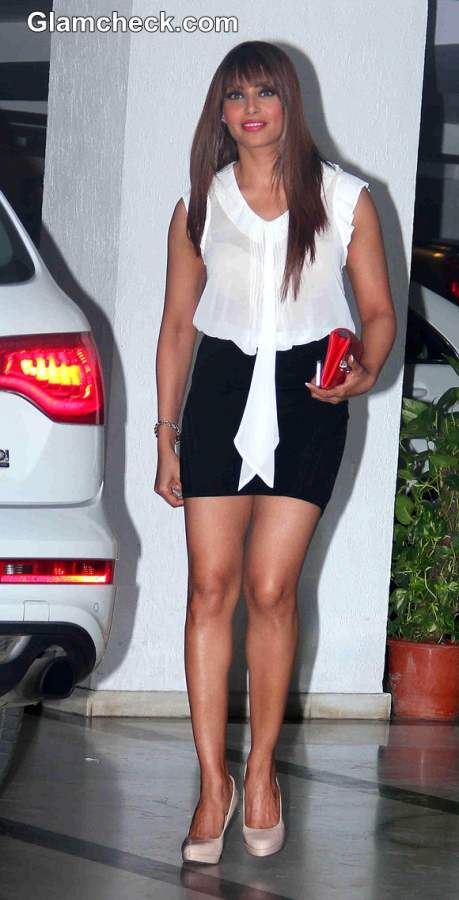 Bipasha Basu 2014 pics
Alia Bhatt
A canary yellow cropped top and a pencil skirt in black leather was the choice of the night for the very cute Alia Bhatt ‐ yellow and black makes for a very interesting combination always!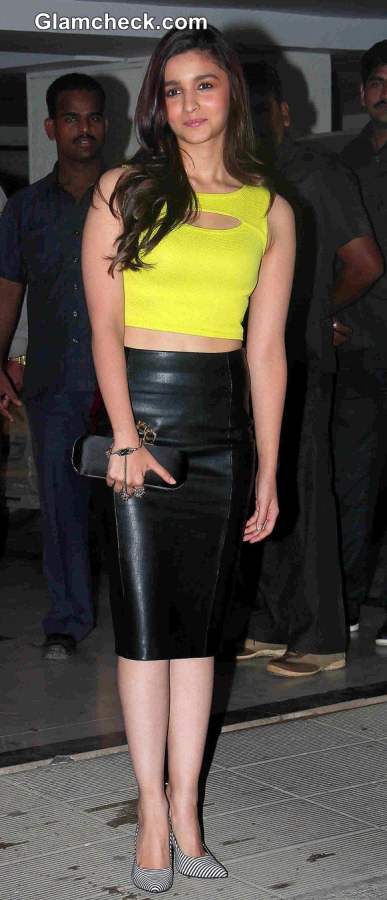 Alia Bhatt 2014
A sleek black clutch and black and white polka dotted pumps (which looked rather grey owing to the combo) were the other companions for Ms Bhatt as far as ensemble was concerned. We also like the flipped out hairstyle, and the chain ring bracelet.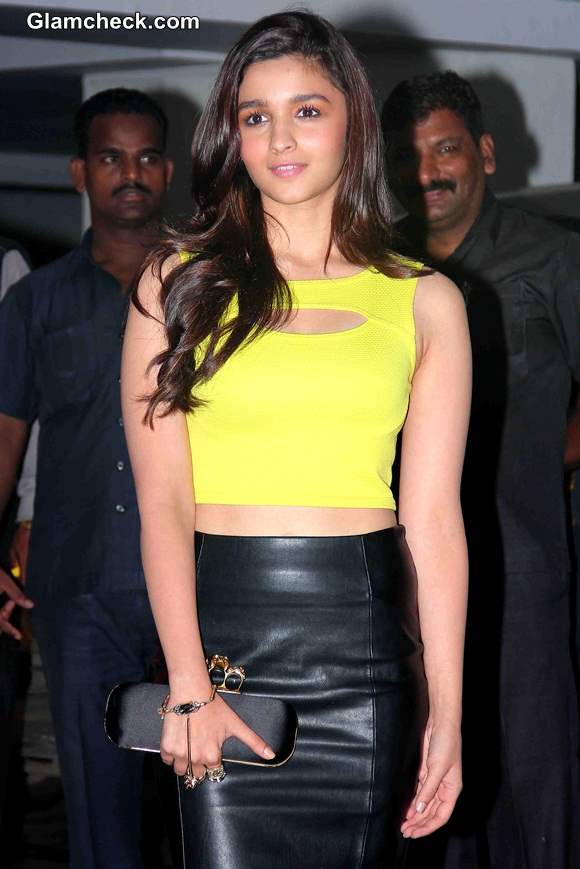 Alia Bhatt 2014 pics
Parineeti Chopra
The bubbly actress wore a royal blue romper which she paired with a funky short sleeved jacket; we particularly like the print on it as well as the peachish color which makes for a nice contrast.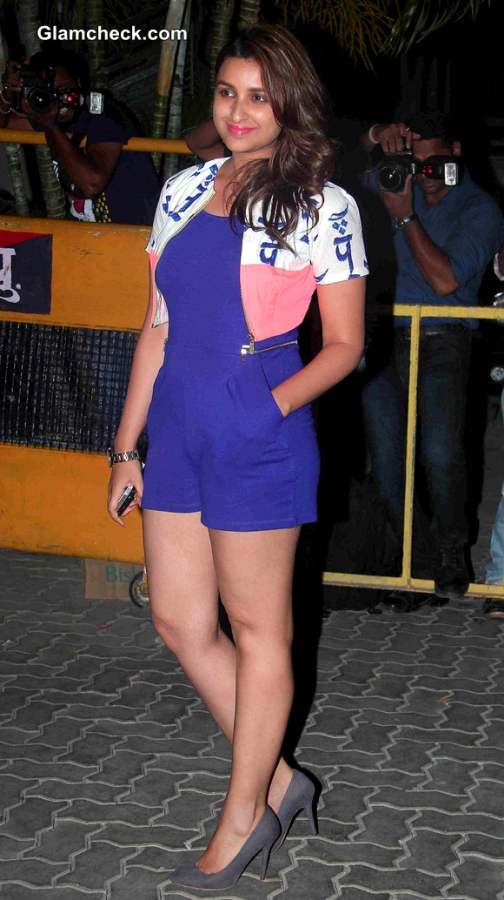 Parineeti Chopra 2014
Peppy and fun seemed to be Parineeti's mantra for the night, quite keeping with her image. Of course, it seems that very few could stay away from grey that night, because the "younger Ms Chopra of Bollywood" went for court shoes in this very color.
Grey was also the favored color for the power couples of the night. We saw it on Aamir Khan and his wife Kiran Rao.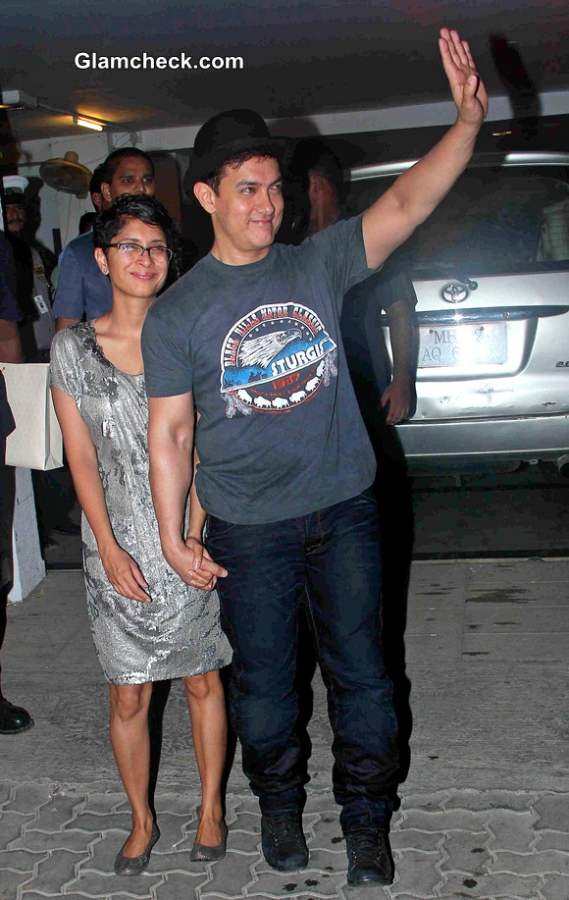 Aamir Khan with his wife Kiran Rao
UTV honcho Siddharth Roy Kapoor too wore a shirt in this color; however his "missus" Vidya Balan preferred an all white ensemble with what seemed like chikankari work.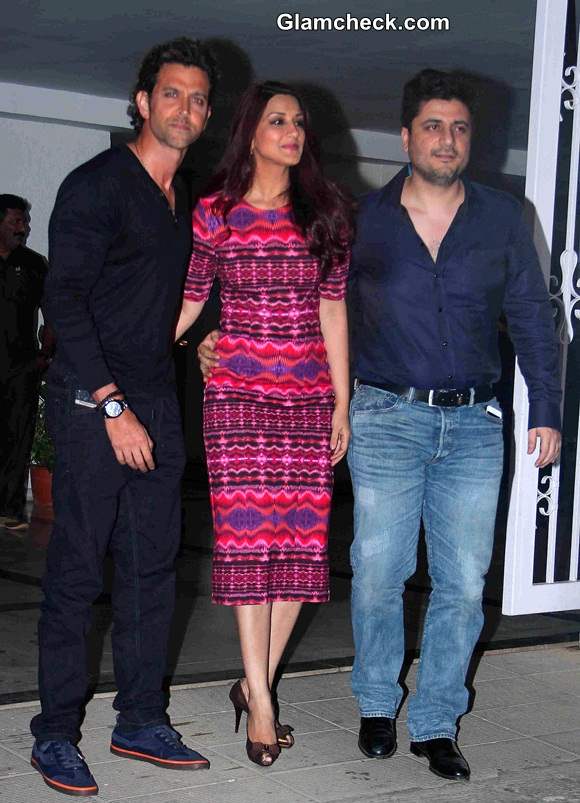 Celebs at Karan Johars 42 Birthday Party
There were many other celebrities in attendance too, like Hrithik Roshan, Goldie Behl, Sonali Bendre, Harman Baweja, Riteish Deshmukh and Genelia D'Souza among others. With the great turnout we hope Karan Johar had a great birthday, and we at Glamcheck wish him a great year!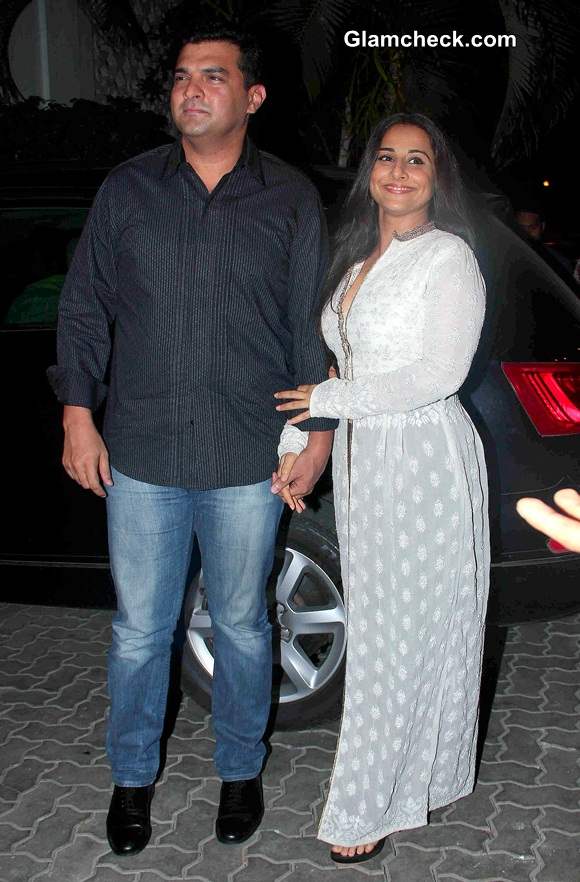 Siddharth Roy Kapoor with his wife Vidya Balan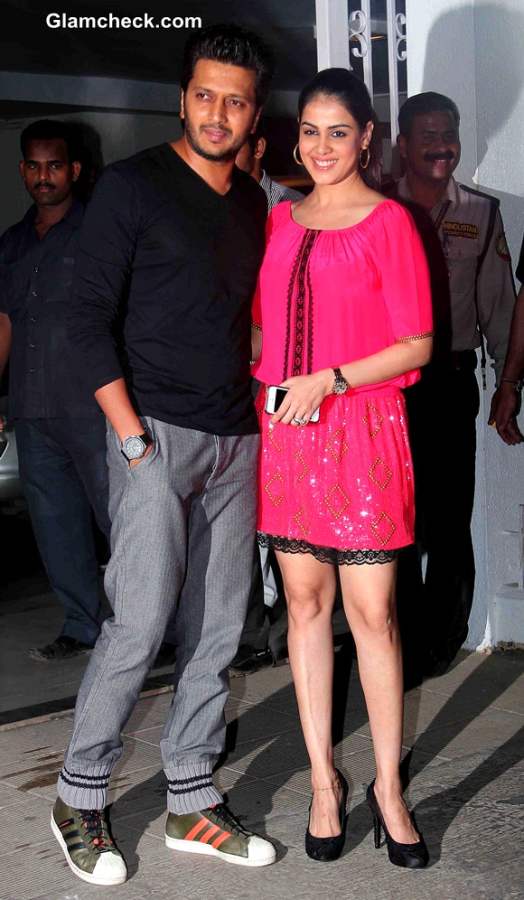 Riteish Deshmukh with his wife Genelia D'Souza
Solaris Images