The fun and high on energy starlets Parineeti Chopra and Aditya Roy Kapur were recently spotted during a press conference in Mumbai for their upcoming film 'Daawat-e-Ishq'.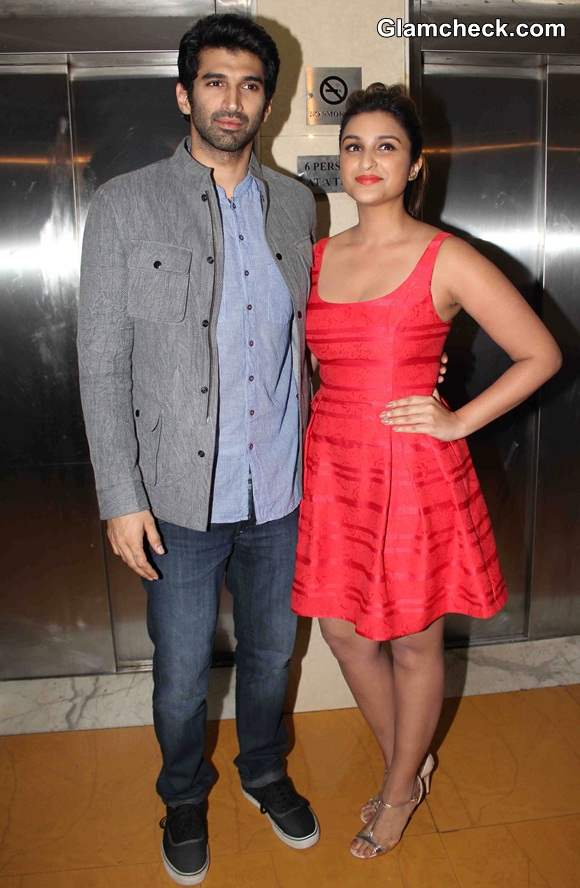 Aditya Roy Kapur and Parineeti Chopra at the press conference of film Daawat-e-Ishq
We quite like the easy cool look of Aditya Roy Kapur, especially the combination of the light blue shirt and light grey jacket; it is a simple yet cannot-go-wrong set of colors. He teamed it with casual denims and sneakers.
Meanwhile the bubbly Parineeti Chopra was seen in a bright red flared dress teamed with simple strap heels and bright red lips. There is nothing much wrong with the dress, but it does nothing to accentuate her voluptuous figure. A nice jacket with the dress would have added some structure and definition to the overall look. Also, body cons and fitted dresses are better suited for a fuller figure rather than flared skirts which tend to make you look bottom heavy.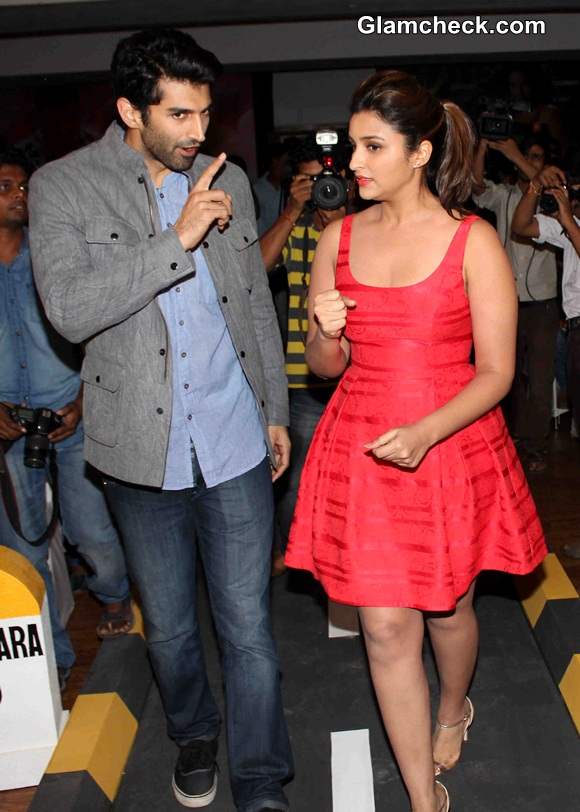 Aditya Roy Kapur and Parineeti Chopra Promote Daawat-e-Ishq
In going with the theme of the movie which is a romantic story revolving around food, the duo of Aditya Roy Kapur and Parineeti Chopra will go on a 'food tour' to promote the film. The road trip will start from Mumbai and end in Chandigarh; the young stars will stop to relish and savour various authentic dishes along the way.
"Daawat-e-Ishq", which has been produced by Yash Raj Films (YRF) is slated to release on September 19, 2014.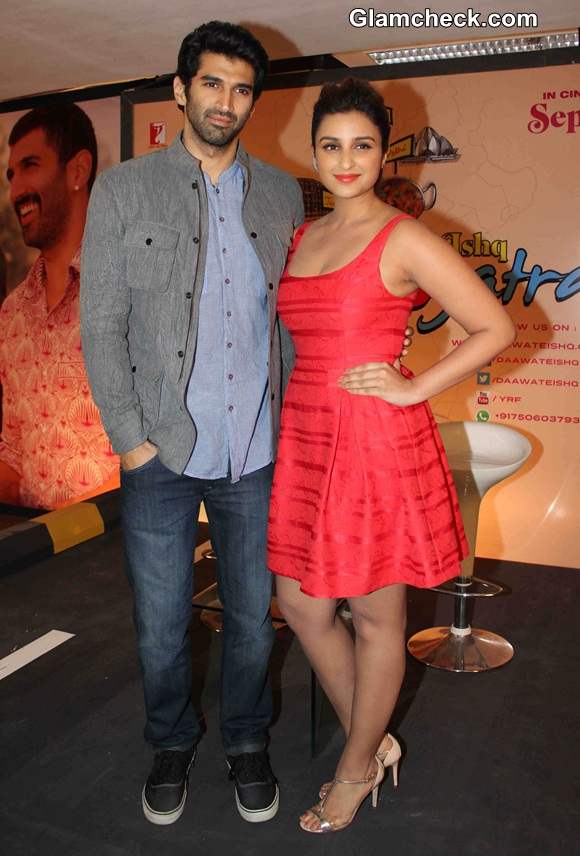 Aditya Roy Kapur and Parineeti Chopra in Daawat-e-Ishq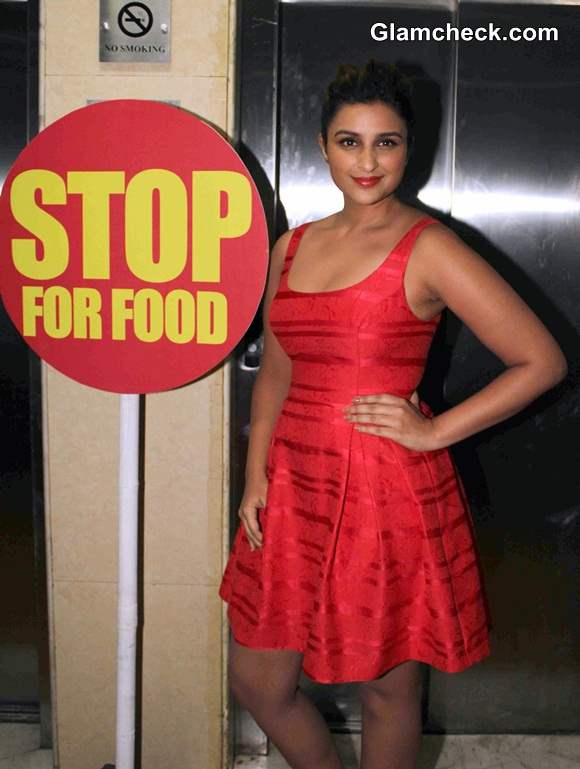 Parineeti Chopra in Daawat-e-Ishq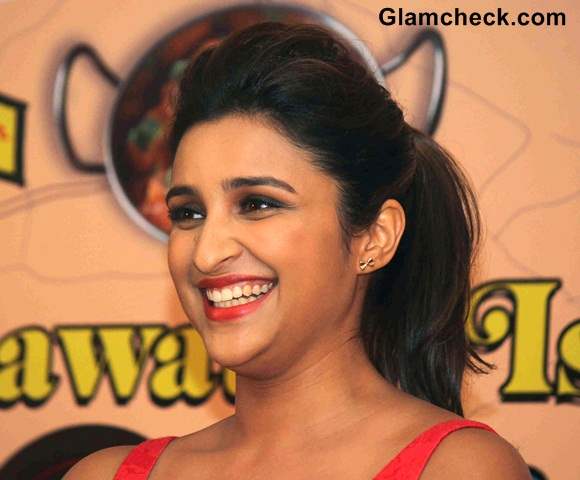 Parineeti Chopra 2014 Daawat-e-Ishq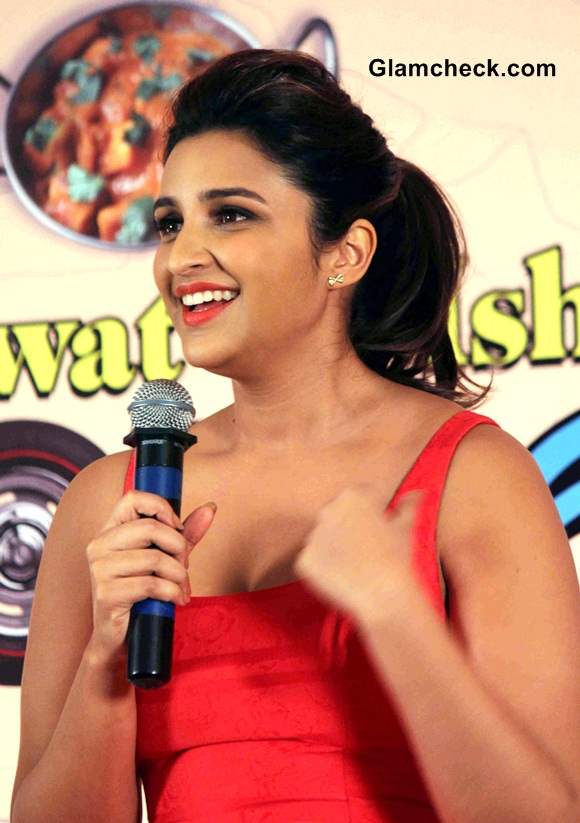 Parineeti Chopra 2014 Daawat-e-Ishq film
Solaris Images