Traveling is my passion, and this fervor gets a further impetus when I am dressed the part. It is therefore natural that I plan my travel look keeping in mind the destination which I visit.
Recently I went for a pleasant weekend getaway to the beautiful hill station of Munnar in Kerala, India. And of course, I planned my travel outfit for each day of the holiday accordingly, one of which I have shown right here.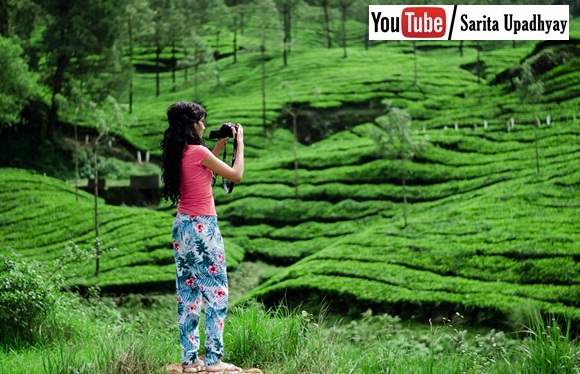 Indian Youtuber – Travel Outfit of the Day
Since my agenda on this particular day was wandering around the lovely resort that I was staying at as well as making a stopover at lush green tea gardens and cascading waterfalls, I thought of an ensemble that celebrated nature and at the same time made for a nice contrast to the verdant background.
Clothes and Accessories
I chose to opt for a pretty combination of blue and pink which made a nice combination against the green expanse that surrounded me, and did not look jarring or make me seem like an intruder in the peaceful lap of nature.
Watch the VIDEO –
I teamed up a pink T-shirt from Zara with a pair of orchid printed and multi color drawstring pants from Bossini. Since the weather was cloudy, with a bit of drizzling and raining going on, I opted for my flower and foliage printed flip flops from Bata.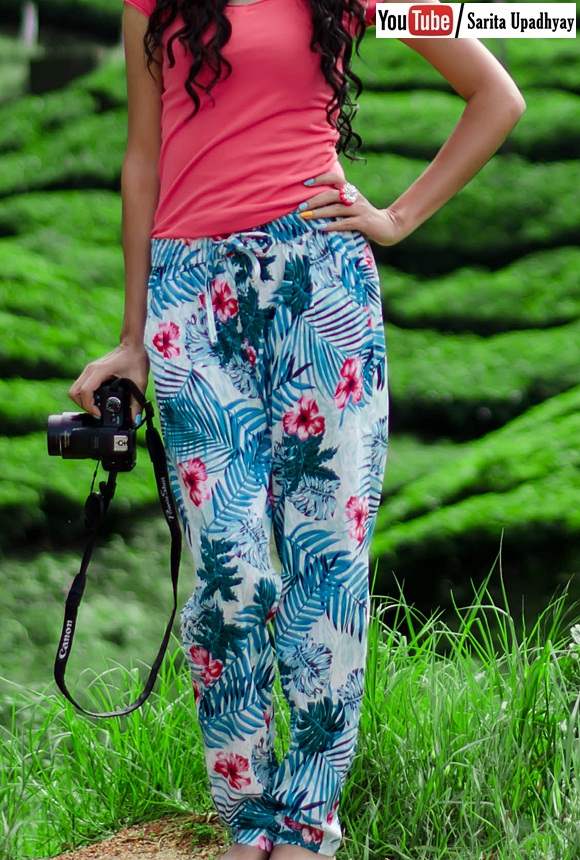 Indian Youtuber – Fashion Blogger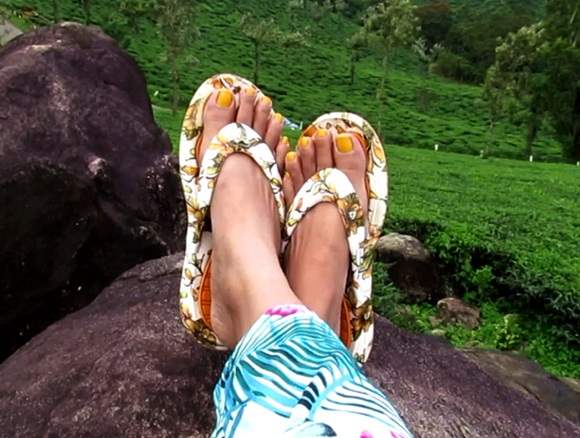 Indian Fashion and Beauty Blogger
Shoes didn't seem the best bet, considering the wetness all around. Since I love pretty baubles, a flower ring, which I had bought from Ayesha, adorned my finger.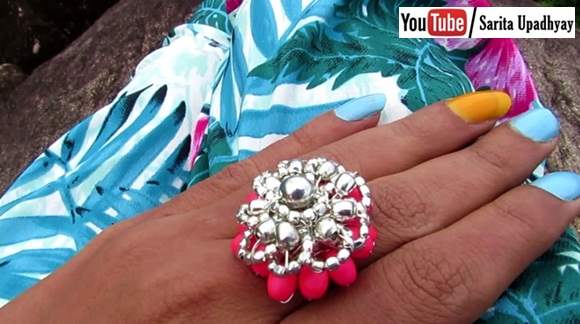 Indian Fashion Blogger Youtuber
Makeup and Hair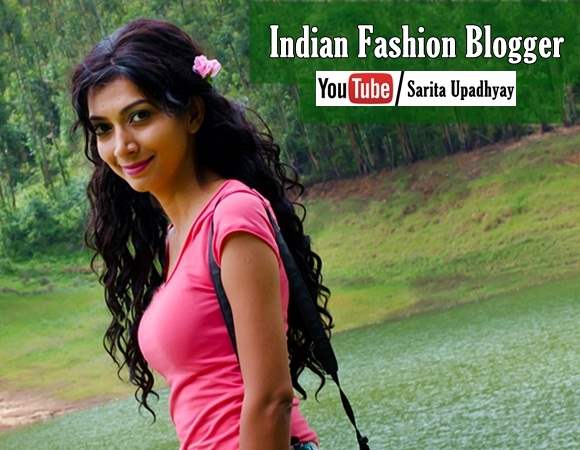 Indian Fashion Blogger
For the makeup, I chose to keep it simple and pretty. I skipped base makeup, opting only for a nice slather of moisturizer. For my peepers, I used white eye shadow on the upper eyelid, and especially on the inner corner of the eyes. This was followed by lining my upper eyelash line with a bold green eyeliner. For my lips I used a pink lipstick.
I also painted all my nails, except the ring fingers for which I used orange nail polish, in a yummy blueberry shade from Colorshow.
My hair was done up in a casual half updo and a flower hair clip, which incidentally I made myself using an artificial rose bud with leaves, added a pretty touch to the hairstyle.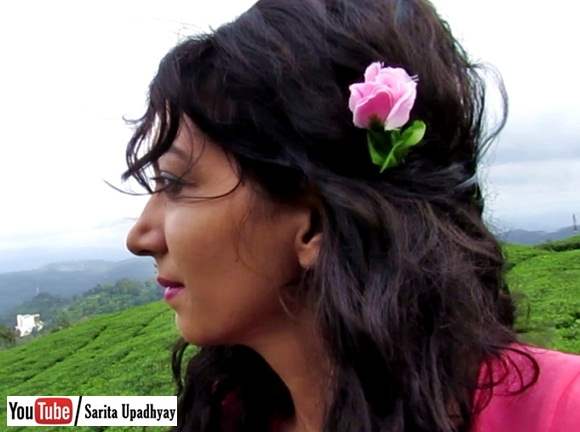 Indian Fashion Blogger – Sarita Upadhyay
The Munnar trip was definitely made more mesmerizing due to my travel outfit of the day, courtesy of which I could even take these lovely photos.
If you have a favorite travel outfit of the day, then please do share your photo and experiences with me. I would love to see hear from likeminded fashionistas!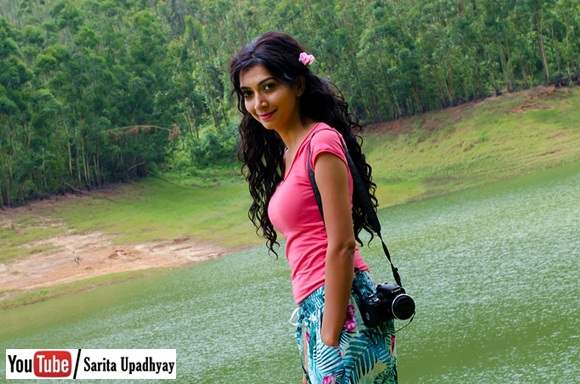 Indian Youtuber Fashion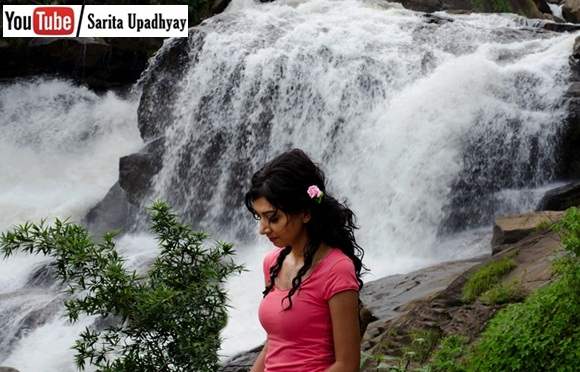 Indian Youtuber Sarita Upadhyay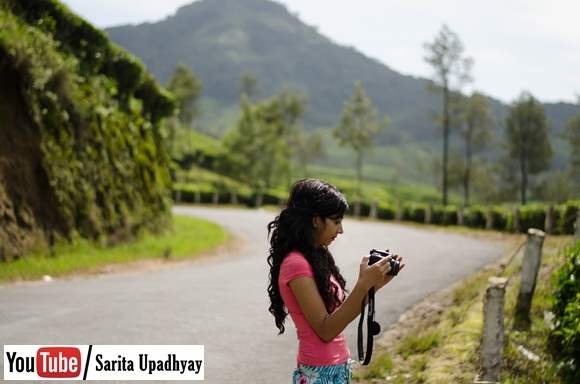 Indian Fashion Blogger and Youtuber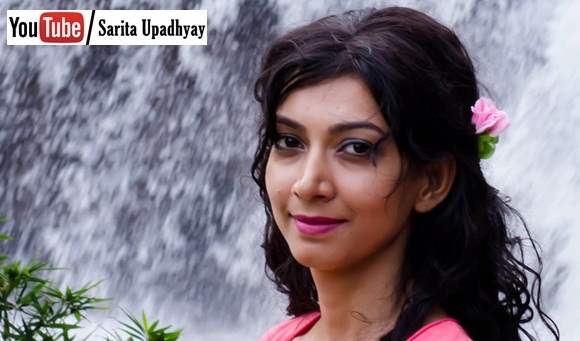 Indian Youtuber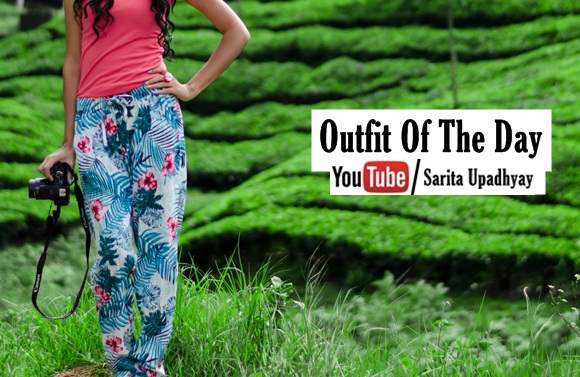 Indian Youtuber – Travel Outfit of the Day