Vivel, a personal care brand from ITC Ltd unveiled its latest range of bath and beauty products, 'Love & Nourish' in New Delhi on November 4, 2014. The range was launched by Vivel's Brand Ambassador, Kareena Kapoor Khan.
'Love & Nourish' is being marketed as an exquisitely crafted bathing range. With elements like Almond Oil & Shea Butter, Avocado Oil & Olive Butter, and an abundance of exotic butter and nourishing oils, Vivel's 'Love & Nourish' truly seems like an indulgence perfected to pamper our skin.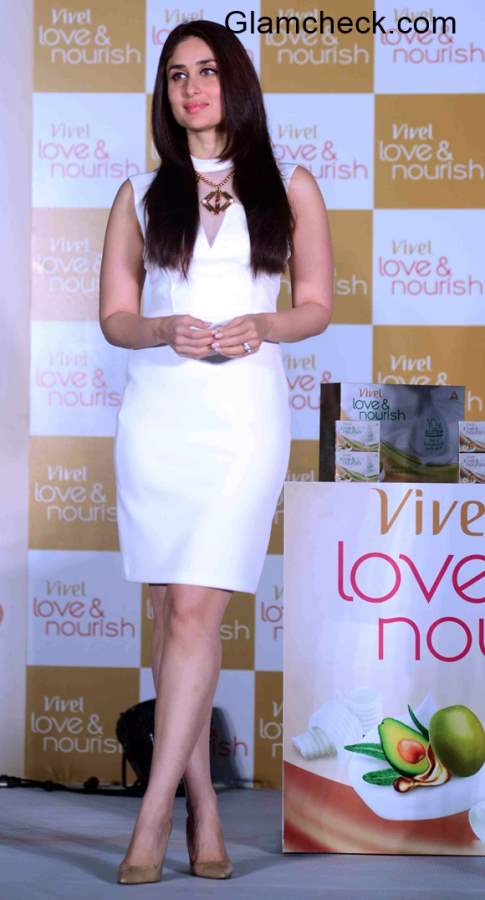 Kareena Kapoor at the launch of ITC Vivel Love &  Nourish range
Sandeep Kaul, Chief Executive, Personal Care Products Business, ITC Limited, said that Vivel 'love & Nourish' is a celebration of indulgence and the lovable Vivel woman. The exotic nourishing ingredients which have been used to create the range have always been known throughout history for their skin care benefits. Vivel is also ahead in terms of innovation with the creation of the first ever flip-top mechanism in soap packaging or the soft hues of the bathing bar. Sandeep Kaul adds that Vivel's Love & Nourish is a tranquil extravaganza that is meant to be indulged by women with elegance and style.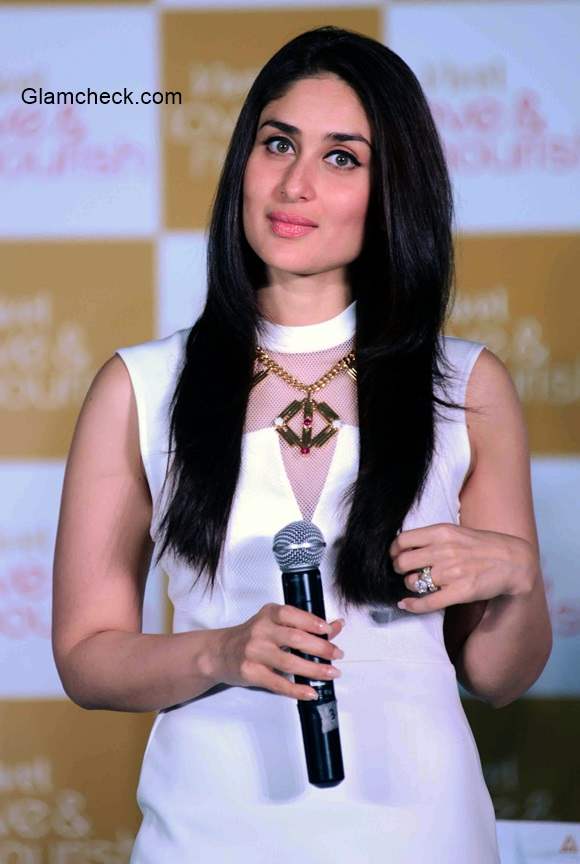 Kareena Kapoor at launch of ITC Vivel Love & Nourish range
Kareena Kapoor Khan expressed that 'Love & Nourish' is Vivel's most luxurious bathing bar range. The name 'Love & Nourish' itself reflects the promise of deep skin nourishment. With exotic butters, it exemplifies the meaning of luxurious indulgence.
Speaking about her association with Vivel, Kareena said that she is proud to be a part of Vivel's commendable growth story.
For the event, Kareena chose to wear a white mesh panelled dress from The Source. She paired it with beige colored pumps and a necklace from Minerali.
Exaggerated black eyeliner for the eyes, light pink lip color and straight dark tresses completed Kareena's elegant look.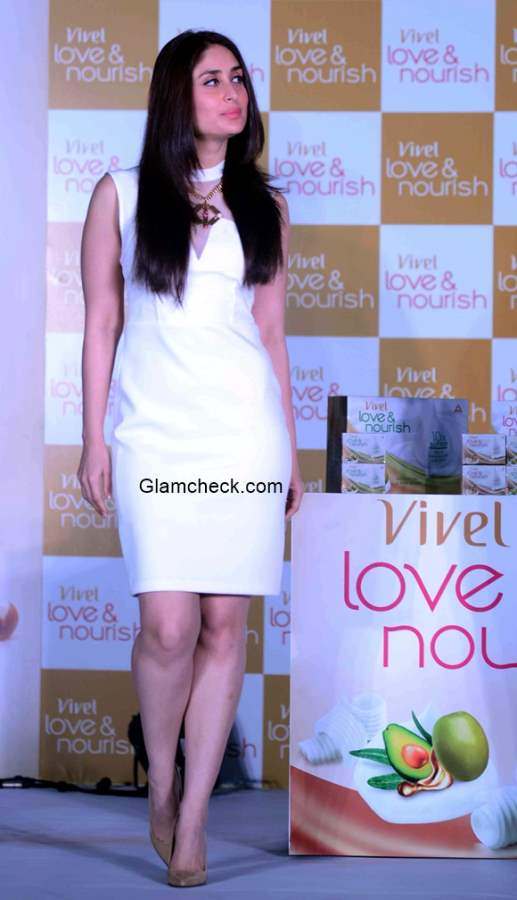 Kareena Kapoor in White Dress at launch of ITC Vivel Love & Nourish range
Posing for the shutterbugs with the poise and elegance of a pro, Kareena Kapoor shared the secret of her gorgeous skin as she revealed that the range is very special to her since it has all her favourite products like shea, almond oil and avocado oil. She also emphasized that the new products have butter in it and that she loves butter in any form. Interestingly, she mentioned that she not only applies butter on her face but she prefers to eat it too since it keeps her happy.
Seems like a useful tip for all of us who are looking for a cue to get glowing skin like Kareena's.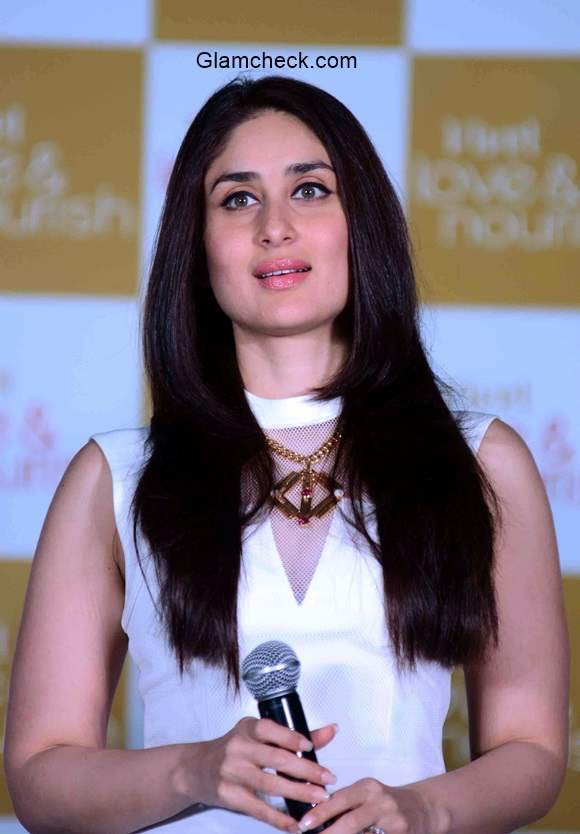 Kareena Kapoor shares her Beauty Secrets at launch of ITC Vivel Love & Nourish range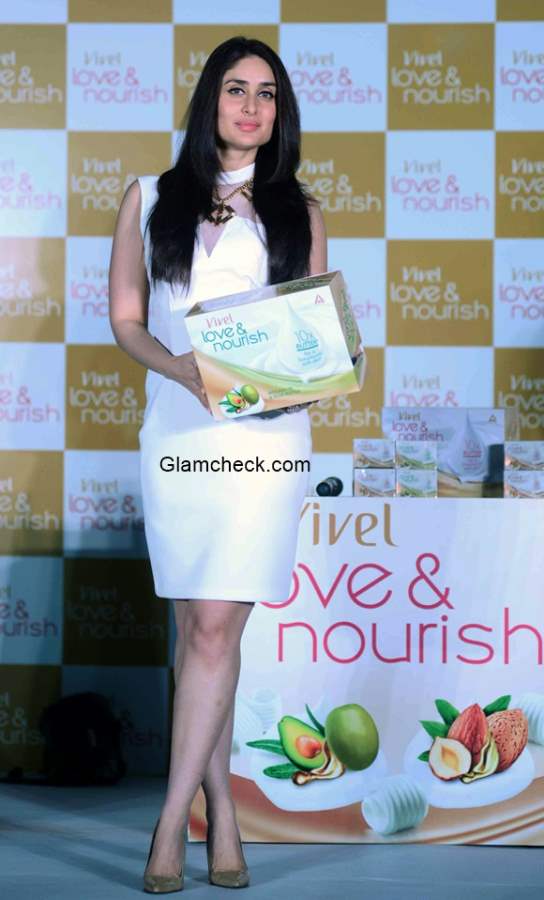 Kareena Kapoor Launches ITC Vivel Love & Nourish range
Solaris Images