Around 200 cartoon versions of the legendry Charlie Chaplin by renowned cartoonists from all over the globe were compiled by noted Indian cartoonist Sudheer Nath to commemorate the 125th birth anniversary of the actor and filmmaker. The collection was displayed through an art exhibition entitled 'Chaplin Lines' at Mumbai's National Centre for Performing Arts (NCPA).
Vidya Balan inaugurates Chaplin Lines in Mumbai
For the launch of the three day exhibition on 25th June, the organizers, Chaplin India Forum and the Spices Board of India, invited a beautiful Charlie Chaplin fan from India's Bollywood industry. Can you guess who? Vidya Balan!
The chirpy actress sported her signature sari look for the event, albeit with a slight twist this time. She paired her simple white and grey cotton sari with a geometric print blouse that contrasted beautifully. Big statement silver necklace and kada (bracelet) accessorized the look. With her hair worn down in beachy waves and pop of red via her lips, Ms. Balan owned the look! She looked fabulous!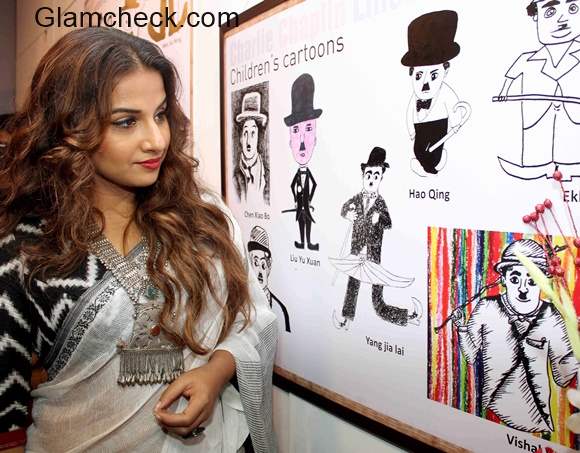 Vidya Balan inaugurates Chaplin Lines
The actress animated spoke about how much of a big fan she was of Charlie Chaplin. She disclosed that she had recently done a photo shoot for a film magazine wherein she paid a tribute the famous filmmaker. Not surprisingly, her excitement knew no bounds when she was invited to launch the exhibition.
Vidya also voiced her desire to do a Charlie Chaplin movie, for he has been a huge inspiration in her life. She loved Sridevi as Chaplin in 'Mr.India' and would love to attempt such a role herself, she added.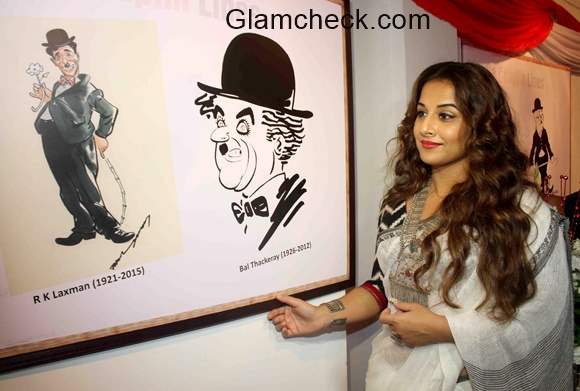 Vidya Balan inaugurates Chaplin Lines pics
She reaped praises on the initiative by 'Chaplin India Forum' saying that she had a wonderful time looking at the creative interpretations of Chaplin. No less than 200 international artists, 28 kids and women artists from India were part of the show. An artist had even created a cartoon using calligraphy which she found very interesting.
In a sweet gesture, the Chaplin India Forum presented a cartoon version of Vidya as Charlie Chaplin.
A book titled "Chaplin Lines" containing select cartoons and caricatures was also released and a Malayalam film titled "Buddha and Chaplin Smile" was screened at the Eros mini theatre to pay homage to Charlie Chaplin.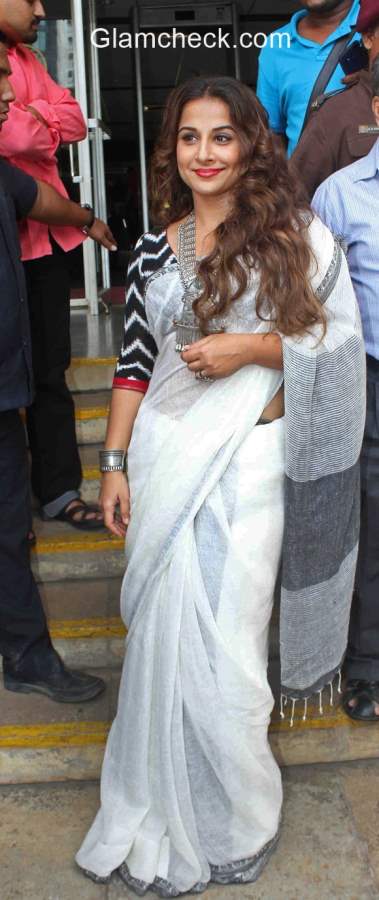 Vidya Balan in White Saree 2015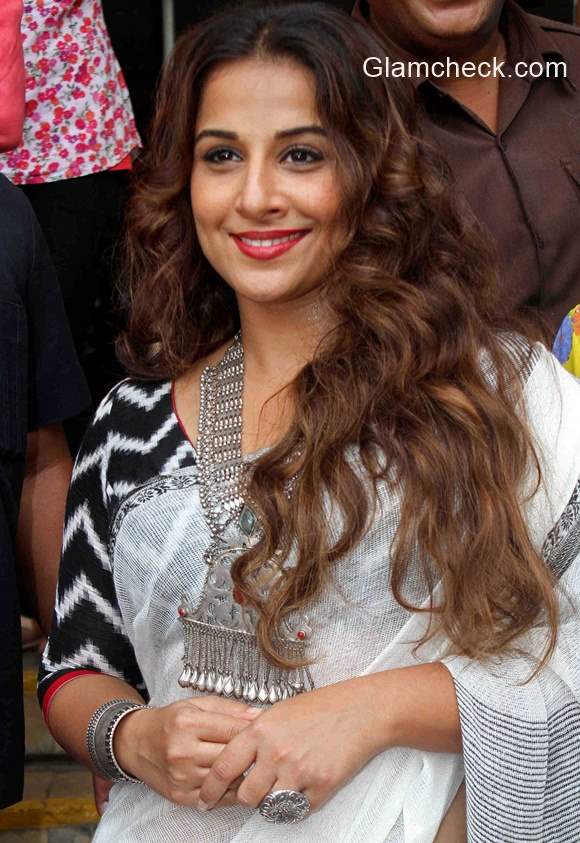 Vidya Balan Traditional Look 2015
Solaris Images