The hectic preparation for the Ganesh Chaturthi has filled the streets and homes of India. This 10 daylong celebration held in honour of the Hindi Lord Ganesha will begin tomorrow on September 17. Here's how you can get dressed up for the puja and festivities – in the traditional Maharashtrian style.
The common colors used by Maharashtrian women during important occasions are usually yellow/orange and green. As most saree lovers are aware of, their rich silk Paithani, Kaastha and Nauavri sarees are a must have! But if you're not particularly a fan of wearing sarees, why not try a contemporary lehenga or suit? Check out our style inspiration for the Ganesh Chaturthi festival.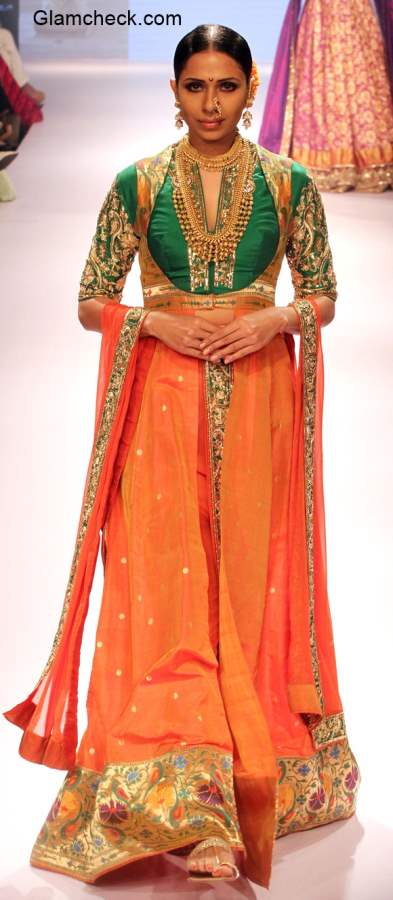 Traditional Maharashtrian Look for Ganesh Chaturthi
The lehenga choli is of rich silk and features traditional embroidery along the borders and sleeves of the blouse. Rightly so, the color combination has been kept orange and deep green. It's now time to accessorize this outfit.
Jewellery
It's all about gold, gold and more gold! Because 'gold' is considered auspicious in Maharastrian culture, especially during Ganesh Chaturthi. Pick heavy traditional necklaces and lengths in different lengths, perhaps a choker and a long chain, so that the neckline is filled with jewellery.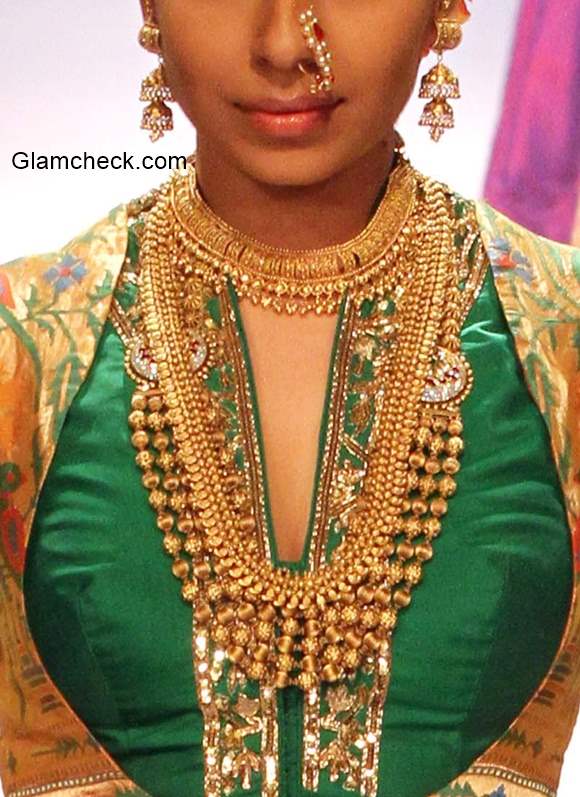 Maharashtrian Jewelry for Ganesh Chaturthi
For earrings, a traditional jhoomka would look good. Other ornaments like bangles, rings or baju band (arm bracelet) are up to personal choice. Last but not the least, is the Nath or nose ring – a must have!
Hair and Makeup
Classic, clean middle-parted low bun is the most suitable hairstyle. Accessorize with flowers to provide the finishing touch. We would advice against messy hair-dos or wearing your hair down.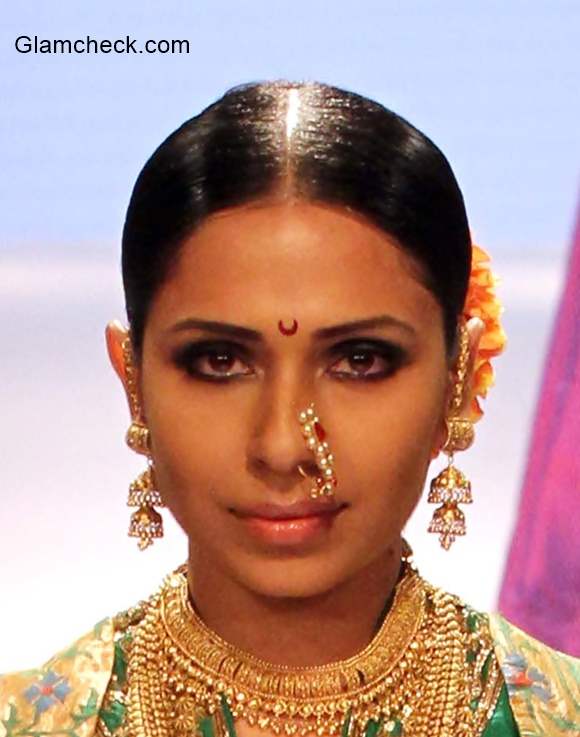 Maharashtrian Nose Ring for Ganesh Chaturthi
When it comes to make-up, it should be nothing loud and distracting. A clean, dewy, natural make-up with nude lips and charcoal grey smokey eyes spell perfection! Steer clear of heavy blushes and just add a Marathi style half moon bindi. Voila! Your Maharashtrian inspired look is now done.
Happy Ganesh Chathurthi ladies!
Solaris Images