So I have recently got my tresses chopped off into a bob and even though short hair is great, there seems to be very less styles you can apply to it. Feeling all colorful for Holi, I wanted the hair look slightly more special and done-up. So if you are struggling with finding a style for your short hair, this is the place for you. Even if your hair is longer, you could definitely use some tips here like making your own colorful bobby pins at home from your regular black ones.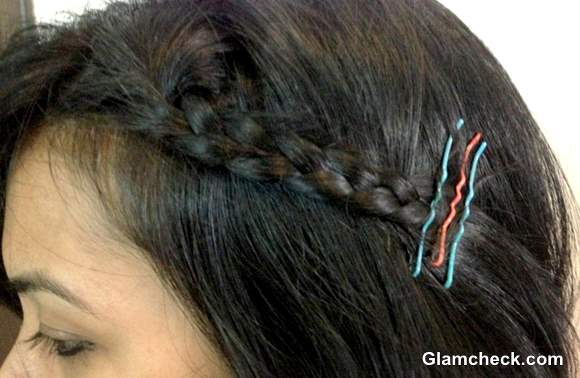 So today, I am inspired by the braiding trend popularized so much on the spring runways and also by a lot of international celebrities. But of course with a short length, the conventional braid is not possible. But that gave me the opportunity to get creative with a side braid instead and use colored bobby pins to hold the braid in place. So let's first color the bobby pins and then talk about the braid.
DIY: Colored bobby pins
Level: Easy
Time: 15-20 minutes (including drying time)
Things you will need: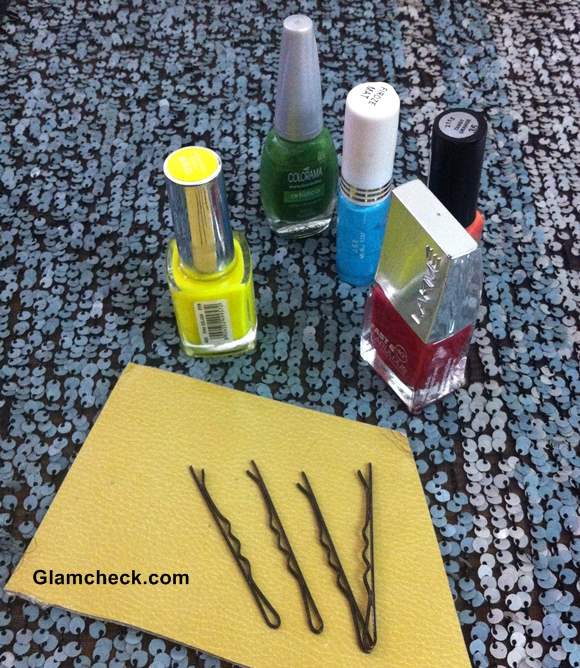 DIY Colored bobby pins
Black bobby pins
Small Card board (I cut one out from a shoe box)
Nail paints – Skip the new ones, and prefer to use the slightly old ones since they have a thicker consistency and will work better for painting the pins.
Steps:
Take the card board piece and clip the bobby pins on it.
Maintain a slight gap between all of them; it is your choice as to how many you want to paint.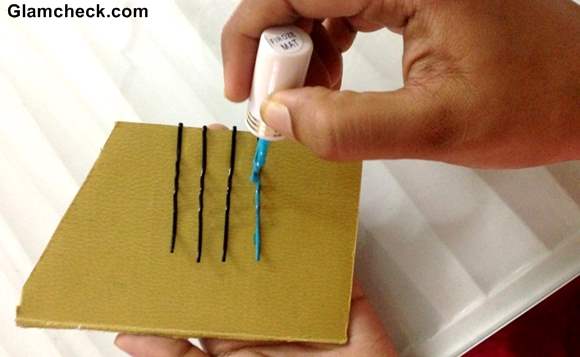 Colored bobby pins DIY
Choose the colors of the nail paints that your want your bobby pins to be.
Simply paint the bobby pins one by one. Keep in mind not to brush off the excess paint on the sides of the nail paint bottle, like you would usually do while applying paint to your nails.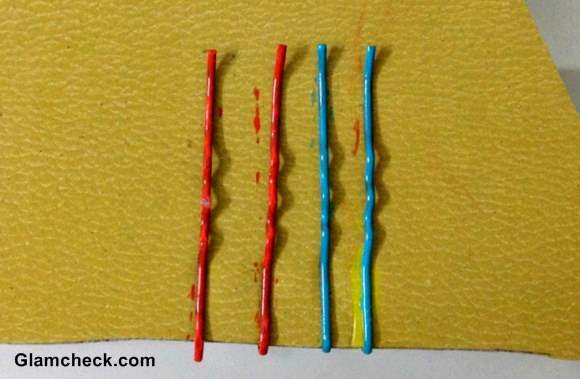 When the bobby pins are covered in paint perfectly, let this coat dry for 5-10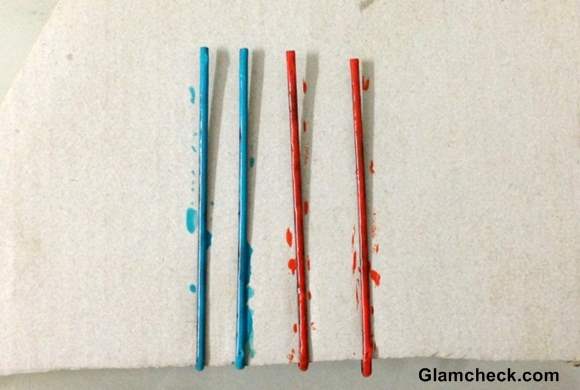 Then turn the card board around and paint the back side of the pins too in the same way.
Let it dry. And once it is done, the pins are ready to be used in any hairstyle you want. But for now I will use them for the side braid hairstyle.
Bob with a side Braid
Level: Easy
Time: 5 minutes
Things you will need:
Comb
Colored Bobby Pins (from the above DIY)
Hair clip
Steps:
Take a small section of your hair about 2 inches in width from one side, towards the front.
You can separate this section neatly using a comb.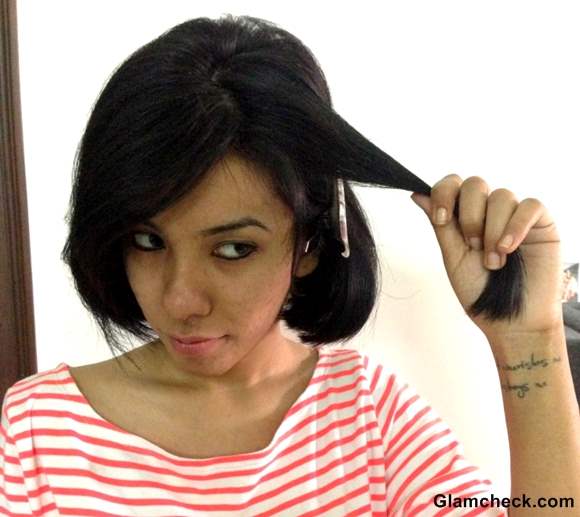 DIY side braid with colored bobby pins
Clip away the rest of the hair on that side using a hair clip. This will make it easier for you to focus on the braid.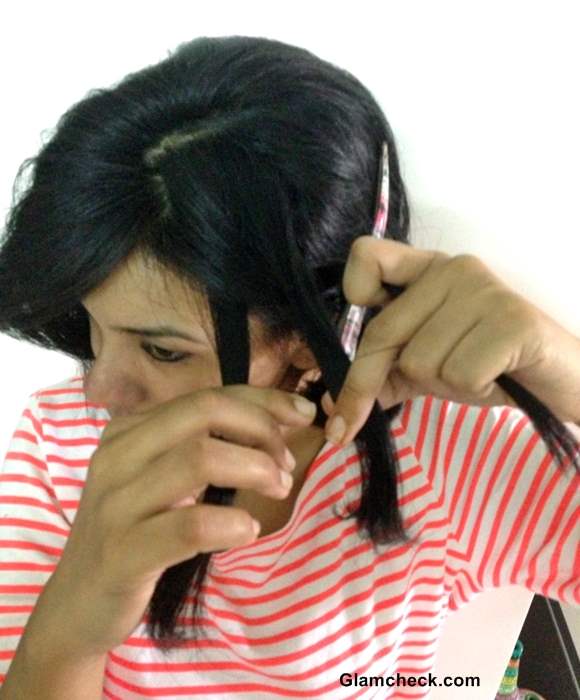 DIY Holi Hairstyle – Side braid with colored bobby pins
Separate that section further into three equal parts.
Take the right section and cross it over centre section. Do not cross over to the left though.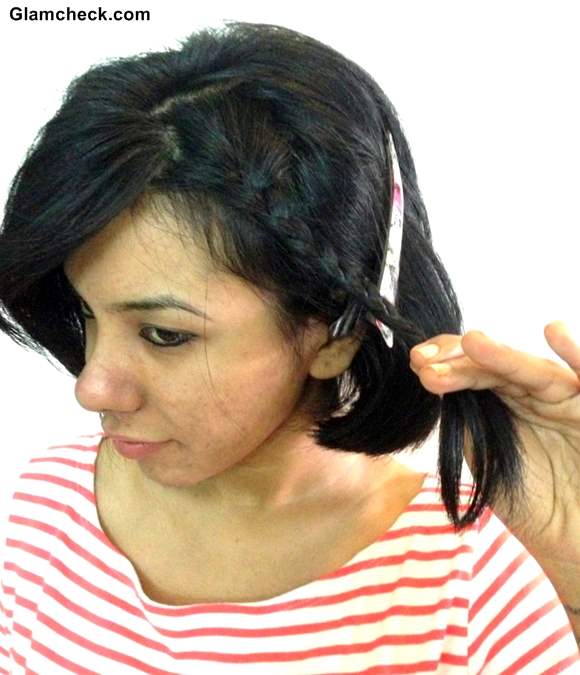 Holi Hairstyle side braid 
Then take the left section and cross it over the new centre section.
Repeat to braid
Once you have reached the end, pull the braid to one side and secure with the colored bobby pins.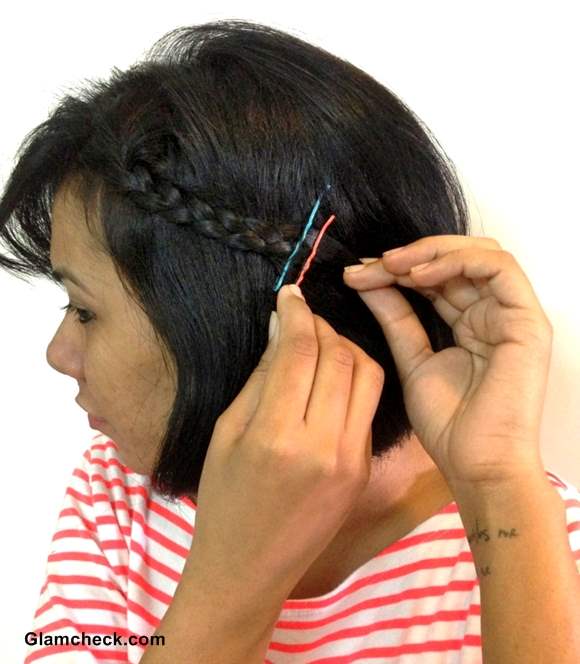 You can use them far apart or close together.
You can use more than three and use rainbow colors too, or a single favorite color with your white attire on Holi. Get creative!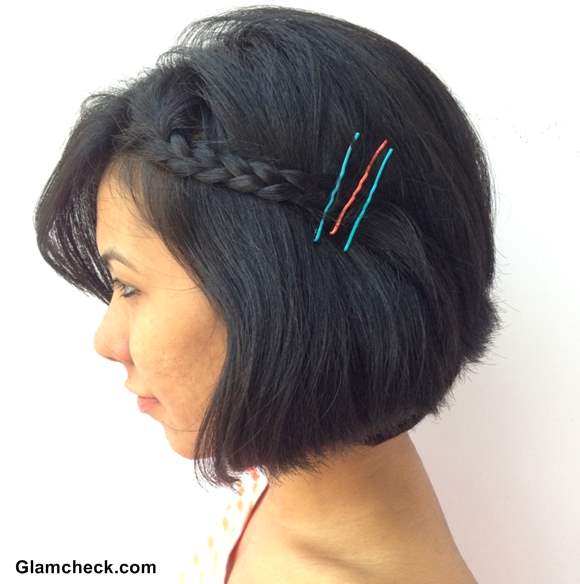 Holi Hairstyle – Side Braided Bob with DIY colored Bobby Pins
Yes the DIY is that simple. And the side braid is applicable even when you have longer hair than mine. You could even side braid when you make a bun with long hair and highlight using the colored bobby pins. And the best part about these bobby pins is that they are re-usable! If you want them to be some other color, don't paint new ones – simply use a nail paint remover to remove the old nail color. This would not harm the original paint and give you the original bobby pin back. You can also paint these in half and half, i.e in two colors.
So have a colorful Holi everyone. I hope this DIY gave you some inspiration to style your short hair plus save money on the pins!
Also Read:
Holi Dressing – Colorful Ways to Wear White

Doesn't it feel like a ritual on its own to wear white on Holi? Yes of course your dear clothes […]
Holi Special – The Right Makeup & Accessories for Holi

The Holi dream is to wear an all white attire and be smeared in colors right. If you are a […]
Dual Lip Color Trend for Holi

The recently held Wills India Fashion week Autumn Winter 2013 actually showcased a trend which is perfect for Holi. Dazed […]
DIY: Holi Inspired Nails

The plethora of colors on Holi can sure get inspiring. Wearing white attire is great, but colored accessories and colored […]
Beauty Tips for Playing Holi

Holi, the festival of colors is an occasion that is enjoyed by everyone in India. Vibrant hues fill the […]
Glamcheck.com