The plethora of colors on Holi can sure get inspiring. Wearing white attire is great, but colored accessories and colored everything else seems like a good fashion deal. And by everything else today I mean the nail. So can you somehow take the spirit of Holi and fit it on your tiny nail?  With Glamcheck you surely can as today the simple nail art is inspired by Holi. And when I say simple, I mean simple. The only skill required for this nail art is to be able to paint the nails – yes that is it! Excited? Let's start!
Level: Easy
Time: 25-30 minutes (Including drying time)
Things you will need: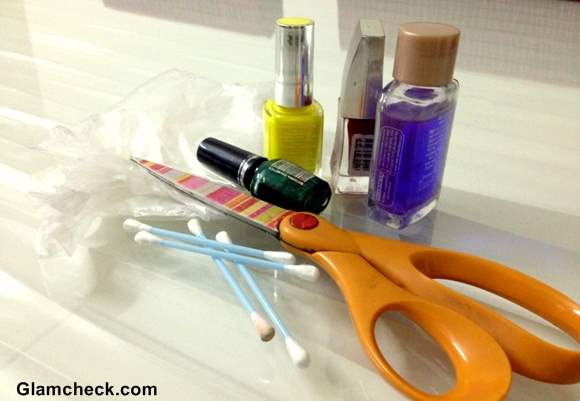 DIY – Holi Inspired Nails
Nail paints in three colors (We talk about color combinations below)
Clear Nail paint for Top coat
Nail paint remover
Ear buds
Polythene
A pair of Scissors
Choose your colors
The first step would of course be choosing the color combinations, you would like to use. I tried different ones myself and chose the best. You could have a look on them and it would save you the time of trying combinations yourself. Or if you are already good with combinations (most of the women species is right?) you could just proceed to doing the nail art.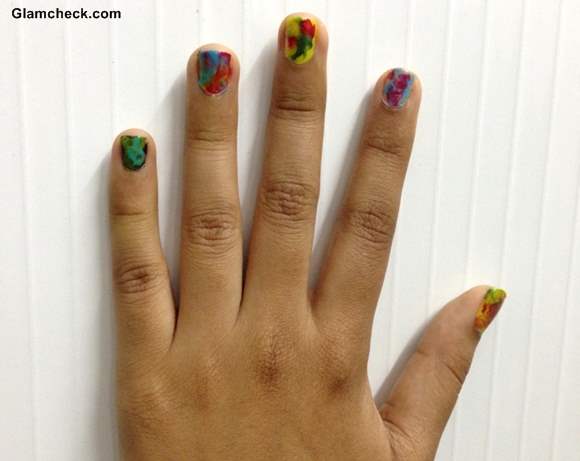 DIY Holi Nail Art
The four combinations used from left to right are:
Black base and green and turquoise on top
Cerise red base with turquoise and green on top
Neon green base with emerald green and cerise red on top.
Peach (almost nude) base with cerulean blue and cerise red on top.
Now that you know all that I used, it is time to pick your favorite or invent one! I loved the Neon green combination as it is the most lively and celebratory of all. So I went ahead to illustrate with that one.
Follow these steps:
In preparation, cut the polythene into small squares or rectangles, approximately three times bigger than your finger nails. Keep them aside, you will need these later.
Now paint your nails in the base coat first. Since the neon green is not a highly saturated color, I used two coats. Darker hues only need 1 base coat.
Let the coats dry slightly on between, if applying two coats. Or else, simply let your base coat dry fully.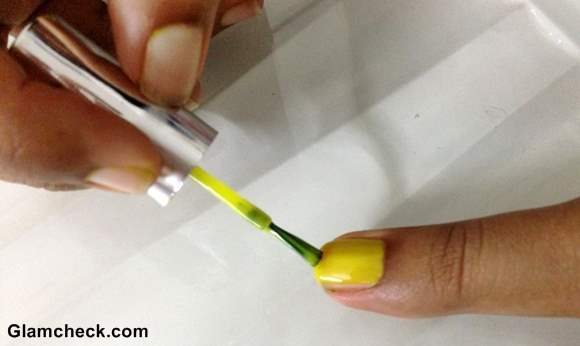 Holi Nail Art
A quick tip here, to dry nail paint quick is with running water. After application wait 30 seconds to one minute. Place your hand under running tap water in such a way that it does not hit your finger nails directly but instead drip over from your fingers. A minute or less like this, and your nail paint will be fully dry!
Open the two nail colors you will be applying on top. Keep their caps loose, so that they are easier to be used.
Take a blob of one color and apply dots of it on your nail. If you will use too little nail paint, it won't spread well. Also remember to be quick, as quick drying nail paints will create a problem.
You can place 2-3 dots of a color, depending on how you want the result to be.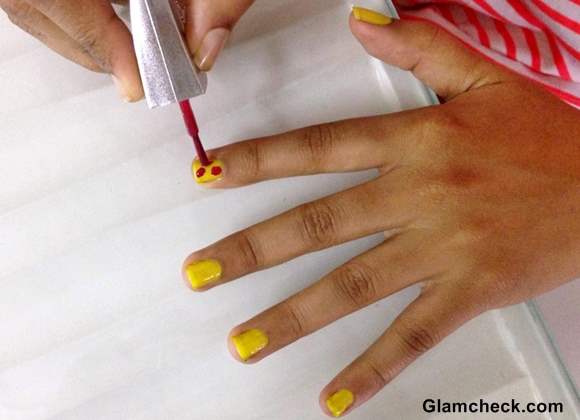 Quickly take the next color and place 1-2 dots of it around the first one. Remember that symmetry is not required, as the Holi colors are on a t-shirt or anywhere look natural and unplanned. Capture that spirit. Also your dots can overlap a bit as it would give you better results.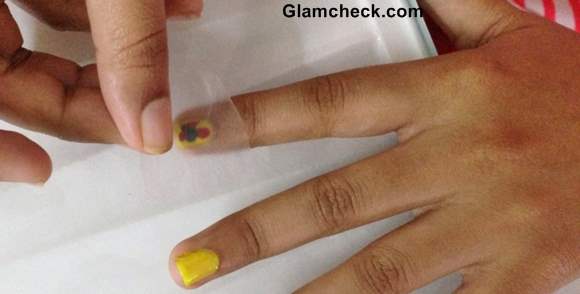 Quickly take one polythene square and place your finger nail. Press upon it and smudge the colors slightly together. Do not worry about being neat, in case you get some paint on the skin – it can be taken care of later.
Remove the polythene to reveal your nail art!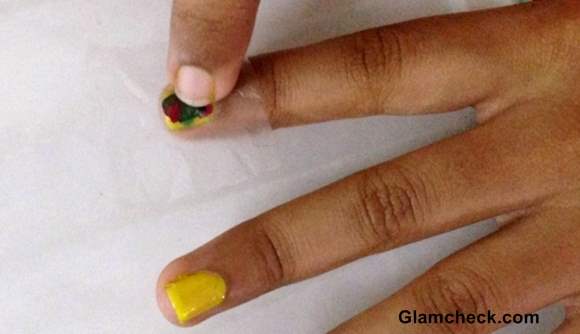 Repeat these steps for the rest of the nails. You will have to deal with one nail at a time or else the smudging will never be proper.

Allow all these to dry well.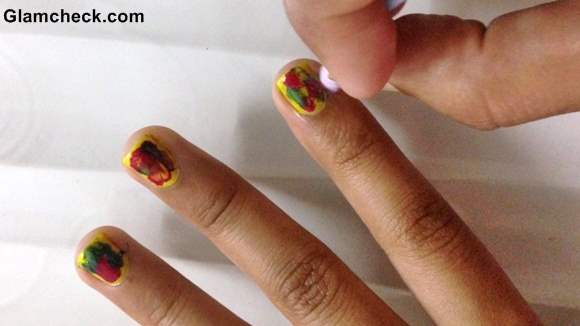 Now you can clean up the mess around your nails. Simply pour some nail paint remover over an ear bud. Clean with this around your nails precisely, as it will definitely work better than regular cotton balls.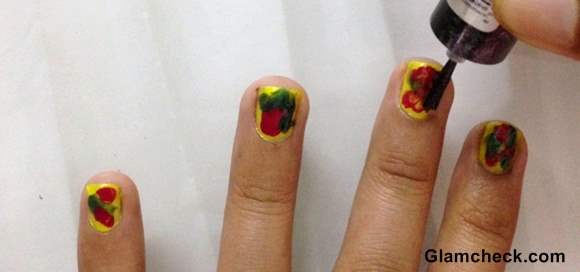 As an optional step, apply a clear top as it ties the whole look together and adds sheen to your nails. And you are done!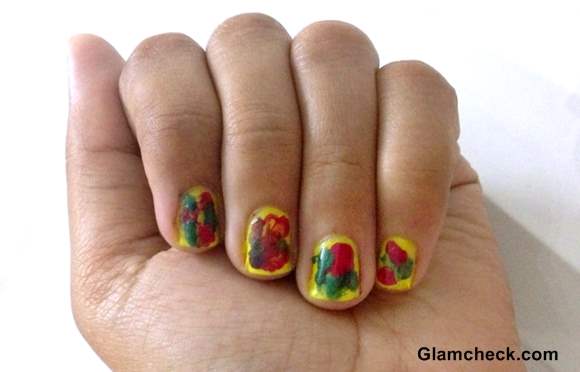 Nail Art – Holi Inspired Nails
That brings us to the end of this DIY. Truth be told, I quite liked painting all my finger nails in different colors than all of them in one. Even if you use the same color combination, all your nails will still be different but in harmony. You have seen both versions now and are more than equipped to create your own unique Holi inspired nail art. The fun in this DIY is that, your nails will look different than mine and so would everybody else's. The individuality and uniqueness of it is what makes this DIY special. So what are you waiting for? Go ahead and paint your nails 'Holi'!
Also Read:
Holi Dressing – Colorful Ways to Wear White

Doesn't it feel like a ritual on its own to wear white on Holi? Yes of course your dear clothes […]
Holi Special – The Right Makeup & Accessories for Holi

The Holi dream is to wear an all white attire and be smeared in colors right. If you are a […]
Dual Lip Color Trend for Holi

The recently held Wills India Fashion week Autumn Winter 2013 actually showcased a trend which is perfect for Holi. Dazed […]
Holi Hairstyle : Side Braided Bob with DIY colored Bobby Pins

So I have recently got my tresses chopped off into a bob and even though short hair is great, there […]
Beauty Tips for Playing Holi

Holi, the festival of colors is an occasion that is enjoyed by everyone in India. Vibrant hues fill the […]
Glamcheck.com