Bollywood actress Neha Dhupia was a vision of elegance during the music launch of the film "Maximum" in Mumbai, India on June 18.
Her Look:
Traditional glam
What she is wearing: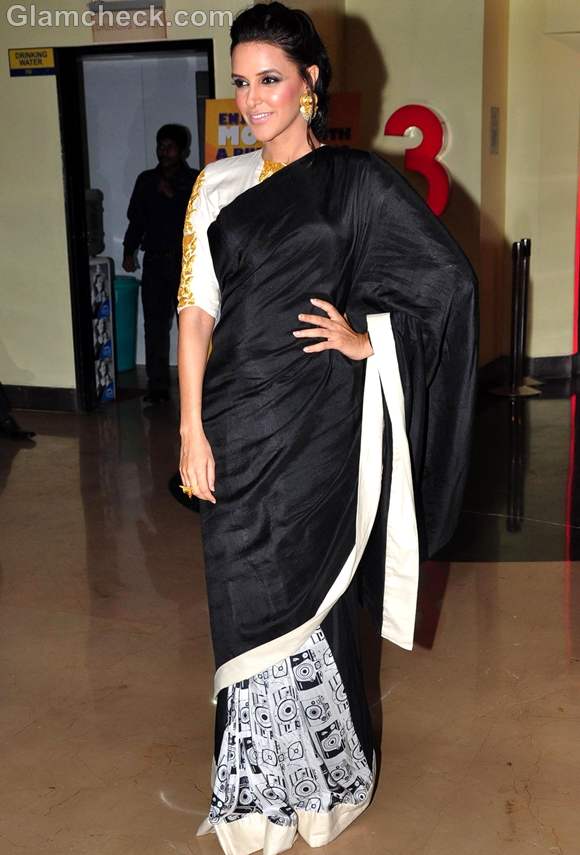 Neha wore a black sari with liberal prints in white along the pleats. Her blouse was the mother lode of the outfit though. It was a really classy cut that made you think of the grace and eloquence of Indira Gandhi. The high-necked, elbow-length-sleeved ivory blouse was emblazoned with a gold pattern that brought the oomph to the ensemble. Ethnic dangle earrings and smoky eye makeup completed the diva's look.
Get the Look:
You don't see many plain saris out there anymore, especially in classic colors like white and black. Just like the West boasts its little black dresses and classy white frocks, India has its own version of the timeless feminine style in the form of saris. While we would not always recommend a plain white sari, a black one is whole different story.
You may not find a sari just like Neha's, but a plain black one will do just as well as long as you stitch a glamorous blouse to go with it. Neha went with a more conservative cut but you can try something sleeveless, backless, a halter neck or a sweetheart neckline to add more sex appeal to your look.
How & Where to sport the look: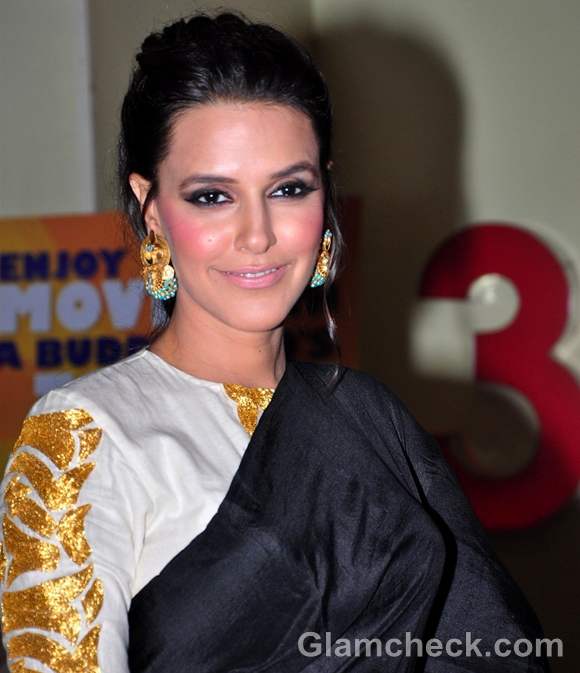 Neha Dhupia
If your hair is black or brown, then it makes sense to style it in an updo. If you want to leave it loose, highlight your tresses so that they don't blend with your sari too much. A straight, sleek style is better than a curly one with this look. Reserve your traditional glam outfit for a formal evening event. 
Image: Indian Photo Agency