Bollywood actresses Zeenat Aman and Zarine Khan walked the ramp at the India International Jewellery Week 2012 (IIJW) in Mumbai on August 21 showing off traditional ghagra cholis for the young and old, side by side.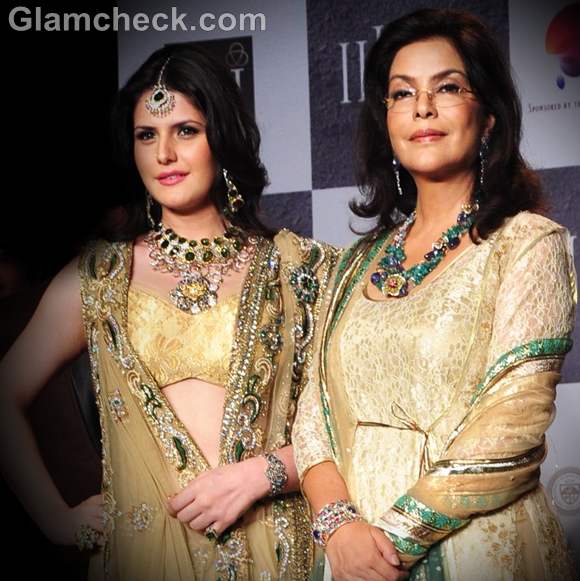 Zarine Khan & Zeenat Aman 2012 IIJW
Their Look:
Traditional Glam
What They Are Wearing:
Both ladies are sporting gold ghagra cholis, but each has its own splendour and seems to be designed with that particular woman in mind.
Zeenat's outfit features a long choli with three-fourth sleeves. The ghagra is almost full-skirted with silver, bronze and green bands emblazoned near the hem. The jewellery set that she presented was embellished with rubies, emeralds, plus several other precious and semi-precious gems. She looked elegant and more fabulous than all of the models that walked down the runway that evening. The audience agreed with a thundering applause that came close to breaking the sound barrier.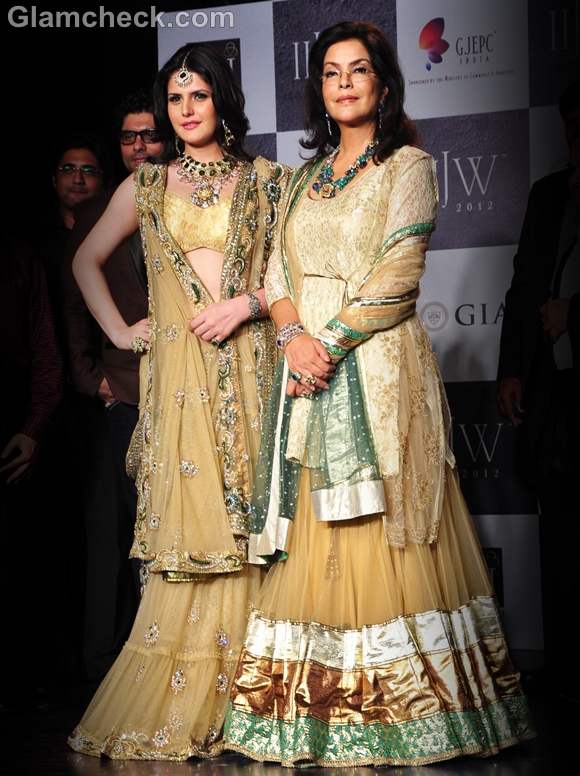 Zarine Khan looked stellar! Her filmy gold ghagra had delicate floral detailing which complemented the floral jewellery she sported. A plain gold choli set off her silver-embroidered, sleeveless jacket to perfection. Her jewellery set was more elaborate, consisting of a large floral-design necklace, earrings, a hair accessory, a giant ring, and a bracelet.
Get the Look:
This isn't something you can buy in a store or just throw together when the mood strikes you. You'll obviously need some planning, some great design ideas, fabric, and a very good tailor. Keep in mind your age, the occasion, and your figure before you decide on the design.
Remember to team your ghagra choli with statement jewellery pieces if you want to give your ensemble a finished look. Accessorizing is essential with such a luxurious outfit.
How & Where to Sport the Look:
Reserve such gorgeous outfits for the big weddings and engagements. Basically, this lavish attire will qualify for any celebratory event which calls for rich traditional wear. 
Image: IPA