'Brights' have evolved as the season's staple color. From New York to London to Paris, runways are awash with this electrifying trend.
Bollywood Celebs Sporting Neon Fashion Trend
We at Glamcheck have brought you the latest in fashion.
Citrus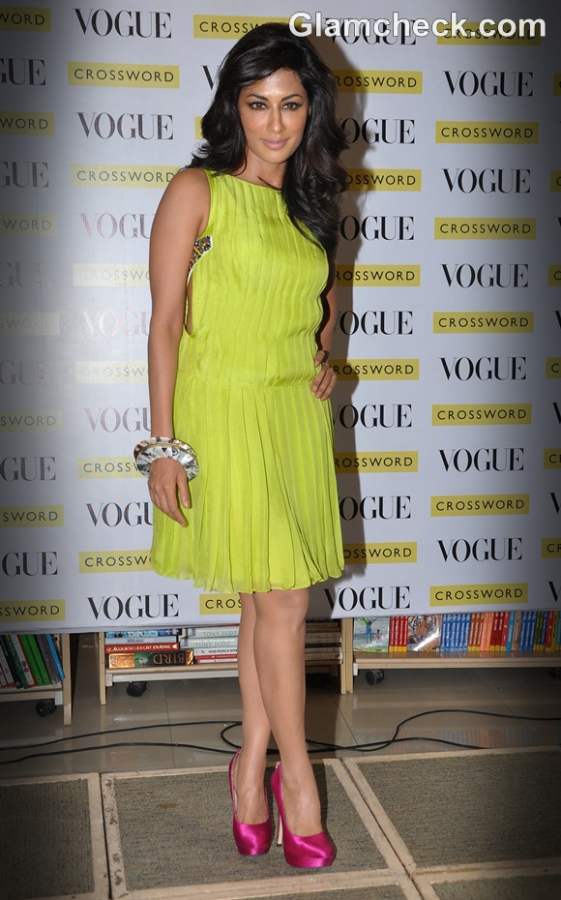 Chitrangda Singh sporting Neon Fashion trend
'Hazaron Khwaishein Aisi' actress Chitrangda Singh was spotted wearing a citrus neon pleated chiffon dress at the launch of Vogue magazine in Mumbai. A pair of satin pumps in 'rani' pink and an over-sized fabric bangle completed her look.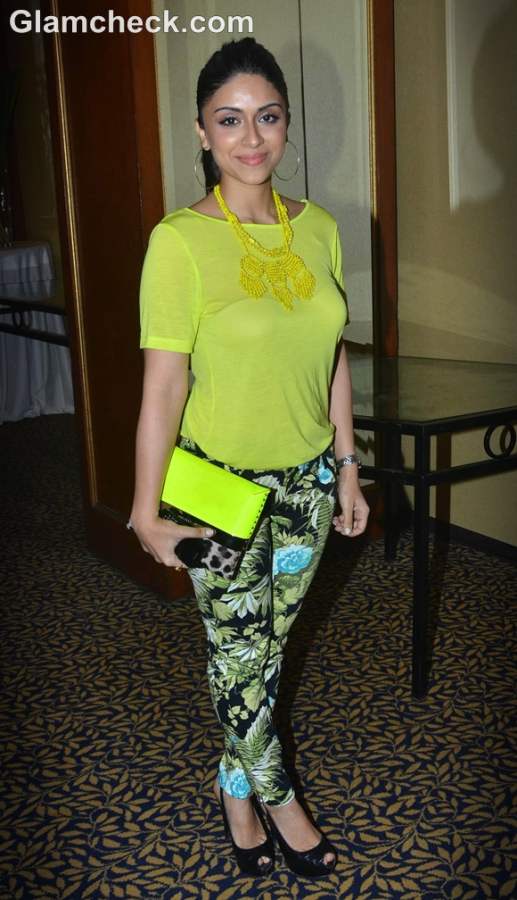 Zoa Morani sporting Neon Fashion trend
Zoa Morani was seen at SNDT Chrysalis show at Leela, Mumbai wearing the colour with floral printed trousers and black peep-toe heels. The neon clutch in lime and beaded necklace in the same hue reinforced the trend in our fashion diary.
Actress Sameera Reddy was spotted in a neon yellow at IIFA World Premiere Green Carpet at 13th IIFA awards 2012 in Singapore. She paired it with a shimmering jacket and black sequined chain-strap purse. The metal bracelets on her wrist were chic.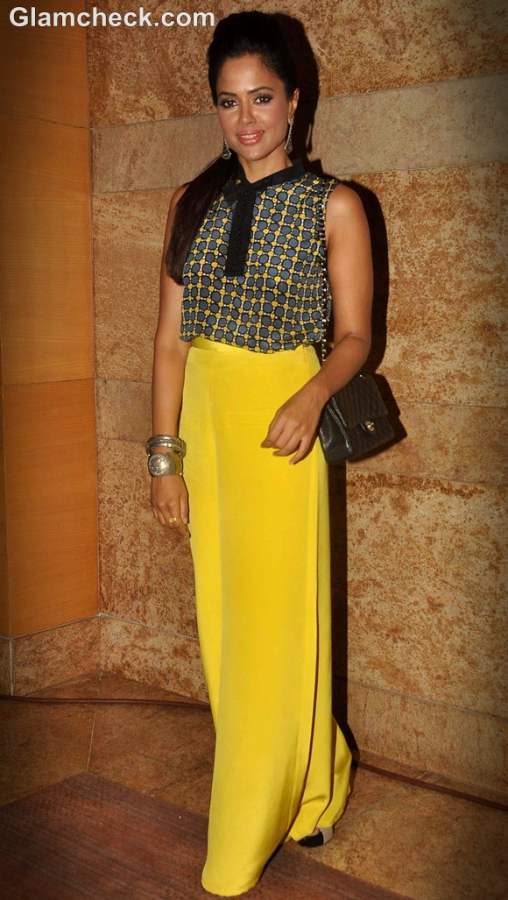 Sameera Reddy sporting Neon Fashion trend
We spotted Ms. Sameera Reddy in another CREDAI Real Estate Awards in Grand Hyatt, Mumbai. The yellow palazzos looked fabulous with her dot-print blouse. She paired her look again with a strappy purse, danglers and chunky bangles.
We think she really looks fab!
The Citrine-Cousin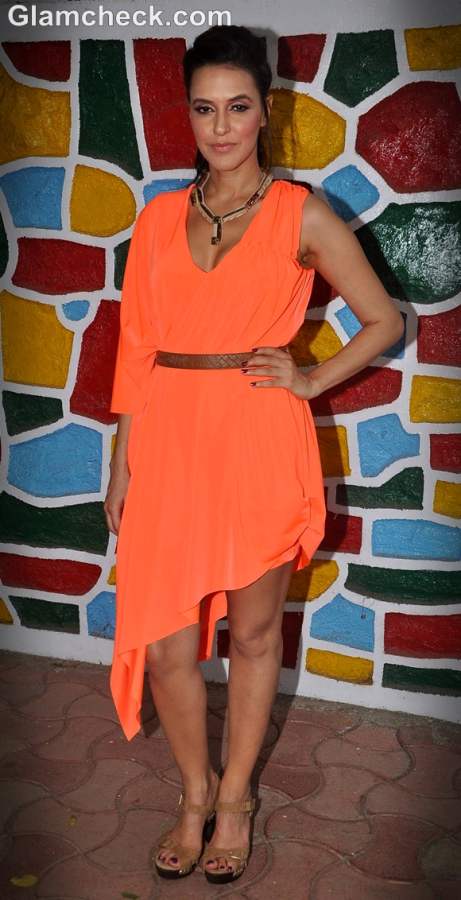 Neha Dhupia sporting Neon Fashion trend
We caught a glimpse of Neha Dhupia on UTV Stars, The Chosen One show following the neon trend. The asymmetrical neon dress complemented her skin tone. This bright coral accent was paired with a textured leather belt and a statement neckpiece.
We recommend you to wear nude pumps in killer heels to rock this look.
Fuchsia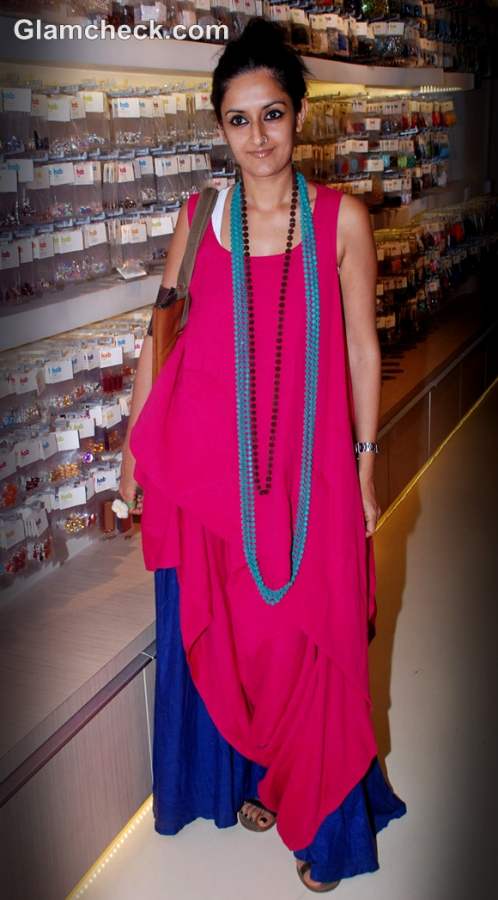 At the Hab Store launch in Mumbai, this damsel in pink carried our breath away. Long beaded necklaces, asymmetrical tunic in Fuchsia paired with indigo blue skirt; so Boho!
Neon Accents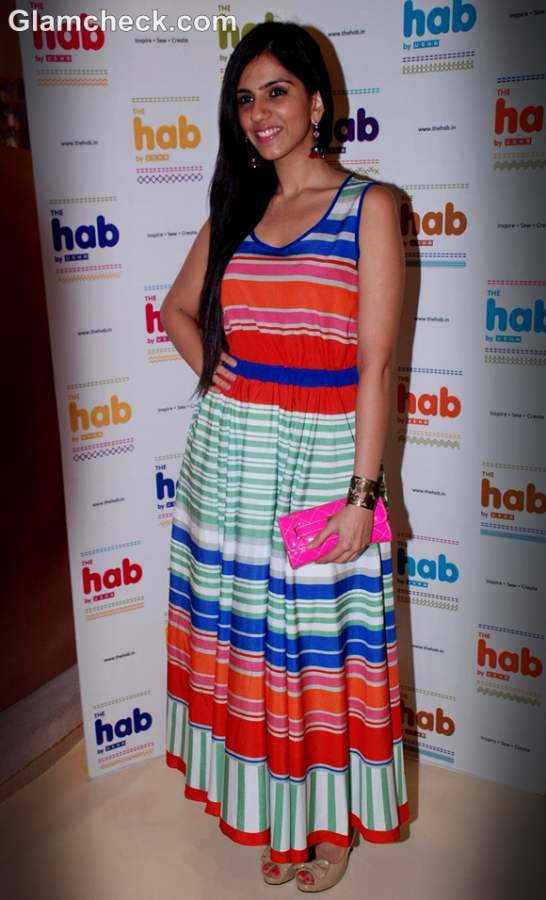 Nishka Lulla sporting Neon Fashion trend
Nishka Lulla was spotted at the Hab store launch in Mumbai wearing a neon striper jersey maxi dress. She clutched a hot pink purse and paired them with nude heels. Very Stylish!
Tips To Wear The Trend
Neons are a great way to brighten up your wardrobe. Play with 'Brights' this season and you will not be disappointed with the outcome.
Wear neon as an accessory with your achromatic look to keep it low-key
Colours like citrus, corals, fuchsias, and greens are good to go with
Keep the accessories bold. Wear statement pieces. Do not go overboard with them
Look edgy with killer heels. Take a cue from Chitrangda's satin pumps. They are so stylish and sexy.
Look sexy and stay stylish!
IANS, Indian Photo Agency