Anupama Dayal showcased her Summer/Resort 2013 Collection at the Lakme Fashion Week in Mumbai this March. This Delhi based designer ­­­­­­­­­­­believes in achieving an international look while keeping the "Indian soul" intact.
Her inspiration for this year's collection was taken from the spirit of an Indian woman as viewed by her at The Talent Box Show. Her collection was vibrant and eclectic to say the least. With fun prints, bright colours and variety of styles, this collection was very aptly named "Musafir".
The Looks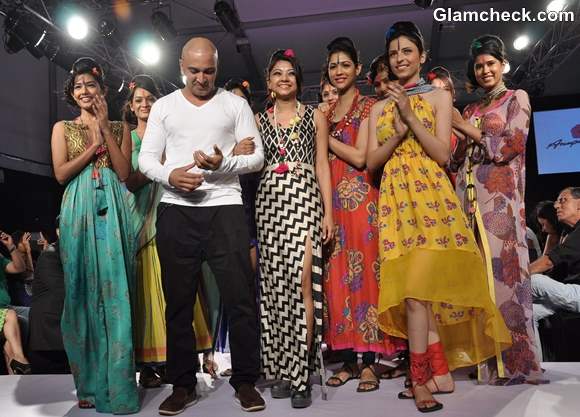 Anupama Dayal at the LFW Summer-Resort 2013
The uniqueness of her designs lies in the styling of each garment which can be worn independently or in combination with other garments. It's all about keeping a balance between tradition and modernism.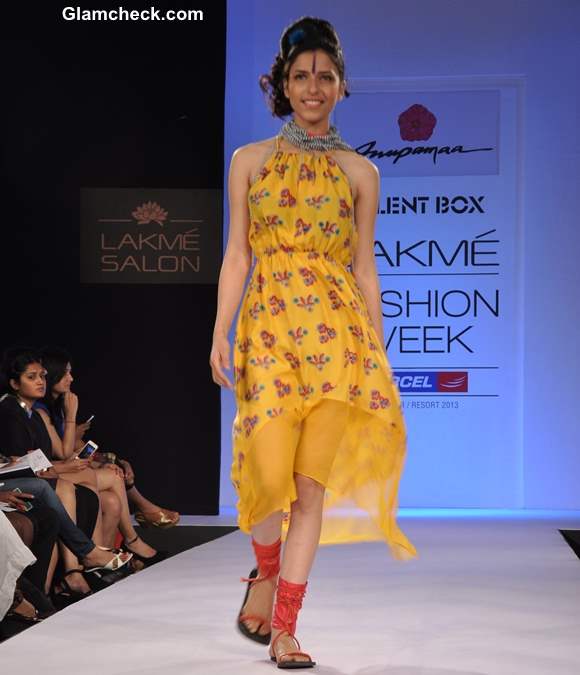 Anupama Dayal LFW Summer-Resort 2013
Her collection included a range of jackets, tunics, blazers, dresses, tops, shorts, skirts, jumpsuits and kurtas that combines western style silhouettes with an ethnic appeal.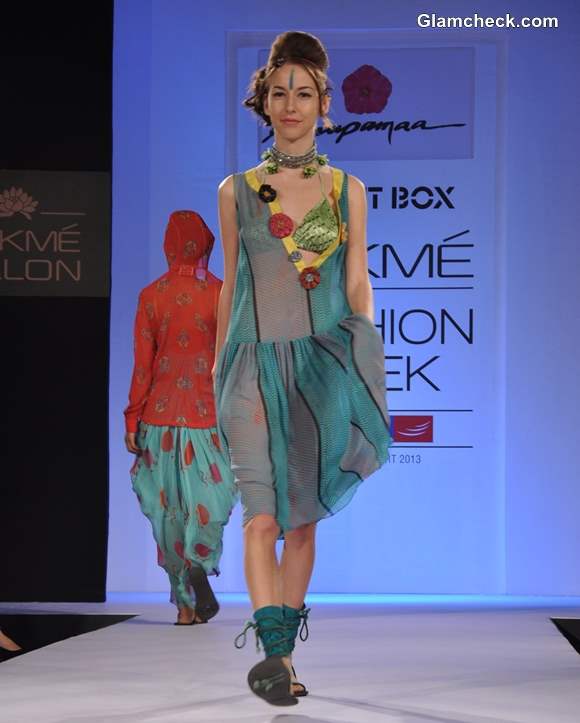 Anupama Dayal LFW Summer-Resort 2013 collection
The color palette used was fresh and vibrant with shades of bright pink, purple, green, yellow, red, orange and blue on display.
Dresses with halter necks and bikinis were worn with a floral twist to them in the form of prints and flowers on the necklines. Colourful powder tikkas on the model's foreheads, funky neck pieces and tie-up shoes completed this look.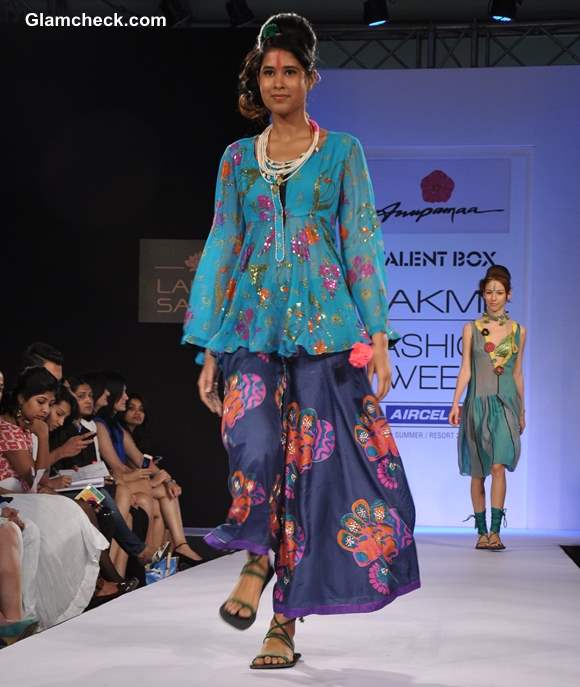 LFW Summer-Resort 2013 Anupama Dayal collection
The foundation of Anupama's work revolves around the revival of traditional Indian crafts namely those of ancient hand printing and needlework techniques.
In the outfit above, she has combined big and small traditional floral motifs with sequins work to give us this beautiful tunic and sharara combination.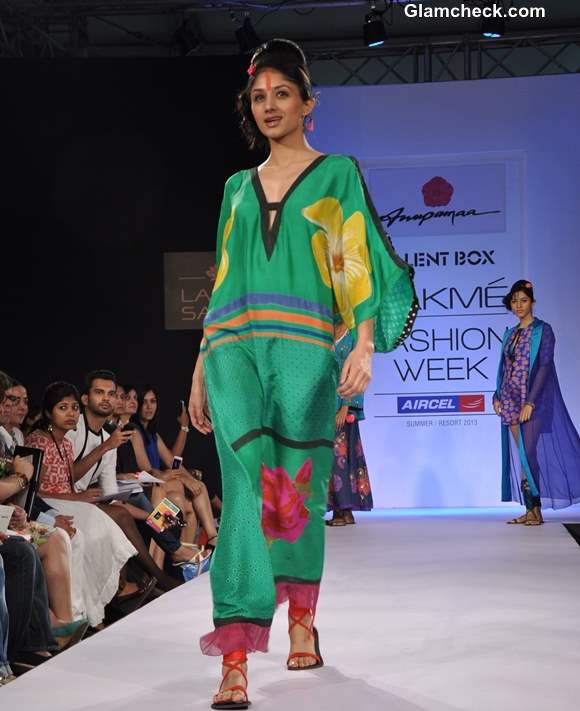 LFW Summer-Resort 2013 Anupama Dayal
LFW Summer-Resort 2013 Anupama Dayal show
These free flowing garments were created using chiffons and silks and by combining both floral and geometric motifs.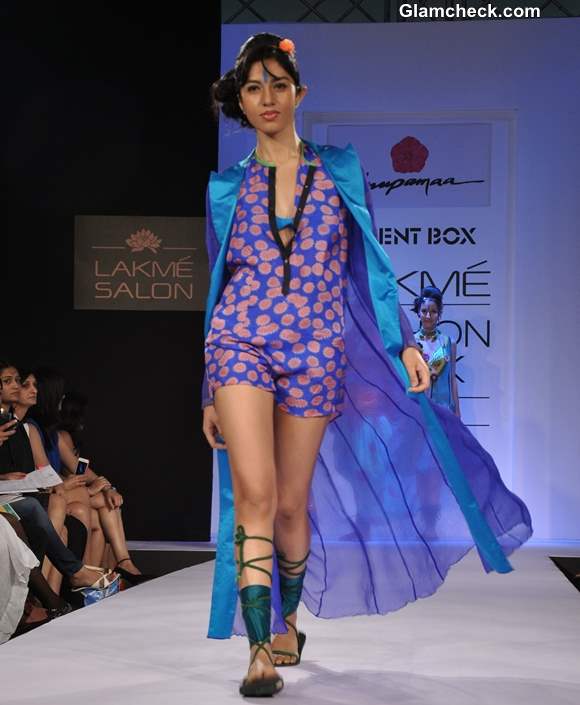 LFW Summer-Resort 2013 Anupama Dayal
The jumpsuits were teamed with long chiffon coats in shades of blue with matching bikinis inside.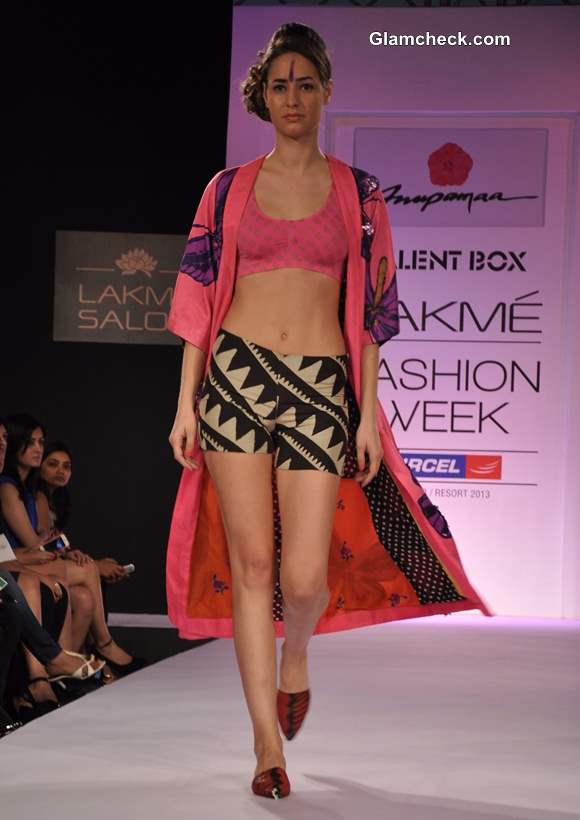 LFW Summer-Resort 2013 Anupama Dayal day 1
Printed short pants and choli tops with long jackets were seen in a variety of colours and prints with some featuring heavily embroidered choli tops and side tie-ups.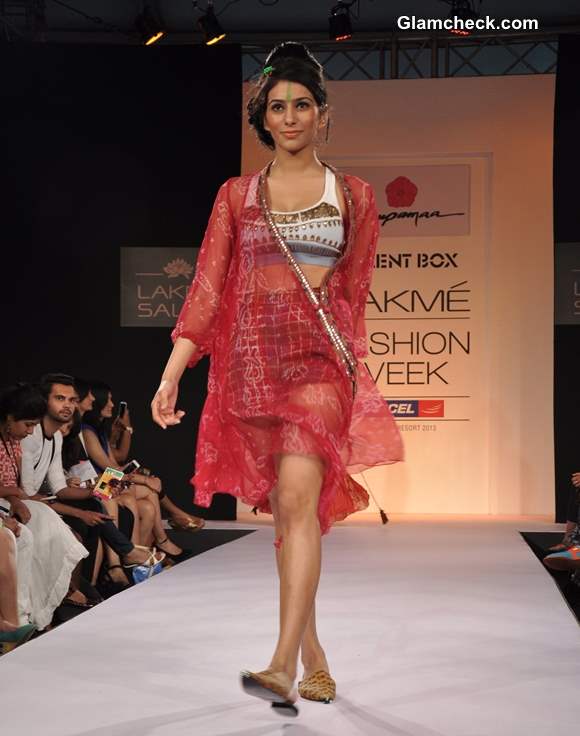 LFW Summer-Resort 2013 Anupama Dayal 
All in all, Anupamas's work definitely shows us how to make a fashion statement the 'Desi way'.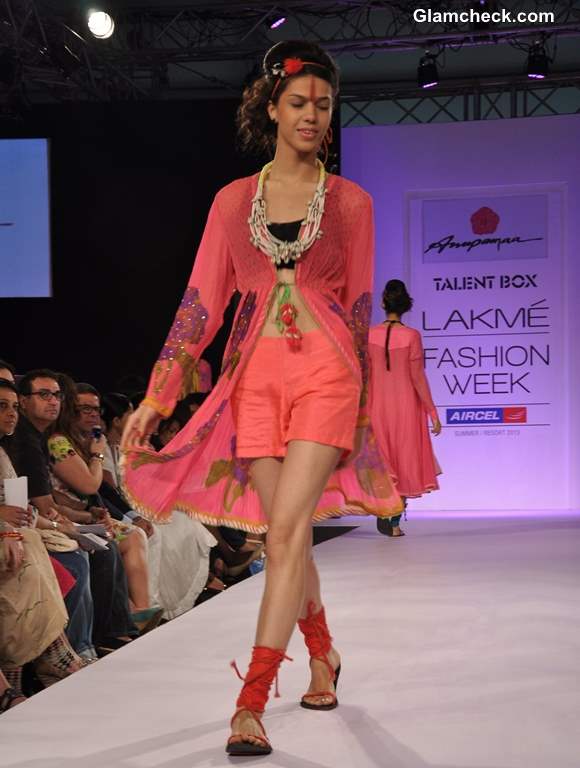 LFW Summer-Resort 2013 Collection Anupama Dayal
IANS