Bollywood actress Parineeti Chopra launched Samsung's new Galaxy Note 3 in Mumbai, India on September 25, 2013.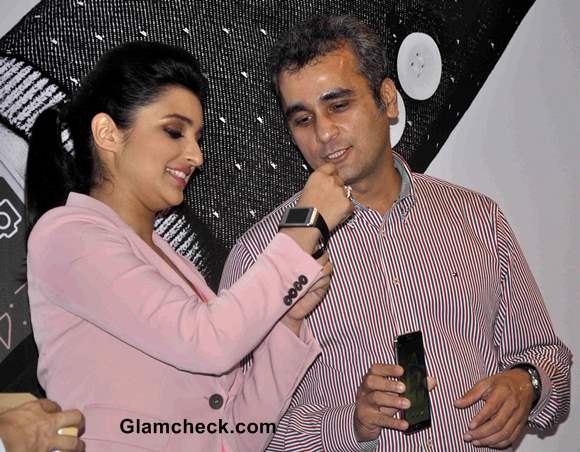 Parineeti Chopra Samsung Galaxy Note 3 Launch
Pretty in Pink
Dark blue jeans and a pink and white horizontally-striped long top formed the base for Parineeti's look. She rounded it off to absolute perfection with a pink blazer, buttoned at the waist. Flesh-tone pumps were her only accessories.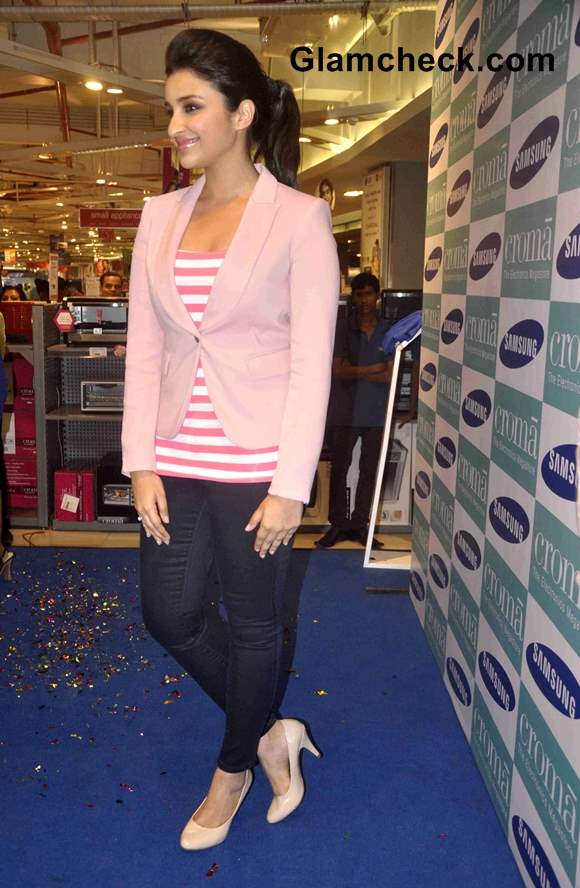 Parineeti Chopra Sweet in Pink Blazer at Samsung Galaxy Note 3 Launch
She was exuding several vibes from posh to chic to casual to fun. But more than the versatility of her look, we have to applaud her color sense. Pink is awesome and a great shade for any gal, but finding the right shade of pink is a skill, just like finding the right shade of lipstick. Both the pink pieces she has on look great on her and she has smartly chosen to sport the better hue on the dominating blazer.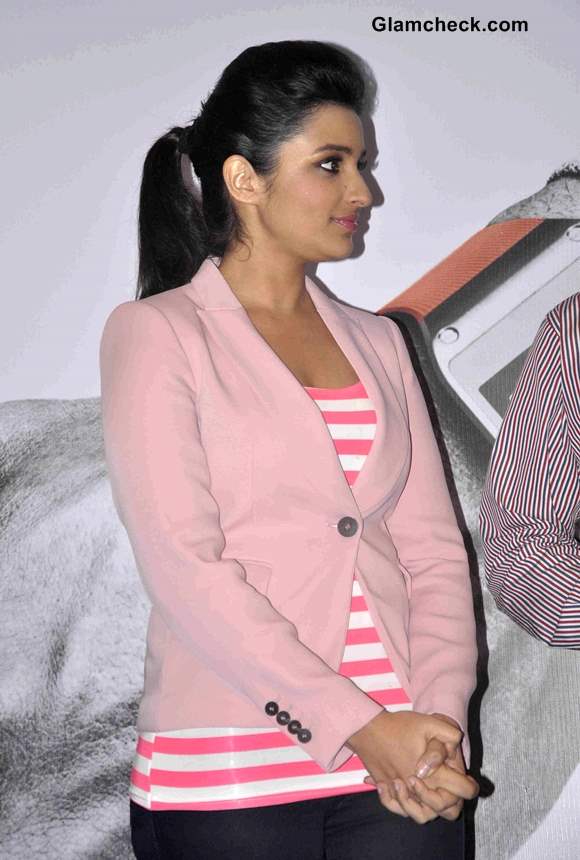 Parineeti Chopra in Pink Blazer at Samsung Galaxy Note 3 Launch
Pink lips, a light pink blush, defined eyes and a simple ponytail completed her look.
Get the Look
You don't have to go all pinky-pink if you don't want to. A monochrome striped tank top with a black or white blazer will look very sexy too, and also more elegant.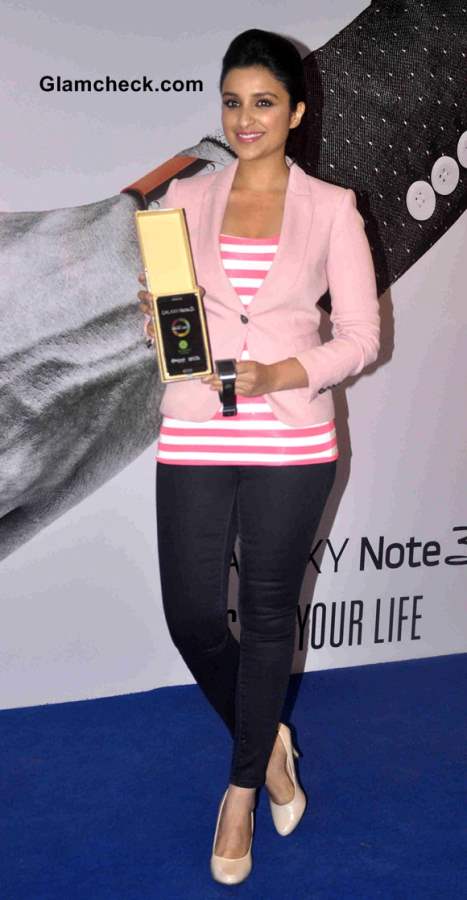 Parineeti Chopra at Samsung Galaxy Note 3 Launch
No stripes, no problem. Wear a longer top of any solid color that contrasts with that of your blazer. You can have a cool color block theme going if the shades are from different ends of the color wheel.
Pumps would be the ideal choice of footwear for this look but bellies would go well also. Avoid strappy or chunky shoes though.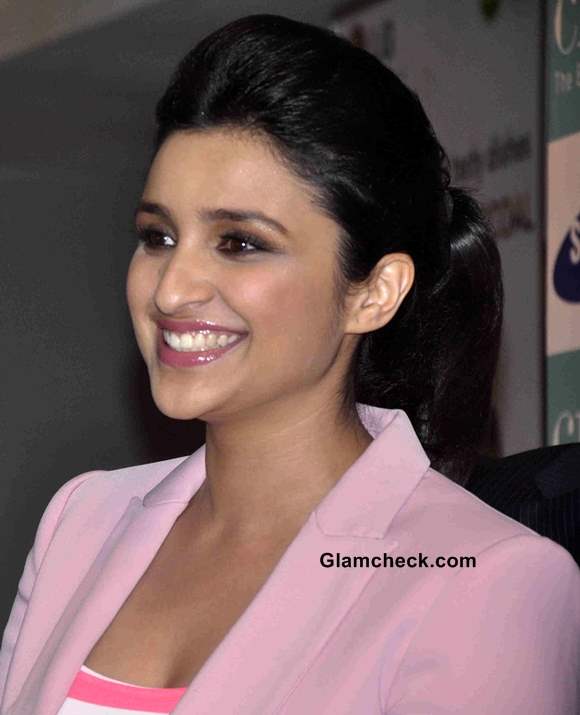 Parineeti Chopra 2013 pictures
Finish off your look with a neat hairstyle and your best take on your everyday makeup.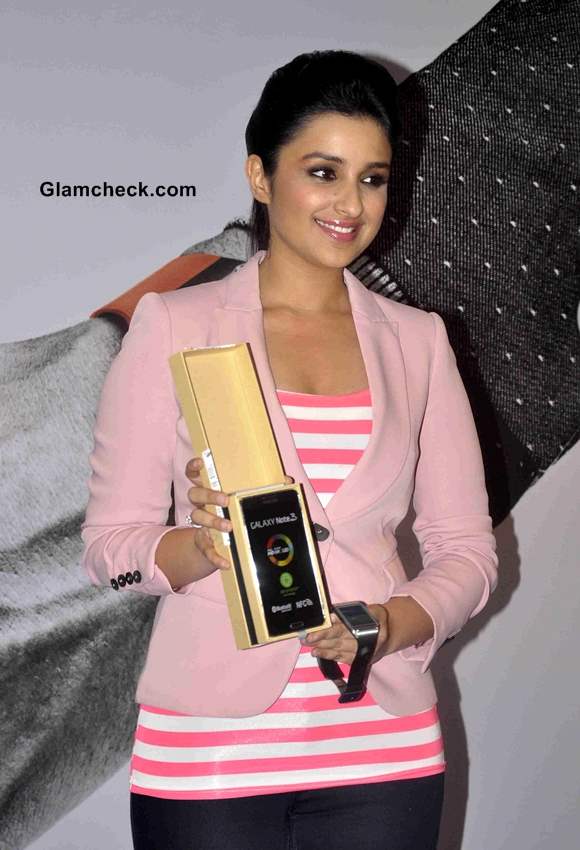 Parineeti Chopra 2013 Samsung Galaxy Note 3 Launch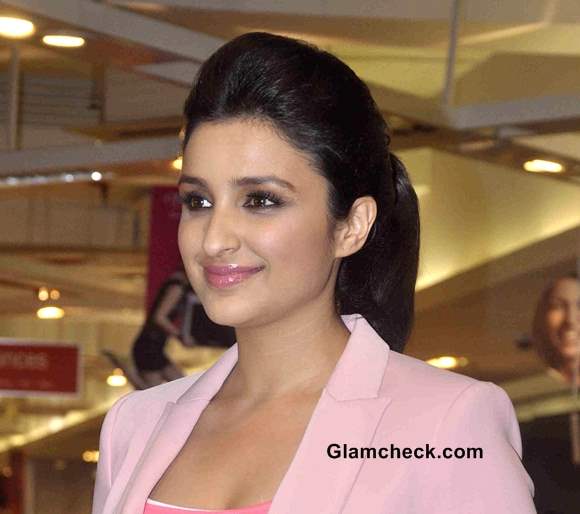 Parineeti Chopra 2013 pics
Solaris Images