Bollywood actors Vidya Balan and Farhan Akhtar launched the trailer of their upcoming film "Shaadi Ke Side Effects" in Mumbai, India on October 28, 2013. Also present at the event were producer Ekta Kapoor of Balaji Motion Pictures, producer Pritesh Nandy of Pritesh Nandy Communications, and director Saket Chaudhary.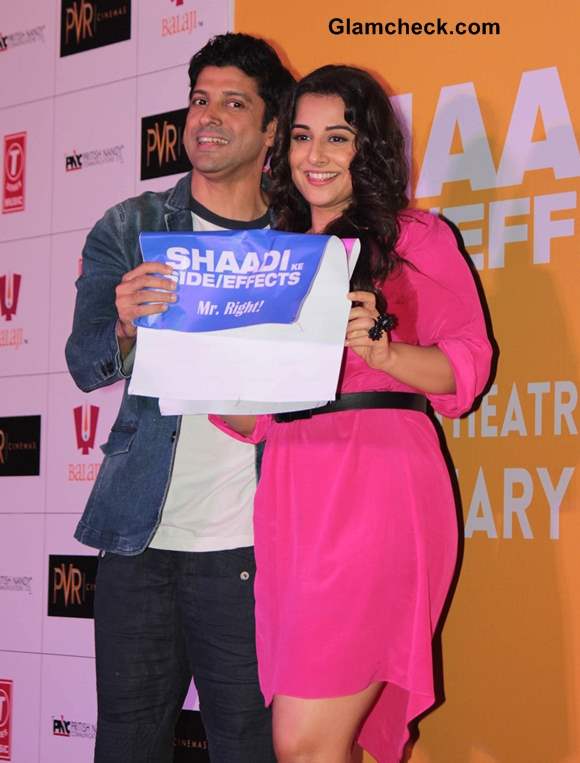 Farhan Akhtar and Vidya Balan Launch Shaadi Ke Side Effects Trailer
This is the first time that Vidya and Farhan have been paired together and from the looks of their chemistry at the event and from the trailer, it's turning out to be a very successful formula that we're sure will be repeated in the future.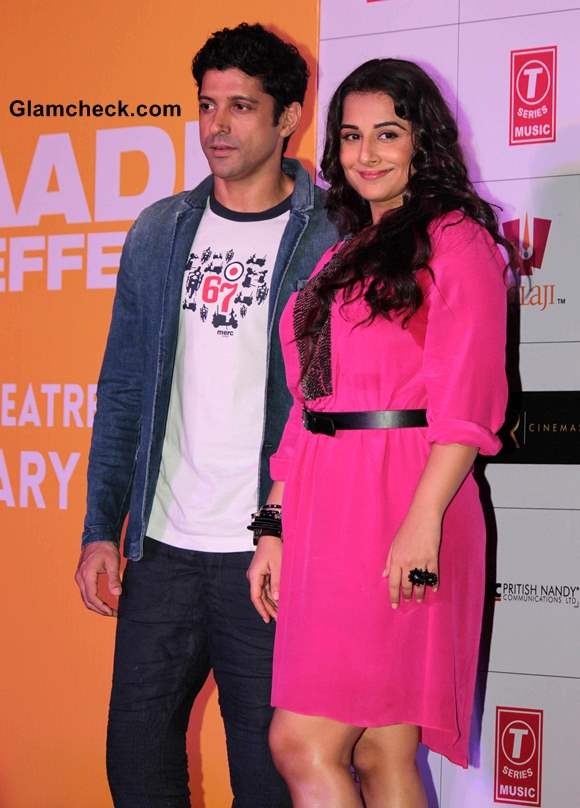 Farhan Akhtar and Vidya Balan in Shaadi Ke Side Effects movie 2014
As the title of the film suggest, the story is about what happens to a relationship after the bride has been carried over the threshold and the kids come along. From being in love to being at loggerheads, the journey that is depicted in the film was also played out on stage at the event with Vidya and Farhan at two opposite ends of a rope playing tug of war. Ekta joined Vidya's end of the rope while Saket gave Farhan a hand.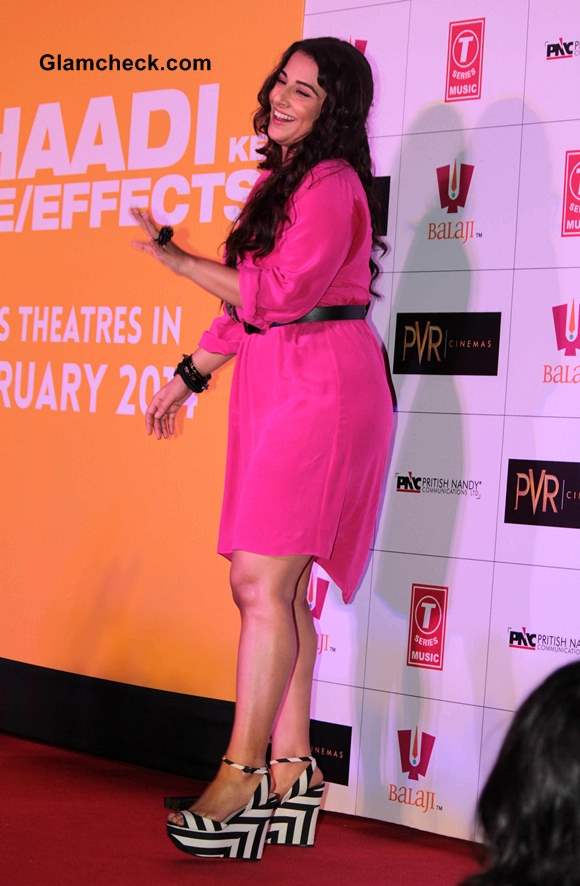 Vidya Balan in Pink Dress at Shaadi Ke Side Effects Trailer release
We were surprised to see Vidya in a Western outfit for this promo. Guess even she wanted a break from her patent saris. She sported a bright pink shirt dress that had a black belt and an embellished neckline. She teamed it with a black floral statement ring and striped monochrome ankle-strap platform heels, completing her look with loose locks that were left naturally curly with tinges of burgundy here and there. This was a fun look for her and flattering on her curves too.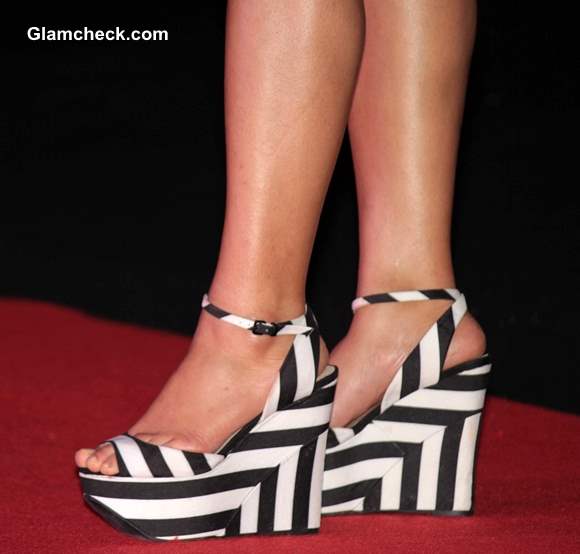 Black and white striped wedges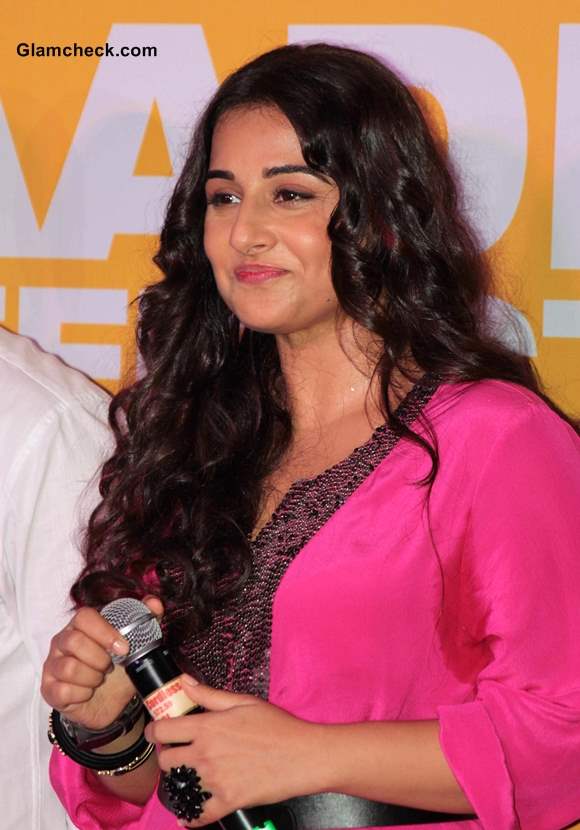 Vidya Balan's look in Shaadi Ke Side Effects
Shaadi ke Side Effects is the sequel to the comedy Pyaar ke Side Effects. Apart from Vidya and Farhan, it also stars Purab Kohli and Ram Kapoor. It is slated for release in February 2014.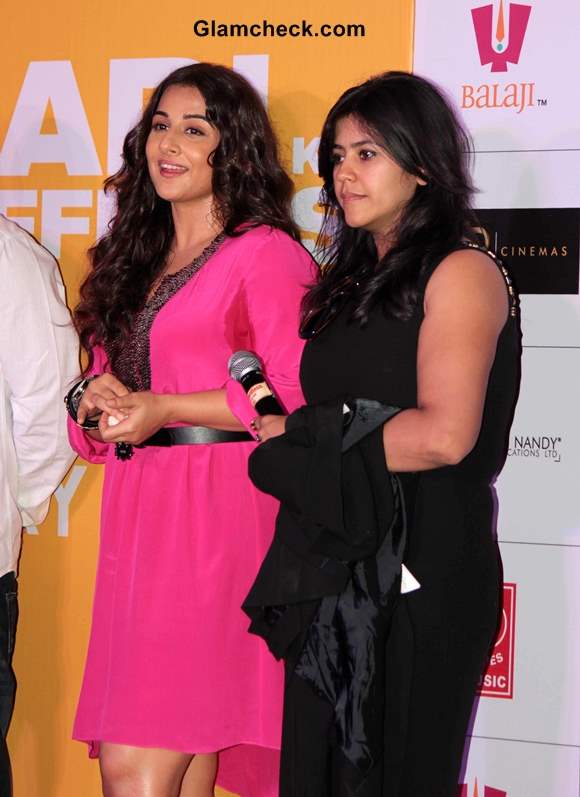 Vidya Balan and Ekta Kapoor Launch Shaadi Ke Side Effects Trailer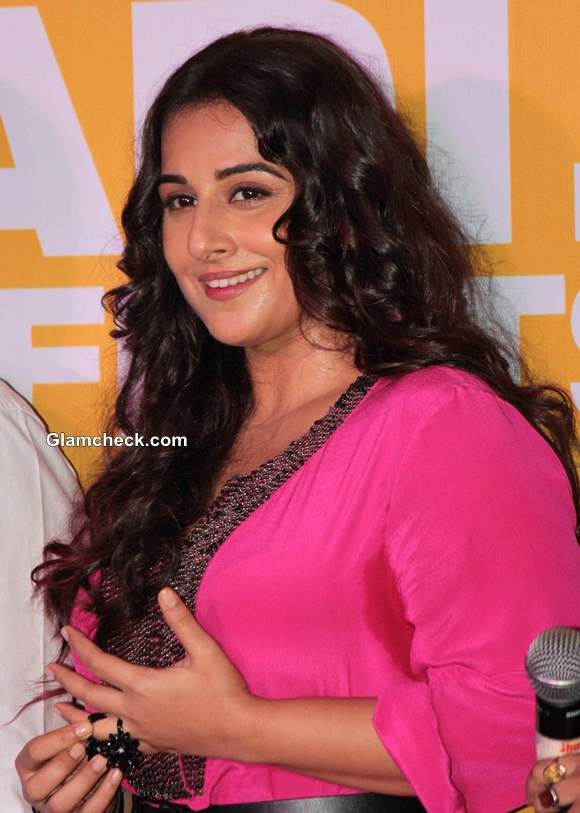 Vidya Balan in Shaadi Ke Side Effects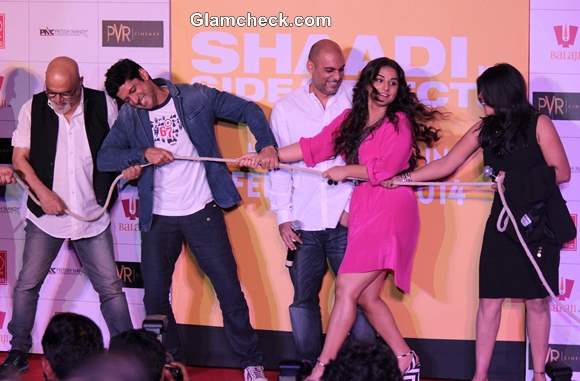 Shaadi Ke Side Effects Trailer Launch
Solaris Images