Bollywood actress Evelyn Sharma was a vision on the ramp as she displayed a creation by designers Falguni and Shane Peacock as part of the Aamby Valley India Bridal Fashion Week (IBFW) 2013 in Mumbai, India on December 1, 2013.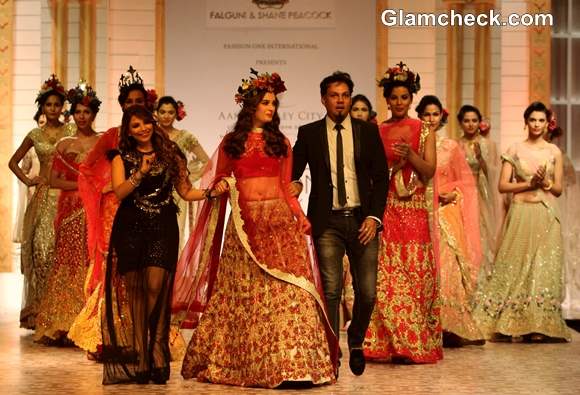 Evelyn Sharma for Falguni and Shane Peacock at Aamby Valley IBFW 2013
Evelyn was decked out in a royal, luxurious red and gold lehenga choli. The choli was fashioned out of red velvet in a halter neck style with lovely gold embroidery on the upper bust. The contrast of that intricate embellishment against the plain solid color was quite eye-catching.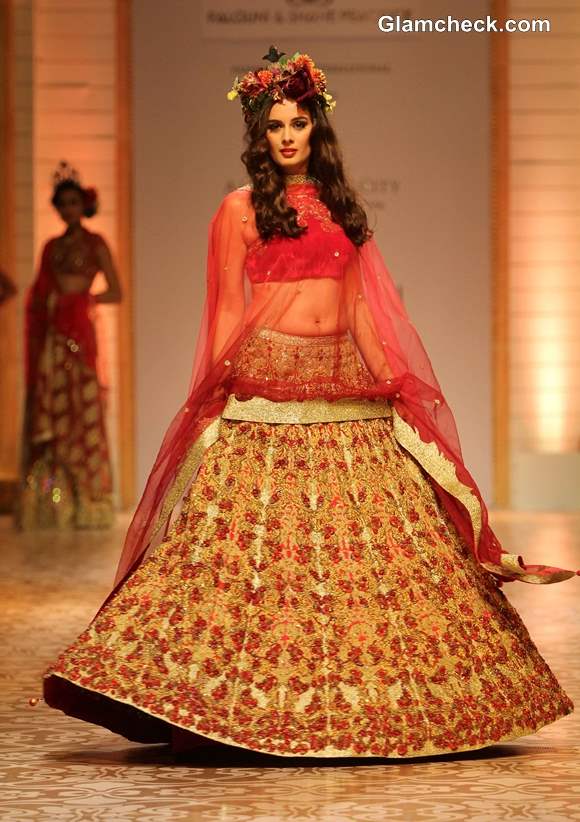 Evelyn Sharma for Falguni and Shane Peacock at Aamby Valley IBFW 2013 Mumbai
As for her lehenga, it seemed to be made entirely of gold thread and red jewels. From the sequinned waist to the flurry on the hemline, opulent gold embroidery mixed with a seeming floral pattern of red stone-work. A mind-blowing visual that would make you sigh with desire.
A red sheer dupatta with a thick gold border was the final touch of the outfit.
The styling was expertly thought out and executed. Evelyn looked like a stately princess, mainly because of the wreath of fake autumn flowers on her crown. Her soft, brown tresses radiated from underneath, spilling over her shoulders and epitomising the theme of the whole collection.
The rest of the creations by the designer duo were no less stunning. The catwalk was replete with beyond-gorgeous anarkalis that were taken right out of the pages of a fairytale.  Red and gold were the primary colors of the outfits but there were also splashes of peach and beige. Each and every one was just as gorgeously embellished as Evelyn's, but none as marvellous as hers.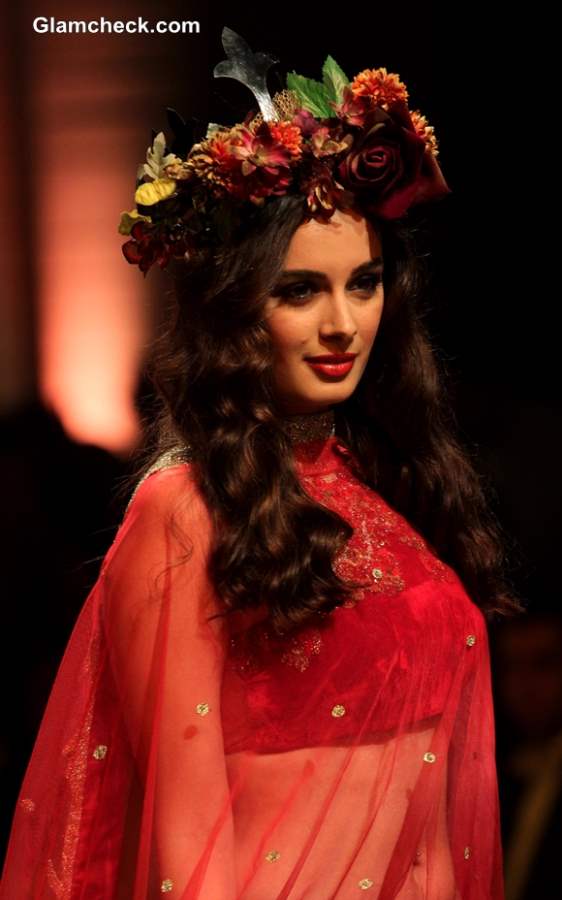 Evelyn Sharma 2013 Falguni and Shane Peacock at Aamby Valley IBFW Mumbai
What we will really take away from this collection is the head gear. The floral wreaths were an inspired touch and transformed every woman on the runway into a goddess or princess for a short spell.
The collection was dreams woven into designs. A stellar show that left us both sated and restless for more.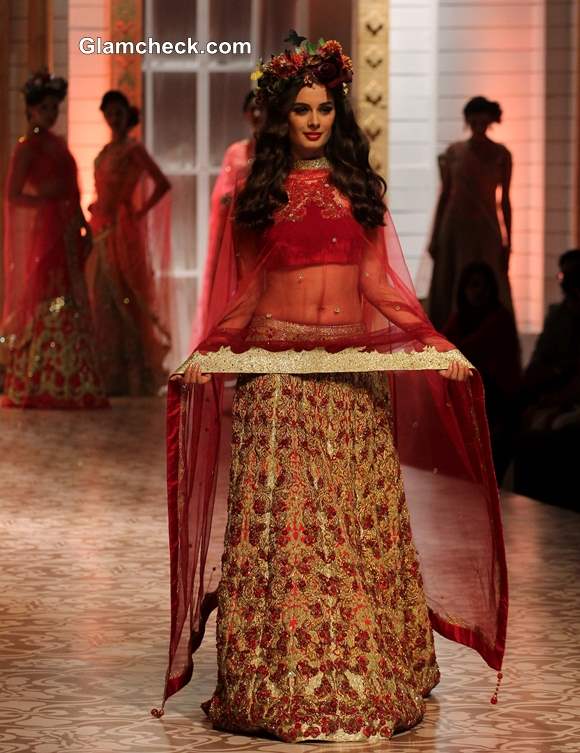 Evelyn Sharma in Falguni and Shane Peacock Lehenga at Aamby Valley IBFW 2013- Mumbai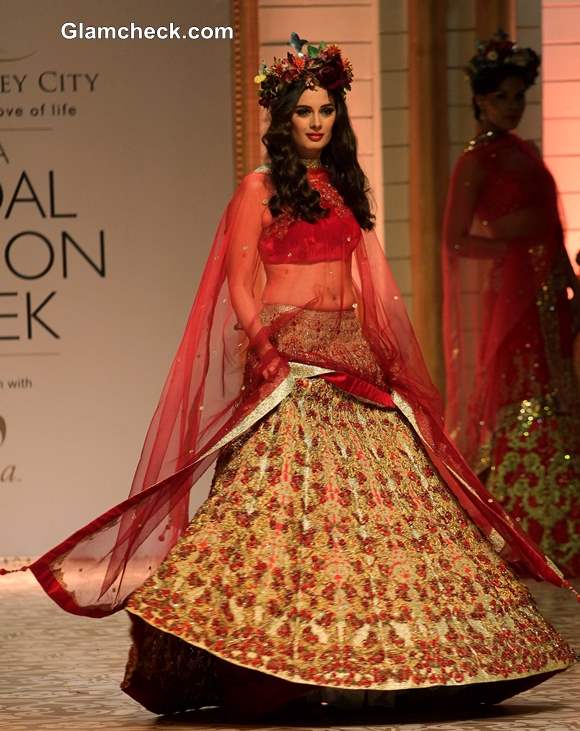 Aamby Valley IBFW 2013- Mumbai  Falguni and Shane Peacock Collection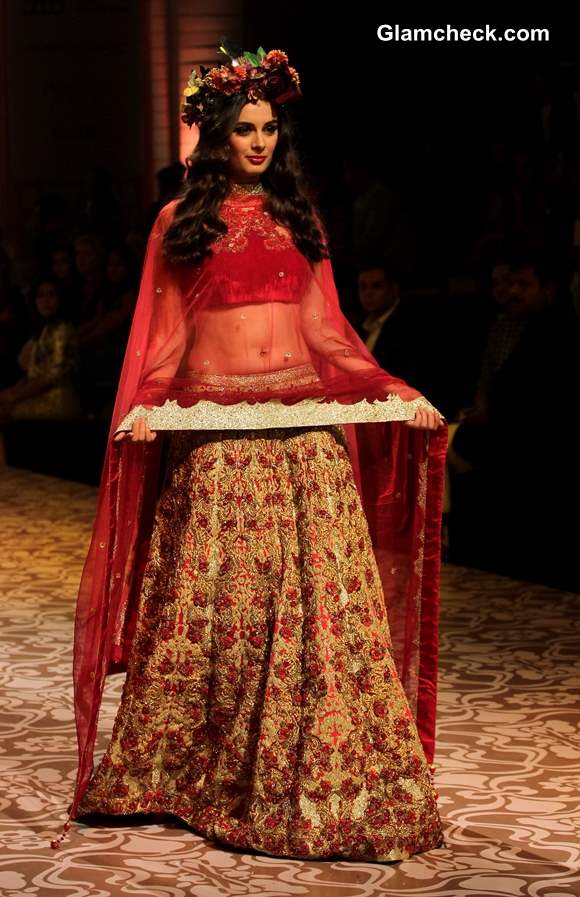 Aamby Valley IBFW 2013- Mumbai  Falguni and Shane Peacock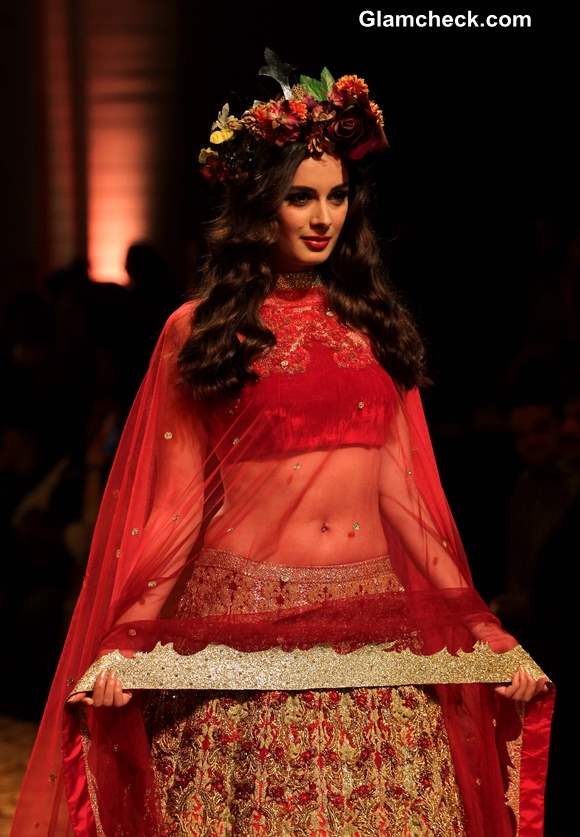 Aamby Valley IBFW 2013 Mumbai  Falguni Shane Peacock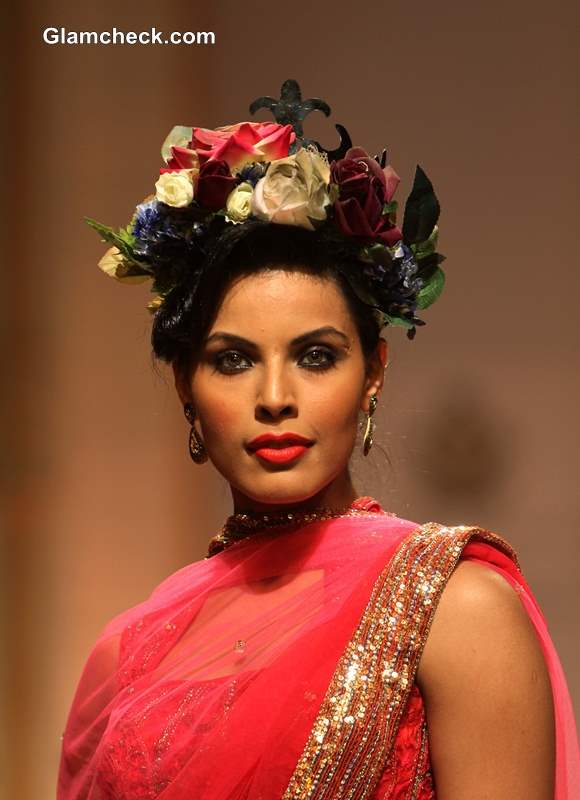 India Bridal Fashion Week 2013 Mumbai  Falguni Shane Peacock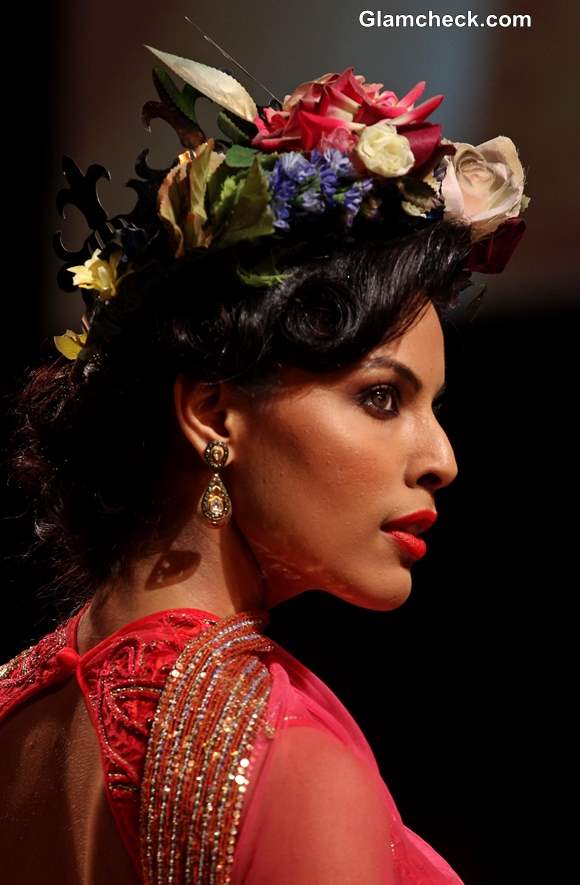 India Bridal Fashion Week 2013 Mumbai  Falguni and Shane Peacock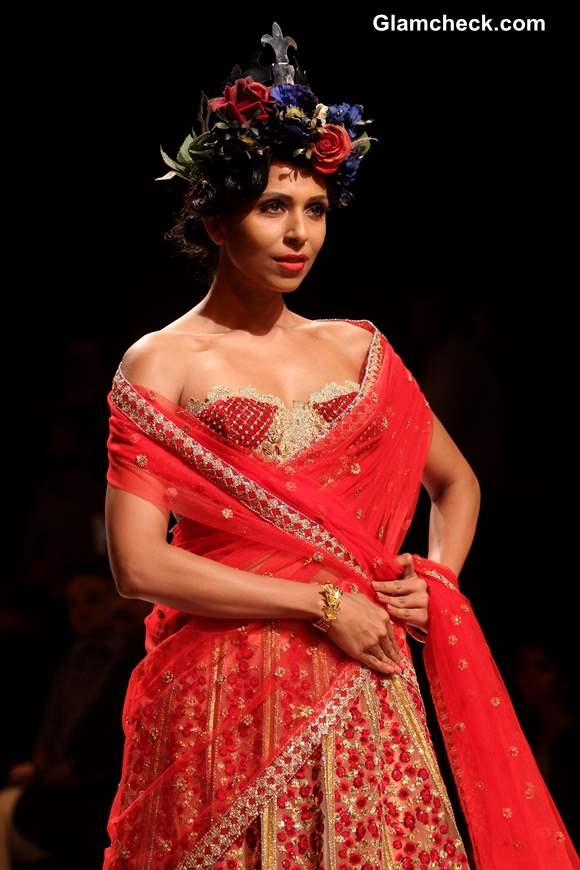 India Bridal Fashion Week 2013 Mumbai  Falguni and Shane Peacock Collection
Solaris Images