Bollywood couple, Riteish Deshmukh and his wife, Genelia D'Souza walked for fashion designer, Neeta Lulla during the Aamby Valley India Bridal Fashion Week (IBFW) 2013, in Mumbai, India held on December 4th 2013 and looked positively cheerful on stage.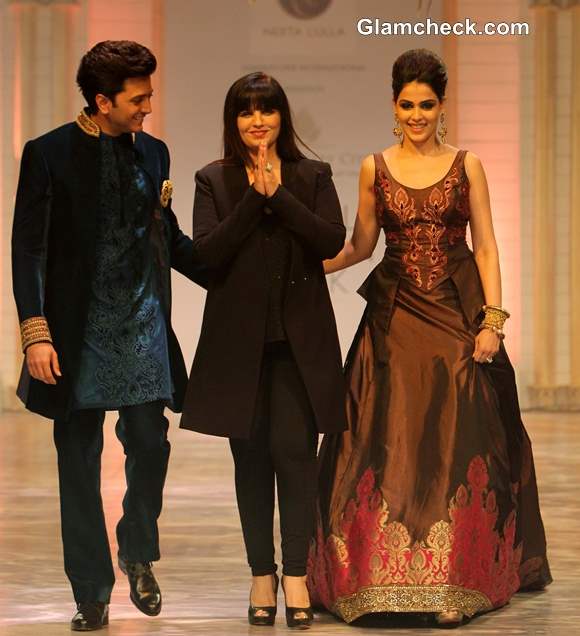 Genelia and Riteish at IBFW 2013 Mumbai  for Neeta Lulla
Riteish rocked a royal blue nehru collared jacket in satin over a midnight blue kurta with floral embroidery work on it and paired it with royal blue plain trousers. There was a dash of gold patchwork on the neck, cuffs and front pocket of the silhouette. Finished off, with black formal shoes, he looked good on the ramp.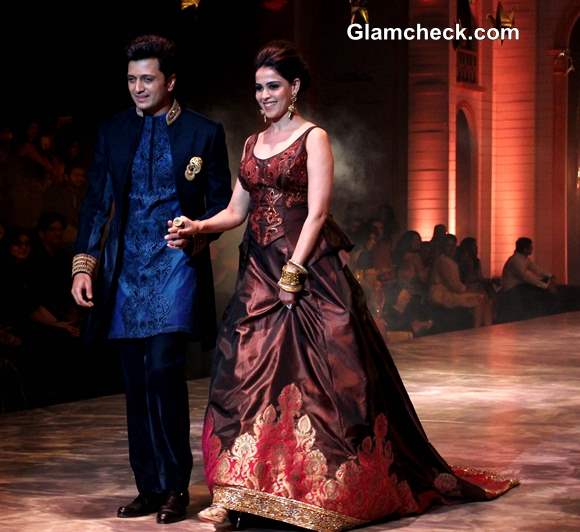 Genelia and Riteish for Neeta Lulla IBFW 2013 Mumbai
Wifey, Genelia's outfit was also in satin, she wore a big princess like gown in copper brown that had a floor sweeping trail. It had a round neck and an asymmetrical hem at the belt area. There was traditional brocade on the borders of the gown in pinkish-maroon and dull gold and there was appliqué on the upper part of her dress too.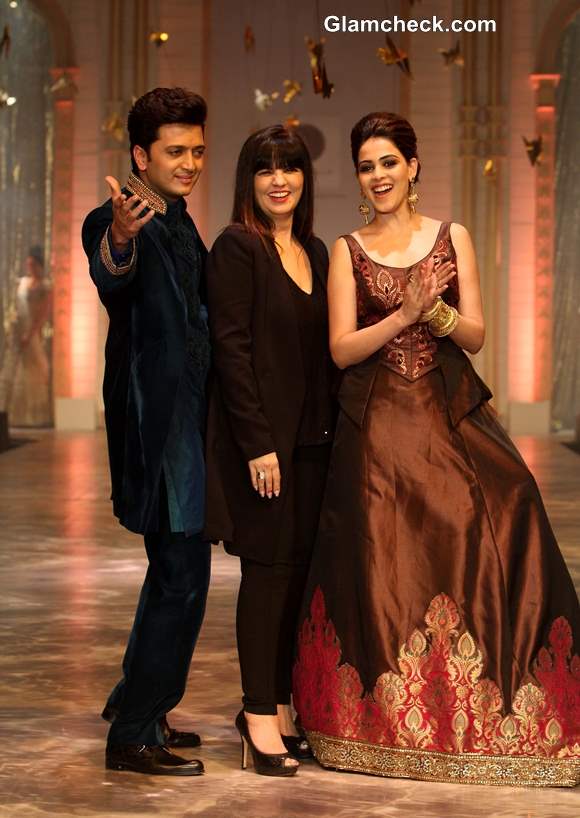 Genelia and Riteish for Neeta Lulla at IBFW 2013 Mumbai
She accessorized with a bunch of gold bangles on one arm, including a thick cuff, a clip on bracelet and thin slip on ones. On the other hand she wore a huge emerald green ring on her index finger. She also wore long golden juhmkas and gold strappy heels.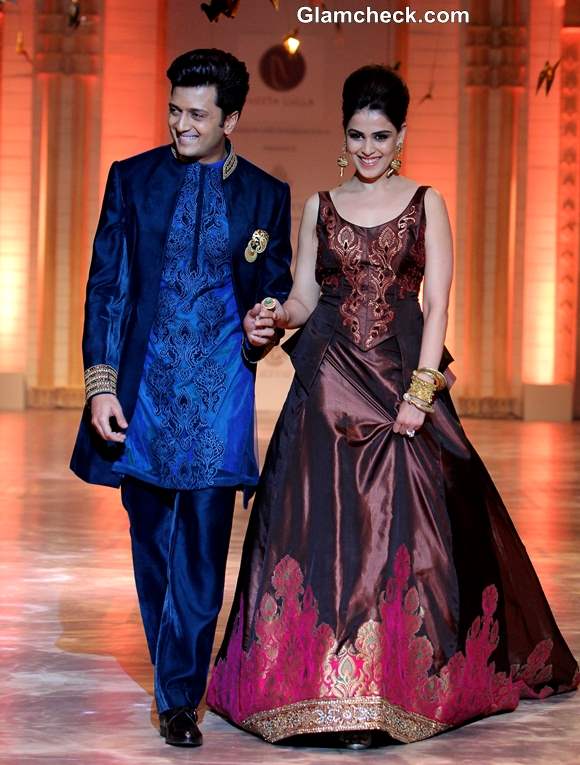 Genelia and Riteish  IBFW 2013 Mumbai
Her hair was made into a bouffant which worked well for her round face and made it appear much longer. Her makeup included deep smoky eyes, silver on the insides of her eyes to give a celestial look and a coral lip colour. Except he hair, there was very more to be disliked, the outfit failed to impress but we cannot say the same for Riteish's outfit, we liked what he wore!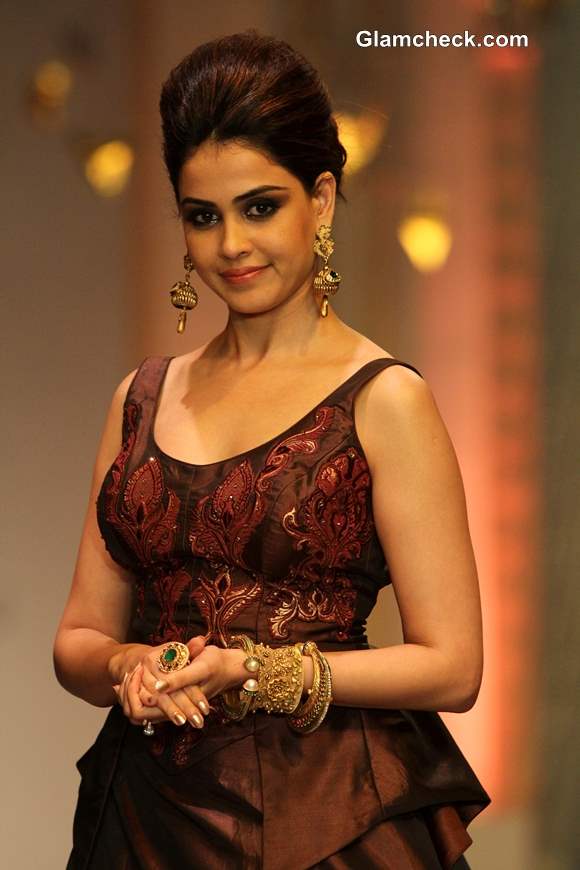 Genelia at IBFW 2013 Mumbai  for Neeta Lulla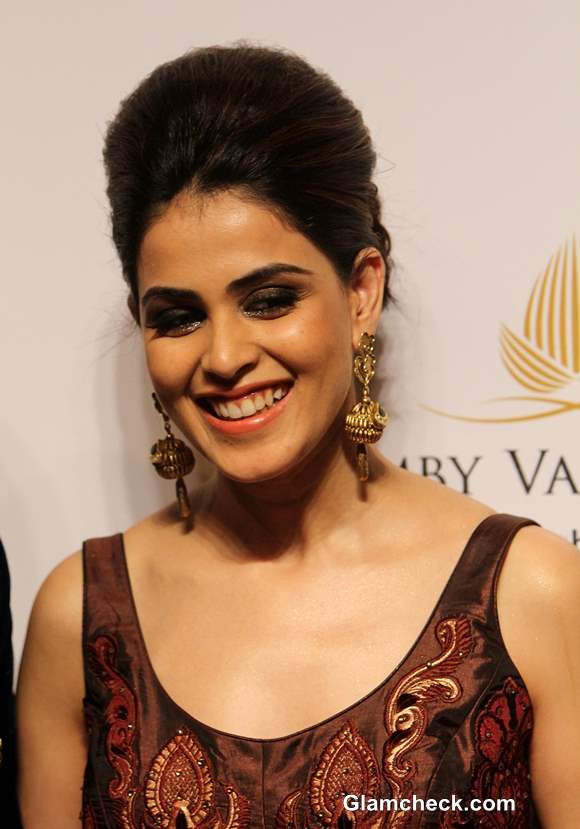 Genelia at IBFW 2013 Mumbai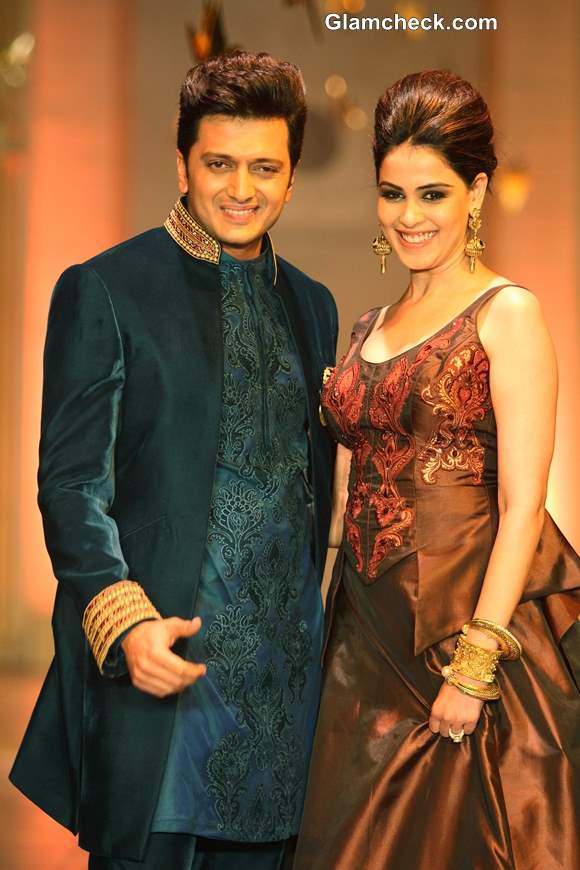 Genelia and Riteish at IBFW 2013 Mumbai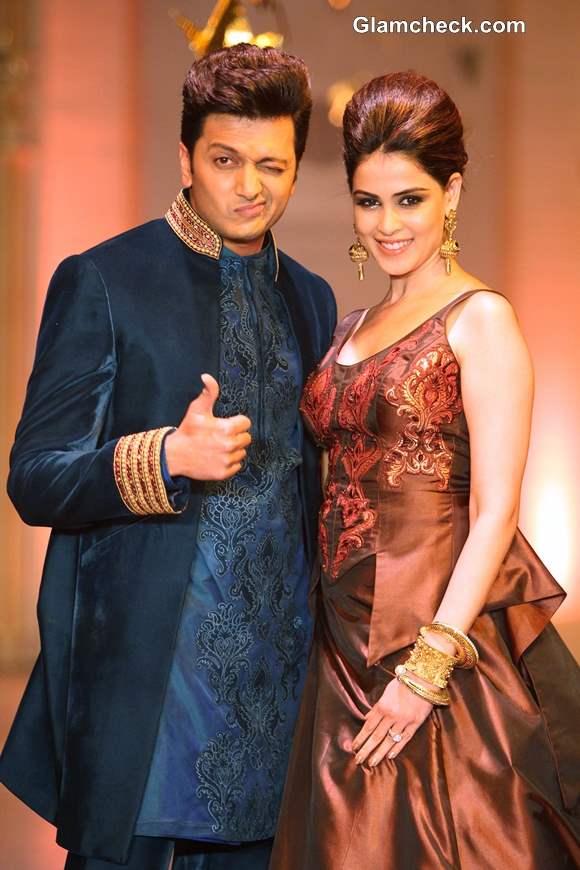 Genelia and Riteish IBFW 2013 Mumbai
Solaris Images