Women`s Day was celebrated with pomp in Bollywood this year. The who's who of the industry came out in their best to the Hotel Grillopolis at Phoenix Market City Mall in Kurla, Mumbai on March 8.
Amrita Arora went with a black beauty theme, donned in the dark color from head to foot.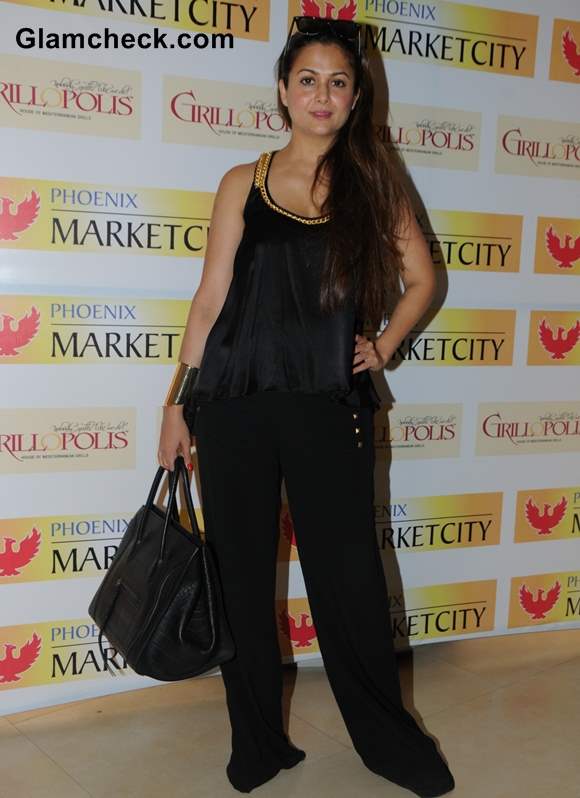 Amrita Arora 2013 Women's Day Celebrations
She wore a black flowy silk blouse with gold chain detailing on the neckline. She paired it with loose-fitting black pants with gold button detailing on the pockets. A black handbag and a gold cuff bracelet formed her accessories, her wavy locks spilling over her shoulders completing the look. A relaxed, stylish look, we think, but what's with her pants dragging on the floor like that? Was she going for a sloppy touch?
Amy Billimoria went feral in an animal print blouse.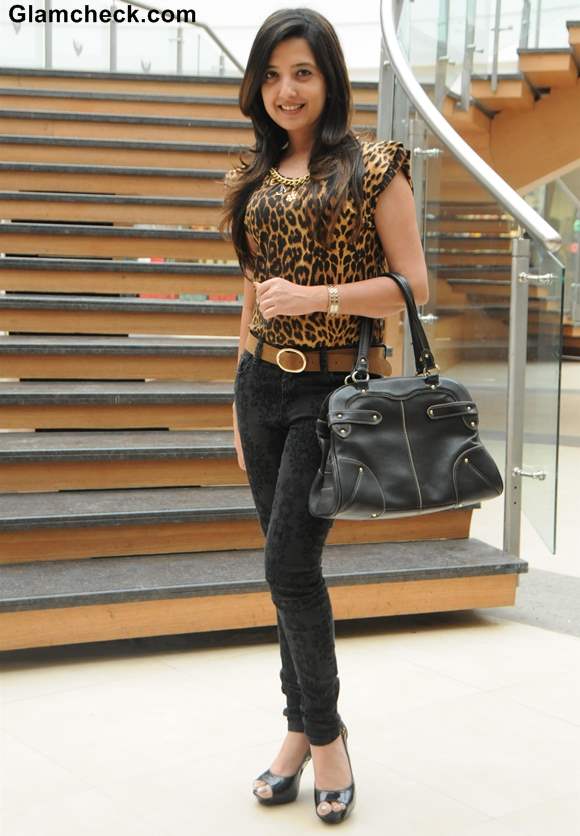 Amy Billimoria 2013 Women's Day Celebrations
However, she balanced it out with a pair of floral print back pants that had an almost dainty feel to them. The light-eyed beauty went on to accessorize with black open-toed pumps, a black handbag and gold jewellery. An interesting ensemble, no doubt.
We love how Anushka Manchanda has put her outfit together too.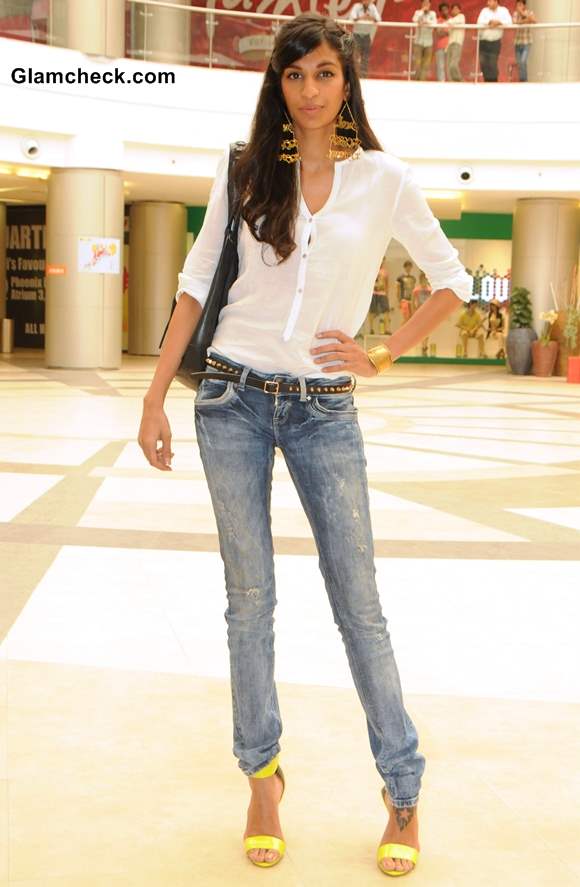 Anushka Manchanda 2013 Women's Day Celebrations
Scruffy jeans and a white cotton blouse formed the base of her look, which she played on with bright yellow sandals, a gold- studded black belt, gold cuff, black tote and humongous statement danglers with an ethnic feel.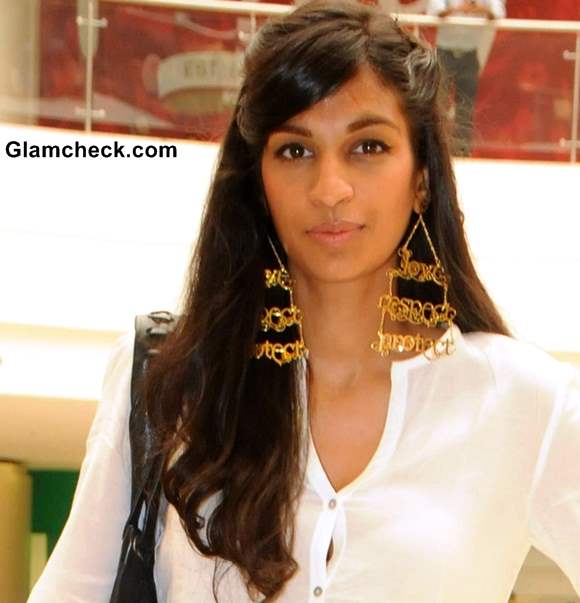 Anushka Manchanda at 2013 Women's Day Celebrations
The East meets West vibe is perfect. But again, we're not too happy with the pants bunching up on the ankles like that. Were all the tailors in Mumbai on strike?
Candace Pinto looked simply fabulous, modern and right on trend in a black maxi with a colorful abstract print running down the front.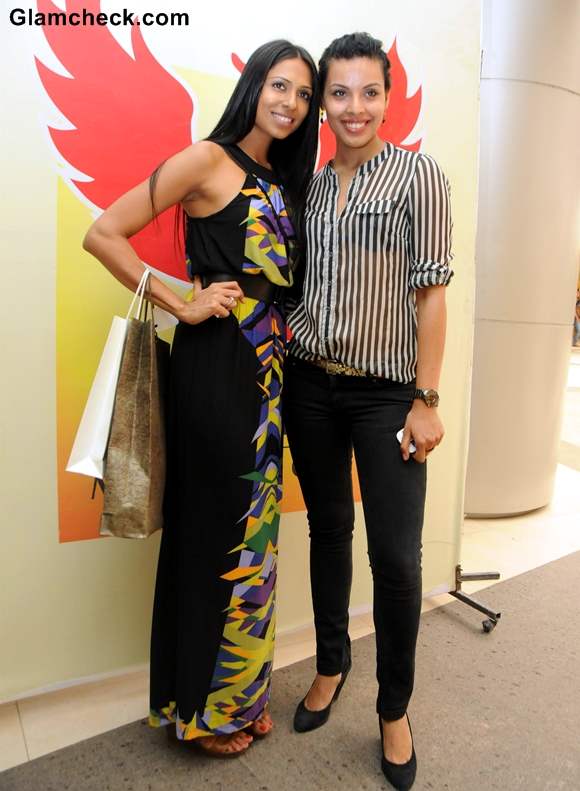 Candice Pinto & Deepti Gujral 2013 Women's Day Celebrations
A black belt at the waist ensured that the silhouette was sleek and contemporary. She finished off her look with open-toed sandals.
Deepti Gujral sported one of the loveliest looks that day!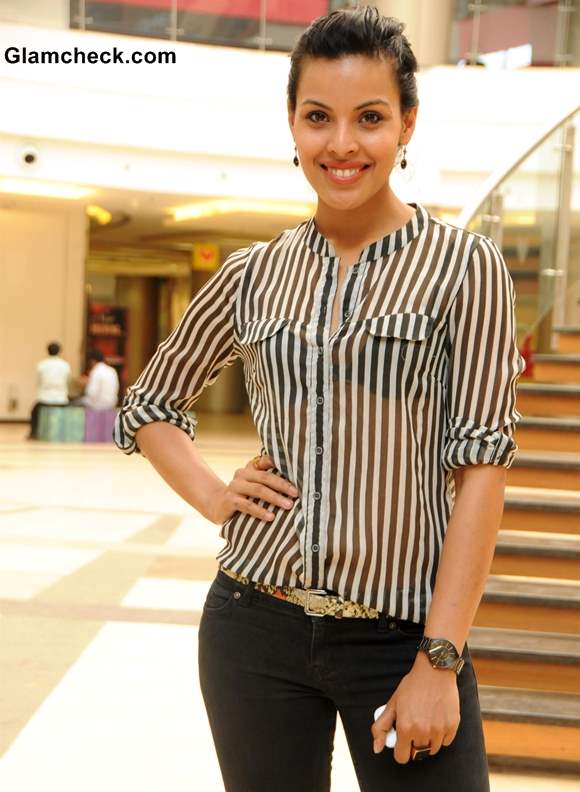 Deepti Gujral 2013 Women's Day Celebrations
She wore black jeans with a sheer striped black and white shirt. The long-sleeved, front-buttoned top was tucked into her pants and a sexy black bra visible underneath brought dollops of oomph to her look. Black pumps, earrings and a printed belt completed the ensemble while fresh makeup and a simple updo rounded off her sophisticated look.
Monica Bedi was equally lovely and very, very feminine in a geometric print black and white mini dress.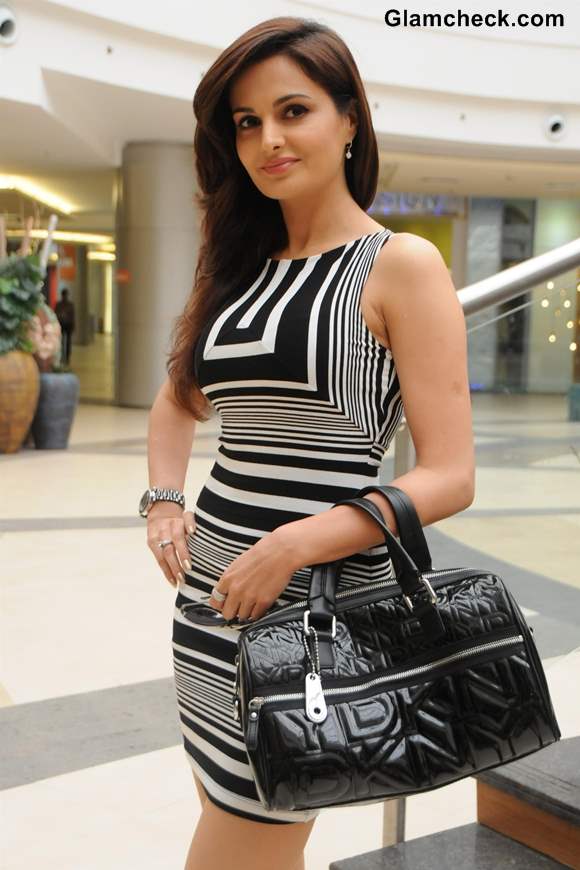 Monica Bedi 2013 Women's Day Celebrations
Her velvety side-swept locks, flawless skin and dainty jewellery do wonders for her look. She scores full points for class, elegance, practicality and yes, even sex appeal.
We've left the best for last! Sucheeta Sharma was resplendent in a turquoise mini dress.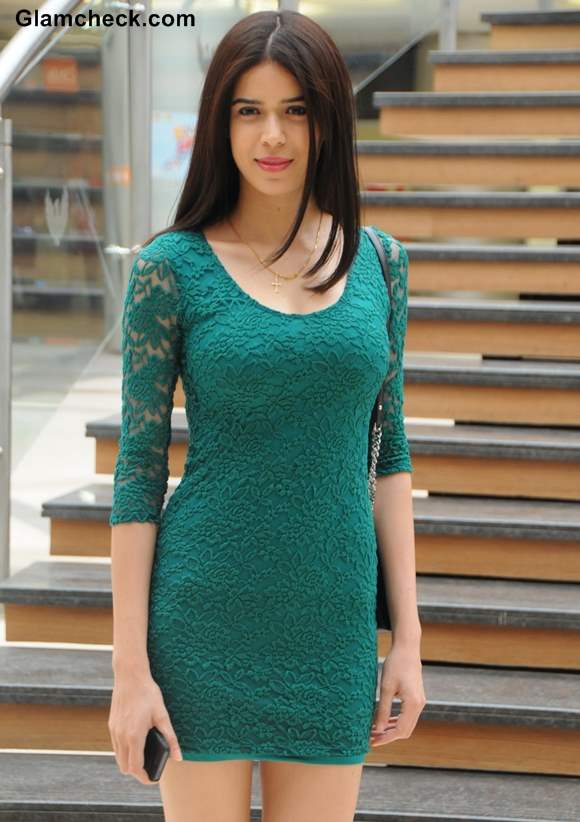 Sucheeta Sharma 2013 Women's Day Celebrations
The tiny number featured a floral lace overlay that extended to sheer, elbow-length sleeves. Of course, it is not just the outfit that is a success here. Sucheeta has done everything possible to highlight her natural beauty from the beautifully flicked wavy hair framing her face and falling down her back to the delicate makeup that accentuates her lips and peepers just right. Exquisite!
IANS