Durga Puja is here, and to help you celebrate the auspicious occasion with élan, I will show you how to emulate the traditional Bengali look.
You can sport this look on Vijaya Dashami's Sindur Khela played on the last day of Durga Puja when the idol of the mother goddess is immersed in a water body. So in this video, I will also be telling you how to prepare the puja thali for greeting the idol of Goddess Durga.
WATCH the VIDEO  –
Traditional Bengali Makeup
The Bengalis favour a look that highlights their golden complexion and beautiful eyes. For this, I began by doing a simple base makeup and then filled in my eyebrows, with an eyebrow pencil, to make them look more defined. Then I used white eye shadow on the upper eyelids, brow bone as well as the inner corner of the eyes. Next, I used red glitter eye shadow all over my upper eyelids.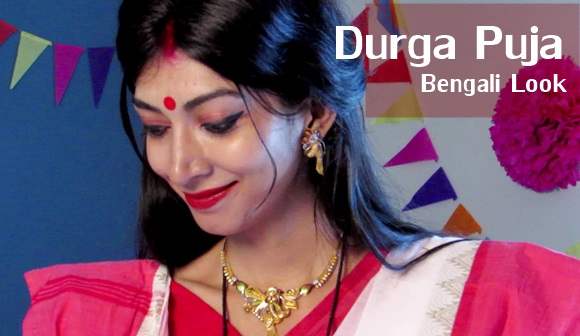 Traditional Bengali Makeup for Durga Puja
To make the eyes artistic and divine, I applied a thick coat of black eyeliner on my upper eyelash line and extended it beyond the outer corners of the eyes to get the Winged Eye touch. I also applied the eyeliner on my lower lash line and finished my eye makeup with few coats of Mascara.
A pretty red lipstick , Sindoor and A big red bindi at the centre of their forehead which is a significant part of the Bengali custom completed my makeup.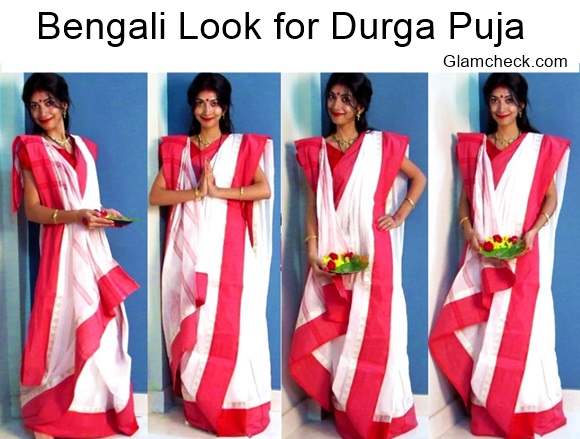 Bengali Look for Durga Puja
Hair
Bengali women are also known for long, dark hair that cascades up till their lean waist and adds to their sensuality. So, I decided to keep my hairstyle simple and went for an easy wash and wear routine which would allow it to cascade. I left the hair damp, and simply did a center parting. My tresses were left loose to fall on the back and shoulders.
Bengali Saree
Bengalis wear a white sari with red border which symbolizes the beauty of the Bengali woman. I chose my saree accordingly and got my blouse made in a typical Bengali style, with puffed short sleeves.

Traditional Bengali Saree for Durga Puja
Now, the traditional form of drape is a bit different for Bengalis as compared to usual saree drape. To channel the traditional drape, start by tucking the saree in your petticoat as it is done normally for sarees, Next, you have to make only two broad pleats which cover the waist from end to end. Next, make pallu pleats and place the pallu on the left shoulder, and arrange it nicely across your blouse to cover the front area. After this, take the edge of the pallu and bring it up your right shoulder from underneath the arm, letting the pallu edge fall on your back.
Accessories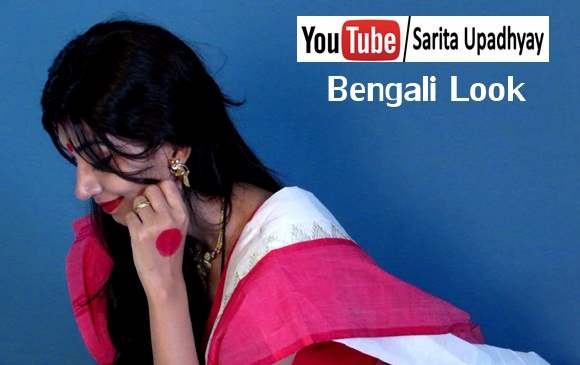 Indian Youtuber – Bengali Look
Gold jewelry is as coveted among Bengalis as in the rest of India. Since the look is traditional I opted for ethnic design gold jewelry consisting of a gold choker necklace, gold bangles and gold rings. I also wore my mangalsutra, an insignia for married women.
I completed the look by applying alta, with a qtip, on my inside and on my palm as well as feet.
"Devi Boron" Puja Thali Ingredients
Lastly, I decorated my puja thaali that I used for doing the "Devi Boron", which literally means welcoming the goddess but is done on the last of Durga Puja. The thaali includes five ingredients, 2 betel leaves, sweets, a few strands of grass and few grains of husked rice (dhaan durba collectively in Bengali) and a coin.
And, I was ready to go for sindur khela!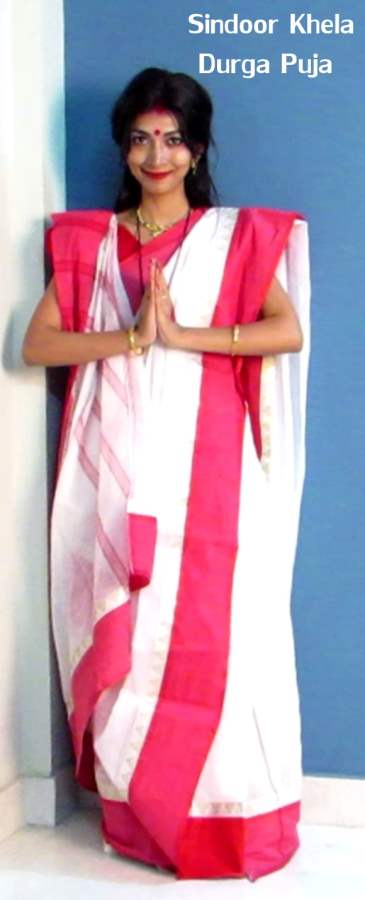 Sindur Khela Durga Puja
Durga Puja is a celebration of good over evil, the good of our soul wins over our evil thoughts and hence, this revelry.
I wish you all a very Happy Durga Puja and pray that the Mother Goddess bestows her blessings over all.
Jai Maa Durga!

Bengali Look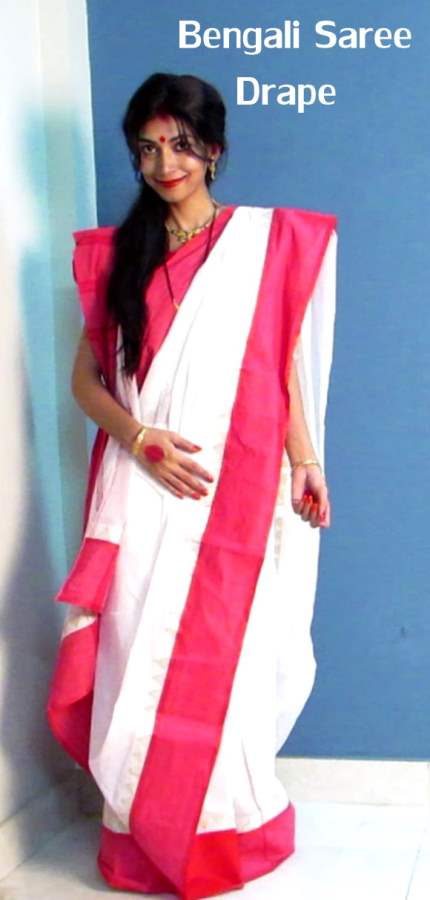 Bengali Saree Drape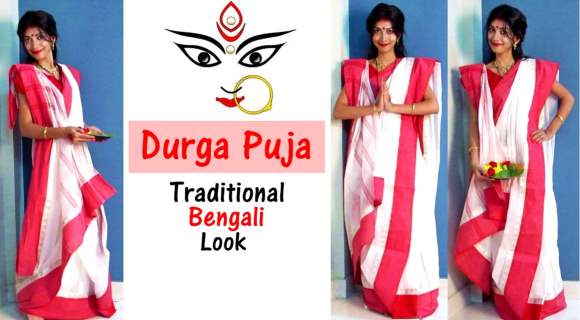 Durga Puja Traditional Bengali Look