September 5 was a big day at 92.7 BIG FM in Andheri West, Mumbai. Since it was Teacher's Day, several stars were invited to the radio station for a few special events planned for the day. The most fun the station had was when the cast and director of Student of the Year came over.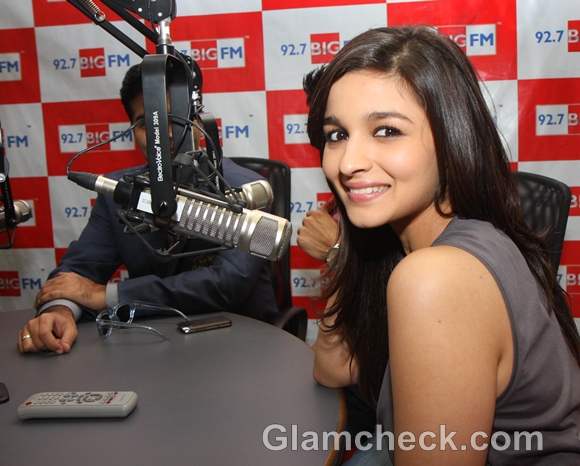 Bollywood actress Alia Bhatt excitedly promoted the upcoming romantic comedy. She was all smiles as she talked about her role in the film and how much fun it had been to work with the cast. You may have only heard her voice, but we got a peek at her behind the scenes to check out what she wore. She looked very cute in a knee-length sleeveless grey dress with a cowl neckline and a brown belt to break the monotony. We loved her girl-next-door wavy hairdo and her simple makeup.
Of course, the rest of the cast weren't going to let Alia have all the fun. Director Karan Johar and co-stars Siddharth Malhotra and Varun Dhawan also joined in with RJ Yamini for the Teachers Day celebrations. This combination of prank-loving, joking stars was sure to have made for a day and a show 92.7 BIG FM won't forget.
Image: Indian Photo Agency