Mallika Sherawat and Vivek Oberoi was there to promote their upcoming romantic comedy Kismet Love Paisa Dilli in Mumbai.
The music has been well received by the audience and is creating a good buzz. The movie is awaiting it's release on October 5th.
Style Identity
Punjabi belle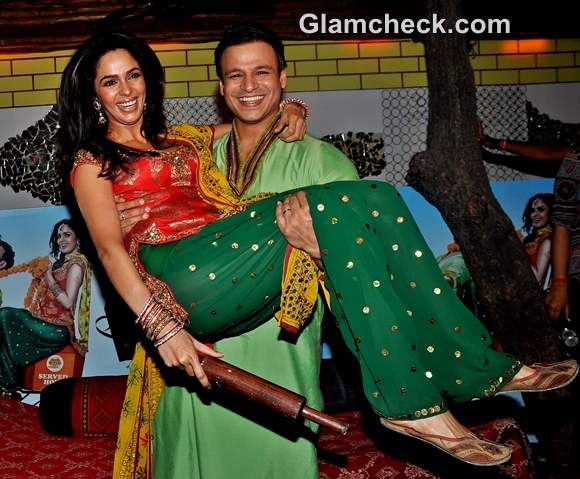 Vivek Oberoi Mallika Sherawat promote KLPD at Pritam Da Dhaba
Mallika Sherawat was seen frolicking in front of the media in a scarlet-red kurti and green patiala; full Punjabi style. The mirror work on the mustard dupatta and sequins on the Patiala gave a much required sheen to her desi outfit.  She accessorised with jootis, stone- encrusted bangles and jhumkas.
Vivek Oberoi was seen in a pathani suit with looped sleeves. Stylish! We must say!
Mallika Sherawat & Vivek Oberoi promote KLPD
The stars had chaat and rolled chapattis to keep the spectators entertained. Vivek Oberoi is on a roll as, it is heard that he has taken up several projects this year.
Mallika was all ready to show her desi side with rolling pin in hand and a bright smile to complement it with.
KLPD film posters seem exciting and we expect a 'happy-go-lucky' experience from this one. Cross your fingers people!
IANS