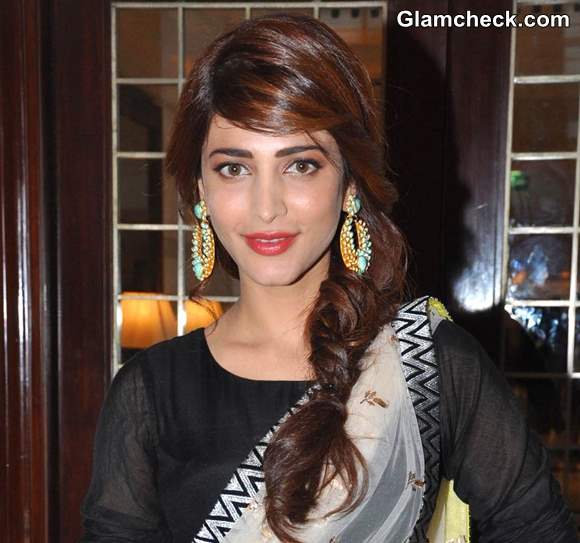 Starlet Shruthi Hassan looked quite the eye candy in her messy fishtail plait at a recent function. This type of a hairstyle is usually sported with western outfits mostly, so it was interesting to see how Ms Hassan wore it with a saree. It was definitely a rocking statement, and the hairstyle itself looked divine.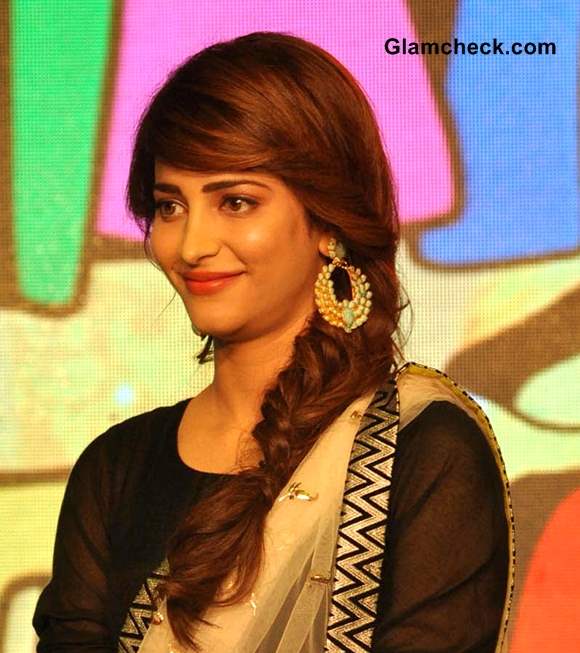 Hairstyle DIY- Shruthi Hassan Messy Fishtail Plait
You can make this hairstyle yourself quite easily, and we bring you the steps to do so easily.
Hairstyle DIY- Shruthi Hassan's Messy Fishtail Plait
1. Start by making a side parting in your hair – ensure that the side parting starts at the point right above the arch of your eyebrow.
2. Comb your hair sideways in a side swept manner, so that your hair bangs cover your forehead.
3. Now loosely gather all your hair at the side of your neck – right below the hair. Here we are looking at a messy hairstyle, so please do ensure that you do not gather the hair too closely. They should not look slicked on to the scalp.
4. Next, we come to the fishtail plait. Start by taking a thin section from the outer portion of one side of the hair and place it on the inner portion of that very side of the hair.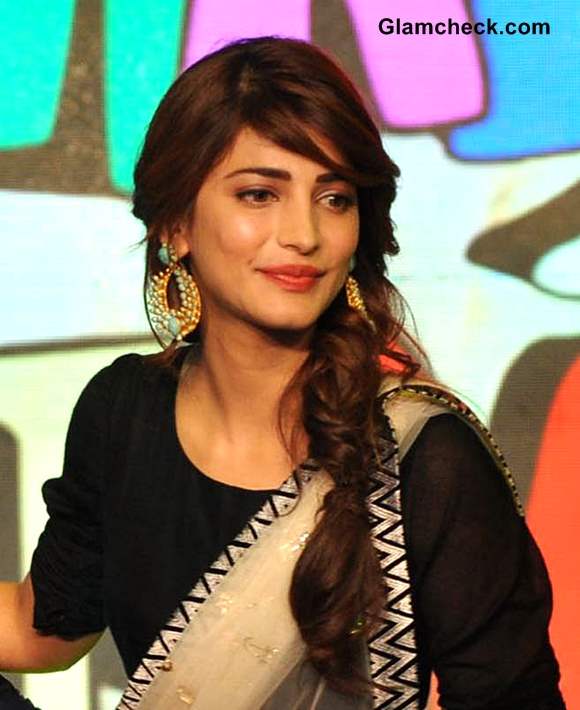 Messy Fishtail Plait hairstyle 2013 Shruthi Hassan
5. You are supposed to repeat this same step with the opposite section of the hair.
6. Keep on repeating step 4 and 5 till you are done with the fishtail plait. Secure it in place with a thin hair elastic.
7. Now, pull out random strands from your fishtail plait at irregular intervals – this will give the messy look.
8. Take out a thin strand on the side next to the parting (see photo). Give it a carefree curl, by twisting the strand around your finger and counting to hundred.
9. You can finish by spritzing hair spray, from a distance of at least one hand away, all over your hair – to hold the style, and the messiness, in place.
We can't wait for you to get started on this hairstyle and make your own statement. 
Indian Photo Agency