Bollywood actress Raveena Tandon looked stunning as she attended the Colors Golden Petal Awards 2012 at BKC in Mumbai recently.
Her Look
Traditional Glam
What she wore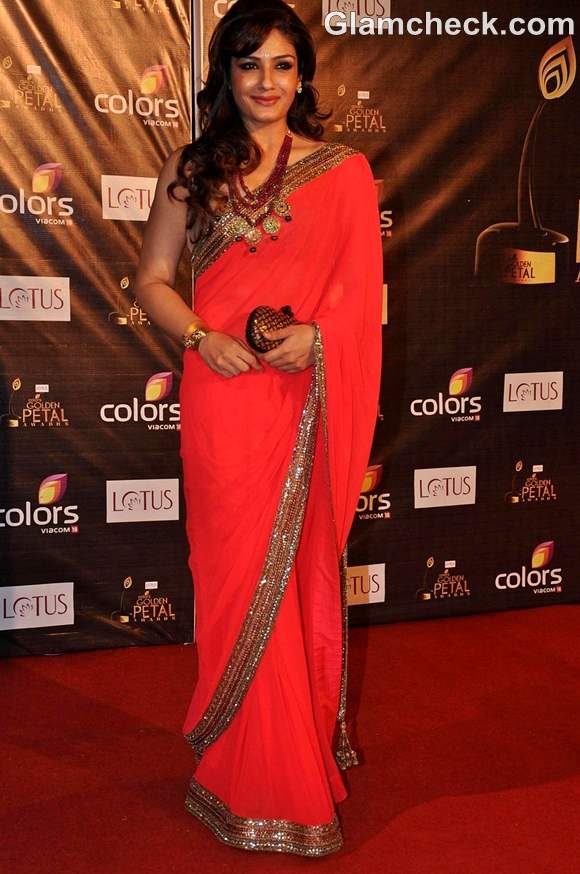 Raveena Tandon in Coral Saree at the Colors Golden Petal Awards 2012
We could just say it was a red sari, but that would not capture the magic that was her ensemble. Her mysterious nine yards was in a subtle coral which was transformed into luxury by the presence of heavy zari borders. Her strappy blouse matched the copper shades of the zari, and its low cut allowed for a lovely expanse of skin on the chest which was partly covered up by the multiple-strand beaded necklace she accessorized with.
A gold bracelet and gold clutch purse were here only other accessories.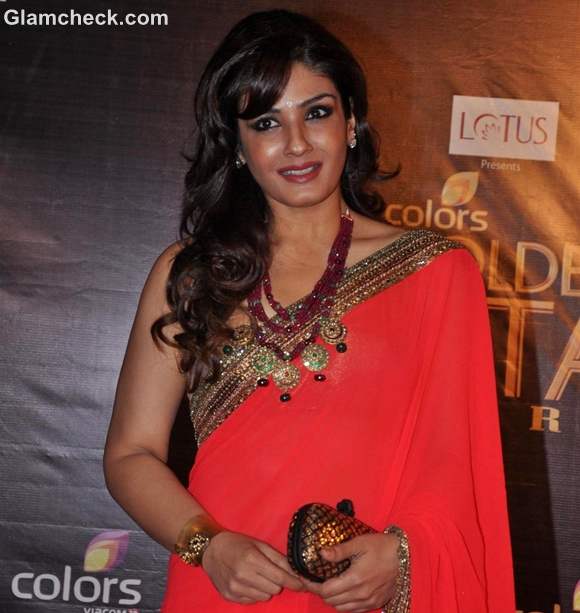 Raveena Tandon Saree at Colors Golden Petal Awards 2012
Raveena styled her hair in retro-esque curls which cascaded down her shoulder. Grown-out bangs swept to the side added softness to her look. She finished off with deep pink lips and slightly-winged eye makeup.
She looked better than ever!
Get the Look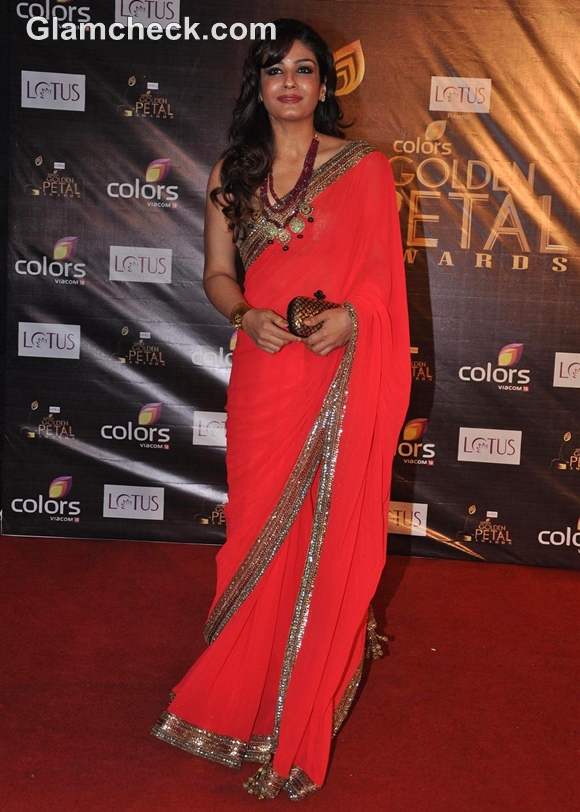 Raveena Tandon at Colors Golden Petal Awards 2012 at BKC in Mumbai
A sari like Raveena's is a perfect addition to any Indian woman's wardrobe. The combination of the plain fabric with luxurious zari makes it rather versatile. You can sport it at a dinner, formal event and even a wedding if you spruce it up with a statement necklace like Raveena did.
You can also greatly change the tone of the look with your blouse. A stunning sequinned one will up the glamour while a plainer one will tone it down.
Don't forget to do your hair and makeup in a way that reflects the avatar you want to portray. For example, Raveena's winged eye makeup is a timeless go-to for understated but unmistakable seduction. A red lippie is another ultra-hot way to get attention. Remember that you really should opt for at least a little drama with your makeup otherwise your outfit will overwhelm the look entirely.
IANS