In a few years, fashion turbans for women have moved from films (read Sex and the City 2) and catwalks (read Prada Spring 2007 show) to the streets. A time to be spotted in this delighting headwrap style is right now. As stylish girls and women take to streets in bright solid color turbans and as well bold patterns, the methods of wrapping vary.
But what fascinates me is achieving this look under 2 minutes. Yes you read it right, the style that you can learn here today is very quick and the difficulty level is very easy.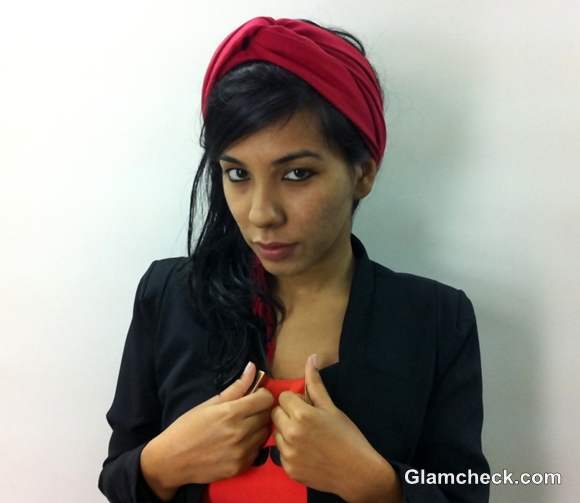 DIY – How to Tie a Headwrap / Turban in under 2 minutes
Easy fix for standing out in the ground and letting everyone know without a doubt that your fashion styling is the one to look out for.
You will need: A rectangular stole in a color and print of your choice.
Time: Under 2 minutes
Difficulty level: Easy
Quick Steps
Follow the steps below and refer the pictures along to tie a hassle free fashion turban.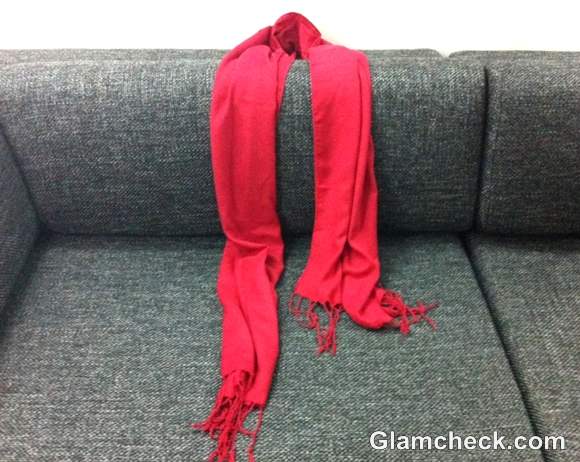 Start with your regular rectangular stole. I have used a crimson one with frayed ends. You could use a stole with simple folded hem too instead, it works very well. Pucker it together to get thinner width as shown.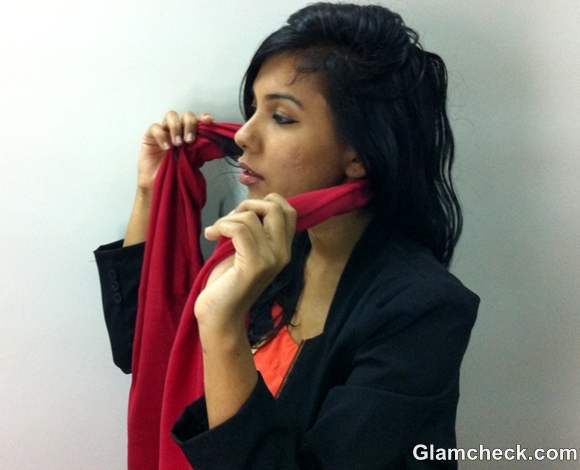 Step 1) Place the stole at the back of your neck, under your hair. Make sure both ends are equal.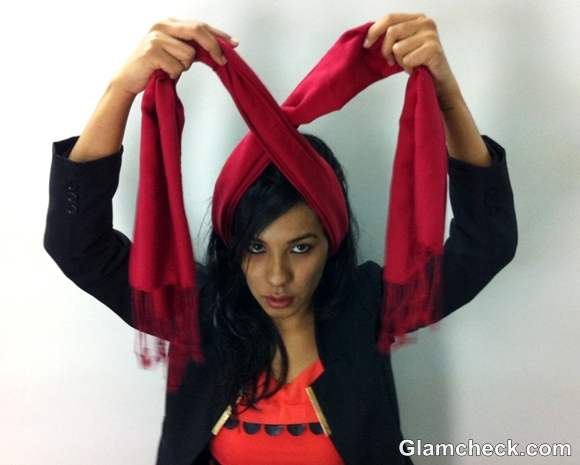 Step 2) Pull the ends up to your head and cross them. The end that was in your right hand should be in your left now and vice versa.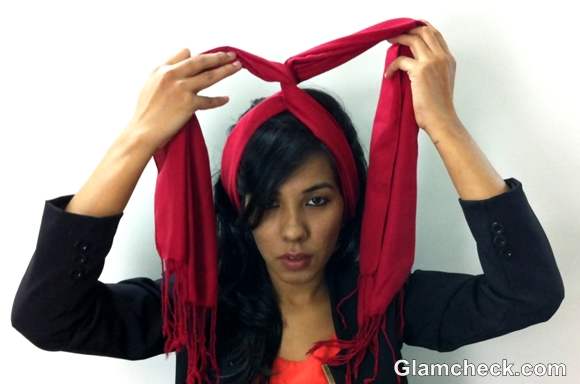 Step 3) Twist both the ends once. See the detailed picture and you would know how the stole should look after the twist.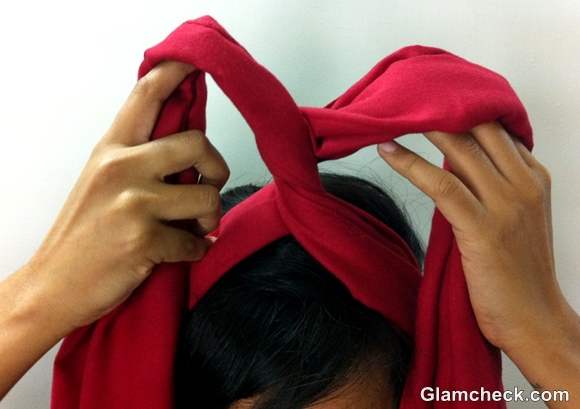 This would form the knot-like detail in the final turban.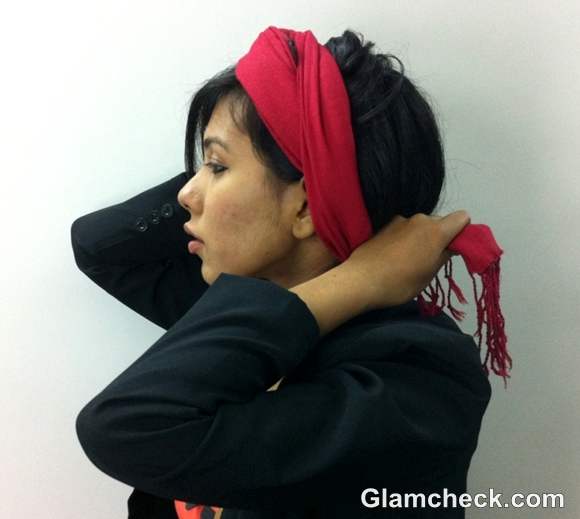 Step 4) Pull back both the ends under your hair at the back of your neck.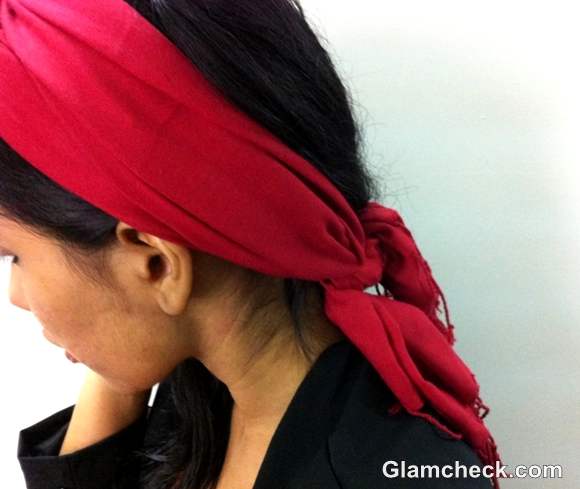 Step 5) Tie a knot with the ends. Adjust the turban from the side the way you want the final thing to look like- for eg. You can pull it wider for more coverage of the head. Secure with a second knot and tuck in the ends to hide them. (I left the ends out for a boho feel, but tuck in for a neater look)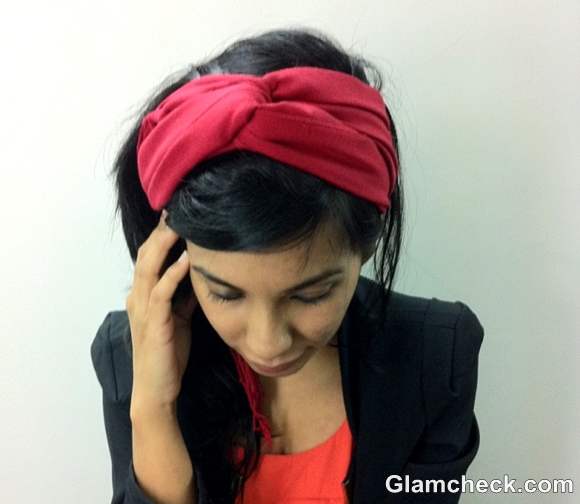 Voila ! The turban is done and ready to be shown off!
DIY How to Tie Turban / Headwrap in under 2 minutes-steps
Styling Tips
To get the wrapping part right is one thing and the getting the styling right is another. You might love the turban but be confused if you can carry it off and if convinced you can then with what ensembles.
Put your questions to rest with a short styling guide below too.
Wear With
A breezy tunic dress.
A Beach Maxi.
A tailored blazer paired with a dress.
A high-low dress.
Pants and a feminine blouse/shirt.
Torn shorts and a plain tucked in tee.
A long tailored overcoat and boots in winters.
Skater skirts
Accessories that go well with Turbans
(Go easy though – one at a time)
Sunglasses
Statement rings
A long necklace with pendant.
So go out there, have fun and have a fashion moment of your own with a turban. And when it takes such less effort and time to add an x-factor to your look, then why not!
Image: Ghamcheck.com