Actress Jiah Khan attended the Maxim bash at Firangi Paani in Mumbai.  She definitely made a style statement wearing a black peplum skirt to the event.
Style Identity
Rock & Roll
She Wore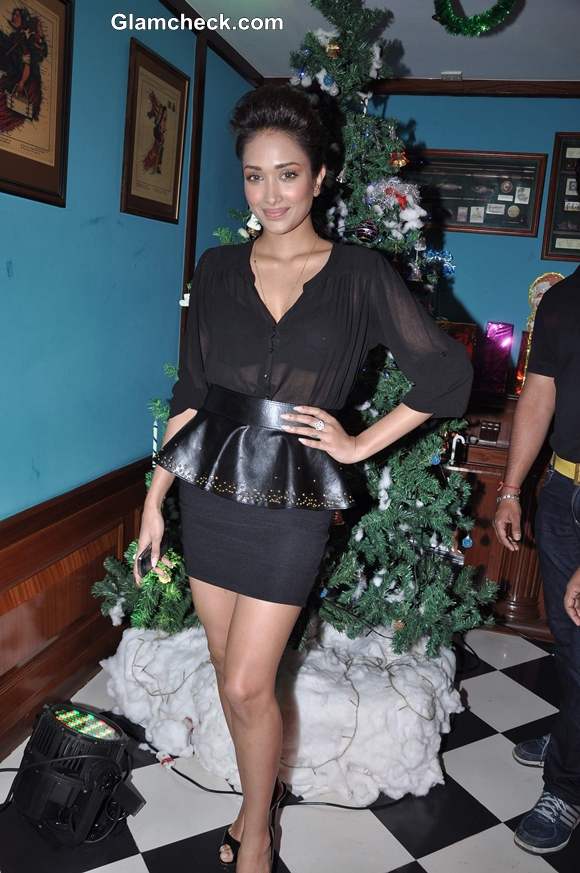 Jiah Khan In Peplum At Maxim Bash At Firangi Paani, Mumbai
Jiah Khan wore a short black peplum ensemble where sheer met leather and created a powerful combo! A sheer blouse was paired with a peplum skirt. The peplum flare at the waist was crafted in black leather and the skirt beneath was short and figure-hugging. The ensemble exuded boldness and Jiah looked sexy and strong!
She paired the dress with black sling-back heels, a gold chain and a ring.
Hair & Makeup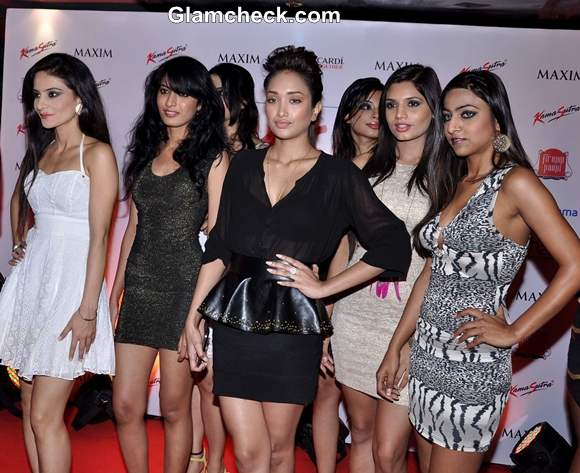 Jiah Khan in peplum at firangi paani mumbai
Jiah went the chignon way for the event. Her hair-do was a neat chignon with curls exploding at the crown.
Her make-up was minimal and consisted of a peach blush, peach eye-shadow, soft pink lips and sparkling bright eyes which were mascara-ed to perfection.
Get The Look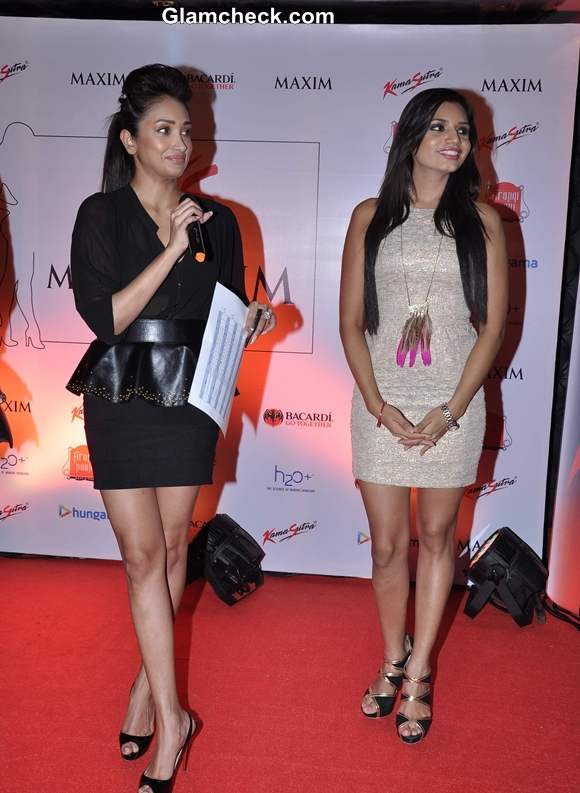 Jiah Khan at firangi paani mumbai
You know you have achieved it when you see the smile on your face getting broader with every stroke you apply. This look is easy to achieve and we show you how:
Get the black peplum skirt out of your closet along with the sheer blouse
Add a leather detail to your skirt or better buy a new one with a faux-leather trim
Wear it high-waisted and accessorize with black peep-toes or sling-backs for that matter
Keep out of ballet flats while sporting this look
Follow the basic ritual of cleansing, toning and moisturizing
Apply the base make-up and get rid of your liner for once
Curl your lashes with an eye-lash curler; a steel one works better than the plastic one (i know it by personal experience)
A soft pink pout, a hint of blush and lots of mascara will transform your look
Tip: Peplum will add to your waist so, wear it if you are skinny. If you possess those beautiful curves, go for a peplum dress, so that the flare sits on your waist and not the hips. Opt for a lighter flare so that it enhances your frame.
IANS