Renowned designers from all over India showcased fabulous summer and bridal collections on the ramp at The Lalit Ashok in Bangalore. There were four days of fun and frolic amalgamated with exclusive high fashion and bridal couture displays. Noted designers like Archana Kochchar, Rina Dhaka, Ramesh Dembla, Abhishek Dutta, Niki Mahajan, Sayantan Sarkar and Ritu Kumar along with a host of emerging designers exhibited their talents on stage in the four days of Bangalore's tryst with fashion.
This fashion extravaganza has been conceived, produced and promoted by Dream Merchants, an event management company that is head quartered in Bangalore.
Designer: Akhilesh Pahwa
Label: Akhilesh Pahwa
Akhilesh Pahwa displayed an array of menswear silhouettes on the final day of Bangalore Fashion Week. Crisp whites, contrast lapels, and sharp cuts formed an impeccable collection for the modern man.
Cruise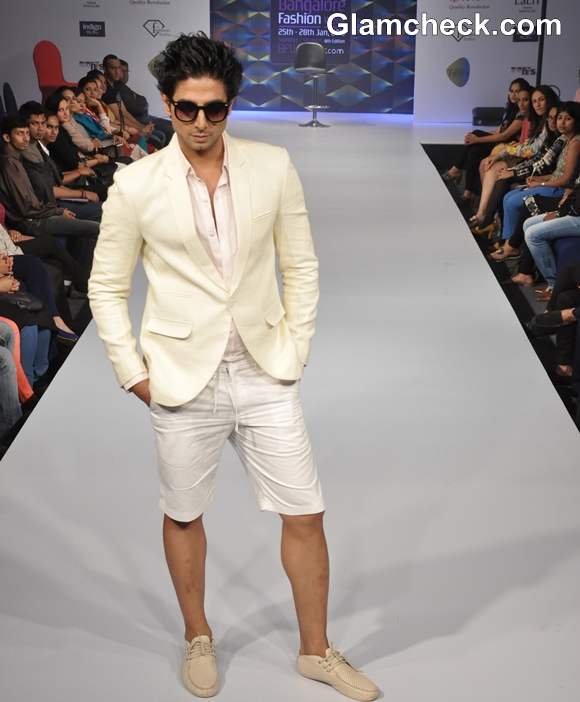 Akhilesh Pahwa collection bangalore fashion week summer showers 2013
Tailored white blazer worn with a crisp white shirt and fitted Bermudas and perforated shoes gave the models a sophisticated charm. The ensemble was fit for a holiday cruise down the Atlantic.
Night-Out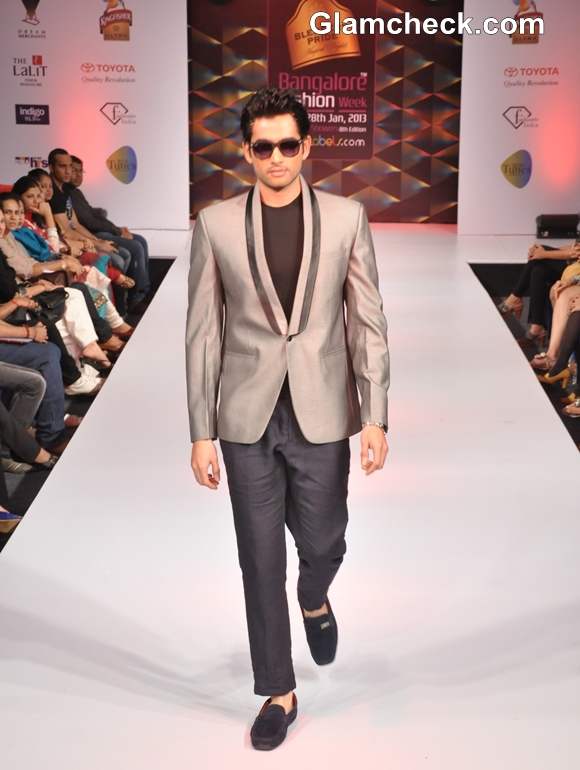 Akhilesh Pahwa bangalore fashion week summer showers 2013 collection
A glossy dinner jacket with contrast lapels and a sharp finish was paired with ankle length navy trousers and boat shoes. Wayfarers and a chunky watch made for a casual night out look.
Party Look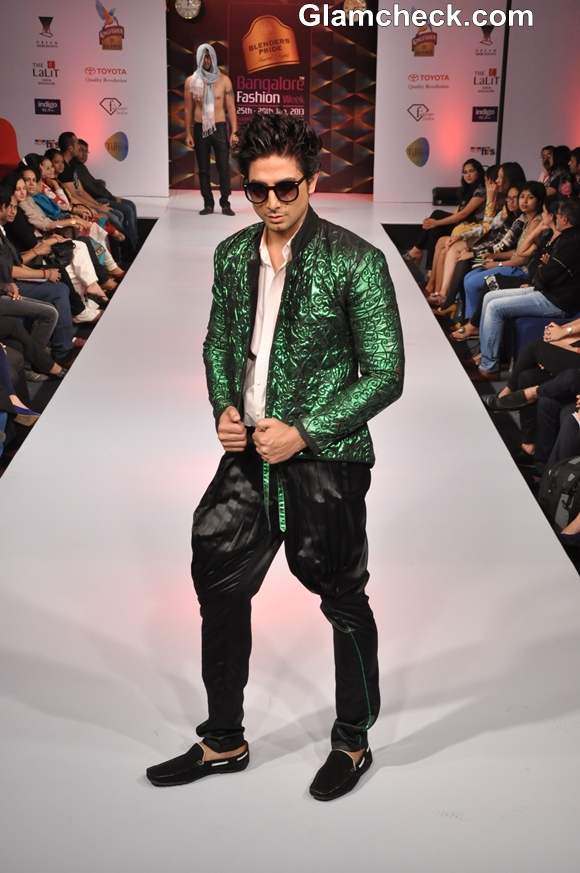 Akhilesh Pahwa bangalore fashion week summer showers 2013
A shimmery green quilted jacket with embroidery and a Nehru collar did stand out among the crowd. The high shine separate was teamed with a black dhoti trousers and a crisp white shirt.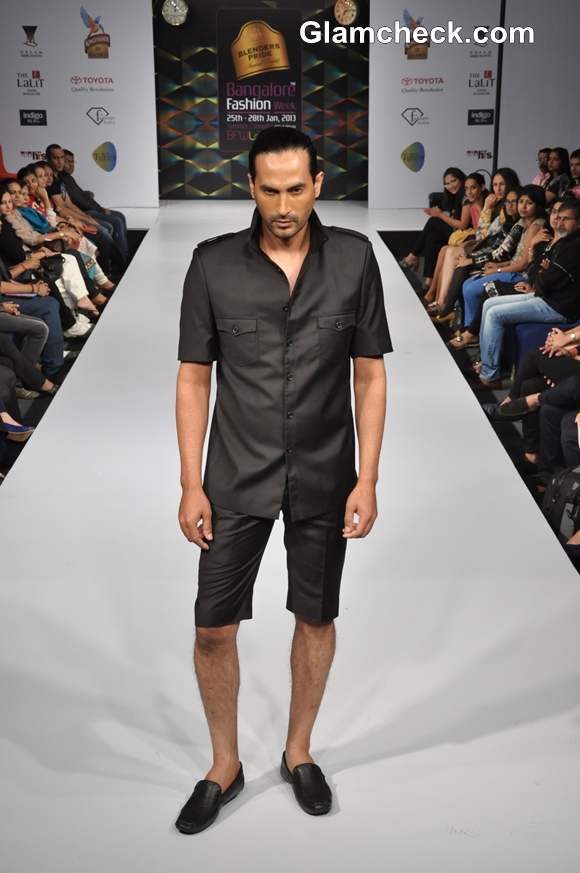 Akhilesh Pahwa show bangalore fashion week summer showers 2013
There were Bermudas in black and white paired with double breast pocket safari shirts complete with epaulets and all. The collection also included leather and velvet jackets, ombre-dyed trench coats and rolled-up trousers. It was quite a fetching collection.
Designer: Shweta Bhargava
Label: Shweta Bhargava
Shweta Bhargava's collection revolved around a monochromatic colour scheme of black and white. Primarily a womenswear brand, Shweta designed a very interesting collection from saris to dresses fit for all occasions.
Sari Style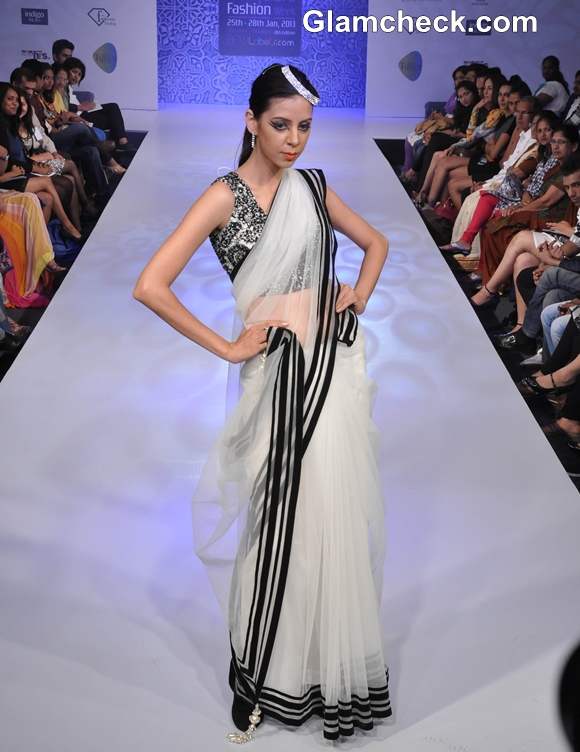 Shweta Bhargava Collection bangalore fashion week summer showers 2013
A white sheer sari with thick and thin black border panels and a black and white floral printed blouse with hints of sequins replete with a sparkling tiara and danglers started a good run for Shweta.
Sequin Shine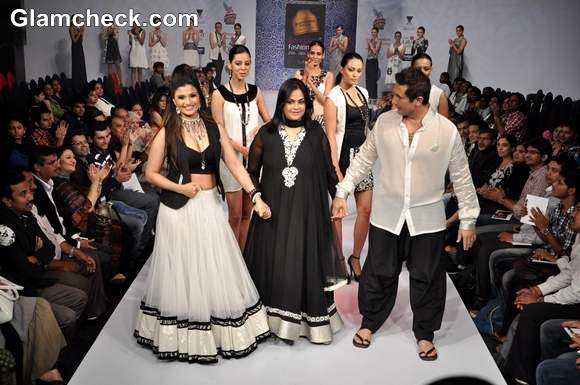 Shweta Bhargava show bangalore fashion week summer showers 2013
A short party dress with a sheer bodice and sequined Zebra print skirt was apt for a girl's night out. The sheer sleeveless bodice was done up with paisley and floral embroidery in black. Models sported a double-winged eye liner and matte lip colours.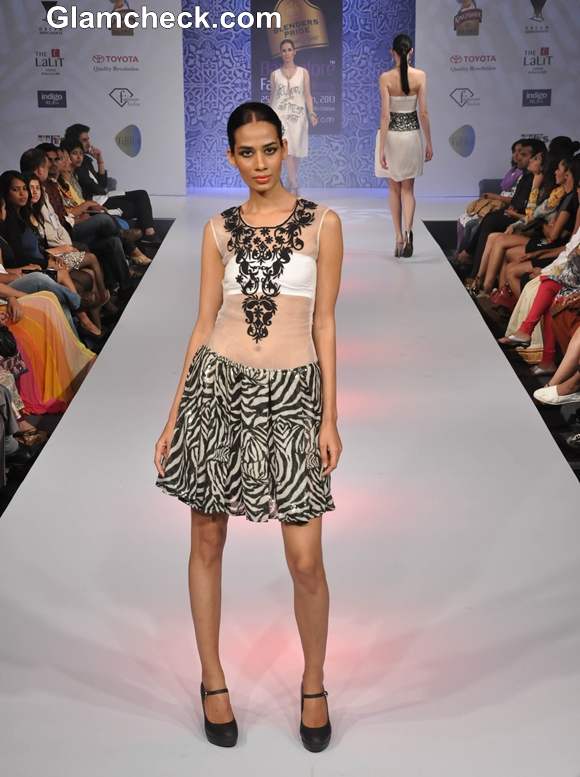 Bangalore fashion week summer showers 2013 Shweta Bhargava Collection
A-line dresses peeked out with the quirky Indian slogans, "Buri Nazar Wale Tera Mooh Kaala" and "Dekho Magar Pyar Se" which added humour to the collection.
There were some very appealing outfits with sexy backs, thigh-high slits and oodles of shimmer and shine. Jackets, lehengas, saris, dresses, party wear, gowns, you name it and you have it! All together, Shweta Bhargava put together a fabulous feminine collection with her signature style of mixing Indian surface ornamentation with western silhouettes.
Designer: Sayantan Sarkar
Label: Sayantan Sarkar
Collection: To Be or Not To Be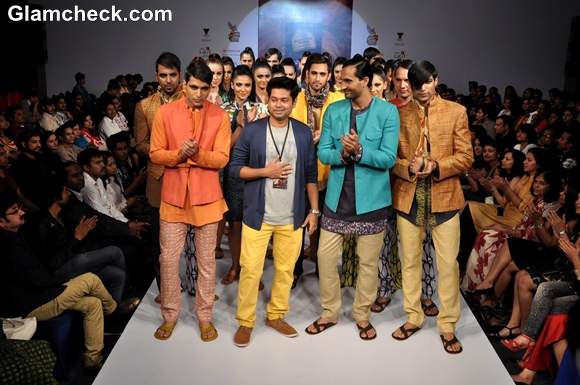 Sayantan Sarkar Collection bangalore fashion week summer showers 2013
Renowned Kolkata based designer Sayantan Sarkar displayed a spectacular collection for men and women. The theme and nature of the collection is described as, "The collection celebrates the mental confusion of the gender blenders who are yet to discover themselves. To be or not to be is therefore, a primary question in their life….. They live through the initial struggle and evolve finally as a refined whirlpool of self discovery."
Bohemian Quotient
The collection was a reflection of the designer's astounding aesthetics which he has developed over a period of years in the fashion industry. Pops of colours and quirky prints with contemporary silhouettes lent a bohemian vibe to the resort wear collection.
Men looked dapper in the batik printed kurtas and silk jackets with double breast-pockets and contrast piping on the cuffs and collar.
Batik Magic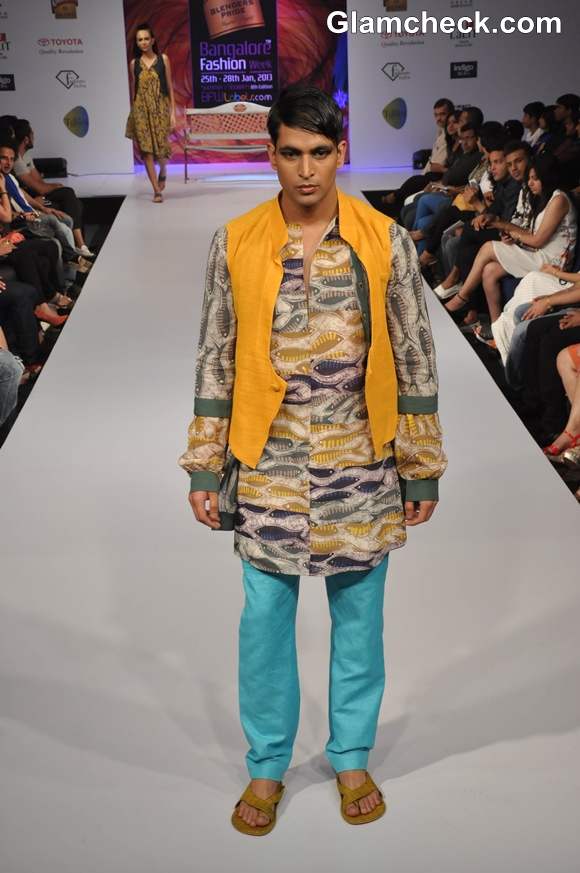 Sayantan Sarkar bangalore fashion week summer showers 2013
A mustard waist coat and fish printed kurta in batik with layered sleeves and blue trousers surely took us by surprise. We loved it!
Androgyny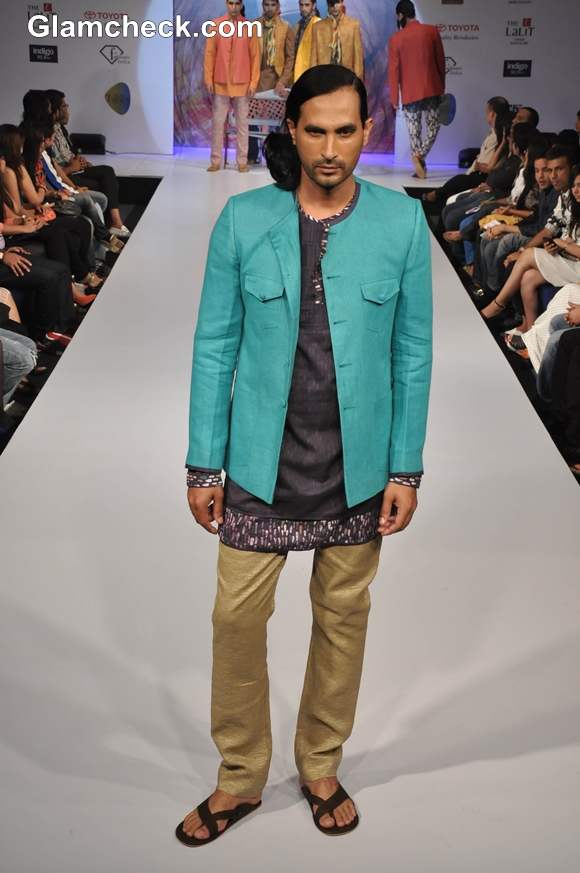 Bangalore fashion week summer showers 2013 Sayantan Sarkar
A subtle androgynous element was present throughout the collection. Women sashayed the ramp wearing asymmetrical dresses with chiffon jackets and pin stripes. The colour story comprised of mustard, peach, and brown, hints of blue, aquamarine, and neutral shades like white and black.
An eclectic mix of colours and cuts completed to perfection was a collection that defined the modern bohemian globe-trotter in all respect.
Designer: Neerus
Label: Neerus
Collection: The Wedding Collection 2013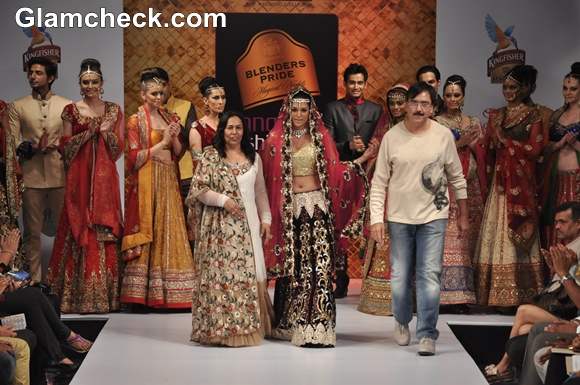 Neeru Emporio show bangalore fashion week summer showers 2013 Neerus Emporio Collection
Neerus collection showed ethnic wear at its best with bridal lehengas, suits and complete trousseau. The collection was awash with beaded work, velvet, zardosi, benarasi brocades and Swarovski crystals which livened up the stage. The collection boasts of intricate surface embellishments and heavily embroidered borders.
Princess Bride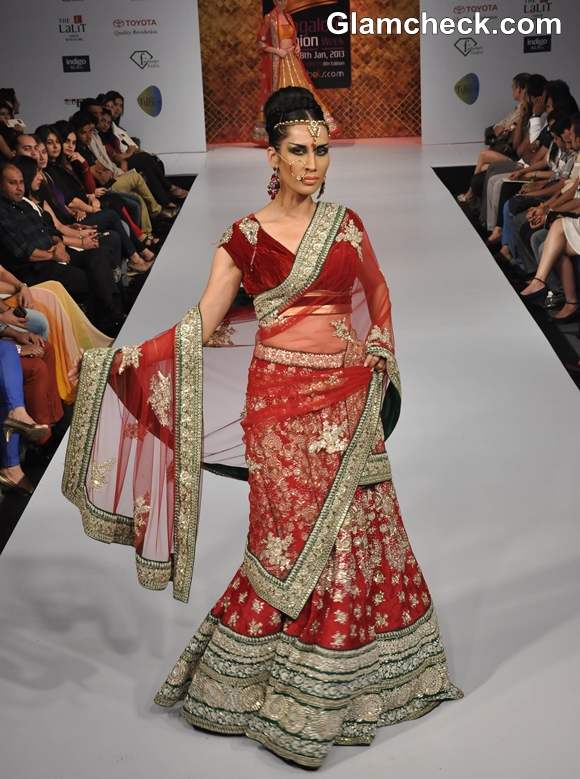 Neeru Emporio Collection at bangalore fashion week summer showers 2013
A red lehenga sari with a wide green border replete with sequins and zari work graced the ramp. The sari was paired with a crimson velvet blouse and a jewelled brooch.
Neeru Emporio show bangalore fashion week summer showers 2013
A scarlet lehenga with a sweet-heart neckline choli and gold work showed itself on the stage. The panels of heavy embellishments streamlined from the hips to meet the equally exhaustive gold borders.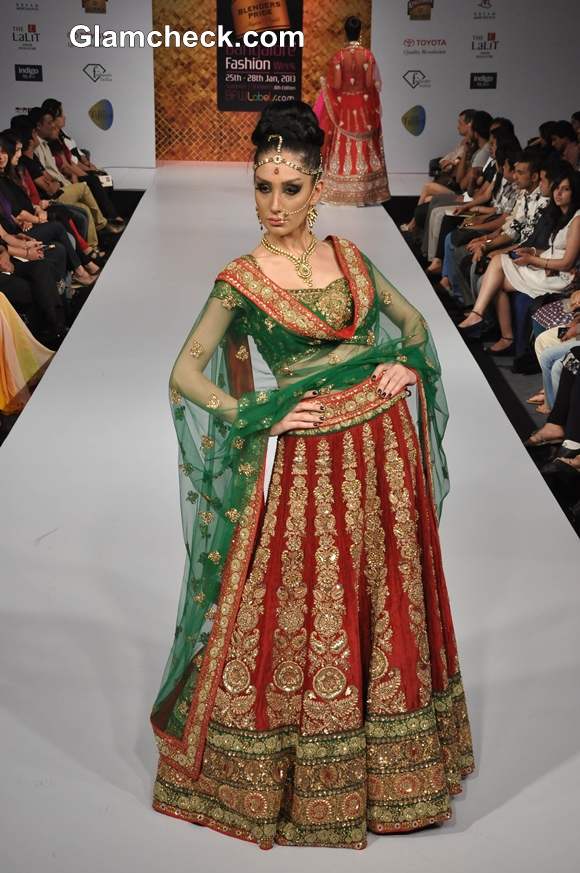 Neeru Emporio Collection bangalore fashion week summer showers 2013
Antique gold work, sequins and brocades were amalgamated to form exquisite pieces of bridal finery at Neeru's Emporio.
From creams to mustards, rust to indigo, Neerus Emporio had it all. The collection was sprawled with Swarovski and sequins to match the dazzle of the bride on her wedding day.
The menswear section consisted of elegant koti jackets, sherwanis with crimson velvet collars, black and gold brocades, cream bandhgalas with embroidered cuffs and elegant menswear trousseaus.
Designer: Ritu Kumar
Label: Label Ritu Kumar & Ritu Kumar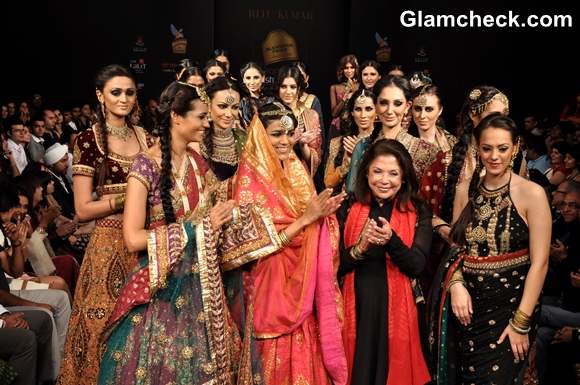 Ritu Kumar Showcasing at the final day Bangalore Fashion Week 2013 summer showers
The best of Bridal finery was exhibited at the grand finale where the grand dame of Indian fashion Ritu Kumar showed a collection that borrowed heavily from Art Deco and Baroque. The show commenced with the young label of Ritu Kumar named, Label Ritu Kumar and concluded with the ethnic wear line Ritu Kumar.
Bridal Couture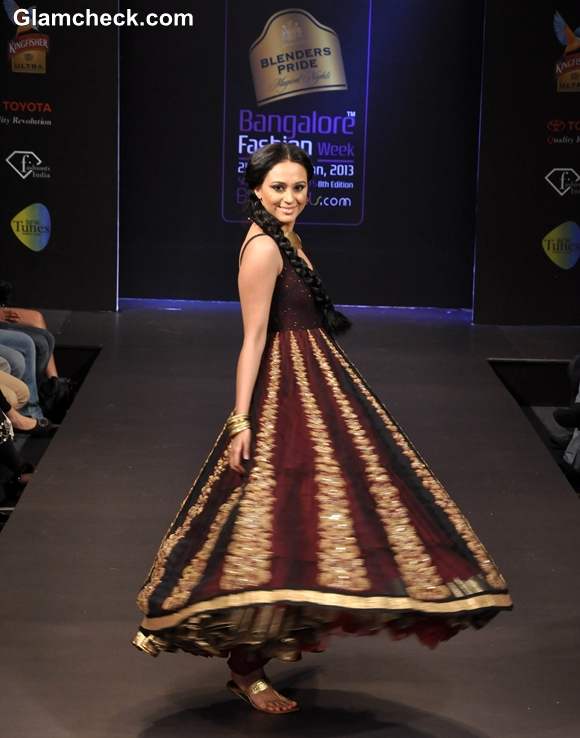 Ritu Kumar at the final day Bangalore Fashion Week 2013 summer showers
Anarkalis in crimson with gold embroideries and lots of volume added glamour to the Sangeet ensembles. Shararas and lehengas with Ritu Kumar's signature styles enthralled the audience and fashionistas alike.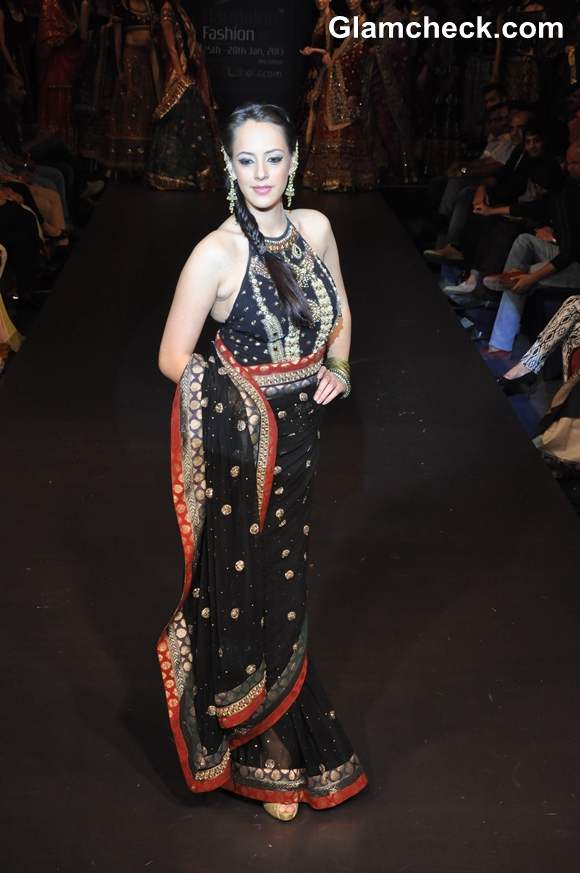 Ritu Kumar Bangalore Fashion Week 2013 summer showers
Classic whites with Indian craftwork of gossamer jaali patterns and layers with vibrant colours kept us wanting for more. After a trendy and classic collection comes the original Ritu Kumar line with sensational designs, baroque inspired embroidery and fabled Ritu Kumar prints of chintz, paisleys, and laces and so on.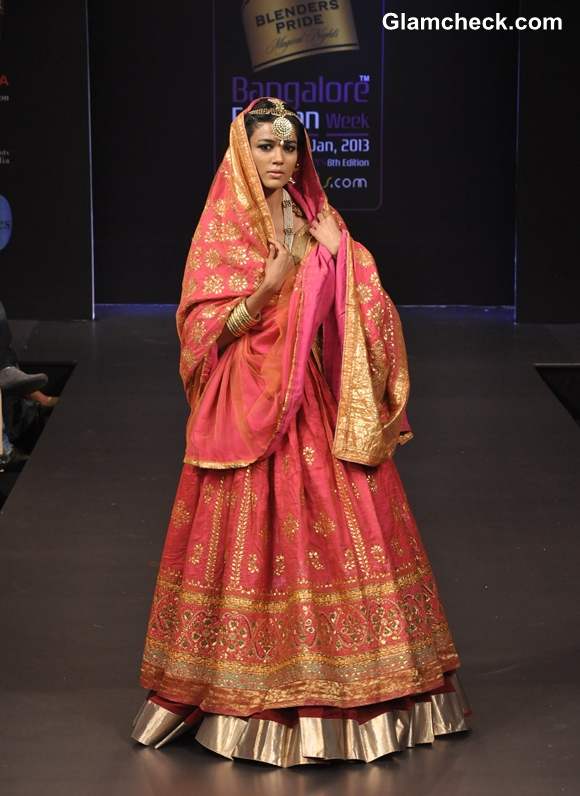 Ritu Kumar grand finale Bangalore Fashion Week 2013 summer showers
The models sported over-sized maang tikas and bib necklaces with clusters of gold bangles; a breath taking collection from the Queen of couture.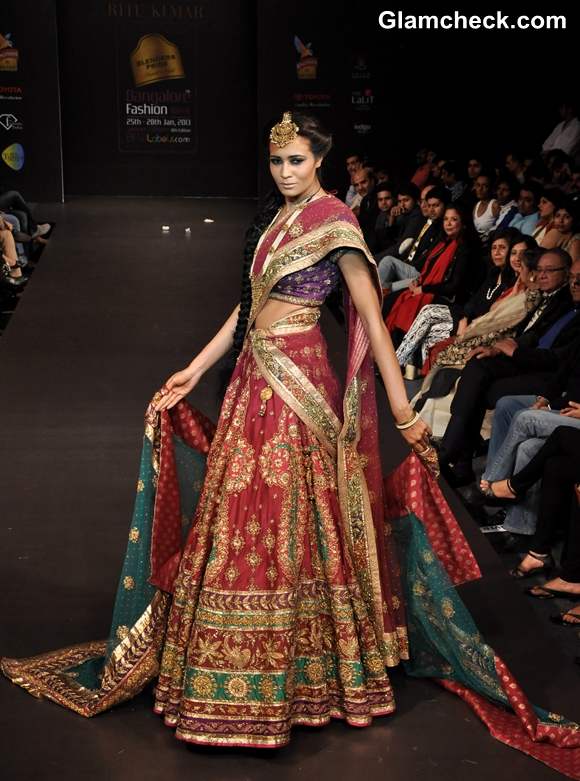 Ritu Kumar grand finale Bangalore Fashion Week summer showers 2013
Rich fabrics in royal colours and ornate ensembles with intricate embellishments culminated in an apt grand finale fit for the bride. We just loved the bridal collection of Ritu Kumar!