Designer Kanika Saluja Choudhary showcased her label "Anaikka" at the Wills Lifestyle India Fashion Week 2013 in New Delhi on March 13.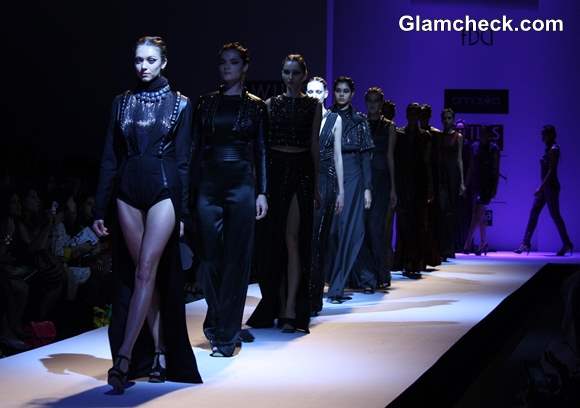 Kanika Saluja Choudhry at Wills Lifestyle India Fashion Week Fall-Winter 2013
Compared to most of the other collections presented at the week-long fashion extravaganza, Anaikka came across as dark and poignant at first glance. And like a work of art, the message of her outfits is revealed the more you look.
Kanika Saluja Choudhry WIFW Fall-Winter 2013 day 1
Kanika was very clear about what the collection represents, and she's done a bang-up job of bringing her mood board to life.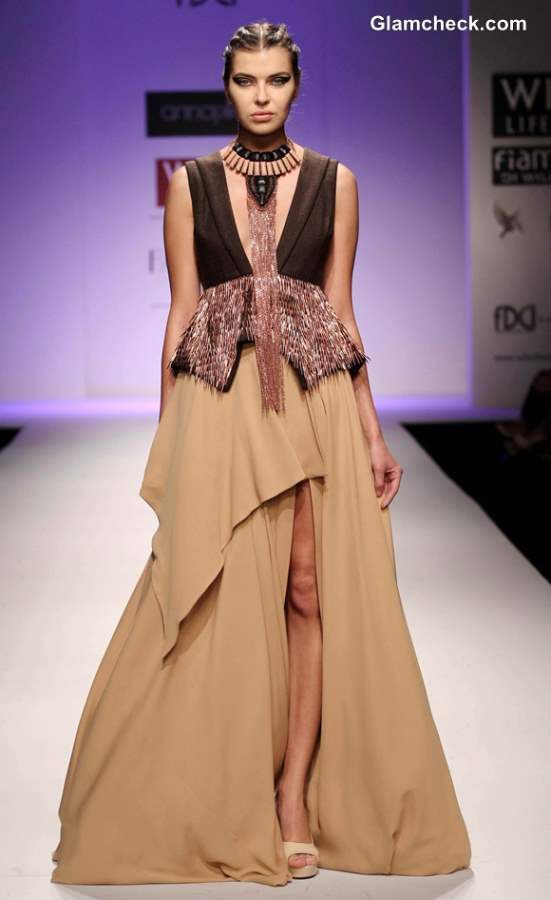 Kanika Saluja Choudhry WIFW Fall-Winter 2013
Anaikka is inspired by all that represents the modern world – technology, dominating architecture, machines and metal. This explains the neutral nudes and blacks, metallic greys and all the shades in between.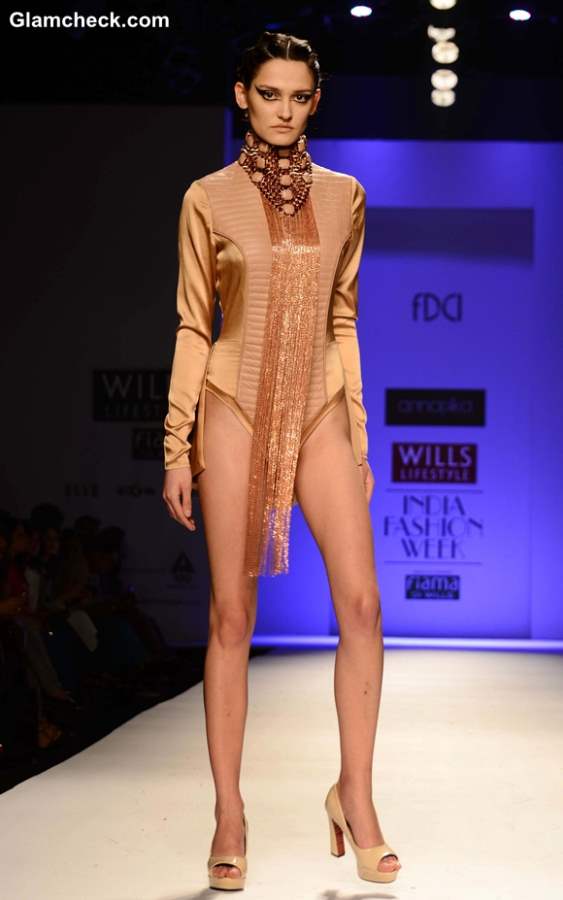 Kanika Saluja Choudhry WIFW Fall-Winter 2013 show
Her muse is apparent as you contemplate the edgy silhouettes, the sometimes-harsh shades reflecting the skyline of big cites, structured and decisive.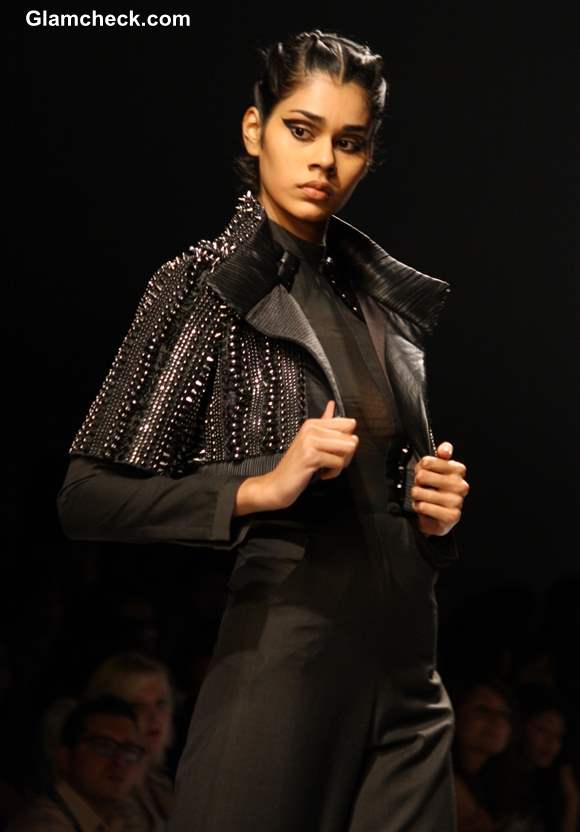 Kanika Saluja Choudhry at wifw Fall-Winter 2013
However, the collection still manages to imbibe the sensibilities of the modern woman, exuding a startling beauty and functionality. This was, in fact, one of Kanika's main goals – to create a line which accurately represented the modern world, which was elaborate and obvious, but which still managed to be wearable.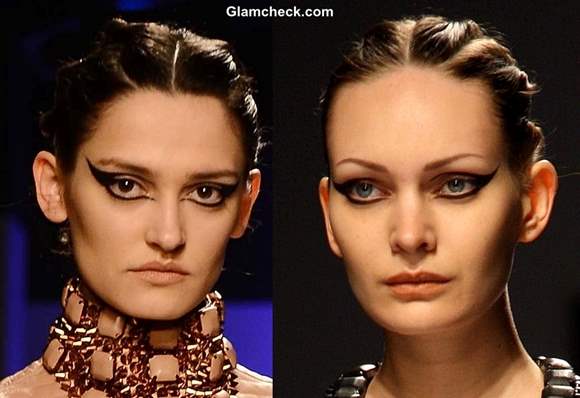 WIFW Fall-Winter 2013 hair makeup trend at Kanika Saluja Choudhry Show
The models' textured updos and neutral makeup were sleek yet crisp. Bold cat's eye makeup complemented the clean lines of Kanika's collection while chunky necklaces gelled so well with many of the clothes that there was sometimes no clear distinction between the two.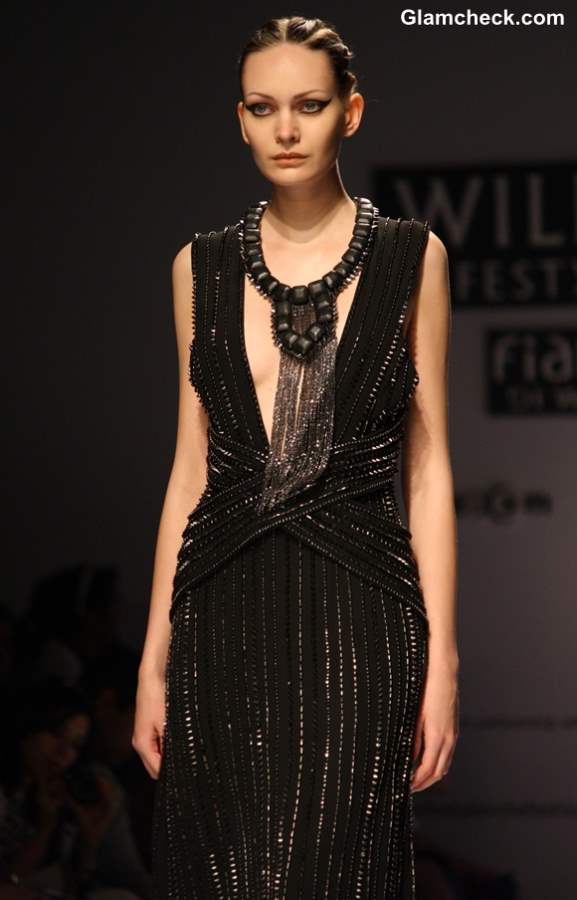 WIFW Fall-Winter 2013 Kanika Saluja Choudhry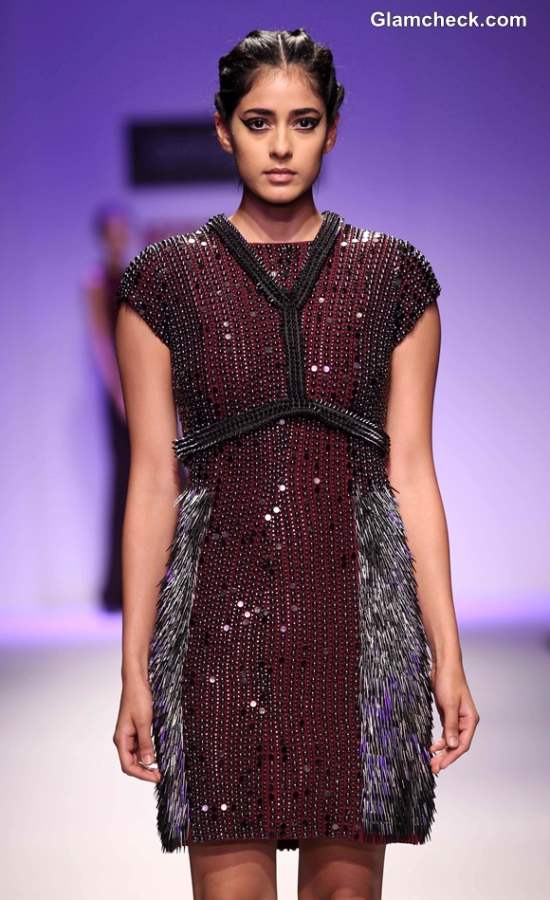 WIFW Fall-Winter 2013 Kanika Saluja Choudhry show
IANS, Indian Photo Agency