Most designers at the Lakme Fashion Week Summer/Resort 2013 were roping in B-town beauties to be show-stoppers for their presentations. However, Archana Kochhar took a different route by doing things thoda hatke se.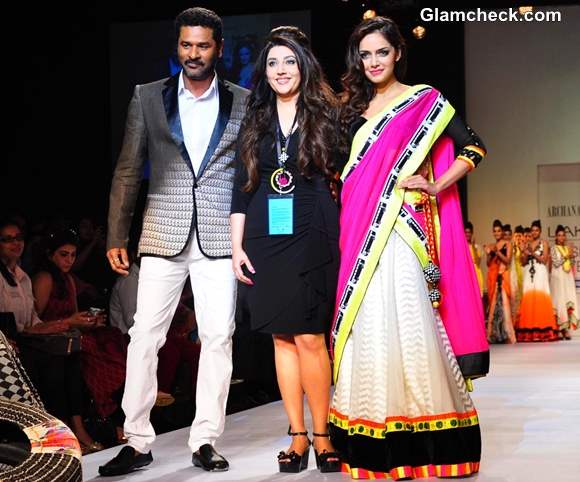 Shazahn Padamsee & Prabhu Deva for Archana Kochhar at LFW Summer-Resort 2013 Grand Finale
She did have the expected pretty woman walk the ramp – Shazahn Padamsee – but she also got dance icon Prabhu Deva to shake a leg as he modelled one of her creations.
It was the LFW grand finale on March 26 and a rather appropriate time for the two Bollywood biggies to make an appearance.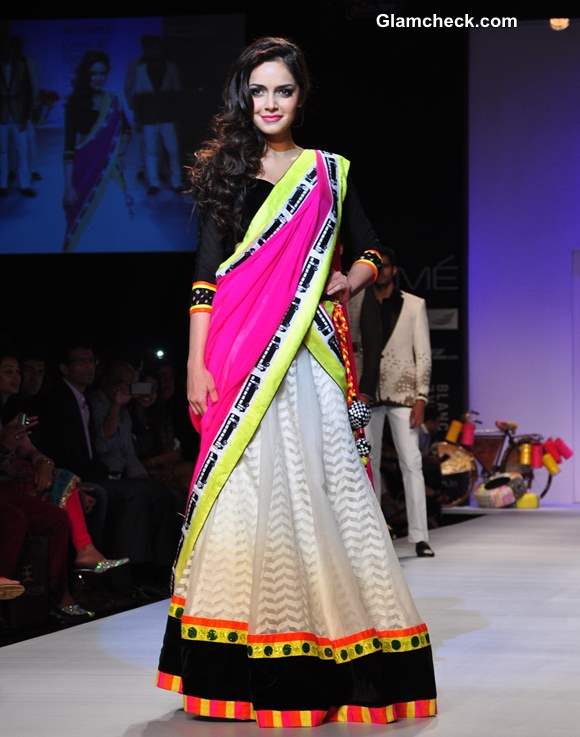 Shazahn Padamsee LFW Summer Resort 2013 Archana Kochhar show
Shazahn looked very vibrant in a gorgeous sari featuring neon shades of pink, green, orange and yellow against an off-white background, a black-and-white bus print emblazoning the border. A three-fourth sleeve black blouse completed the ensemble.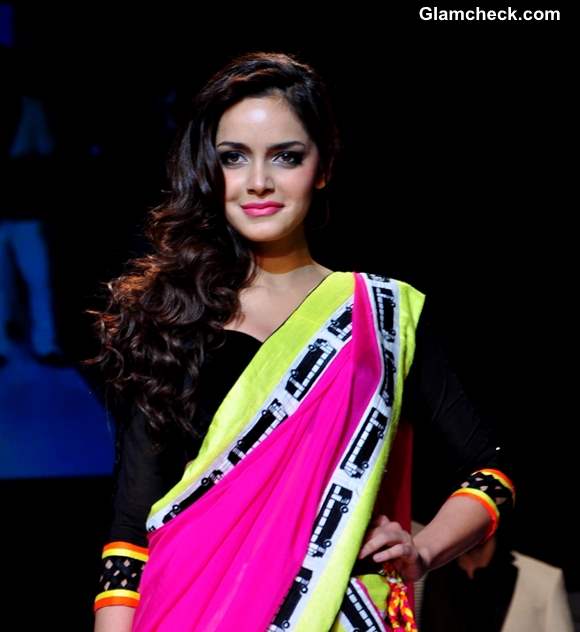 Shazahn Padamsee at LFW Summer Resort 2013 Archana Kochhar show
The sari was draped such that the bottom half flared out like a skirt – a very Western silhouette and a trait that was imitated in several other outfits in the collection.
We love her hairdo as much as her sari – very luscious side-swept curls that make her look like a dream.
While she brought the elegant beauty, Prabhu brought the charisma.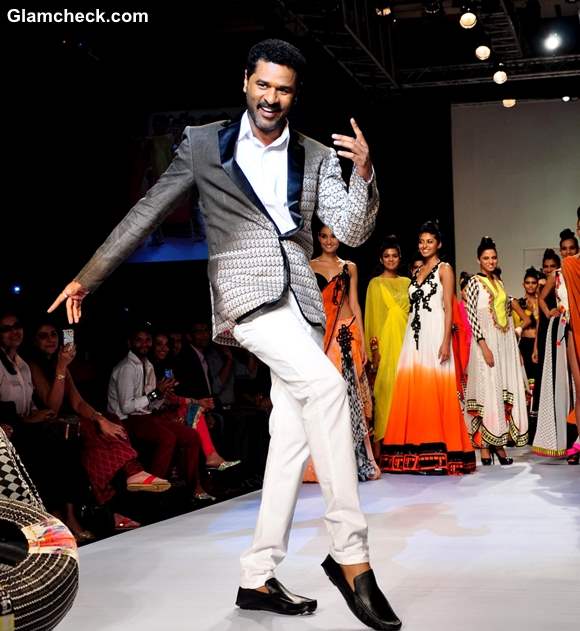 Prabhu Deva at LFW Summer Resort 2013 Archana Kochhar show
He donned a creation called 'Mumbai Checkmate' – white pants, a white collared shirt and a monochrome blazer. More interesting than the outfit was the way he presented it. He grooved on stage as he walked among the other models, dancing to music by a live band. He looked very dashing while doing it too! Even the models seemed to be suppressing their giggles and admiration.
The two stars on the ramp did not in any way overshadow the grace and stunning beauty of the collection. Archana stuck to traditional wear, incorporating ever more Western silhouettes and plenty of geometric designs for a very eye-catching effect.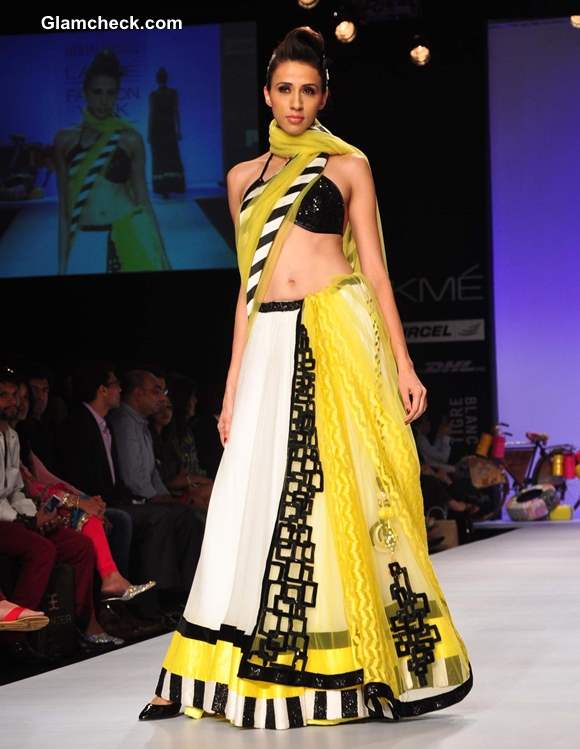 LFW Summer Resort 2013 Archana Kochhar show
The looks were a combination of sleek and flowy, catering to the varied aspects of the modern Indian woman.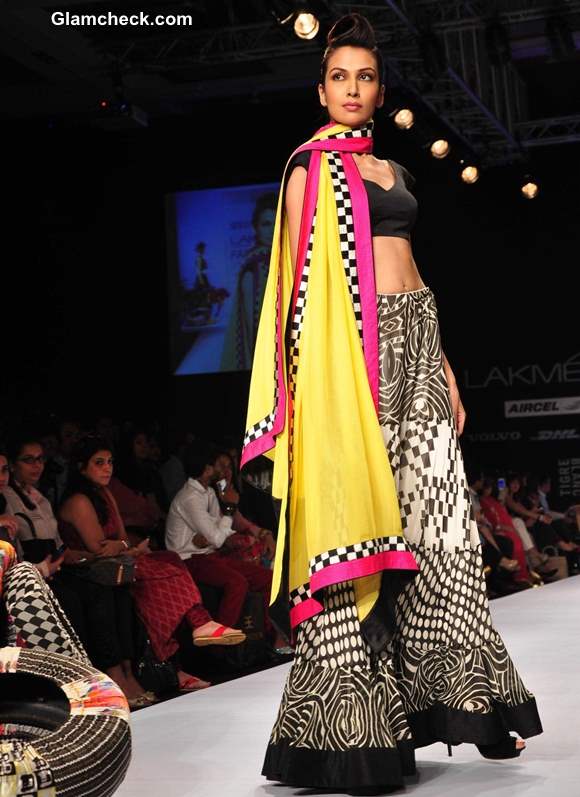 Archana Kochhar LFW Summer Resort 2013 grand finale
Monochromes dominated but alongside liberal splashes of neons and bright colors. The experimentation of shades and patterns gave the collection a retro, psychedelic vibe but one that is wearable and relate-able in contemporary fashion.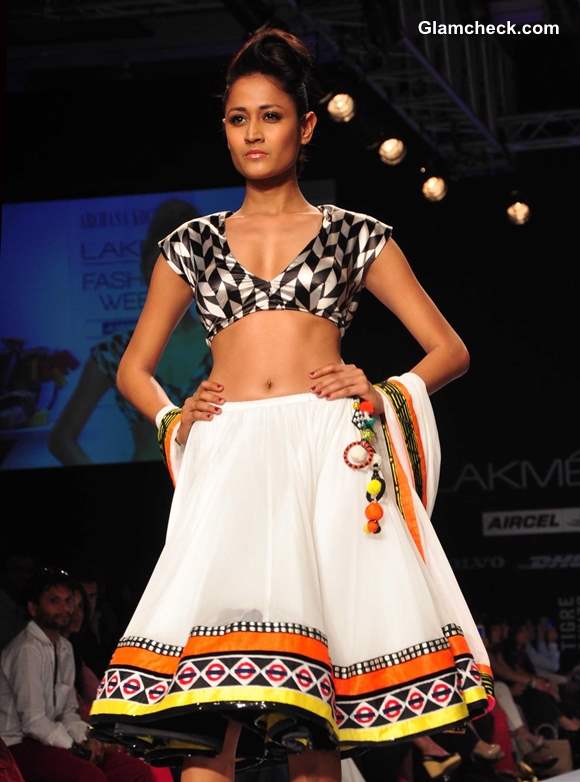 Archana Kochhar LFW Summer Resort 2013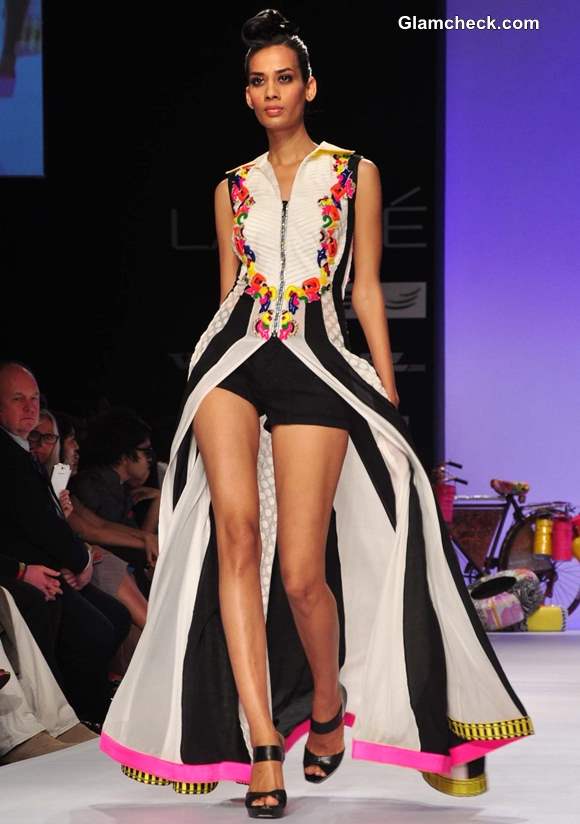 LFW Summer Resort 2013 Archana Kochhar
Indian Photo Agency