Bollywood actors Priyanka Chopra, Ranveer Singh and Arjun Kapoor are starting a new spate of promotions for their upcoming film "Gunday", this time at a whole bunch of colleges. They were spotted at Wellingkar Institute of Management in Mumbai, India on February 11, 2014.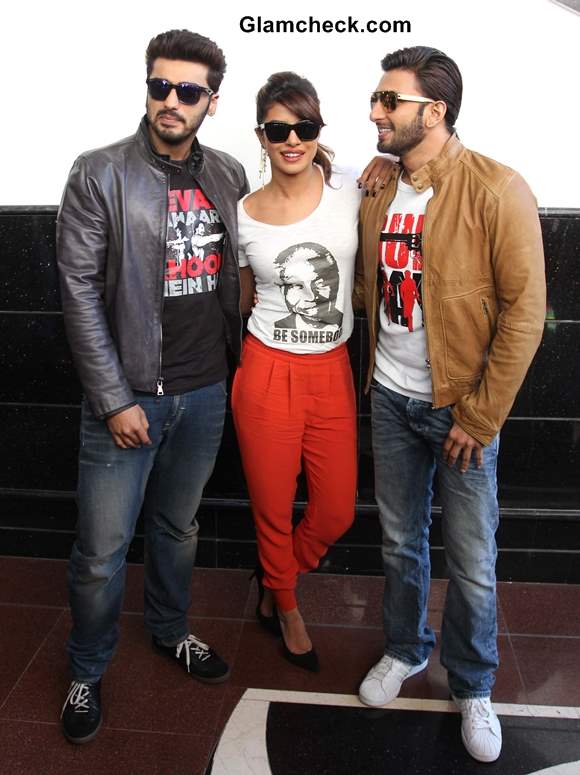 Cast of Gunday at Wellingkar College in Mumbai
They make a great trio, complementing each other's personalities as well as their wardrobes. That's some level of commitment to the job!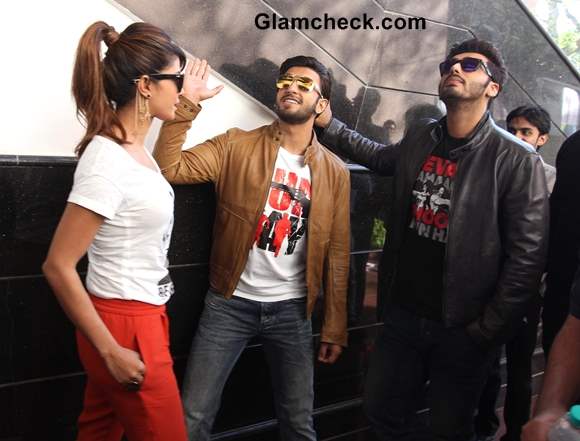 Cast of Gunday Promote movie at Wellingkar College in Mumbai
Arjun and Ranveer in particular have been going matchy-matchy in similar outfits at these promos. And here they are again doing just that.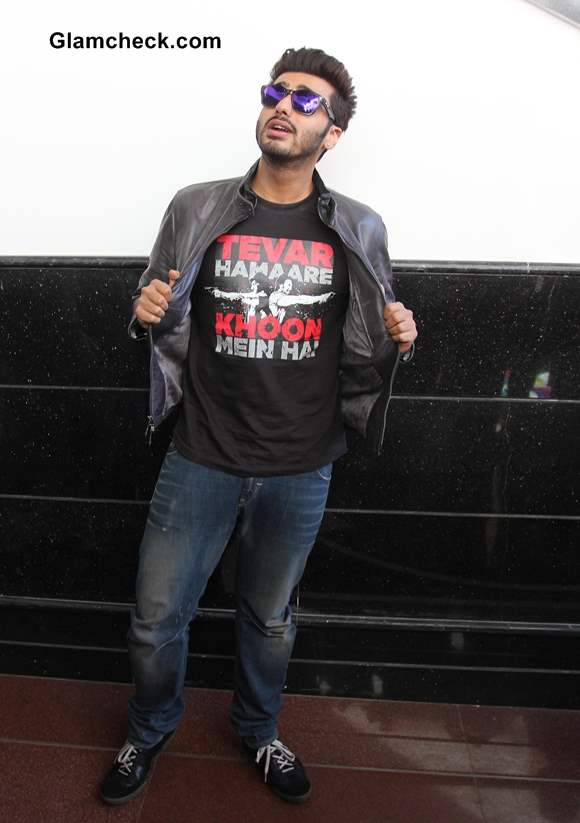 Arjun Kapoor at Wellingkar College in Mumbai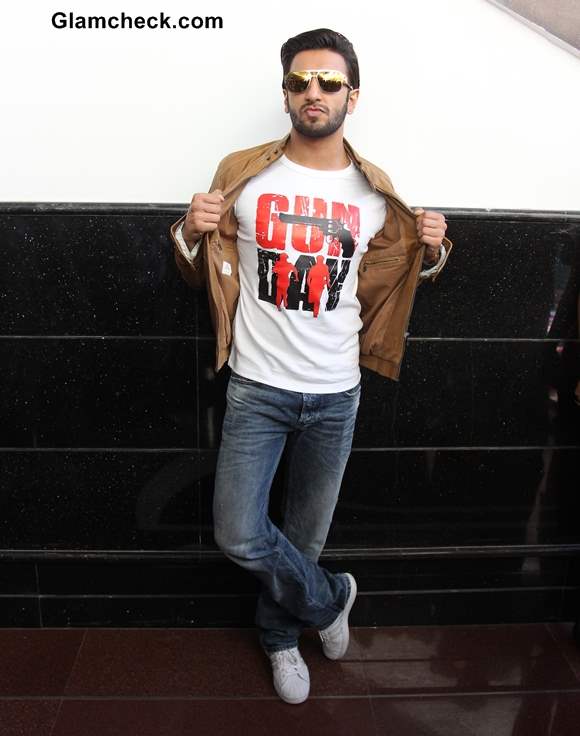 Ranveer Singh at Wellingkar College in Mumbai
Ranveer wore blue jeans, a white tee with 'Gunday' spelled across the front, white sneakers and a tan leather jacket. Arjun was similarly clad except he went with darker shades with a black tee, dark blue jeans and a black leather jacket. So dedicated were they to the coordination of their wardrobes that even their unshaven faces appeared quite similar.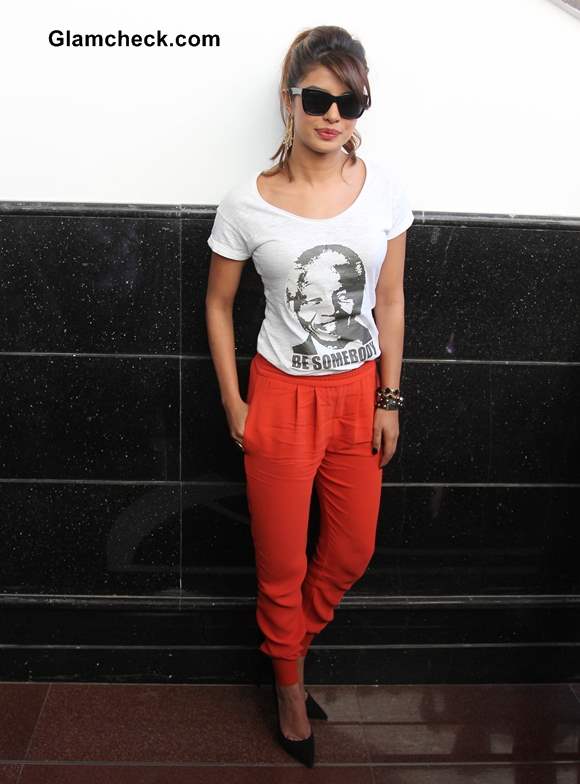 Priyanka Chopra 2014 style in Gunday
Priyanka, meanwhile, looked ever-so-chic in red harem-type pants, a white tee and black pointy pumps. A classy ponytail, black sun glasses and elaborate dangle earrings completed her look.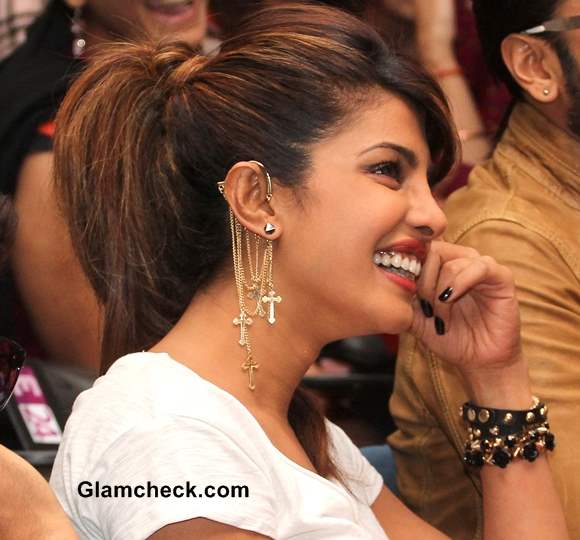 Priyanka Chopra 2014 in Gunday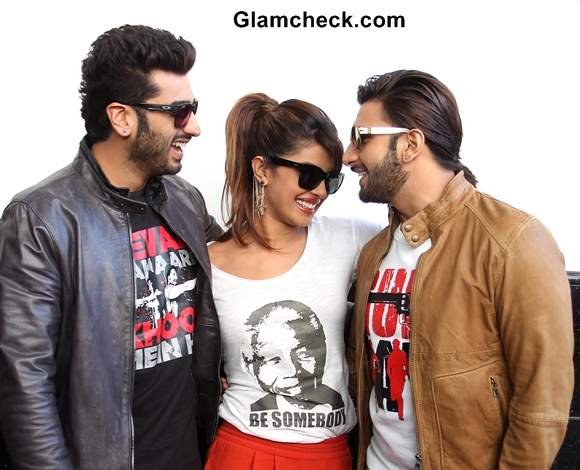 Cast of Gunday
The boys and Priyanka began their college trail at the Kirori Mal College just the day before. A crowd of tens of thousands had gathered to see the three stars and there were several barricades and extra police in place to keep things in order. But all the security in the world couldn't stem the excitement of the screaming fans.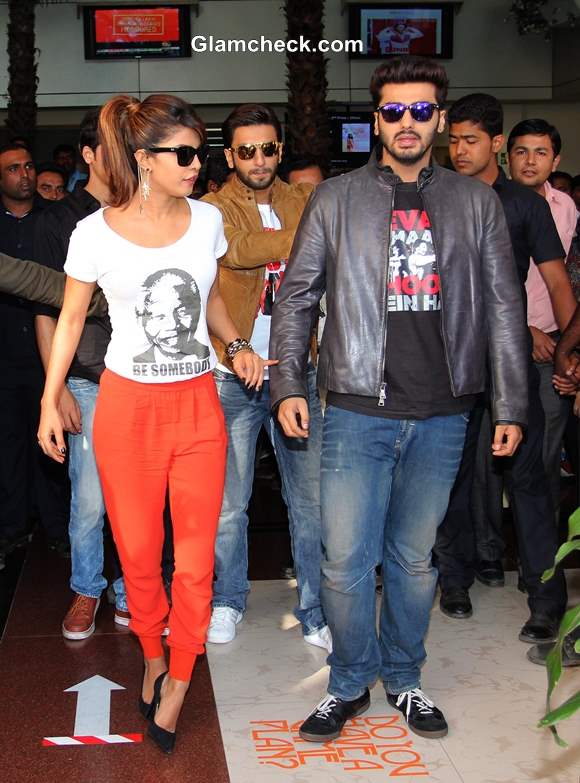 Cast of Gunday at Wellingkar College Mumbai
Unfortunately, the trio could only stay for half an hour because the crowd got a little out of control and it was obvious that security couldn't keep a reign on things for much longer.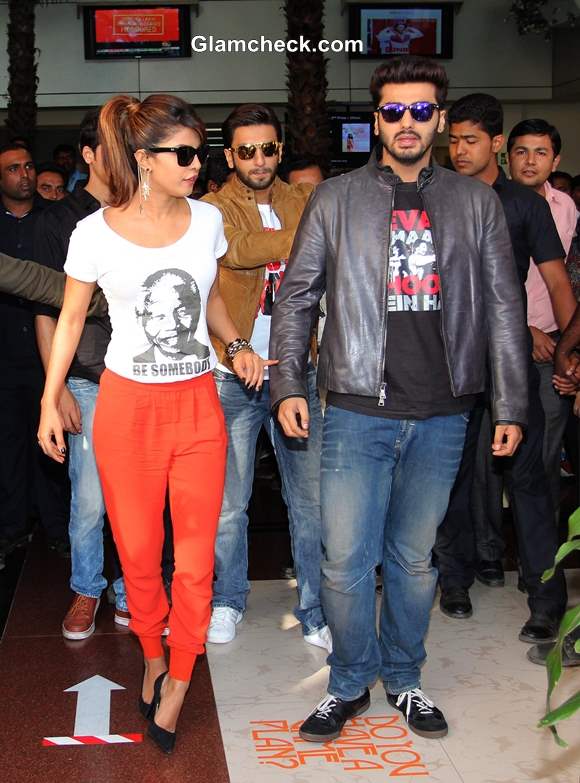 Cast of Gunday at Wellingkar College Mumbai
The level of enthusiasm was the same at Wellingkar and continued on to the next college on their list – K. J. Somaya Campus. They'll be visiting dozens more colleges before the week is out so try not bunking your classes and keep a sharp eye on your bulletin boards in case your college is one of them.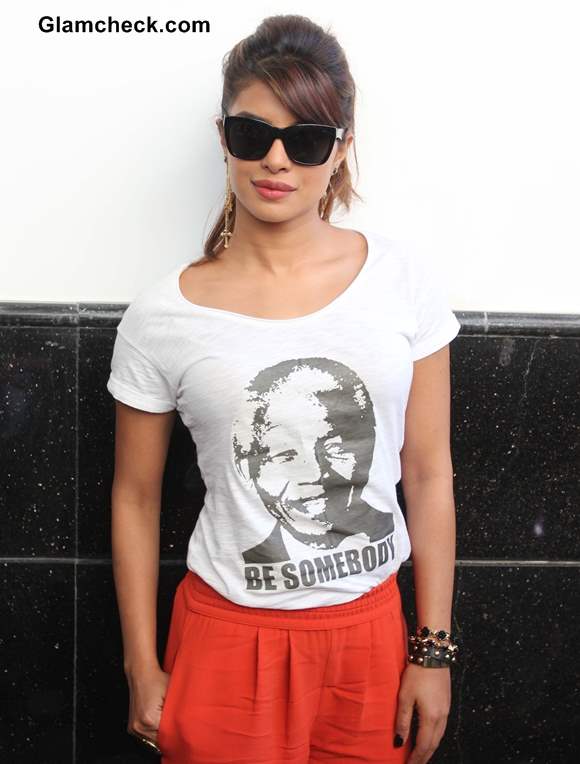 Priyanka Chopra 2014 style at Gunday Promotions
With a February 14 release date, the film can't help but get a lot of footfall with its two-guys-fighting-over-one-girl story.  And with such a dynamic cast, who can resist?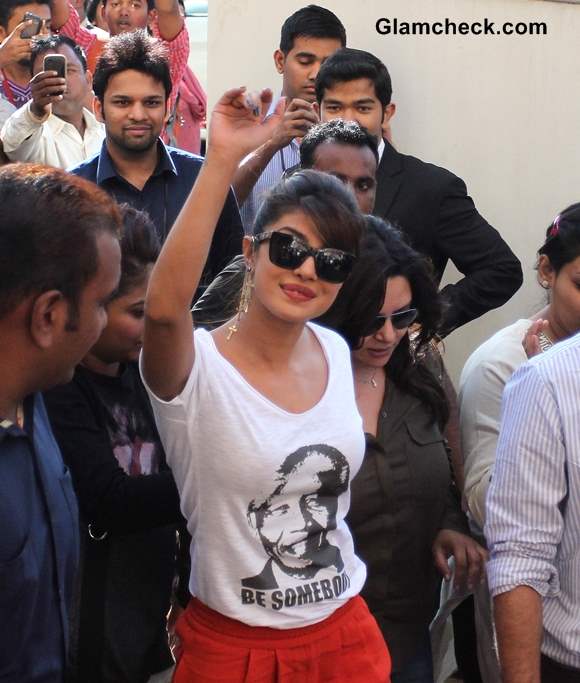 Priyanka Chopra at Wellingkar College in Mumbai
Solaris Images