If you've been on top of promotions for Shahrukh Khan-Deepika Padukone starrer "Chennai Express", then you've surely noticed the absence of the film's leading lady. But finally, she seems to have found some time in her schedule to join her co-star as he traipses across the country to market their venture.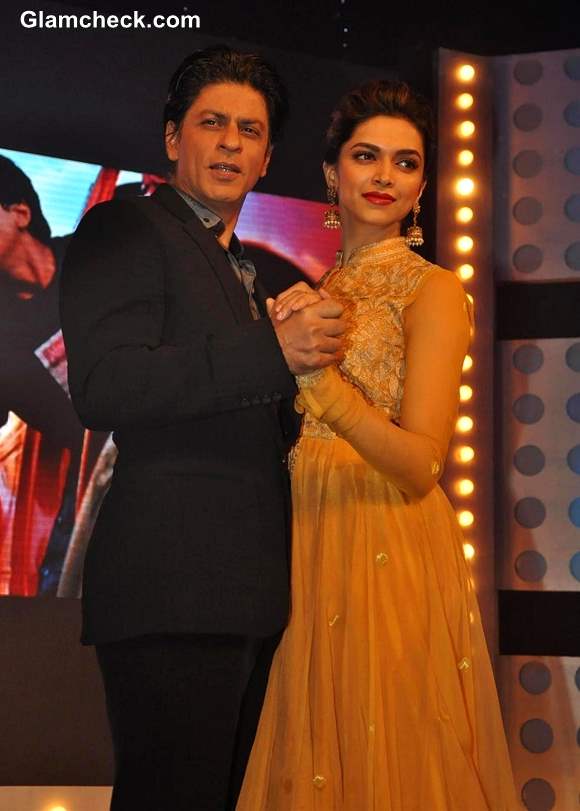 Shahrukh Khan Deepika Padukone on Madhubala Ek Ishq Ek Junoon
Shahrukh said he was relieved that she was back, as they promoted their film on the sets of television serial Madhubala – Ek Ishq Ek Junoon in Mumbai on July 29. They joined the serial's actors Drashti Dhami and Vivian Dsena to show off some dance moves. Vivian tweeted right after that it was fabulous to work with King Khan, also applauding his energy and wishing him success with Chennai Express.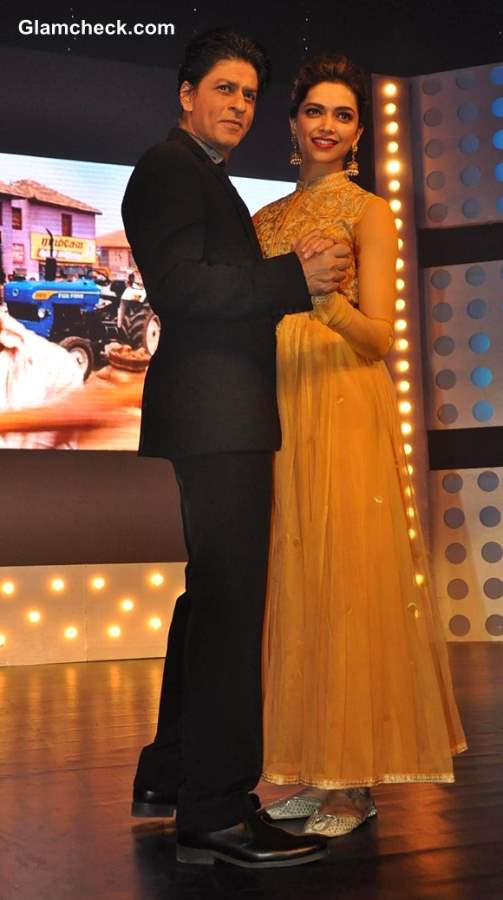 Shahrukh and Deepika Padukone on Madhubala Ek Ishq Ek Junoon
The film is set for release on August 9. Check out Deepika's ensemble to sate you till then.
Her Outfit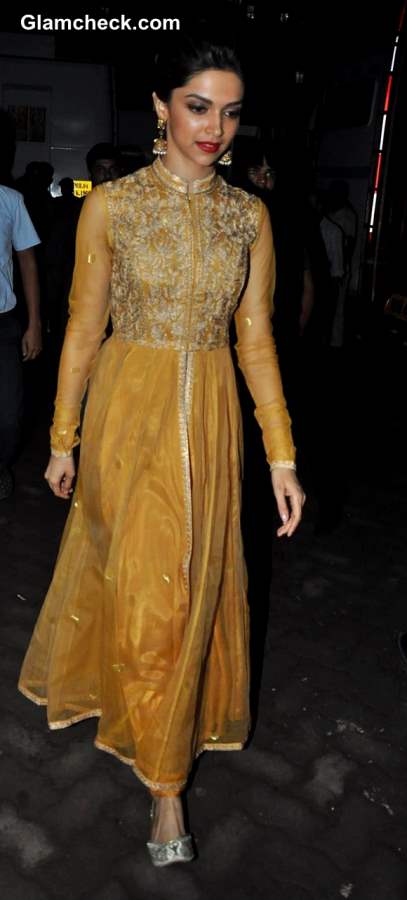 Deepika Padukone Golden anarkali suit 2013
A striking mango anarkali with a burst of gold embroidery on the bust, featuring also sheer sleeves and a high neckline. The attire was radiating all sorts of heaven on the sets, and god knows this dusky beauty is the perfect model for such a resplendent outfit.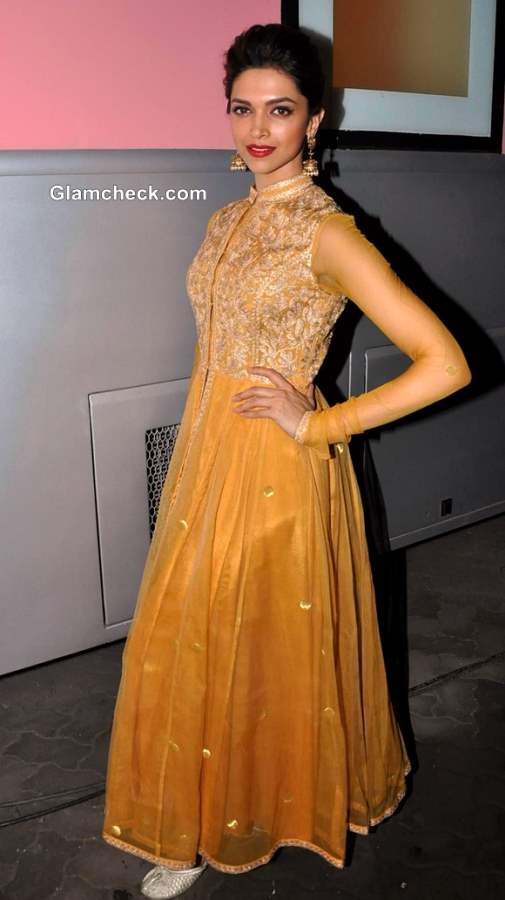 Deepika Padukone 2013 promotes Chennai Express Madhubala Ek Ishq Ek Junoon
Accessories & Styling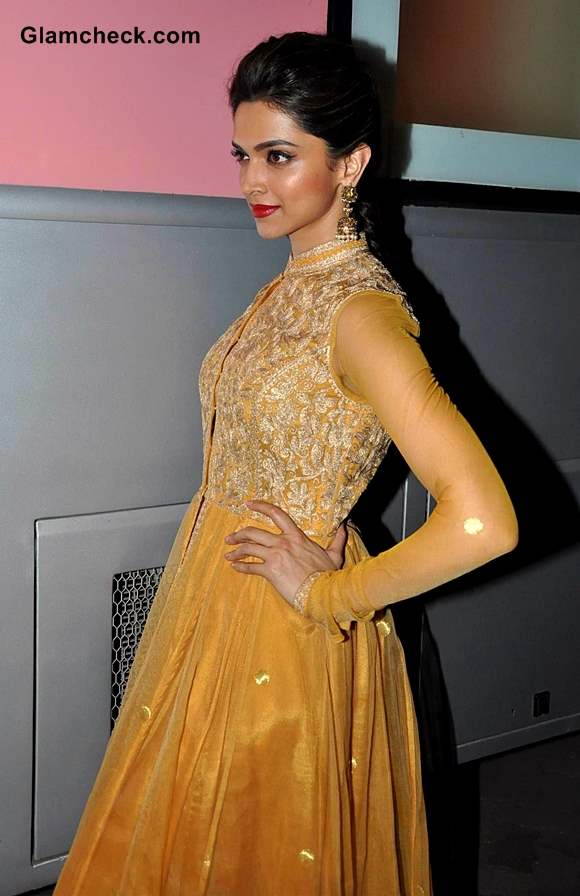 Deepika Padukone in Golden anarkali suit on Madhubala Ek Ishq Ek Junoon
Deepika contrasted a part of her accessories, choosing silver jootis for footwear but stayed true to the theme of the outfit with gold ethnic danglers.
She completed her look with a red lipstick and a single braid running down her back.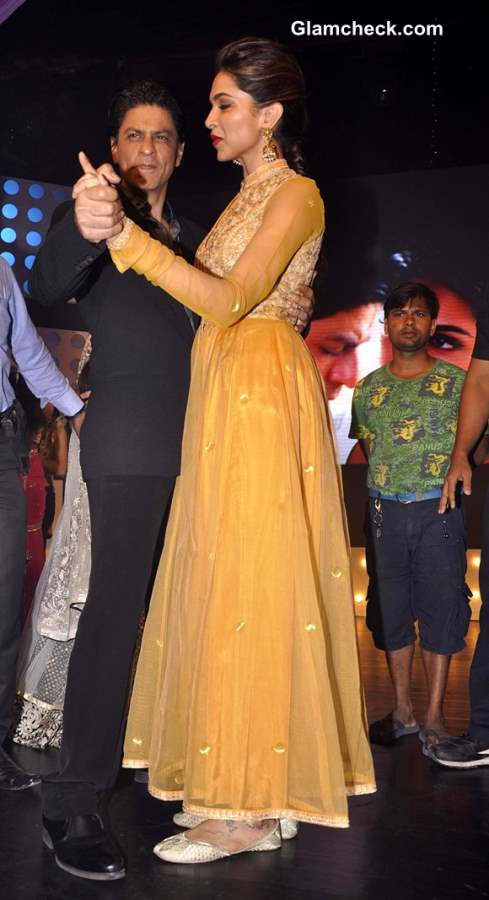 Sharukh and Deepika 2013 promote Chennai Express on Madhubala Ek Ishq Ek Junoon
Image: IANS