The recently-begun India International Jewellery Week in Mumbai, India made waves on its first day. Several Bollywood and television celebrities took to the ramp to show their support for the designers but also, in some cases, to support a cause that the particular show was associated with.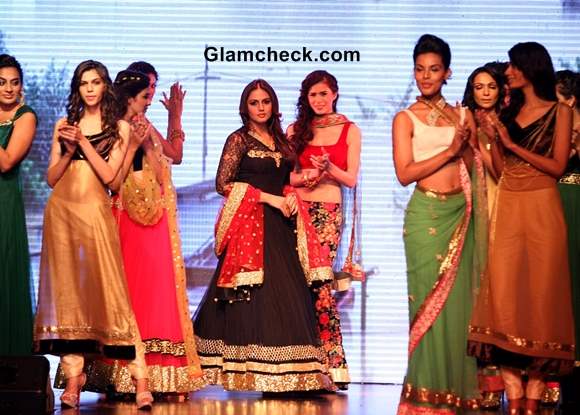 IIJW 2013 – Day 1 Huma Qureshi for Auro Gold Jewels
Bollywood actress Huma Qureshi fell into the latter category. The curvy beauty sashayed down the runway for Auro Gold, which benefited the Uttarakhand Relief Fund. Other celebs who showed their support of for Auro Gold included actor Anil Kapoor in the audience and Pooja Kumar who opened the show.
The Auro Gold Collection at IIJW was designed by Manali Chanda and inspired by the extinct dodo bird. Necklaces, rings and bracelets depicting the bird made for an eye-catching visual.
The models sported outfits by Manali Jagtar, as did Huma. Hers was one of the prettiest on the runway, definitely worth a closer look.
Her Outfit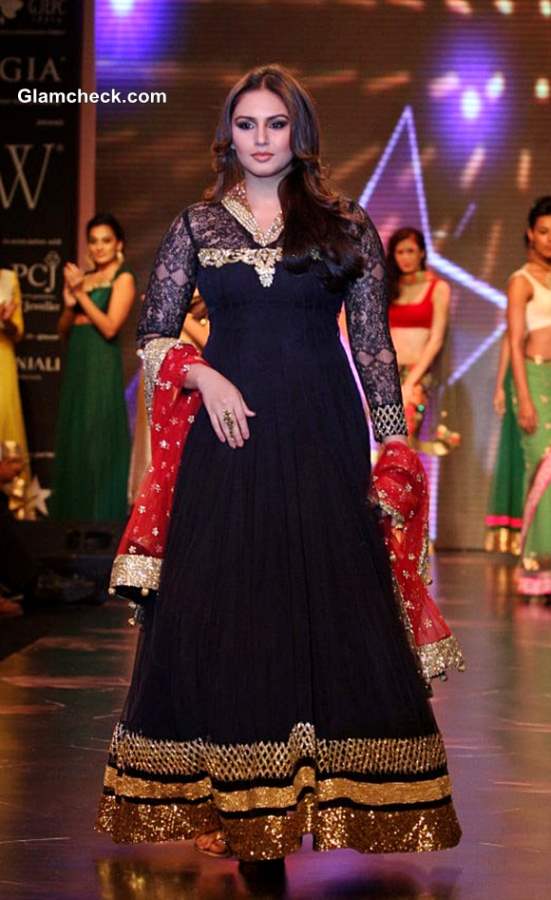 IIJW 2013 – Huma Qureshi for Auro Gold Jewels
Huma wore a simple yet elegant black anarkali suit. It featured lace on the full sleeves and upper bust with three different types of zardozi on the festive hemline. We're in love with the gold-bordered sheer red dupatta that went with the ensemble.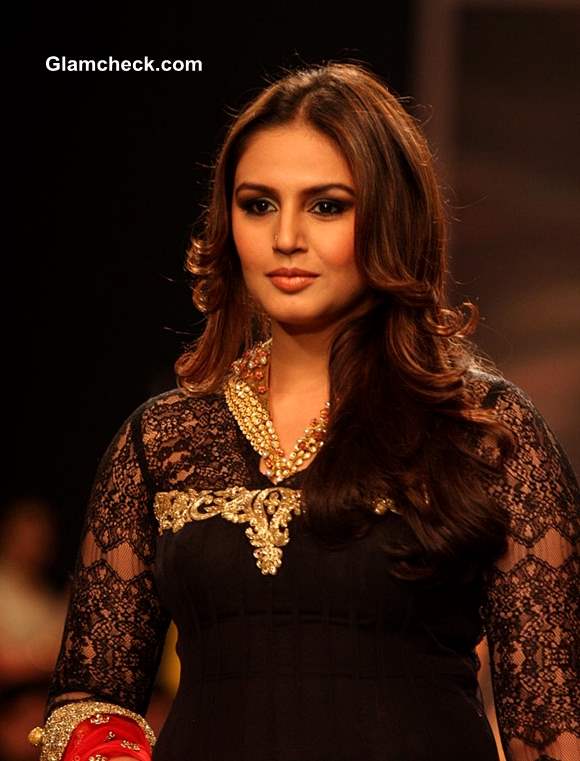 Huma Qureshi  IIJW 2013 Auro Gold Jewels  Show
The key element of the outfit was the neckline, extending from a very modest V neckline on the front to the back where it emphasized the sheer lace back, the latter also featuring gold embroidery in the center.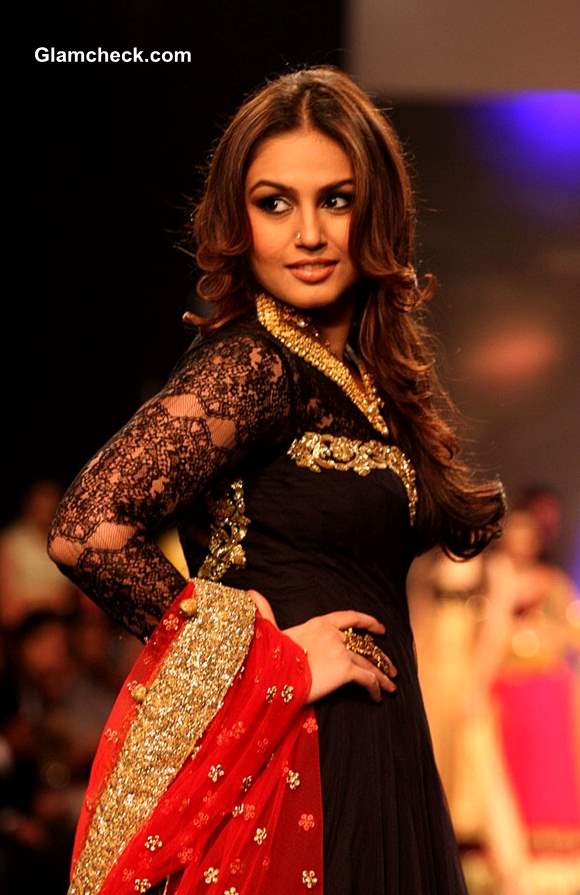 IIJW 2013 Auro Gold Jewels Huma Qureshi
The outfit does full justice to her newly slim figure. She looks amazing!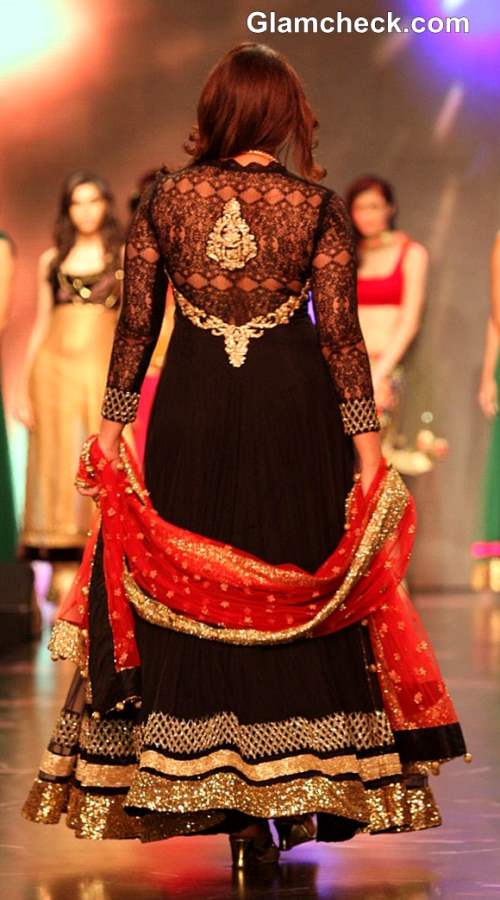 Huma Qureshi  IIJW 2013 Auro Gold
Accessories & Styling
Her bling was obviously from the collection she was modelling – a thick gold necklace with an over-sized dodo and a statement ring which also depicted the bird.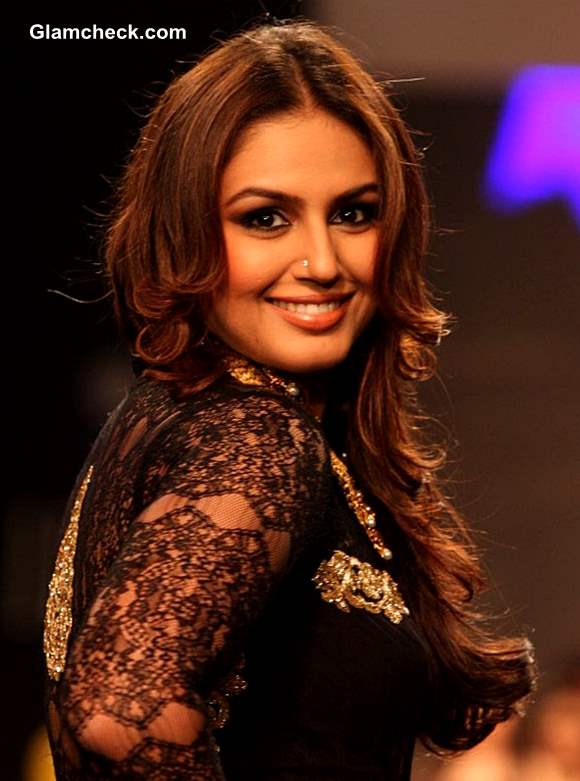 Huma Qureshi  IIJW 2013 Auro Gold Jewels
She completed her look with darkly done-up peepers and curly locks left loose from a middle parting. As she tossed her hair about seductively, you'd be hard-pressed trying to keep your eyes on the jewellery. 
Image: IANS