It's been a big year for Priyanka Chopra on the international scene. She released her first English pop album, got world-famous rapper Pitbull to do a video with her and now she's voicing a character in a Disney animated movie. Yep, this Bollywood beauty is definitely on the road to conquering the world. And it doesn't hurt that she's such a captivating fashionista.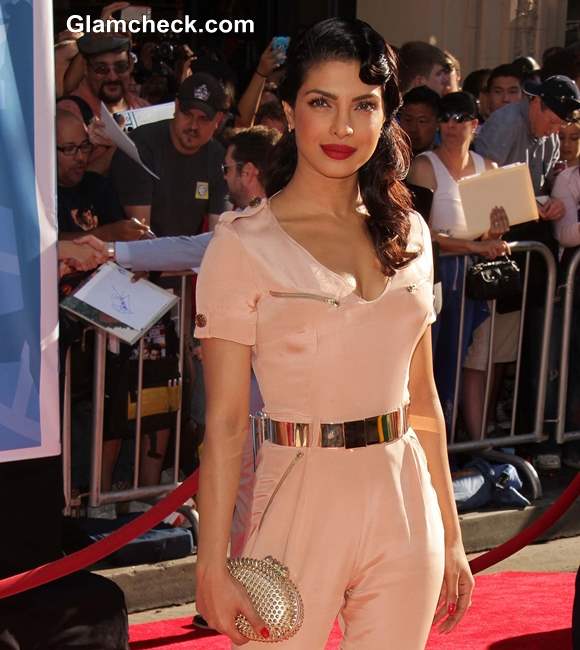 Priyanka Chopra outfit at 'Planes' World Premiere
Indeed, the charmer seems already to be stealing the spotlight on international red carpets, as was evident from her attire at the world premiere of "Planes" at El Capitan Theater in Hollywood, California on August 5.
Her clothes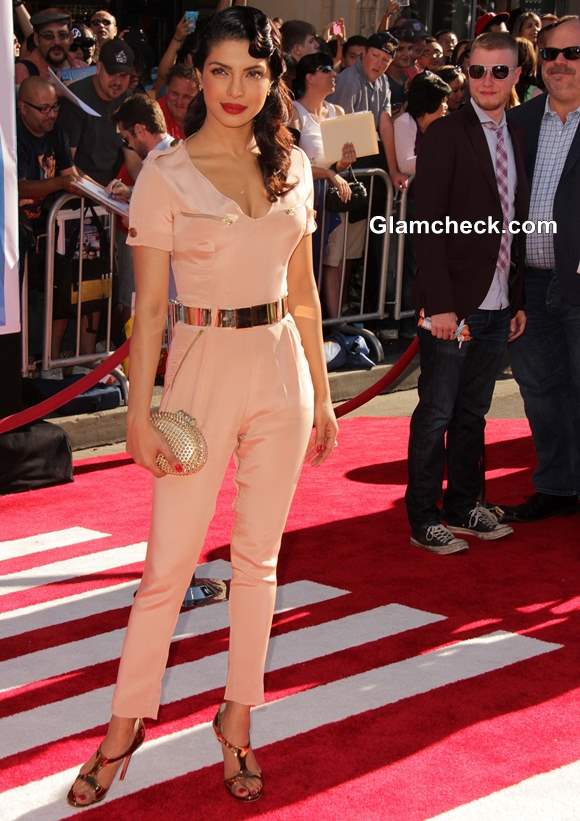 Priyanka Chopra Oozes Vintage Charm at 'Planes' World Premiere
The former beauty queen slipped into a peach jumpsuit with gold zipper detailing on the pockets and bust, and clip button on the short sleeves and shoulders a la military style. A chunky metallic gold belt rounded off the outfit.
Her accessories
She carried an eye-catching gold studded oval clutch by Christian Louboutin which competed for attention with her phenomenally striking metallic gold ankle-straps. The latter in particular had her ensemble brimming over with the glamour that characterised the golden days of Hollywood. Tiny stud earrings were her only pieces of jewellery.
Hair and makeup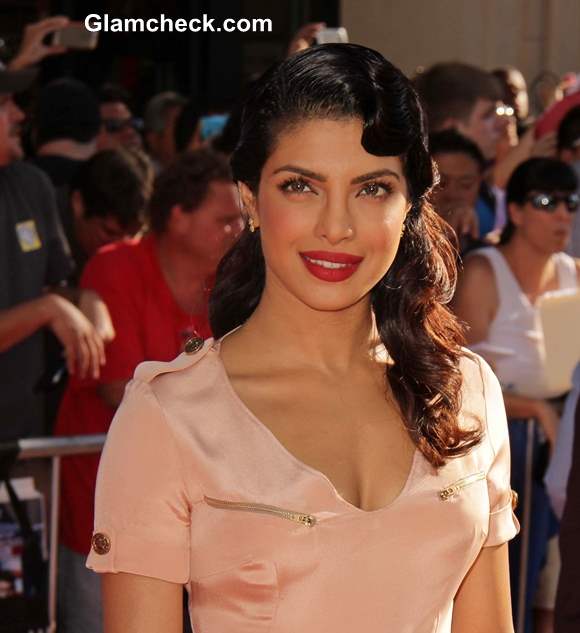 Priyanka Chopra 2013 at 'Planes' World Premiere
Priyanka opted for the go-to lippie for all vintage looks – a deep red that did full justice to her lush lips as well as to the neutral tones of her outfit. A glowy blush seemed to light her up from within while delicate mascara had her looking starry-eyed.
Her brunette locks were styled in Marcel waves on the front and loose Hollywood curls on the back, then fashioned into a half-up half-down do.
PC has definitely got the vintage look down pat! Every aspect of it from the cut and lines of her outfit to her selective accessories and styling is spot on. 
Image: Shutterstock