Bollywood's first fashionista actress Karisma Kapoor walked the ramp for Maheka Mirpuri and Gautam Ghanasingh`s new couture collection in Mumbai, India on August 12.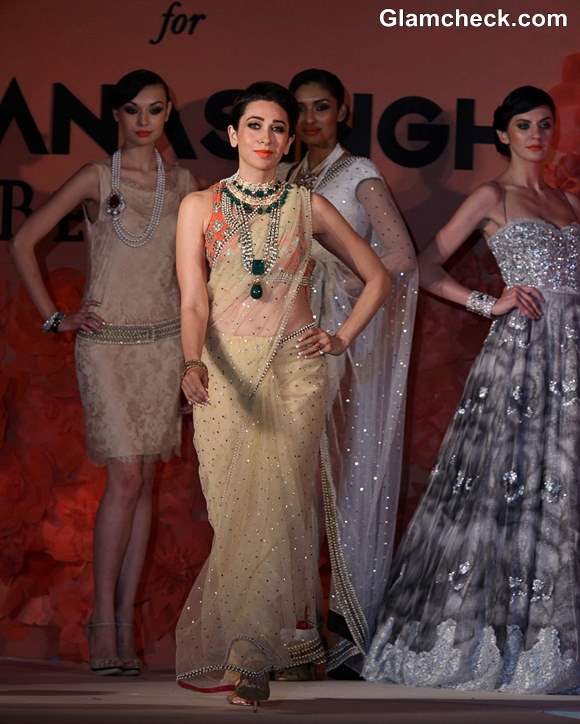 Karisma Kapoor for Ghanasingh's Couture Collection 2013
The ever-sophisticated Karisma wore a beige net sari with a sleeveless orange blouse, the ensemble forming just the right backdrop for her gold and emerald rani haar and gold bracelet. A slick updo and darkly done-up eyes completed her look.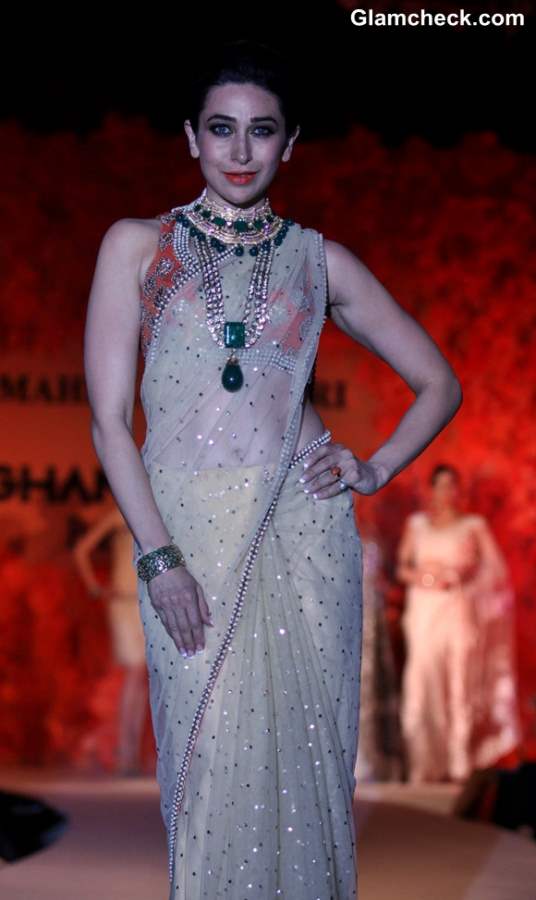 Karisma Kapoor for Ghanasingh's Couture Collection 2013
She was the perfect choice to model the show-stopping piece of the collection. Her inherent poise, timeless style, stunning figure and illustrious lineage were all quite apparent as she sashayed down the runway.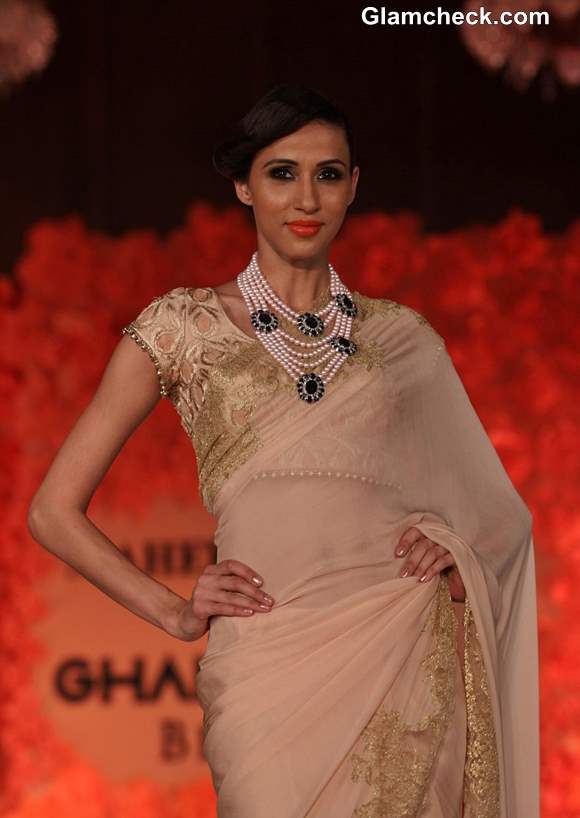 Ghanasingh Couture Collection 2013
As for the rest of the collection, it was designed using gold, emeralds, diamonds, pearls and rubies from every part of the world. An undercurrent of ethnic elegance ran through every piece whether it was the vintage necklaces, the dazzling cuff bracelets or the heavy jhumka earrings.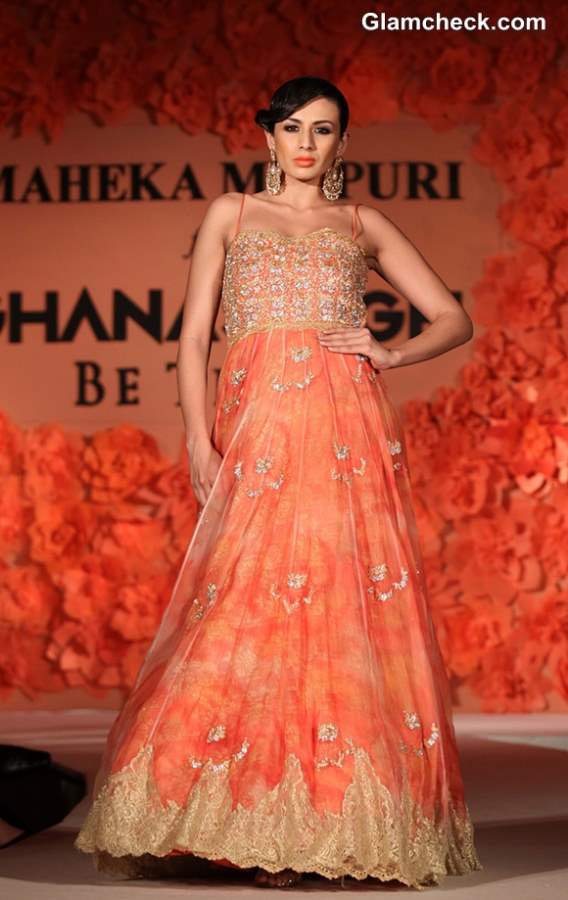 Ghanasingh Collection 2013
Most of the necklaces featured multiple strings of both white and black pearls with emeralds, rubies and diamonds set against it. There were a few pearl-only pieces which featured pearls of varying sizes with gold accents.
Ghanasingh Couture Collection 2013
The jewellery itself told quite a story which is perhaps why it was no surprise that the outfits were in dominantly neutral hues so that the bling could stand out better. But don't let that fool you into thinking that they were in any way boring. The spate of whites, beiges and greys on the runway enhanced the collection, indeed, but the saris, evening gowns and anarkali outfits were resplendent enough to hold their own on any given day.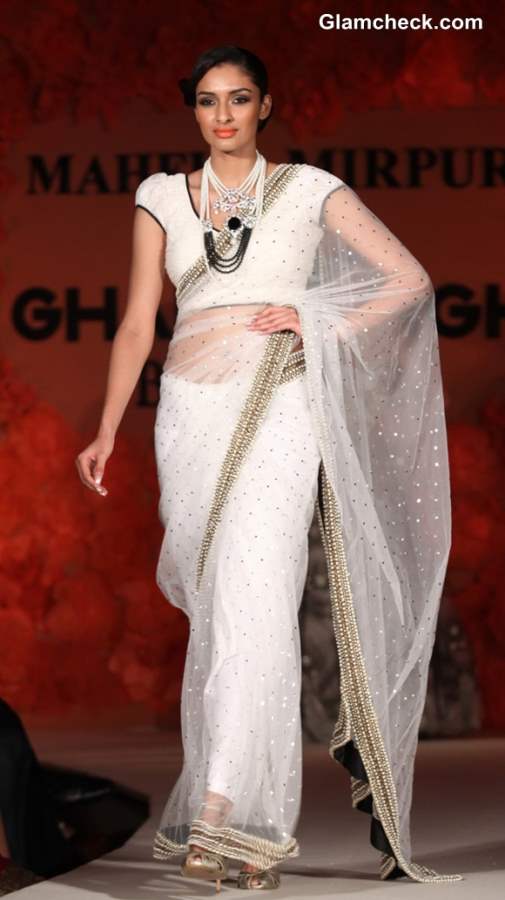 Ghanasingh Couture Collection 2013
The show was quite a success, attended by several socialites and celebs including Poonam Dhillon, Arzan Khambatta, Deepti Bhatnagar, Rashmi Uday Singh, Anu Ahuja, Pooja Bedi, Dilip Vengsarkar, Aarti Surendranath, Raell Padamsee, Madhoo Shah and Monica Vaziralli.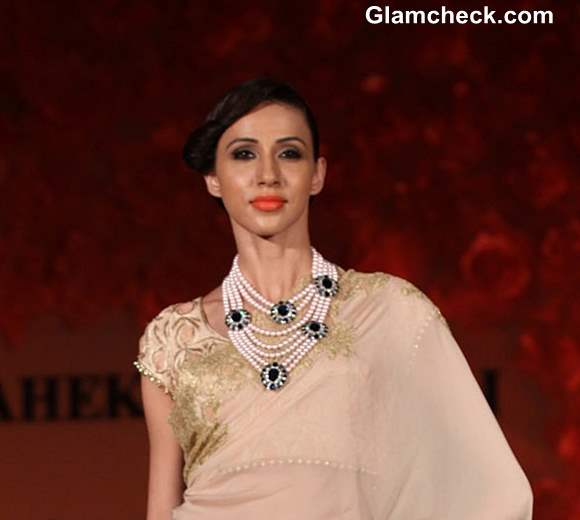 Ghanasingh Couture Collection 2013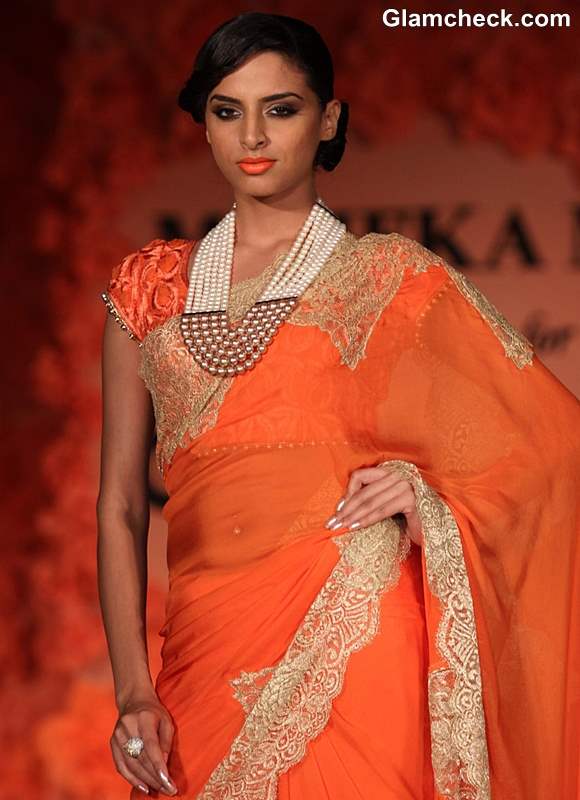 Ghanasingh Couture Collection 2013
Image: IANS