Several Bollywood celebs, models and socialites attended the play "Wisdom" in Mumbai, India on August 19 to support first time producer Armaan Arora, who is just 17 years old, but also because all proceeds from the show will benefit the NGO Sankalp Rehabilitation Trust which tries to eradicate drug use among the homeless as well as curb the HIV/AIDS virus.
The play tells the story of how life in present-day Mumbai is turned upside down and traffic comes to a standstill when a cargo ship called 'MyWisdom' gets beached at Juhu beach. Madness ensues, for obvious reasons, but the hullaballoo offers nine people the opportunity to gain a little wisdom in their lives which changes them forever.
The brainchild of young Armaan and Professor Jeffrey Goldberg of the Lee Strasberg Theatre and Film Institute and School of Visual Arts in the Big Apple, the story was first conceived when the two met in 2010. While they wrote the play together, Jeffrey directed it while Armaan focussed on production. Now let's take a look at some of the big names who graced the event.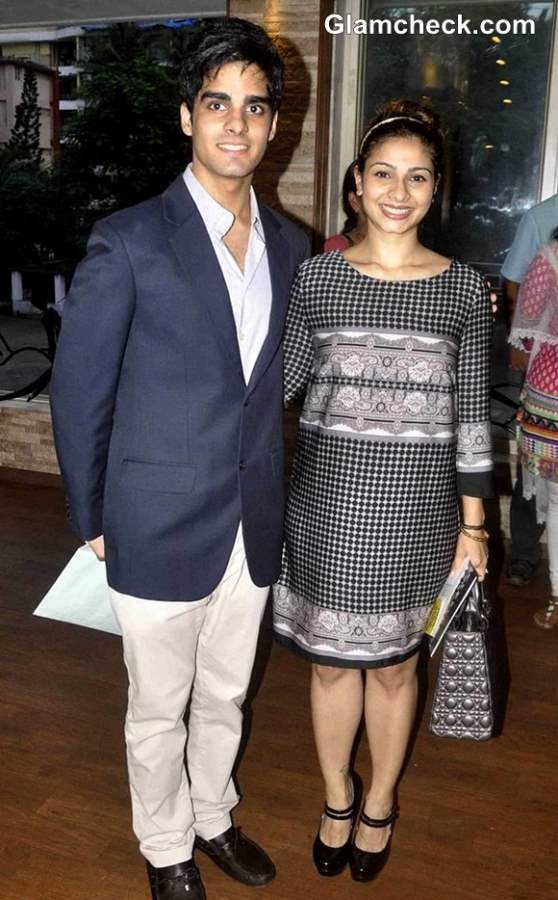 Bollywood producer Armaan Arora and actress Tanisha Mukherjee
Armaan was all smiles, but a little nervous too, as he posed with actress Tanisha Mukherjee. He looked mature and dapper in a blue blazer over a white shirt and white pants.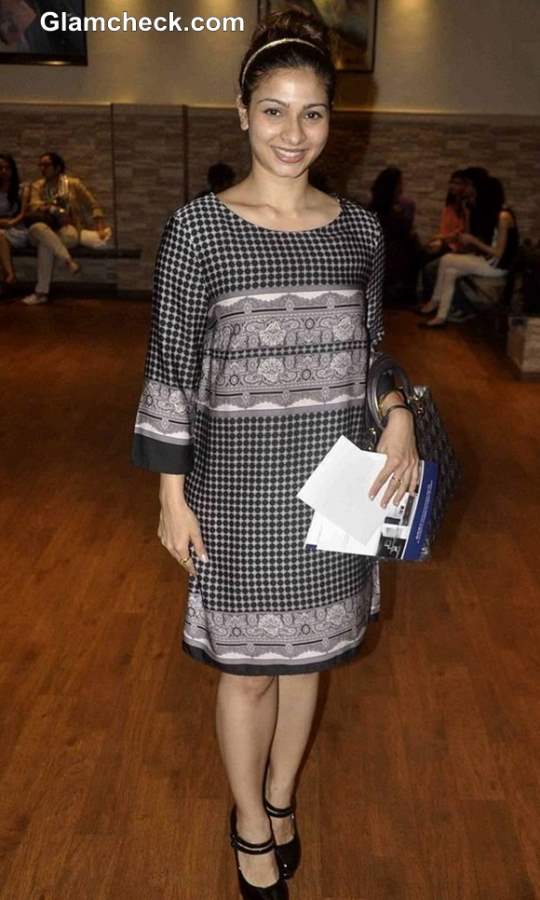 Tanisha Mukherjee 2013
Tanisha kept things sweet and simple in a knee-length monochrome dress with long sleeves. Black ankle-strap pumps and a silver tote completed her look.
Dia Mirza glowed in a lovely pink blazer, a very good color for her. Blue jeans and a white blouse made up the rest of her outfit while matching pink peep-toes and a green-stoned necklace accessorized it.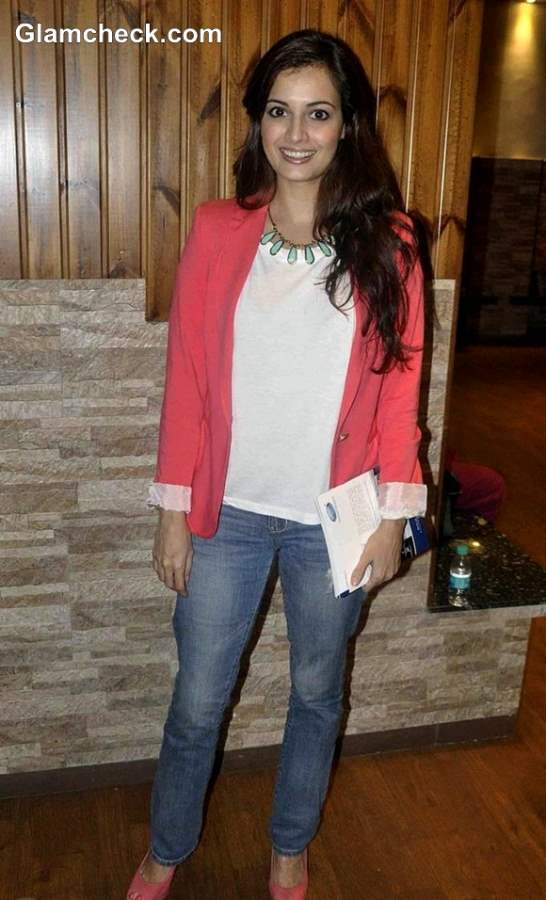 Dia Mirza 2013
Choosing to keep the vibe casual, her hair was left loose with a part of it brushed over her shoulder to show off her natural curls.
Farah Khan – the jewellery designer, not the choreographer – brought a pop of color with a yellow sleeveless blouse which she paired with dark jeans.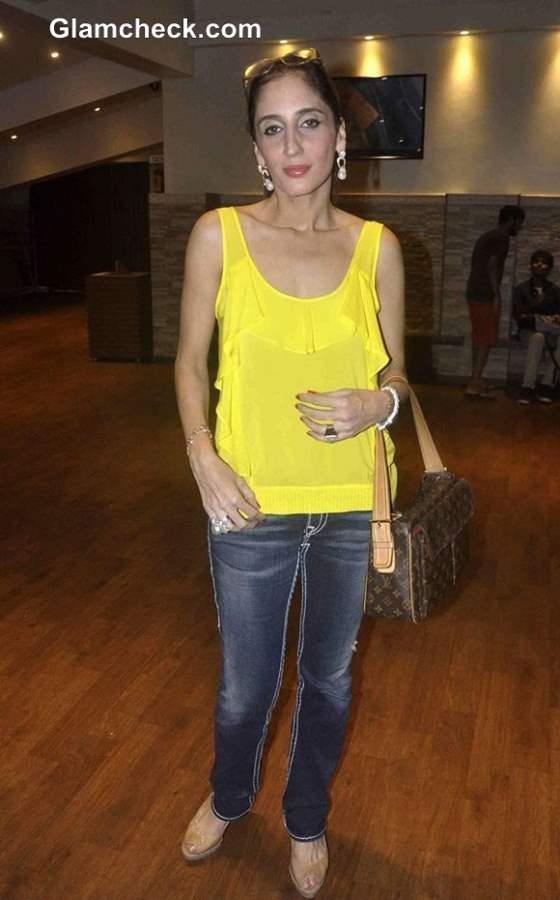 Jewellery designer Farah Khan
Gold danglers, bracelets, rings, a brown handbag and nude peep-toes rounded off the ensemble.
Model Carol Gracias was a picture of doable fashion in floral bottoms and a simple black tee.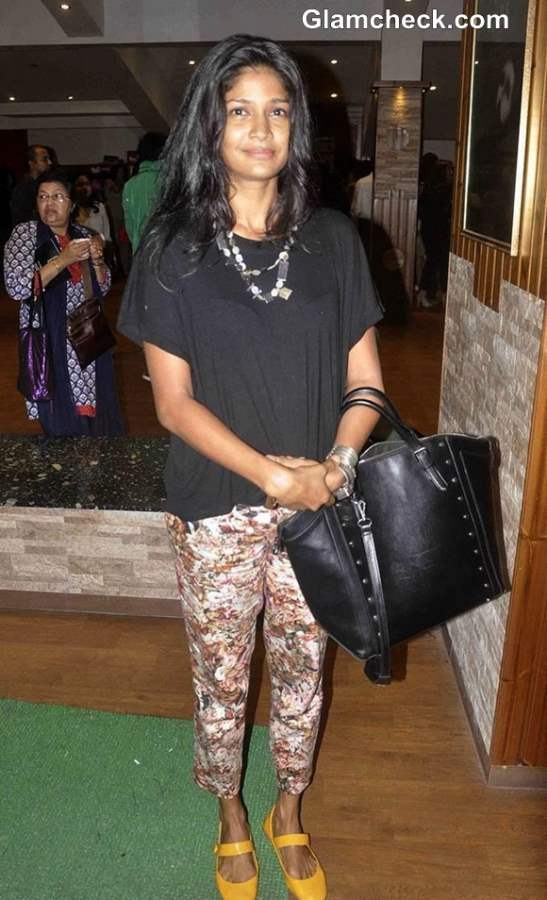 Model Carol Gracias
We love the huge black bag she toted around and her mustard Mary Janes were another fun element worthy of a dekko.
Actress Richa Chadda was another lass who chose a floral print, but she went with a sheer floral top that tied up at the hips and paired it with black pants.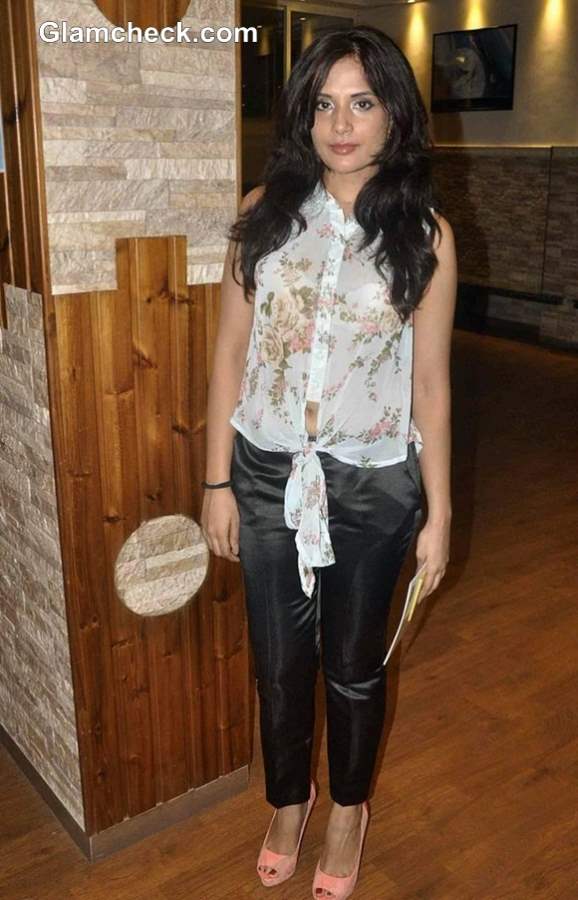 Richa Chadda 2013
Peach peep-toes, the color sort of matching one of the shades on her floral print top, completed her look.
Actor Sanjay Khan showed up with wife Zarine Khan and several other members of his family. He spruced up his ensemble – black pants with a black and white striped shirt – by tying a polka-dotted scarf around his neck.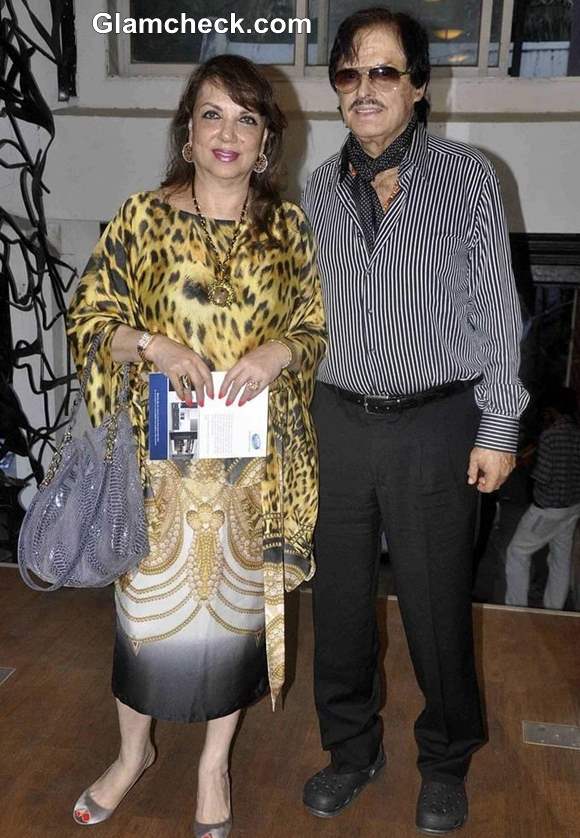 Sanjay Khan with wife Zarine Khan
Zarine was positively radiant and qquite adventurous in an animal print kaftan dress with silver peep-toes. A silver tote and tribal-themed jewellery added interesting accents to her look.
Sridevi's daughter Jhanvi Kapoor was another attendee.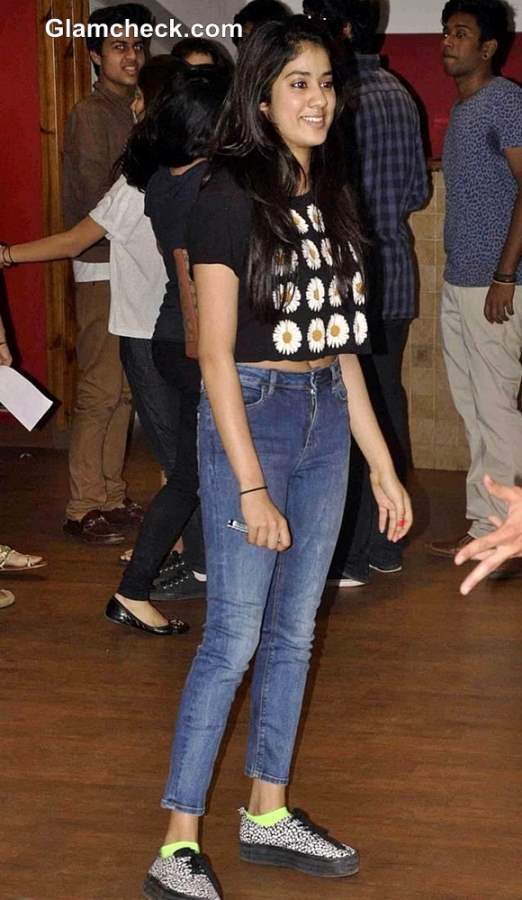 Jhanvi Kapoor 2013 pictures
This budding fashionista almost out-shadowed dear mummy at the latter's birthday bash a few days ago and she was just as style savvy again at the play in cropped blue jeans, a cropped black top with a print of yellow sunflowers, and monochrome trainers.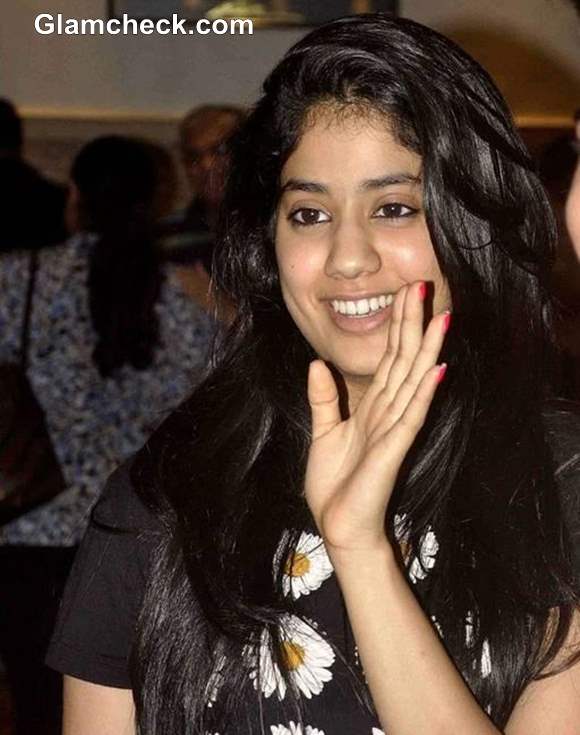 Sridevi daughter Jhanvi Kapoor
Actor Zayed Khan came too with his wife Malaika Parekh. He went uber casual in a black and white striped tee with a hoodie, paired with black jeans. Malaika went with a flowy, almost Bohemian vibe with a white pleated skirt, a grey top with the same pleating detailing stemming from an embellishment on the bust, and a dark grey shrug.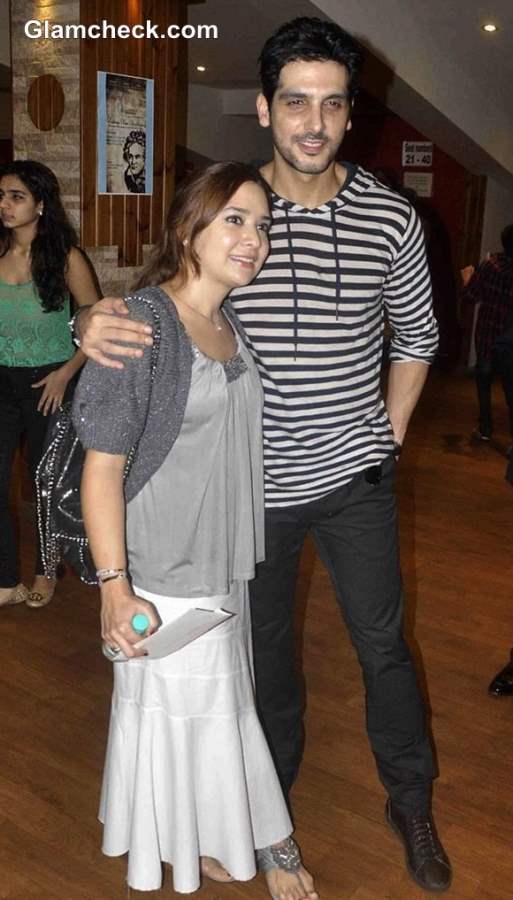 Zayed Khan with wife Malaika Parekh
Other celebs at the event included Simone khan, Ali Fazal, Dolly Thakore, and Ashutosh Gowariker with his better half Sunita. 
Image: IANS