It was an evening of evening gowns as the celebrities lined up on the red carpet to be photographed at Miss Diva 2013 in Mumbai, India on September 5.
Sri Lankan beauty Jacqueline Fernandes was a vision in white. She went with a combination of white and silver which was quite refreshing.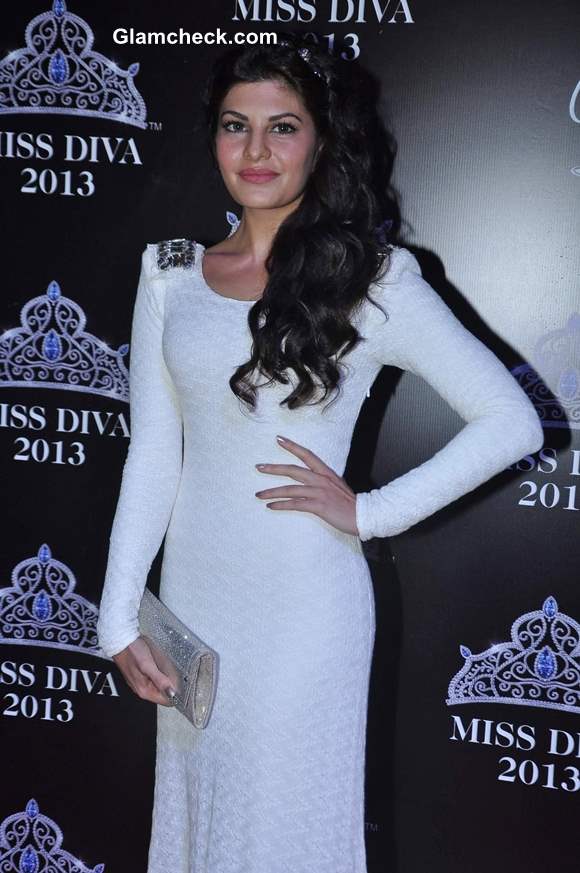 Jacqueline Fernandez at Miss Diva 2013
Her white evening gown had full sleeves, a high neckline, a floor-sweeping skirt and silver detailing on the shoulders. She went on to add other accents of silver with a silver clutch, silver headband holding her side-swept hair in place and, our favourite, her silver manicure.
Malaika Arora Khan had a demure expression on her face as she posed for the shutterbugs but there was nothing shy about her attire.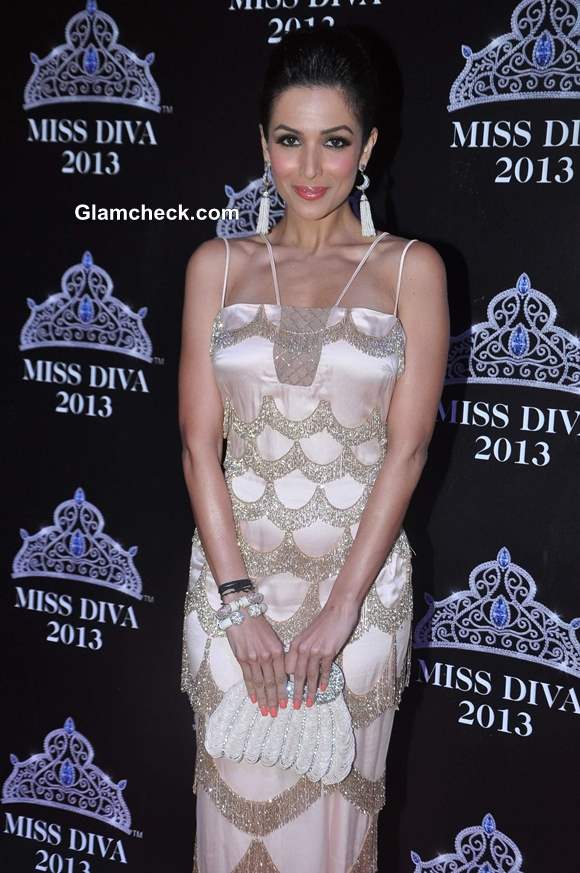 Malaika Arora Khan at Miss Diva 2013
She chose a pearl white sleeveless evening gown, a delicious color, which was accentuated all the more by the silver fringe detailing in the shape of scallops down the length of it.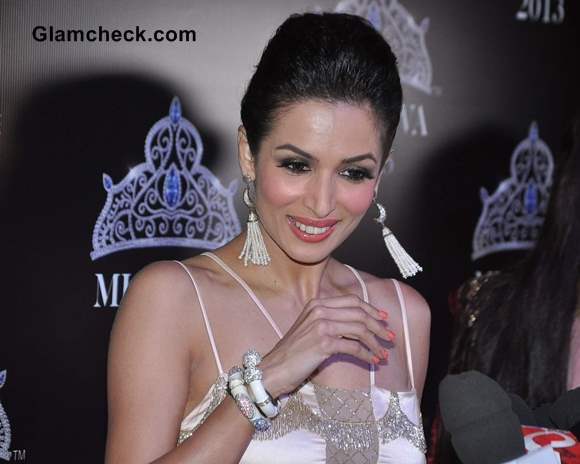 Malaika Arora Khan at Miss Diva 2013 red carpet
A white clutch with feather detailing, bright bracelets and fringe earrings accessorized her look. A little too coordinated? Perhaps, but striking nonetheless.
Then there was the lovely Miss Universe Canada Sahar Biniaz who has to be one of our favourites that evening. She looked incredible in a blue peplum gown, sheer from the thigh down with a slim black belt bringing out the layered detailing on the peplum silhouette.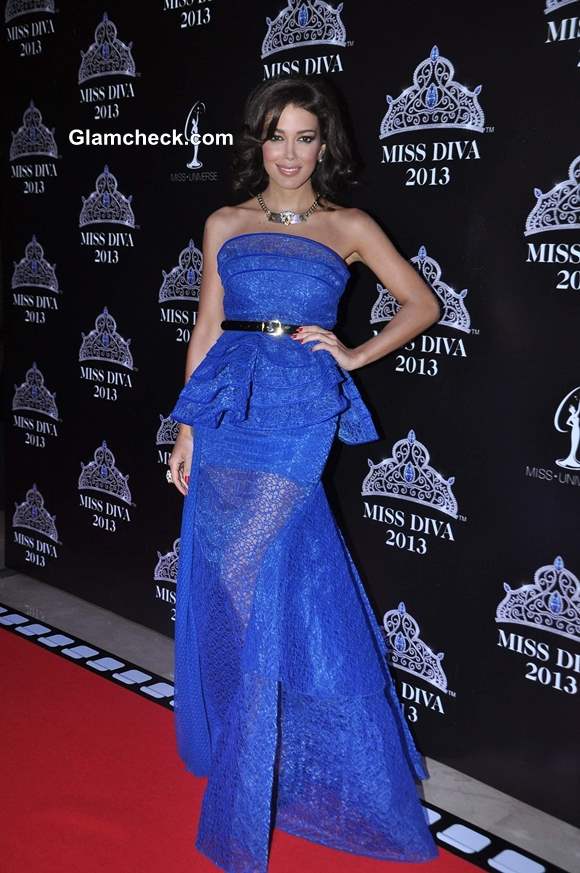 Miss Universe Canada Sahar Biniaz at Miss Diva 2013
The structured feel of the skirt is simply to die for. We think she would have rocked this look even without the statement necklace she accessorized with.
Pond`s Femina Miss India 2013 2nd runner-up Zoya Afroz was radiating only good things in an aquamarine evening gown, quite simple when compared to her contemporaries on the red carpet, but still quite a lovely little number.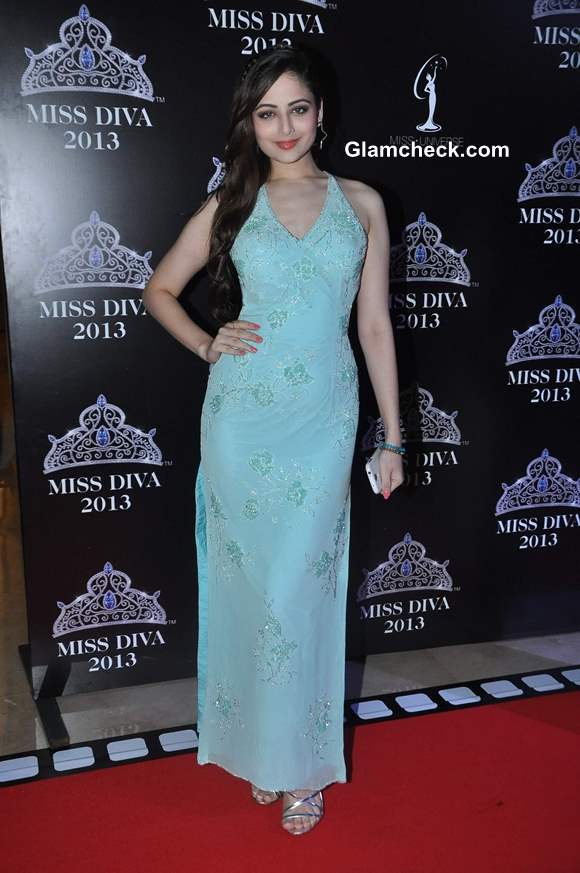 Zoya Afroz at Miss Diva 2013
Delicate floral detailing in sequins and shimmer lit up the dress which she rounded off with equally delicate jewellery and strappy silver heels.
OK, so Zeenat Aman's outfit obviously wasn't an evening gown. But we coudn't help putting her in here with all the rest of the ladies, considering that she so definitely stands her own in her blush pink salwar and gold and maroon lehenga.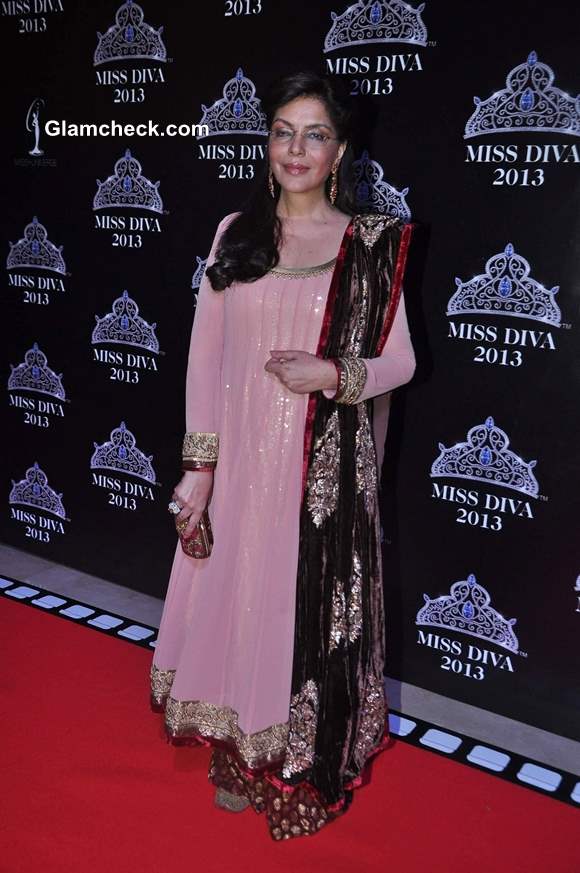 Zeenat Aman at Miss Diva 2013
She accessorized with understated embellished mojris, a cocktail ring and pink and gold dangler. An ensemble worthy of royalty, and she definitely has the poise to back up that rich, luxurious vibe. 
Image: IANS